Last updated on .
Hits: 2048
10 kid-friendly South of France villas with pools to rent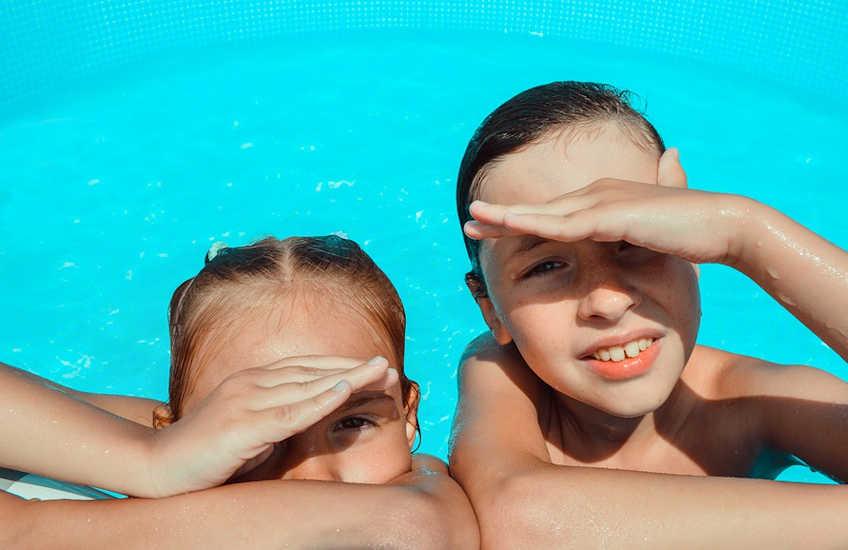 Close to the beach ✔ WiFi ✔ Good sized pool ✔ Air con ✔ and Plenty of space to run around ✔ -these 10 child-friendly villas in South of France tick all the boxes and they are perfect for kids. If you are looking for a family-friendly villa in South France during summer 2022 to bring your children or grand-children we have picked out 10 great child-friendly villa rentals on Go Languedoc for you to choose from.
It is important to choose a holiday villa that is both safe for children and also offers plenty for them to do. I have 3 sons myself and when they were younger they were a bunch of nutters. So I am under no illusion that you need to sometimes have eyes in the back of your head. Obviously, you want to ensure that there no open stairs in the villa, that the garden is enclosed and the swimming pool has a pool alarm or preferably a security gate.
But I am also of the view that the villa itself is only part of the story when it comes to having a happy holiday experience in France with children. Also equally important is the location of the villa. A good family villa in France (in my opinion) needs to be:
close to the beach
reasonable drive from a low cost airport (around 30 mins)
a pretty local town or village with a good range of shops and services
local entertainment for the kids (canoeing, tree-climbing, horse-riding, water parks, etc.)
Holidays with kids in South France 2022
10 best villas for kids in South France
We have selected these 10 villas because we know them very well and they have always been very popular with our customers. When we receive requests from clients to recommend some villas to rent in France, as soon as we learn that they are travelling with kids, these are always the villas that we recommend.
At Go Languedoc we visit all of the rental villas that we advertise on the site. Not only does this give us a good perspective on the internal layout of the villa and the outdoor space, but we also get a good appreciation of what is in the surrounding area.
We are happy to recommend these holiday homes because not only are they safe for children, but they are also located very close to a range of kids activities, as well as restaurants, shops, etc.
We have lived in France for 12 years now and our boys were young when we arrived. We have always found France to be a very family-friendly place, especially in the restaurants and cafes. I remember once being in a restaurant and our youngest son started kicking off (probably wound up by one of his brothers). The next thing I know is that the Chef's mother took our son over to a small park so that we could finish our meal off in peace. It was just a real nice touch and I am sure something that would be repeated throughout France - maybe not in Paris - but certainly in the rest of France.
10 best child-friendly South of France villas with pools in 2022
We have made sure that these 10 child-friendly villas in France cover the full range of sizes and prices.
In terms of the prices you should expect to pay, our selection of South of France villas with pools ranges from €1700 per week during the summer season for a 3 bedroom villa with private pool up to €3500 per week for a 6 bedroom villa with private pool. On average you should be looking to pay around €2200 per week for a modern 4 bedroom family-size villa with pool in South France and between €2500 to €3500 per week for a character stone built villa with 4-5 bedrooms.
A number of our properties have heated pools. Whilst it is tempting to hire a villa with a pool deep enough to dive in, you should also be aware that pools with a depth of 2m or more are often 2-3 degrees cooler than a standard 1.5m deep pool. They also make playing pool games quite difficult for children.
Here is our personal selection of the 10 best kid-friendly villas with pools in South of France available to rent in 2022 on Go Languedoc.
1.) The Water Mill gites to rent in France with pool (Ref: 681)
This beautiful old Water Mill in South France has been providing a high standard of child-friendly accommodation for over 10 years. There are 3 different gites to rent, all of which have use of the heated swimming pool, with infinity ledge and gated entrance and security alarm. There is also a games room, adventure playground (separately fenced) and mini-football pitch. Bikes are available for guests (kids and adults), there is fishing and kayaking available on the river and there are plenty of blow-up pool toys.
These gites are situated on a river bank on the edge of the pretty village of Salinelles, which is close to the picturesque Southern France town of Sommieres. The gites are very convenient for accessing either Nimes or Montpellier airports (30 mins drive to each). Each gite comes equipped with baby-cots, bottle sterilisers and high chairs
As well as being very kid-friendly, the Water Mill also caters for hard-working Mums, with private yoga classes & Shiatzu massage sessions available on site by a local professional (English speaking).
>> more info on the Water Mill child-friendly gites in France
2.) Margon, family villa with private pool France sleeps 12 (Ref: 602)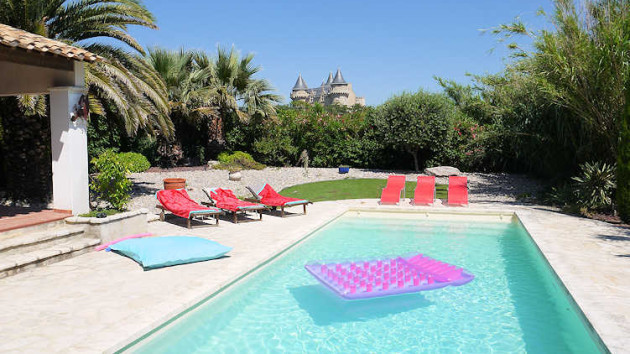 I would probably say that this large villa in Margon, South France, is probably better suited to slightly older children (Age 5+). It is perfectly safe for younger toddlers and 4 of the bedrooms are located on the main living level - so there are no stairs involved. But I just think that children in the 5-17 age group are going to make most of the facilities that the villa has to offer.
The private pool does have a security alarm (plus an electronic security cover). The villa also comes with a games room, good WiFi connection, a boules pitch and a really lovely outdoor lounge and summer kitchen. Basically, the whole family can spend their time outside - either around the pool or under the shade of the covered lounge. You also have a lovely view of the local 13th Century Chateau.
The villa comes with 6 bedrooms and 4 bathrooms and it is large enough to accommodate 2-3 families or one large group (it can sleep up to 12 people + babies). 2 baby-cots can also be provided. The villa is less than 30 mins drive to Beziers airport and the beaches are 25 mins drive. In the village there is a local bar/restaurant and there is also a local bread delivery service (for fresh baguettes and croissants in the morning). There is plenty to do locally for the children including a professional standard Go-Karting circuit, canoeing and white water rafting on the River Orb and a tree-climbing centre adventure park. You also have the water parks and theme parks in Vias Plage and Cap d'Agde on the coast.
This villa in Margon, South France is currently available: 3-17 July 2022; 7-21 August 2022; 21-28 August 2022 Check prices & availability
3.) Wooden villa rental property in France, Corconne (Ref: 1237)
This villa rental property in France is located in the village of Corconne, in between Montpellier and Nimes in Southern France. This wooden and stone eco-friendly villa has recently been modernised and comes with a fantastic view over the region of the Pic Saint Loup. The villa is well set-up for children, with two of the bedrooms planned with children in mind. Access to the private swimming pool is protected by a lockable gate from the upstairs terrace, as well as lockable patio doors (from the adult bedrooms).
The surrounding area is a famous for olive oil and good Languedoc wine. The villa is also close to the beautiful villages of Sauve and Quissac, full of restaurants and shops.
The villa provides easy family living, with the main living room on the first floor - to make the most of the views - and the bedrooms on the ground floor, to benefit from the natural cooling from the shade. The villa comes with 4 bedrooms and 3 bathrooms, which makes it very suitable for an extended family or 2 families on holiday together.
>> more info on the Corconne Wooden villa: Check prices & availability
4.) Child-friendly holiday villa in South France with private pool sleeps 8 (Ref: 1281)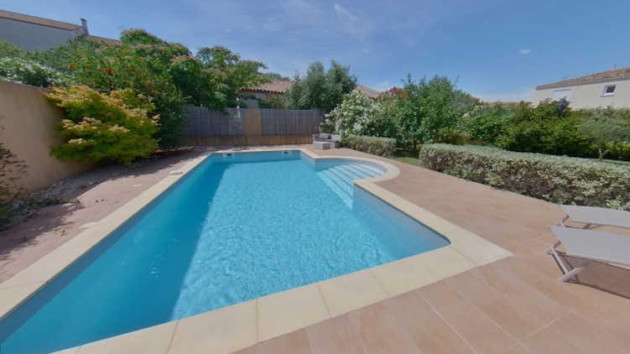 This modern Holiday villa in South France can sleep 6-8 people in 4 bedrooms. The villa is located in the beautiful Southern French village of Nezignan l'Eveque, one of the most popular villages in the area. Nezignan L'Eveque is just 2km from Pezenas and 15 mins to the coast. Beziers airport is just a 15 mins drive.. The village is surrounded by vineyards. Just 2 mins walk from the villa you will find a popular local bar/restaurant, boulangerie, shop, award-winning Pizza restaurant and hotel with fine-dining restaurant.
The villa also benefits from a large private pool, a fully-enclosed garden, off-street private parking, WiFi and air conditioning. There are 5 different international airports within a 1 hour 15 mins radius of this villa.
This child-friendly villa with private pool in South France, is available for weekly rentals from June through to September at a high season price of €2000. The prices include linen, towels and end of stay cleaning. More information:
5.) Villa Vell-Roure, child-friendly South of France holiday home (Ref: 225)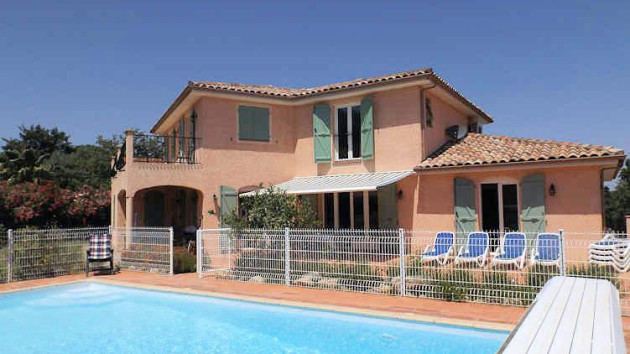 Villa Vell-Roure South of France holiday home is ideal for families travelling with children and grand-children. The villa is situated on a large plot, so there is plenty of space to run around. The Swimming pool is enclosed by a security fence. There is a TV and entertainment lounge and the property comes with wifi and satellite TV channels. All the bedrooms are air conditioned and come with their own bathrooms. The beaches are just a short drive.
This child-friendly holiday home is situated on the edge of the small village of Villelongue-dels-Monts in the foothills of the Pyrénees in South of France. The villa enjoys splendid views over the nearby village and on towards and the Mediterranean coastline in the distance. The villa is approached by a private track and there is ample parking for a number of vehicles.
This South of France holiday home is the perfect retreat for a large family group or crowd of friends looking for a very special property in a rural location. There is a large sun terrace overlooking the swimming pool and new for 2022, a summer kitchen/bar is being built on the other side of the pool. Inside the bedrooms are all a good size and the main living area on the ground floor is open plan with plenty of space for relaxation. The holiday home sleeps 10 in comfort.
To find out more about this fabulous villa in Villelongue-dels-Monts, visit:
Child-friendly South France holiday home
6.) Sunny apartment near the beach in France with pool sleeps 4 (Ref: 375)
We have rented this holiday property to many families over the years and it has always received great reviews. This 2 bedroom property offers incredible value at just €900 per week. The apartment is located on the ground floor of a modern villa and is walking distance to the of the harbour town of Marseillan, where you will find a good range of bars, restaurants and shops. The holiday home is located just 3 km form the beach at Marseillan Plage, which you can reach either by bike along the cycle path or by a shuttle bus from Marseillan right to the beach.
This sunny apartment near the beach in South France benefits from air conditioning, a private terrace, Wifi internet and shared use of the swimming pool. The pool is secured by a safety glass barrier (with gate) and there are plenty of inflatables, arm bands and toys for the pool. The property comes with 2 bedrooms and 1 bathroom, Air conditioning, WiFi and flat screen TV, Private parking and Boules pitch.
This property usually rents out very quickly for the whole of the summer and many guests return year after year - which is always a good sign. Marseillan is just 10km from Beziers airport and there is even a local bus service from the airport to the centre of the town. In the neighbouring resort of Cap d'Agde, you will find a wealth of things to do with the kids - aquarium, water park, boat trips, Kids' theme park, sports activities, etc.
7.) South of France villa with pool close to beach, Argeles-sur-mer (Ref: 583)
This large villa close to the coast near Argeles sur Mer in Southern France, is divided into 4 independent gites. Each gite has it´s own private terrace, either with sea views, or views towards the surrounding mountains. These child-friendly French gites in South of France are located in the middle of the countryside, between the foothills of the Pyrenees and the Mediterranean sea. The traditional market village of Argeles sur Mer is just 2kms away and the beaches can be reached in 10 mins.
These French gites come with a large private garden and woodland beyond, a heated swimming pool, children's play area, picnic area, boules pitch, as well as horse riding school on site. The perfect setting for family holidays in South of France.
You can find out more about the availability and prices at the Property page
8.) Valros French villa with pool near Pezenas sleeps 6 (Ref: 952)
This French villa with pool is situated in the wine making village of Valros, close to Pezenas. With vineyards at the back of the property and a large garden and private pool to relax in, this French villa offers the ideal space for a chilled out family holiday. The property is located close to the beaches and is just a short drive to Beziers airport. Within a short walk, there are 2 excellent restaurants, as well as a local shop, boulangerie and a wine cellar. This is the perfect villa in South of France for a family of up to 6 people.
The property is laid out all on one level so this makes it easy for younger kids. The kitchen is fully equipped with range oven/cooker, dish washer, microwave, fridge/freezer. There is a large table with seating for 6 people. In the spacious lounge, there is a comfortable sofa and Flat screen TV. French windows lead out onto the terrace.
There are 3 double bedrooms (but twins can be exchanged for a double if required). The Master bedroom comes with an en suite shower room. The other 2 bedrooms share a bathroom with WC, shower and basin. There is also a separate WC.
>> more info Valros French family villa with pool.
9.)
Kid-friendly villas in France with private pool (Ref: 1231)
This child-friendly villa in Marseillan is ideally located for the beach (3km away) and the town centre. Marseillan harbour area is just a 5 minute walk and here you will find plenty of restaurants and shops. Marseillan is just 10km from Beziers airport and there is even a local bus service from the airport to the centre of the town. During the summer there are regular bus services to the beach and to the coastal resort of Cap d'Agde - where you can play golf, take the kids to the Water parks and theme parks and enjoy a nice boat trip around the Mediterranean coast.
The villa comes equipped with a private swimming pool, 4 bedrooms, UK satellite TV, WiFi and private parking. The private pool comes with a security alarm and has Roman steps for easy access for children.
To find a 4 bedroom holiday villa in the South of France with private pool and just 3km to the beach for under €2000 per week is an amazing deal. This villa is extremely popular with our customers, so early booking is advised:
10.) Pezenas family villa in France with private pool sleeps 6 (Ref: 495)
This is another very good family villa to rent in the South of France. The villa is located in the historic town of Pezenas and is situated a short walk from the medieval town centre. The villa is fully-enclosed and comes with private parking, 2 covered terrace areas, table tennis, private pool, strong WiFi connection and Satellite TV. There are 3 comfortable bedrooms, each of which has its own bathroom.
This villa is probably best suited to children aged 6+, as the pool does not have a security barrier (just a pool alarm) and there is a large step down from the pool area onto the driveway.
This comfortable 3 bedroom holiday villa in France with private pool, is such a good choice for a family holiday because the beaches are just a short drive away and Pezenas is within 35 mins drive of both Montpellier and Beziers airports. Close to Pezenas you will find a range of kids activities such as a Dinosaur museum in Meze, Les Village des Enfants in nearby Montagnac, a tree-climbing adventure park, canoeing at the Pont du Diable and a great ice cream stall in the centre of Pezenas.
Pezenas is situated in the beautiful and unspoilt Languedoc area of the South of France. Pezenas has a wonderful Saturday market and the historic centre of the town is full of beautiful buildings and craft shops.
Child-friendly villas in France in 2022 . . . more questions?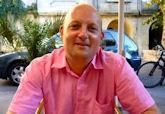 I hope that this article has provided you with some good ideas about child-friendly places to stay in South France. We live in the South of France all year around and we absolutely love being here. We are always out and about visiting new villa rental properties and researching tourism articles about the South of France. We have a great collection of articles with more ideas about things to do with kids and places to go in the South of France, including:
If you would like some more detailed information or if you have any questions, then just drop us a quick message and we will come straight back to you. I wish you a wonderful stay in the South of France.
Contact Iain by Email or by phone +33 6 95 00 28 44