Where is Menton France?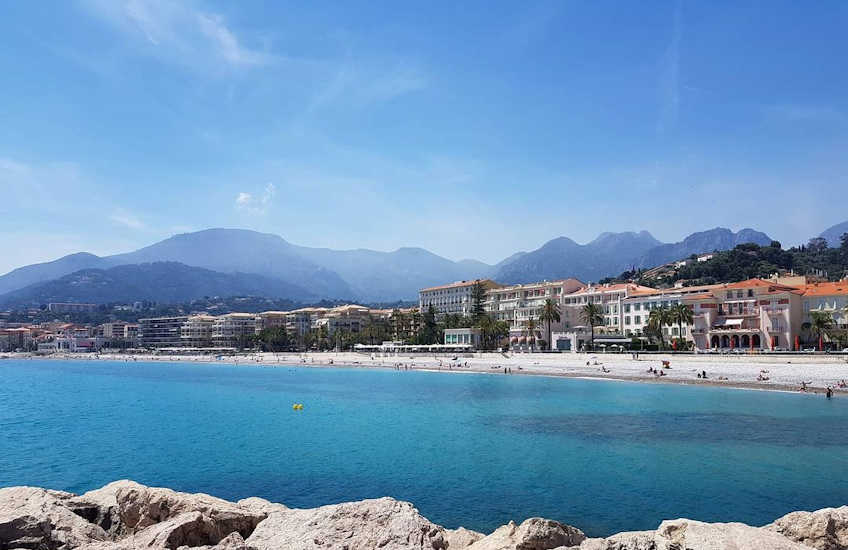 The coastal resort of Menton, France, is located on the French Riviera in between Nice, Monaco and the Italian border. Menton is easily accessed by train from Nice and there is a direct bus to Nice Aiport and Monaco. Menton also provides easy access by road and rail into Italy. The A8 highway, which stretches all along the French Riviera stops just outside of Menton and provides easy access to explore Nice, Cannes, Monaco, Mougins, Vence, and down to St Tropez, Cassis and Aix-en-Provence.
Menton has a resident population of 30,000 people, which swells to over 80,000 during the summer and during the famous Menton Lemon Festival. For more information on Menton, France, please read our articles on Things to do in Menton France.
Nice airport to Menton
You have 3 main options if you are looking to travel from Nice airport to Menton, France: train, bus or taxi. Taking a taxi is certainly the least hassle, but it is also the most expensive option. It is a 45 minutes drive from Nice airport to the centre of Menton (it is a 40 km/30 mile journey). The price of the journey is probably going to be around €100.
Train Nice - Menton
There is a direct train service that runs daily from Nice to Menton. The journey takes 35 minutes, with 8 stops along the way. The main Nice train station is called Nice-Ville. The first train from Nice to Menton starts from 06.03 in the morning and there are then 3 trains an hour to Menton throughout the day up until 23.05 at night. The train fare from Nice to Menton is around €12. If you are arriving at Nice airport, you can take a train direct to Menton, by using the nearby St-Laurent-du-Var train station (which is approximately 800m from the arrivals lounge). The train journey takes around 40 minutes and the train fare to Menton is between €8-€15.
Bus Nice to Menton
There are two buses that run regularly throughout the day from Nice airport to Menton. The journey takes 50 minutes and the bus fare is between €5-€7. The N719 bus (destination Genoa, Italy) departs from Nice airport to Menton once a day (at 09.05 in the morning). The more frequent 110 line bus takes just over an hour to reach Menton and departs from Nice airport every hour. The bus fare is between €20-€26. The 110 bus follows quite a nice route as it stops off outside the Monte Carlo casino en route.
Menton to Monaco
It is easy to reach Monaco from Menton. You can take the number 110 bus from Menton direct to the Monte Carlo casion in central Monaco. Alternatively, you can take a direct train from Menton to Monaco. The journey takes around 10 minutes and arrives at the main Monaco-Monte Carlo station.
Menton to Italy
The Italian border town of Ventimiglia is just a short drive from Menton and can also be reached by train or bus in 5 mins. Direct train routes are also available to Milan (around 3 hours) and Rome (8 hours) from Ventimiglia train station.
Menton France map
You can see on the map below that Menton is quite a compact town and it is easy to reach the train station, bus terminal and A8 highway.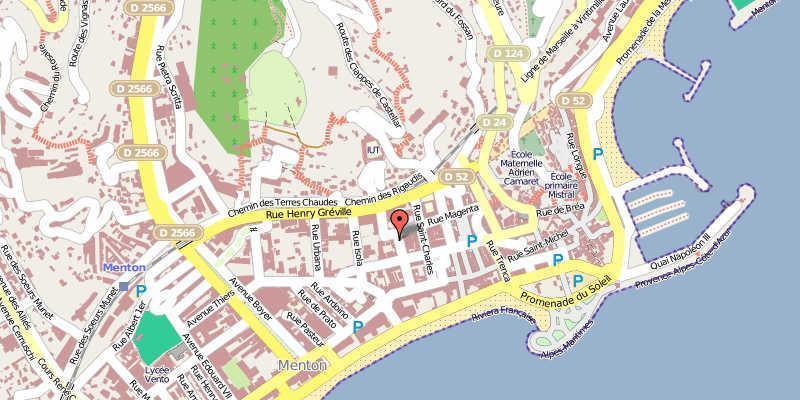 Where to next . . . ?
Contact Iain by Email if you have any particular questions you would like to ask about visiting the South of France. If you liked the article then please share it with others using the Twitter and Facebook buttons below. I wish you a wonderful stay in the South of France.