Visit Nice in July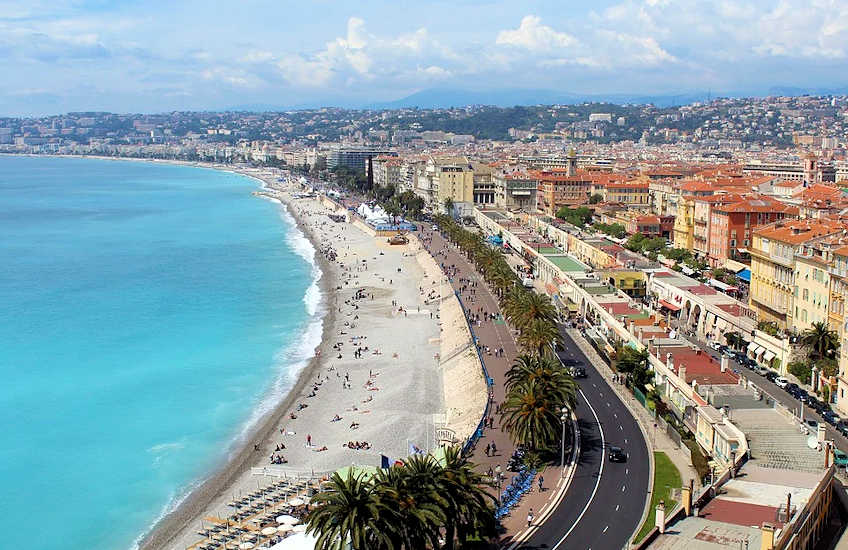 The weather in Nice in July is exceptional, making it the perfect place to visit for your summer vacation. With average daily temperatures of around 28oC/80F, the days are usually hot and sunny. During July in Nice, you can also experience a whole range of things to do, from visiting the Nice Jazz festival to the Bastille day fireworks and the Fête du Malonat, the local festival in Nice.
Nice is the top tourist destination in France after Paris, with over 5 million visitors coming to Nice each year. Over 30% of these tourists visit Nice in July and August. Indeed Nice accounts for over 40% of visitors to the French Riviera. One quite surprising statistic is that 1 visitor out of 100 coming to Europe each year, stays at least one night in Nice. It is estimated that the tourist economy in Nice is worth over 1.6 billion to the city. That is quite incredible and it just goes to show the pulling power of Nice.
Part of the reason for this is that Nice airport is not only the second biggest airport in France (after Paris Charles de Gaulle), it also the biggest airport in France for low-cost flights (Easyjet especially uses Nice as it's regional hub).
Nice is also an important conference city (alongside its adjoining twin city of Cannes). Therefore, it is no surprise to find that Nice has one of the highest concentration of hotels in France after Paris (with over 10,000 hotel rooms).
Nice port at Villefranche-sur-Mer is also an important stop-off point for many Mediterranean cruises, with nearly 300 cruise ships and nearly half a million passengers visiting each year.
Top 10 things to do in Nice, France in July
Here is our list of the top 10 things to do in Nice if you are visiting in July. To visit all of the attractions here, you will need at least 2-3 days, but it should at least give you an idea of what to do and see in Nice during your stay.
1.) Nice Jazz festival - July 2023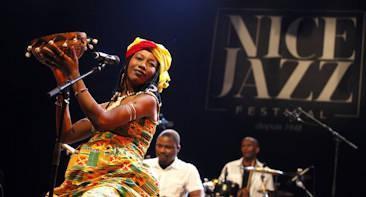 What could be better than supping a cool beer and listening to some great music. With an average of 14 hours sunshine per day in Nice and very little chance of rain, it is the perfect place to enjoy one of the World's biggest Jazz festivals. Come and enjoy the sun on the French Riviera, whilst chilling out at the Jazz concert! Nice Jazz festival has in recent years grown to rival some of the big international Jazz festivals such at Monterey in California and Montreaux in Switzerland. It was also the first Jazz festival in the world, with it's first festival being held in 1948, headlined by Louis Armstrong. This year's headline acts include George Clinton and Massive Attack. For further information, visit Nice Jazz festival 2017.
2.) Nice museums France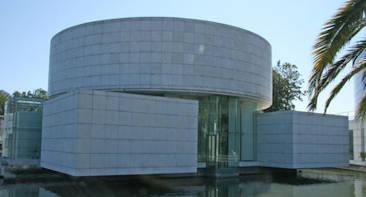 Nice has one of the highest concentrations of museums in France after Paris. In total, Nice has 19 different museums and art galleries to visit. In terms of the art museums, you can see everything from classical art to ultra-modern. In particular, the Mussee Marc Chagall and Musee Matisse (see below) are both worth checking out, but you should also not miss the Musée d'Art Moderne et d'Art Contemporain, which features an excellent selection of Pop Art, New Realism and the 'Nice School' of artists. Galerie Jean Renoir is a champion of up-and-coming, young local talent. Also worth checking out is the Musee National du Sport, which features some amazing historical artifacts from the Olympics (which France helped pioneer), tennis (again France was an important early proponent of the sport) and the World Cup (which France hosted and won in 1998). Also worth visiting, is the Museum of Natural History (which was founded over 150 years ago) and the Terra Amata Museum, which is an archeological museum, featuring the first traces of inhabitants in the Nice area. I think from the outside, it looks like it has been made from a giant bag of Bertie Basset's Liquorice Allsorts.
3.) Nice Old Town and markets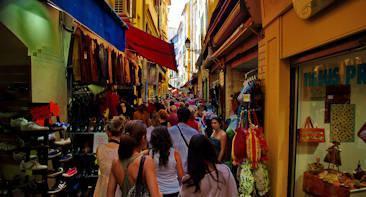 Nice Old Town (Vieux Ville), is a traditional neighborhood area packed full of narrow street, old bars and shops. You can find the usual tourist 'tut', but equally, if you search hard, you will find some great old cafes and restaurants. The buildings are coloured in the traditional orange and ochre plaster and the streets, although busy, do offer some welcome shade in July. Whilst you are in the Old Town, there are two things that you must do. Firstly, visit the old flower and vegetable market (Cours Saleya) which is located close to the Quai des Etats-Unis. On Mondays you will find an antiques market, but from Tuesday through to Saturday you will be able to visit the flower sellers, fruit merchants and vegetable vendors. What makes the Cours Saleya so unique is the colourful stripey awnings of the market holders and the banter of the market holders. the second thing you must do, is to try the local dish of Socca. This is a chickpea crepe for which Nice is famous for. Perhaps the best place to experience this is at the corner restaurant Nissa Socca. Socca has to be washed down with a pitcher of wine. So do not plan to do too much afterwards
4.) Live music concerts in Nice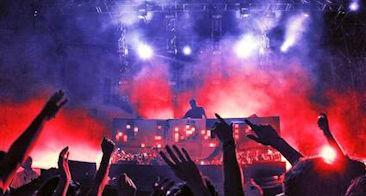 During July in Nice, music is everywhere. Apart from the Nice Jazz festival, Nice also puts on a whole series of music concerts at the Theatre de Verdure. This year, from the 21st to 26th July, there is a concert every evening. Amongst this year's featured artists include: Louise Attaque (a famous old French Punk/New Romantic); The Avener (who is actually one guy playing house and elctro music); and Frero Delavega, who are the hottest act in France at the moment. They are two brothers wh took part in the Voice TV show a couple of year's back. They are pretty good it has to be said, even my eldest son begrudginly admits that they are 'OK'. The Theatre de Verdure is located on the Place Massena.
5.) Things to do in Nice in July - Fete du Malonat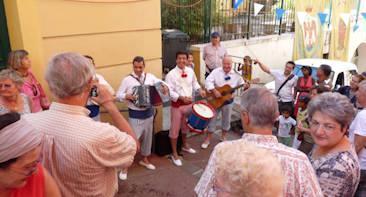 If you are planning on visiting Nice in July, then you will be able to catch the local festival of the Vieux Ville, called the Fete du Malonat. This traditional Nice festival has been celebrated since 1854 and commemorates the Notre Dame du Malonat, who helped to eradicate cholera from the Old Town of Nice. The festival is held along the Rue du Malonat in the old Fisherman's quarter of the Old Town and features lots of traditional music, a reasonable amount of drinking (not too much) and guys dressed up in bright blue and red three-quarter length trousers
6.) Nice beach, France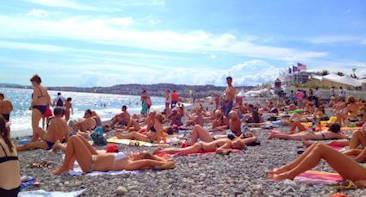 All along the Promenade des Anglais you will see the beaches of Nice. A number of sections of the beach are still private (but you can enter if you pay). The public beaches are however free. Don't get too excited, the beaches in Nice (compared to Cannes) are stoney beaches. So my advice would be to splash out and hire a lounger, unless you enjoy the feel of scorching stones on skin. There are a number of good beach bars along the way where you can hire sun loungers and be served drinks at your leisure. But whether it is an uncomfortable or an expensive experience, if you are in Nice in July you have to go to the beach. Otherwise, you may as well be visiting Bordeaux or Lyon.
7.) Marc Chagall museum Nice, France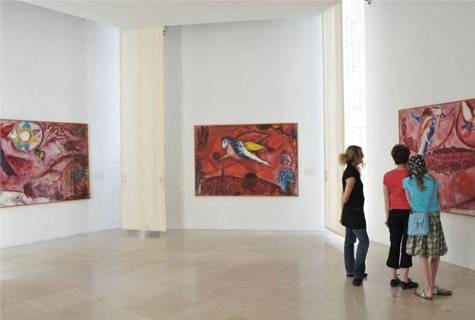 The Musée National Message Biblique Marc Chagall was set up under the terms of the artists will. He bequeathed to the city 17 separate works which make up his 'Biblical Message'. Marc Chagall was a Russian-French artist who died in 1985. He was born in Belarus, to a Jewish family. He first arrived in Paris in 1910 and he enrolled at the Académie de La Palette, a noted avant-garde school of art. He was famous for pioneering modernist art in paintings, ceramics, illustrations and glasswork. He was famous for his flamboyant use of colour. He first visited the Cote d'Azur in 1925, but he had to make a quick escape to New York following the Nazi invasion of 1941. He returned to the Cote dÁzur at the end of World War 2 and set up residence just outside of Nice (close to his friends and fellow painters, Picasso and Matisse).
The art collection at the Marc Chagall museum is the biggest public collection of art works by Marc Chagall in the World. The museum is organised around the set of paintings produced on the Old Testament themes. The main attraction is the twelve large-size paintings illustrating the first two books of the Old Testament (Genesis and Exodus). Other rooms in the museum house compositions based on other Old Testament books.
Ticket prices are moderate (adult admission costs €8 EUR, while children's entry costs €6 EUR.
Marc Chagall Museum
Avenue Docteur Ménard, Nice, France.
Opening hours: 10:00-18:00 (May to October); 10:00 -17:00 (November to April); closed Tuesdays.
Website: www.musee-chagall.fr

8.) Place Masséna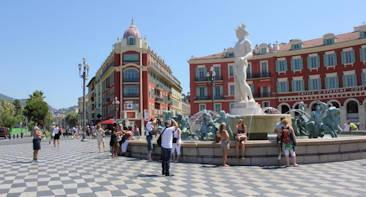 Place Masséna, is the Nice's main square. Well, I call it a square, it is almost like a long boulevard. It is situated between the Promenade des Anglais and Avenue Jean Médecin, the main shopping street in Nice. During July in Nice, Place Masséna is used as a location for the Nice Jazz festival. Towards the South and North of Place Masséna, there are some beautiful gardens (Albert I and Masséna gardens). In Place Masséna itself there are some lovely old buildings and some newly refurbished fountains. Here you will also find Palais Masséna, which was an old bourgeois palace, that has now been turned into a museum. You can see the old marble reception rooms where the great and the good used to socialise.
9.) Park Phoenix, Nice, France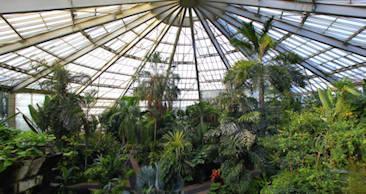 Park Phoenix on the outskirts of Nice, up by the airport, is a great place to spend the day during July, to catch some breeze and just to see some greenery. If you are traveling to Nice with the kids, then this ecological park and zoo is a great good choice. You feel like you are in the middle of the countryside, even though you are still in the city borders. There is a wide range of animals to see including Otters, Peacocks, Lizzards, colourful Iguanas and Parrots and plenty of ducks and swans. The park is laid-out beautifully, with lots of lovely shaded walkways, fountains, lakes and places to have a picnic.Park Phoenix costs virtually nothing. Tickets for Adults cost €3 and children are free. The park opens from 09.30 to 18.30 each day.

10.) Russian Cathedral, Nice, France
The Russian Cathedral in Nice is a beautiful piece of architecture. It's huge blue and green domes and bright decoration make this a particularly unique building in Nice - a pure slice of Russia on the french Riviera. The building was originally commissioned by Tsar Nicholas II. The cathedral was opened in 1912 and served the large Russian Orthodox community in Nice (including the influx of aristocrats after the Russian Revolution). I have never been inside because it was acually closed when we visited Nice. But by all accounts it is very ostentatious inside, with plenty of gold and marble on show.
The Russian Cathedral is located on Avenue Nicolas II. The church is (usually) open daily for tours, but it is closed on Sunday mornings for services.
Apartments in Nice France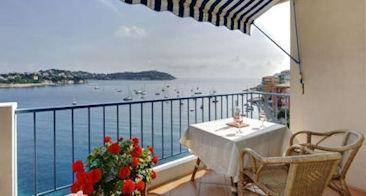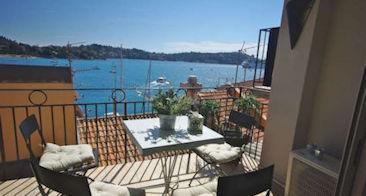 If you are interested in visiting Nice, France, this year, then you would be well advised to book your accommodation well in advance. With over 1 million people visiting Nice during July and August hotel accommodation in Nice is often set at a premium. One cost-effective alternative to staying in a hotel is to hire an apartment in Nice during your stay. On Go Languedoc, you will find a wide selection of Nice apartments to rent during July. These range from high-end luxury apartments to low cost budget options in the Old Town of Nice (Vieux Ville). Search now for your apartments in Nice France to rent.
Travel to Nice France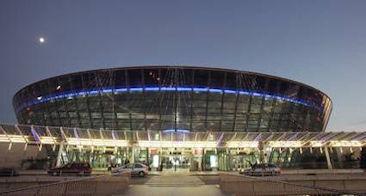 You can reach the Nice very easily, with direct cheap flights to Nice airport from London Gatwick & Heathrow (British Airways), Moscow (Aeroflot) and New York (Delta). Nice airport is the second biggest airport in France with almost 12 million passengers arriving annually from over 103 destinations. Nice airport is used by 57 different airlines from 30 countries. Nice airport, France, also features regular flights to Brussels (Brussels Airlines), Canada (Air Canada), Dublin (Aer Lingus & Ryanair), Dubai (Emirates), Cologne/Bonn, Düsseldorf & Stuttgart (Germanwings), Madrid (Iberia), Amsterdam (KLM) and Istanbul (Turkish airlines).
Nice airport is also the number one airport in France for low-cost flights with around twenty airlines carrying 30% of the passengers to France. In total, over 3 million people use the low-cost airlines to visit Nice each year. The low-cost airline Easyjet uses Nice as its regional hub in France and runs regular flights to Nice airport from Amsterdam, Barcelona, Berlin–Schönefeld, Brussels, Geneva, Lisbon, Liverpool, London-Gatwick, London-Luton, London-Stansted, Marrakech, Naples, Paris-Charles de Gaulle, Paris-Orly, Rome-Fiumicino and Venice.

Nice airport is located 8kms from the centre of Nice and it is well connected by train and bus routes. Buses travel directly from the airport to the Promenade des Anglais and the Gare de Nice railway station. The nearest train station to Nice airport is Nice-Saint-Augustin (15 minutes walk away). Nice has also developed a Tram line that services the Airport and the center of Nice at Place Masséna.