Visit Nice France in December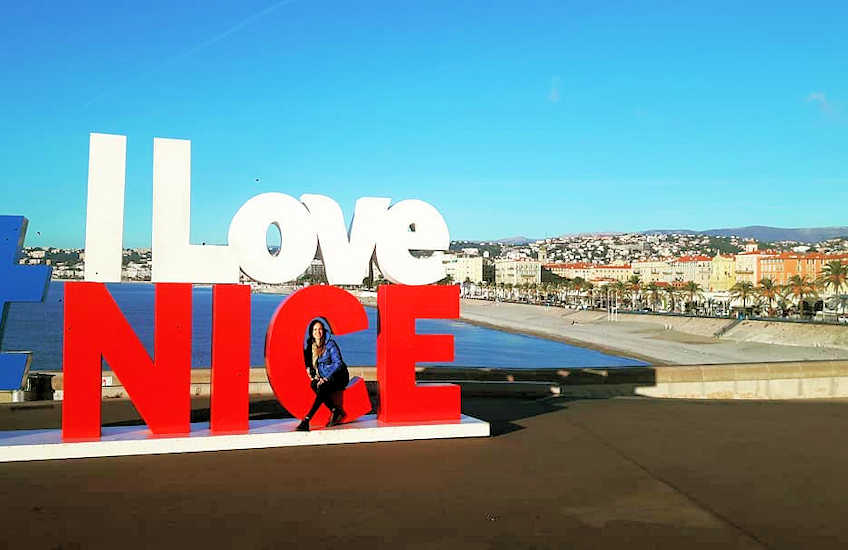 If you are looking for a good place for a winter break, then visiting Nice, France in December enables you to benefit from the mild Mediterranean weather, the lower air fares and accommodation costs and you also get to enjoy the large Nice Christmas market held throughout December and early January. You can also benefit from the lower air flight costs to Nice airport from mainland Europe and UK and you will also find that the accommodation is great value (especially the Nice apartments for rent).
Nice in December
December in Nice is also a magical time to visit the city. The boutique shops on the main shopping street in Nice (Avenue Jean Medecin) are brightly lit up and full of Christmas decorations.
Also the Vieux Ville (Nice Old Town) is not as busy as you will find at other times of the year. The Christmas decorations and light show along the Promeade des Anglais and in the Place de Massena are great to see.
If you are staying in Nice towards the end of December, then be sure not to miss the free concert staged by the Nice Philarmonic Orchestra on New Year's Day (at the Acropolis). To get you in the Christmas mood, the Christmas Carol concerts organised at the local churches in Nice feature a number of Carols sung in the traditional Occitane language of the South of France.
Nice Christmas market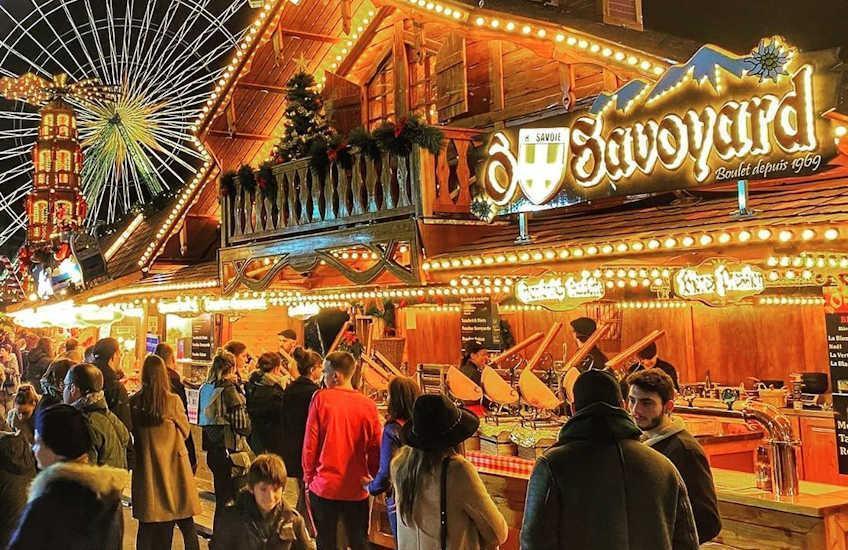 Nice organises a large annual "Le Village de Noel" in the central Jardin Albert 1er that features a giant Ferris wheel, an ice rink and a fantastic range of Christmas gift ideas and seasonal food and drink. The market stalls are housed in 60 alpine chalets and there is a full-scale alpine forest constructed from over 600 pine trees. If you are bringing children, then "Papa Noel" will break his busy winter schedule to visit Nice from 19 to 25 December 2023 (14.00 to 19.00). The Nice Christmas market runs from 1 December 2023 to 1 Jan 2024 in the Jardin de Albert 1er and is open from 11.00 to 20.00.
Events in Nice France in December
If you are visiting Nice in December, it is also a good time to witness the annual Baie des Anges Rowing Race. This full-scale International Rowing Regatta features crews from all over Europe and takes place in the Golf of Nice (Baie des Anges).
The Regatta takes place on the middle weekend in December. Also not to be missed, especially if you are travelling with kids (or you are an andrenaline-junky) is the Luna Indoor Theme Park, which takes place at the Acropolis throughout December. This features many theme-park rides, roller coasters and generally anything that makes your stomach contents tip upside down.
Weather in Nice in December
The Christmas period is a great time to visit Nice, France. The weather during December in Nice is generally mild and sunny. Although it is getting colder, especially at night, you still get many days averaging around 13-14oC (57F) and the skies are still powdery blue. The weather remains dry (with rain falling on only 9 days per month and a 17% chance of rain). But the main benefit of visiting Nice in December is the 9 hours of sunshine per day. A stroll along the Promenade des Anglais with the sun on your back and looking out over the Mediterranean sea is the perfect winter-pick-me-up.