Last updated on .
Hits: 1587
The 20 best South of France cities to visit in 2023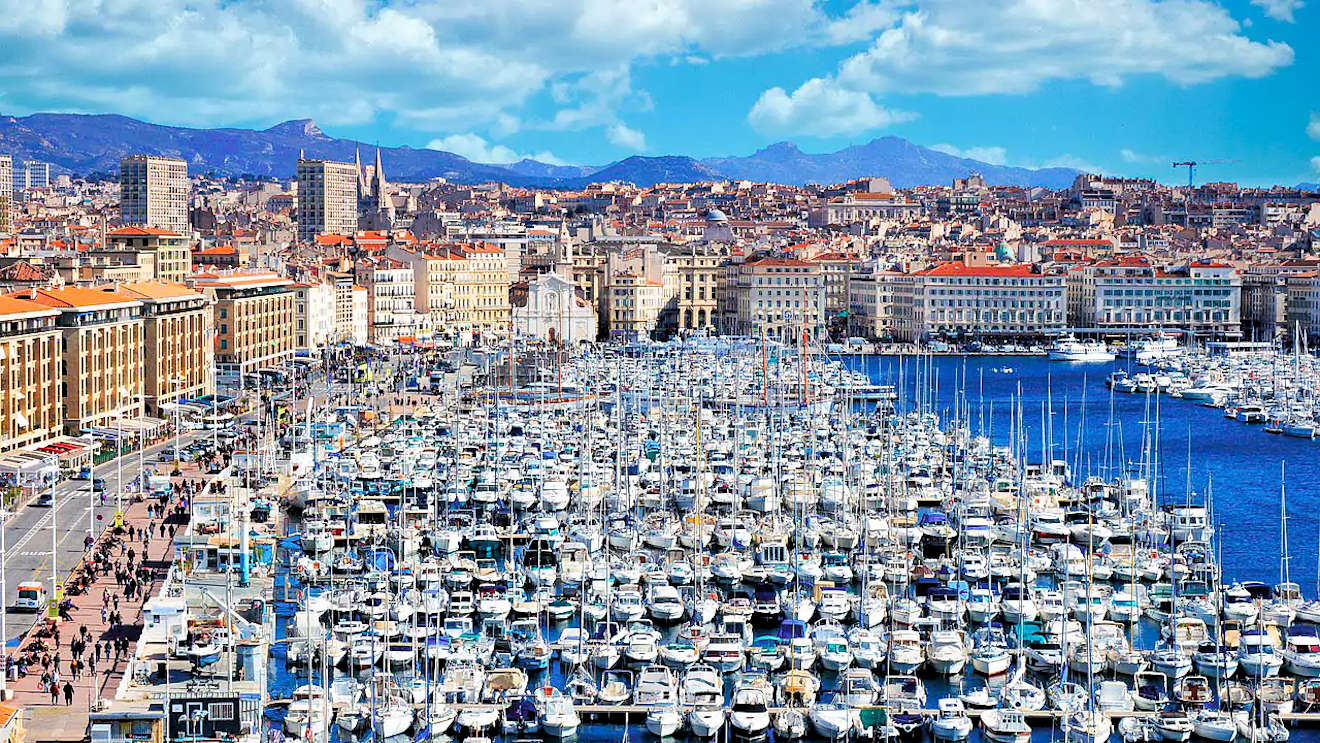 2023 is a great time to be visiting France. Preparations are well under way in France for the hosting of the Rugby World Cup during September and October and over 4 million sports fans are expected to visit France during the championships. Equally, Paris is host city of the Olympics in 2024 and all public buildings are getting a spruce up in anticipation of the event.
In the South of France, you also have major events throughout the year such as the Monaco Grand Prix at the end of May, the Opera festival in Orange during June, the Nice Jazz Festival in July, the Avignon festival (also in July 2023) and the St Louis Festival in Sète in August (amongst many other festivals which will be happening - see Best South France Festivals 2023).
If you are planning a trip to France during 2023 and you are looking for ideas about the best South of France cities to visit on your tour, then we have compiled a guide to the 20 Best South France cities to visit. After Paris, the South of France is an amazing region to visit. It is such a diverse region.
You have the vineyards of Languedoc, the purple lavender fields of Provence, the beaches of the Cote d'Azur and the glitzy glamour of St Tropez, Nice and Cannes. But there are also many other hidden gems waiting to be found. The South of France cities of Montpellier, Carcassonne, Nimes and Narbonne, with their rich history, are also well worth a visit.
There are many other South of France cities which we could have included in this list but I think 20 South of France cities is enough to be getting along with!
Best South of France cities to visit
If you are visiting the South of France any time soon, then I hope you find our list of the 20 best South of France cities to visit, a useful preparation for your trip.
1. Best South of France cities to visit - Cannes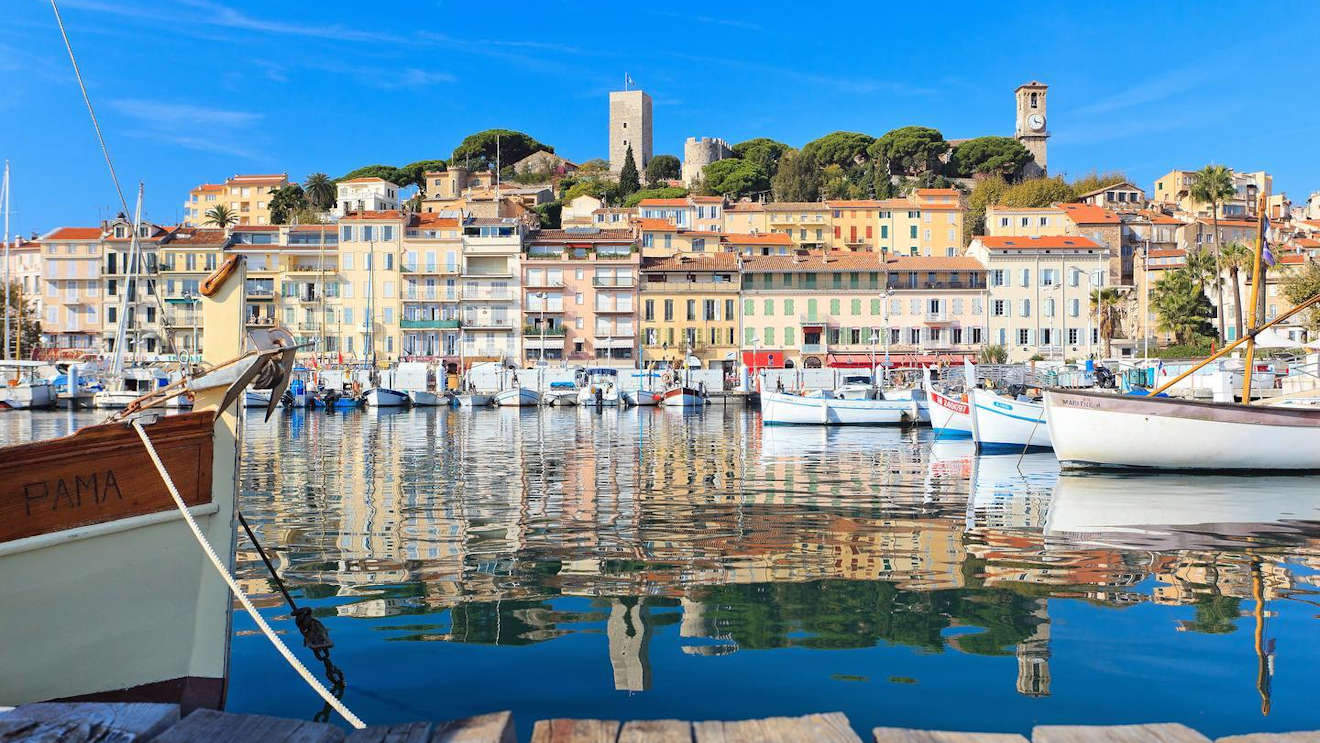 Cannes seems to sum up the whole of the French Riviera. It has all the glitz and glamour, the Mediterranean beach, the glistening turquoise sea, the designer shops, the beautiful sunsets, the fabulous restaurants, the art, the history and the relaxed pace of life. It really is the star amongst the South of France cities. The only thing it lacks is a local airport (instead you need to fly to Nice airport, 25kms away).
Every year Cannes hosts millions of visitors, with many attending the world-renowned festivals and shows such as: the Cannes Film Festival, the Cannes Boat and Yacht Show, the Cannes Lions International Advertising Festival, and many more.
But there is more to Cannes than just the famous Film Festival. The nearby coastal towns of Theoule-sur-Mer, Antibes and Juan-les-Pins are simply beautiful. The old town is a very enjoyable place to walk around. Here you can easily spend a relaxing afternoon window shopping and people watching. The restaurants down by the beach are expensive, but they are worth visiting just for the sun sets.
2. Best South of France cities to visit - Aix-en-Provence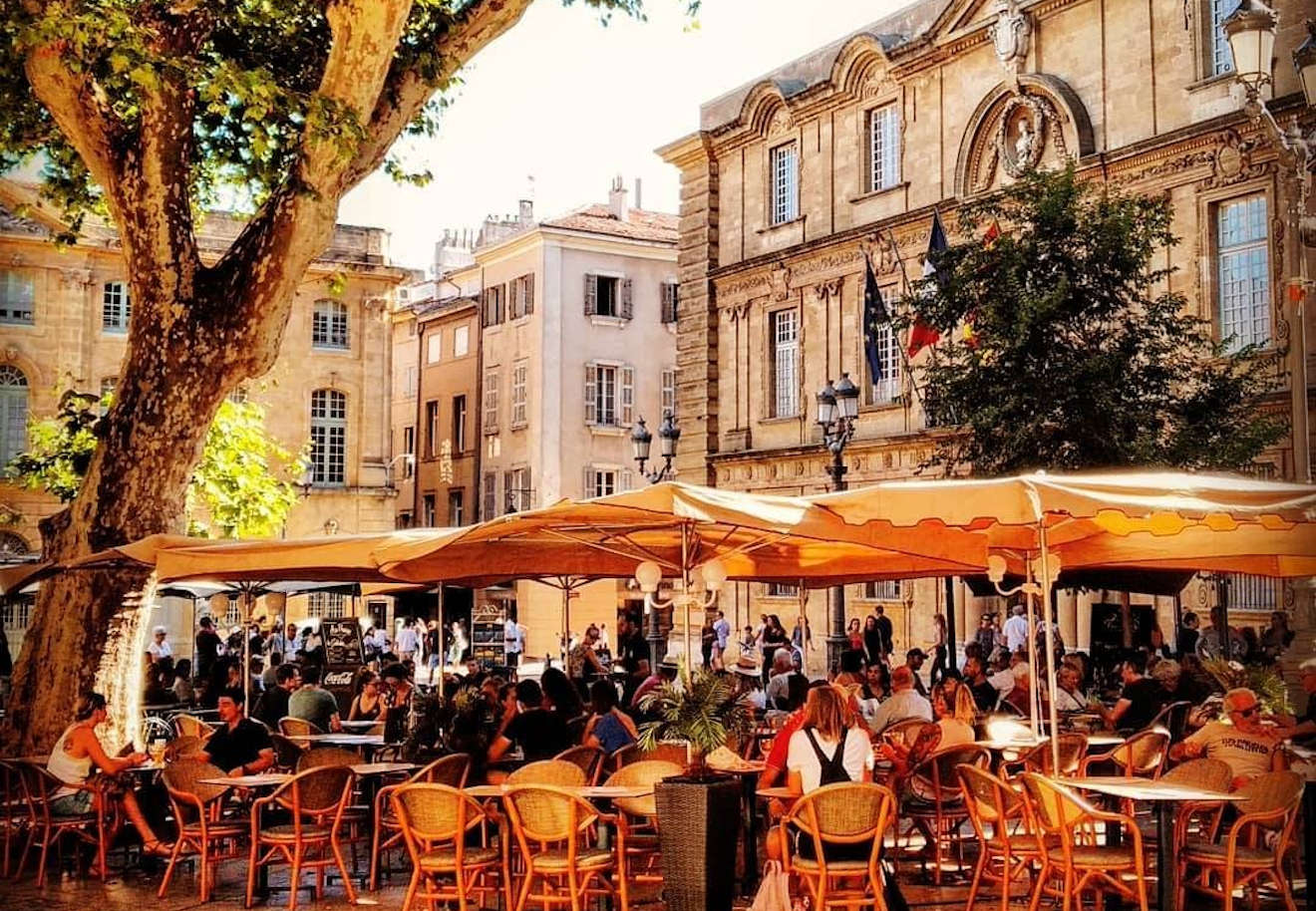 Well I had to put Cannes at #1, but if I am really honest my favourite South of France city to visit is Aix-en-Provence. The old University town of Aix is a wonderful place to spend time in. Perhaps the most recognisable part of the city is the Cours Mirabeau, the wide avenue with rows of plane-trees that follows the line of the old city wall and divides the town into two halves. Along this avenue, you will find plenty of cafés, including the Deux Garçons, which has been frequented by the likes of Paul Cézanne, Émile Zola and Ernest Hemingway. Aix-en-Provence has a lovely old Cathedral and the impressive looking Hôtel de Ville. Aix is often referred to as the city of a thousand fountains and they are everywhere. The most prominent is Fontaine des Quatre Dauphins (Fountain of the Four Dolphins) in the Quartier Mazarin.
Aix-en-Provence hosts an important opera festival, the Festival international d'Art Lyrique, founded in 1948 (which ranks alongside Salzburg and Glyndebourne in terms of importance). The festival takes place in late June and July each year. The main venues are the outdoor Théâtre de l'Archévêché in the former garden of the archbishop's palace, the recently restored 18th-century Théâtre du Jeu de Paume, and the newly built Grand Théâtre de Provence. Aix also holds a week long music festival, featuring Jazz, Classical and Rock music. Concerts are held in different street venues and courtyards in the city, hence the name of the festival "Musique dans la Rue". The festival takes place each year in June to coincide with the national 'Fête de la Musique' (21 June).
3. Best South of France cities to visit - Carcassonne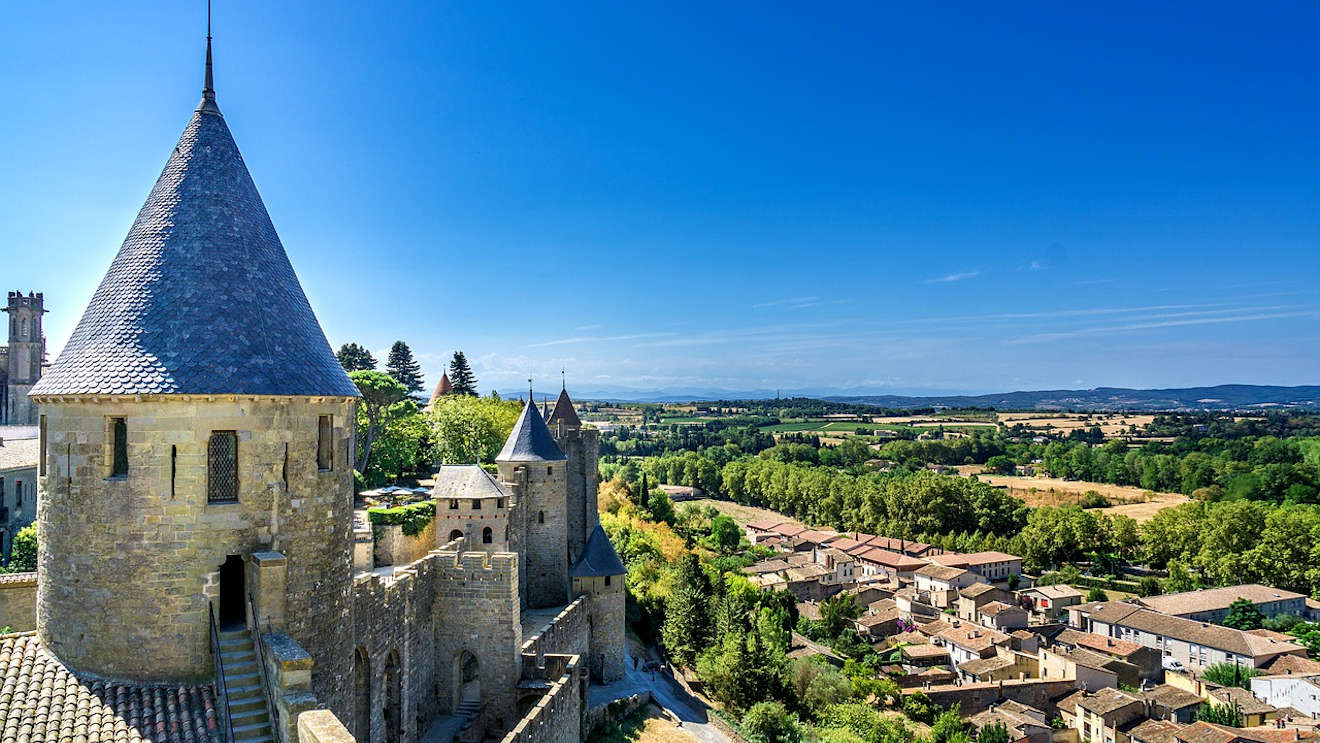 Carcassonne is the second most popular South of France cities to visit after Cannes. It's castle is France's most famous and evocative medieval citadel. Carcassonne is the third UNESCO World Heritage Site in the Languedoc-Roussillon. A wonderful monument with an impressive history. The preserved and rebuilt town inside Carcassone castle's magnificent walls provides an insight into what medieval life was like, even if it has been somewhat spoilt by tacky souvenir shops. But if you can look beyond the plastic suits of armour and tea towels you will be in for a real treat. The old medieval town below the Citadel (Ville Basse) is worth a quick visit. The centre of the town is Place Carnot, which still features a regular market (Tuesday, Thursdays and Saturdays). Most of the town dates from the 14th century onwards, when it was re-built after the Black Prince's arson. There are also some reasonably priced restaurants inside the Cite (see some of our restaurant reviews of the Best restaurants Carcassonne).
Carcassonne is a magical place. There can not be a more impressive castle in Europe. It is the scale of the castle at Carcassonne that blows you away. If you are on holiday and you are looking for a good day out then Carcassonne must come top of your list of South of France cities to visit. For more information please read our article on Carcassonne tourism.
Go Languedoc advertises a good range of properties to rent close to Carcassonne, from modern villas to old stone cottages. Our full listing of Carcassonne gites and villas can be seen at Carcassonne French gites to rent.
4. Best South of France cities to visit - Arles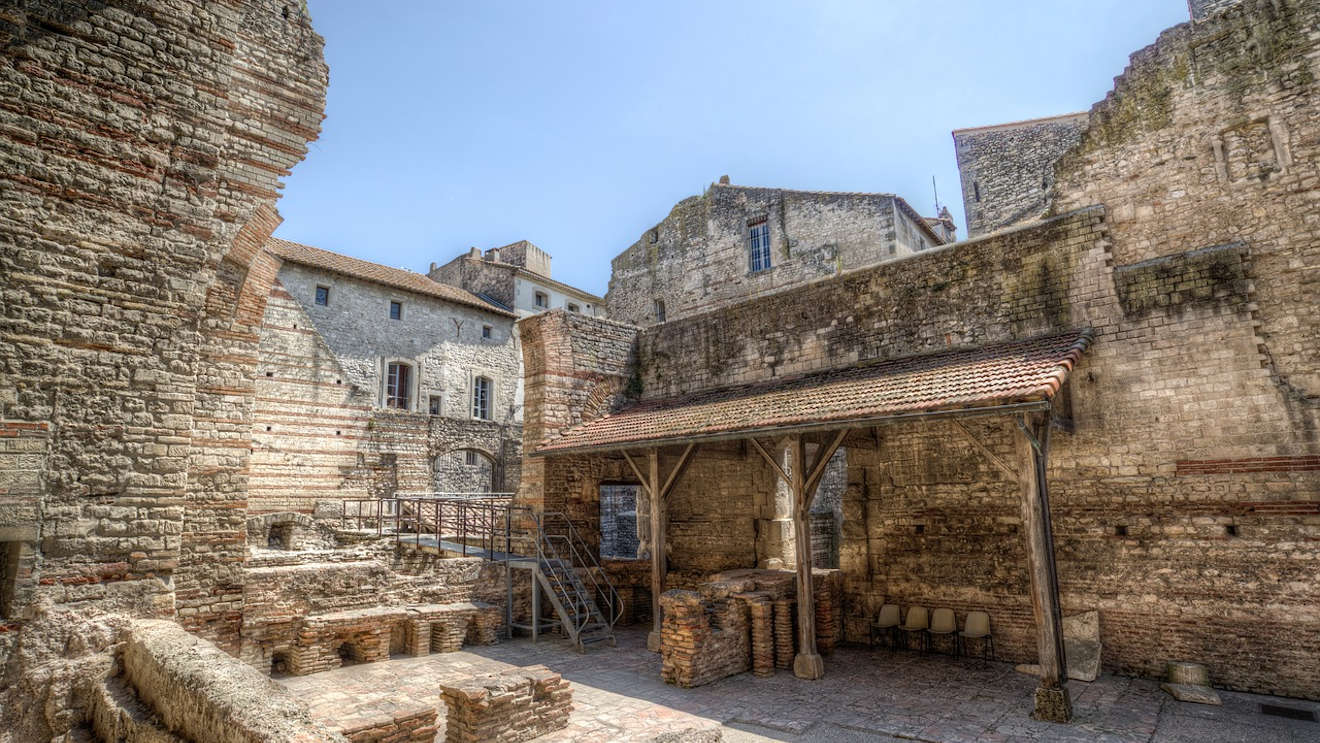 Arles is definitely one of my favourite South of France cities. With its Roman heritage, complete with Amphitheatre, Forum and Theatre; beautiful 17th Century mansions, mazy streets, modern Museums and wide rolling river; Arles has it all. Arles was also the base for Van Gogh and Paul Gauguin, during their ill-fated but successful partnership in the 'Studio of the South'. Here van Gogh painted some of his most famous masterpieces. (see our review of Van Gogh in Arles for more places to visit in Arles). You can follow a trail around the city and the local countryside to see some of the places that van Gogh painted.
It is easy to spend a very pleasant day in and around Arles. The compact centre of the city is easy to navigate around and there are plenty of nice restaurants and shops. Arles is also on the edge of the beautiful Camargue region.
5. Best South of France cities to visit - Collioure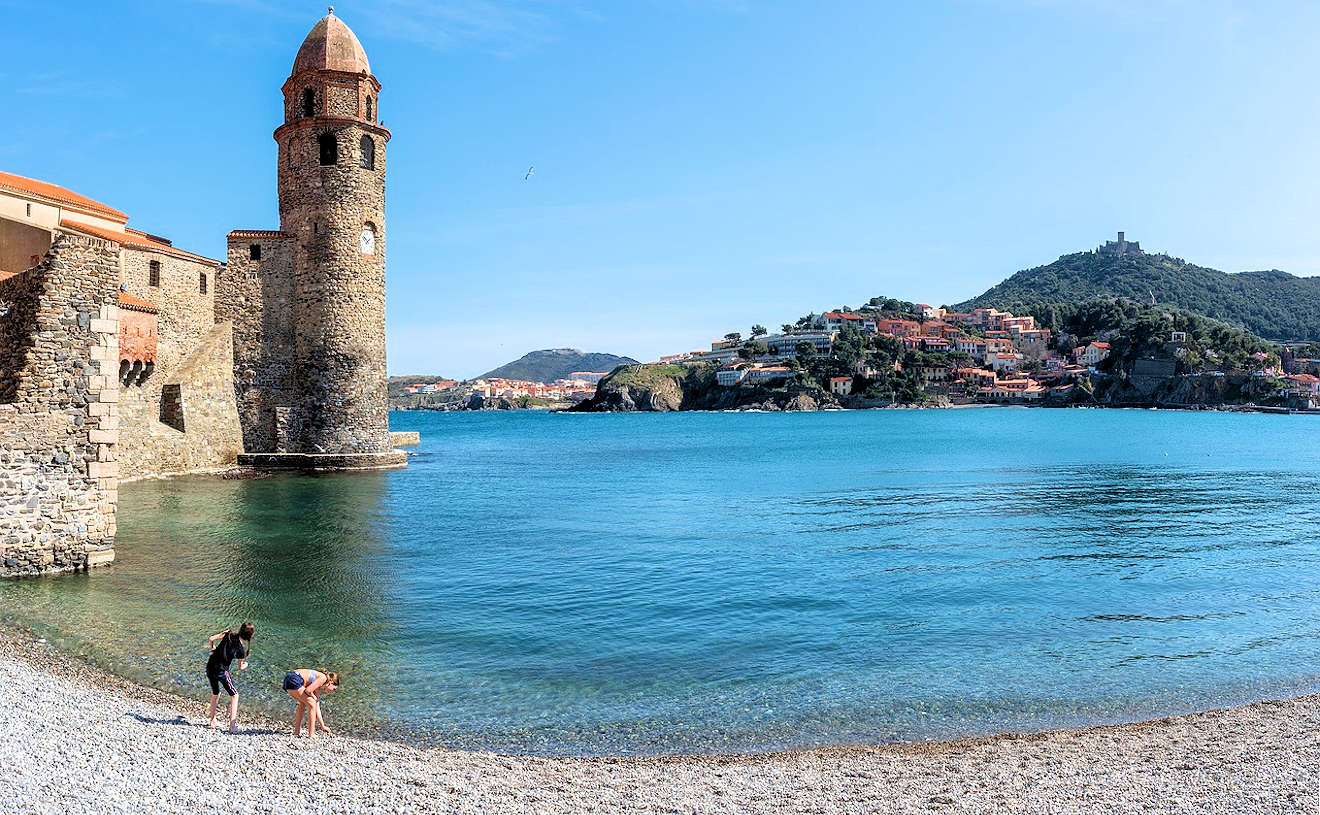 The picturesque beach town of Collioure is an idyllic place. It is situated in the very south of France, 26 km (approx. 15 miles) from the Spanish border. Its small Catalan harbour is sheltered by a quiet bay where the Pyrenees meets the Sea. You can count on having a splendid swim at one of the small coves. Collioure has 3 different beaches, all with splendid views of the town and the surrounding hills. Collioure has always attracted a host of artists because of its 'special light' and you can follow the unique art trail through the town (see Collioure Art Trail for more information).
We always try and visit Collioure at least once a year. I don't know why, but there is simply something very uplifting about Collioure. It may be the meal by the harbour over-looking the sea, or the shopping in the maze of streets or the sunbathing on the beach. But whatever it is, I always come back from Collioure in a good mood. For more information on what to do and see in Collioure, please read our article: Collioure tourist information for more detail. We have a number of properties available to rent in and around Collioure. See Collioure accommodation for our full listing.
6. Best South of France cities to visit - St-Remy-de-Provence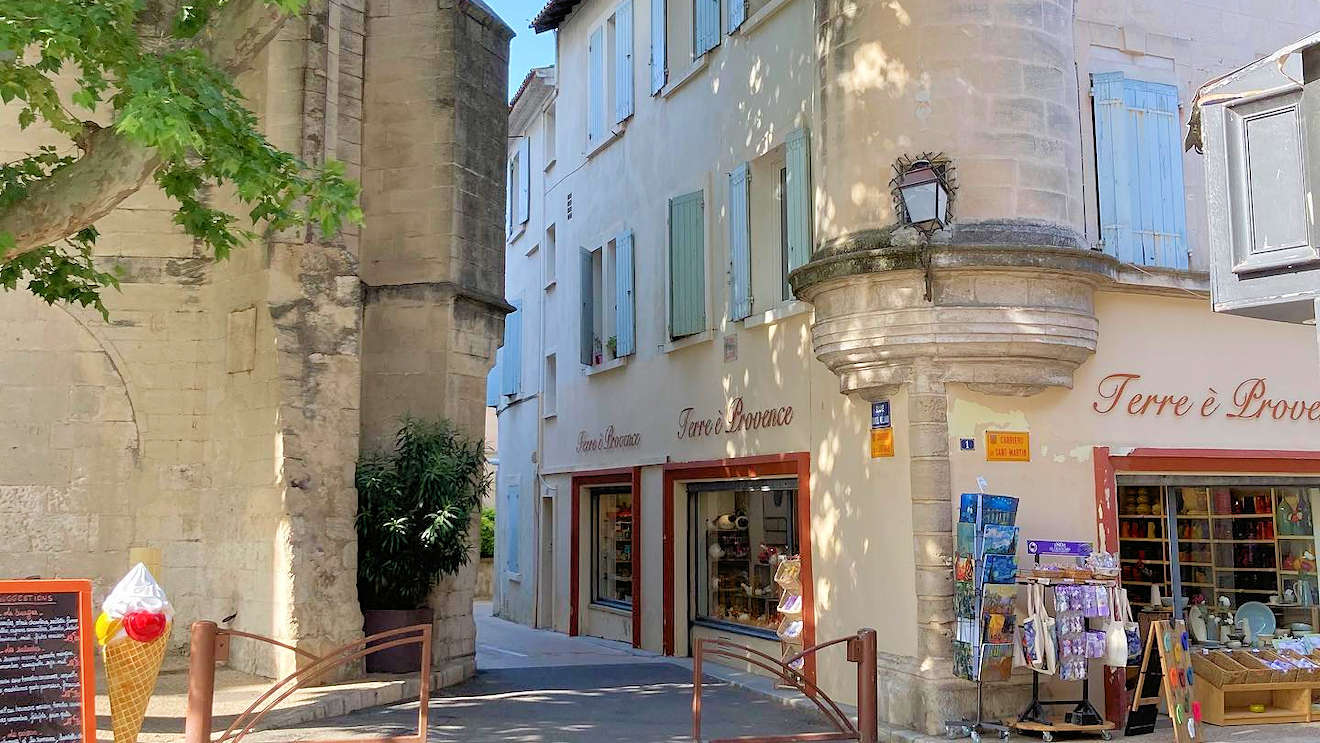 Saint-Remy-de-Provence is a pretty little town in the South of France. Saint-Remy-de-Provence is often regarded as the heart of Provence. The centre of the town has lots of mazy streets and it has a large market which takes over the town every Saturday morning. Nostradamus, the 16th-century author famous for his prophecies, lived in Saint-Remy-de-Provence for a period of time and there is a museum devoted to his life and his writings. The brother of Vincent van Gogh lived in St Remy and the painter was treated here in the psychiatric centre after he had cut his ear off. During his stay in St Remy, it was probably van Gogh's most important period in his life. He painted one of his most famous paintings, The Starry Night, whilst he stayed in the asylum of the village's monastery. Besides the monastery, the town features a beautiful historic city centre and the wonderful ancient Roman site, Glanum.

Saint Rémy de Provence is one of the most famous towns in the region, and is located south of Avignon and just north of the Alpilles mountain range. If you do visit St Remy, you must make a detour to visit Les Baux de Provence, a stunning hill top castle, which is also the site of the famous Cathedral of Images. Saint-Remy-de-Provence is a very pleasant place to spend a week or so on vacation. There are lots of small restaurants and pavement cafes, as well as interesting little shops. St Remy should feature prominently on your list of South of France cities to visit.
7. Best South of France cities to visit - Nice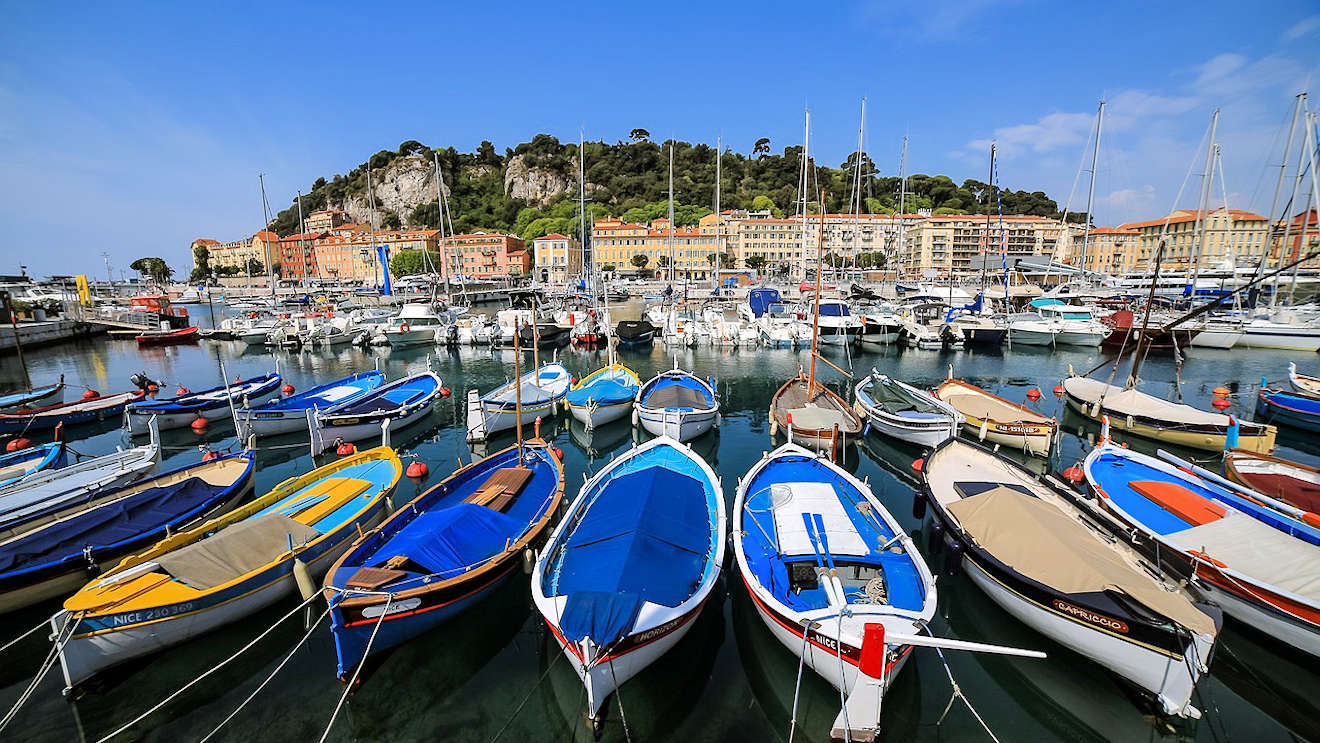 Think of the South of France and Nice comes firmly into mind. With its broad avenues, wide sweeping bay and golden beach it is not difficult to see why some 3 million people flock to Nice every year. Only Paris rivals it as a tourist attraction in France. With the famous Promenade des Anglais, the Matisse museum, the Russian Cathedral and Vieux Nice, there is so much to do and see.
For a long part of it's history, Nice was an Italian city. Well that isn't strictly true because Italy as a nation state was only created in 1861. But it was certainly controlled by rulers from Sardinia and Piedmont. Nice, grew as a city when it became a popular summer retreat for 19th-century Europe aristocracy (the so-called Belle Époque). Many of the decadent buildings can still be seen throughout Nice.
But today, this vibrant South of France city is creating a whole new image for itself. Nice has many excellent restaurants (some of the best in France). Also, its markets and speciality food shops cover a wide range of produce from all over the region. Nice is the fifth largest city in France and is situated in between Cannes to the West and Monaco to the East. Nearby Nice there are many beautiful coastal resorts such as Menton, Roquebrun and the exclusive St-Jean-Cap-Ferrat. Nice also has an international airport and TGV train station.
If you are interested in visiting Nice, Go Languedoc has a number of rental properties situated in Nice itself and the surrounding area (see Villas in Nice to rent).
8. Best South of France cities to visit 2023 - Montpellier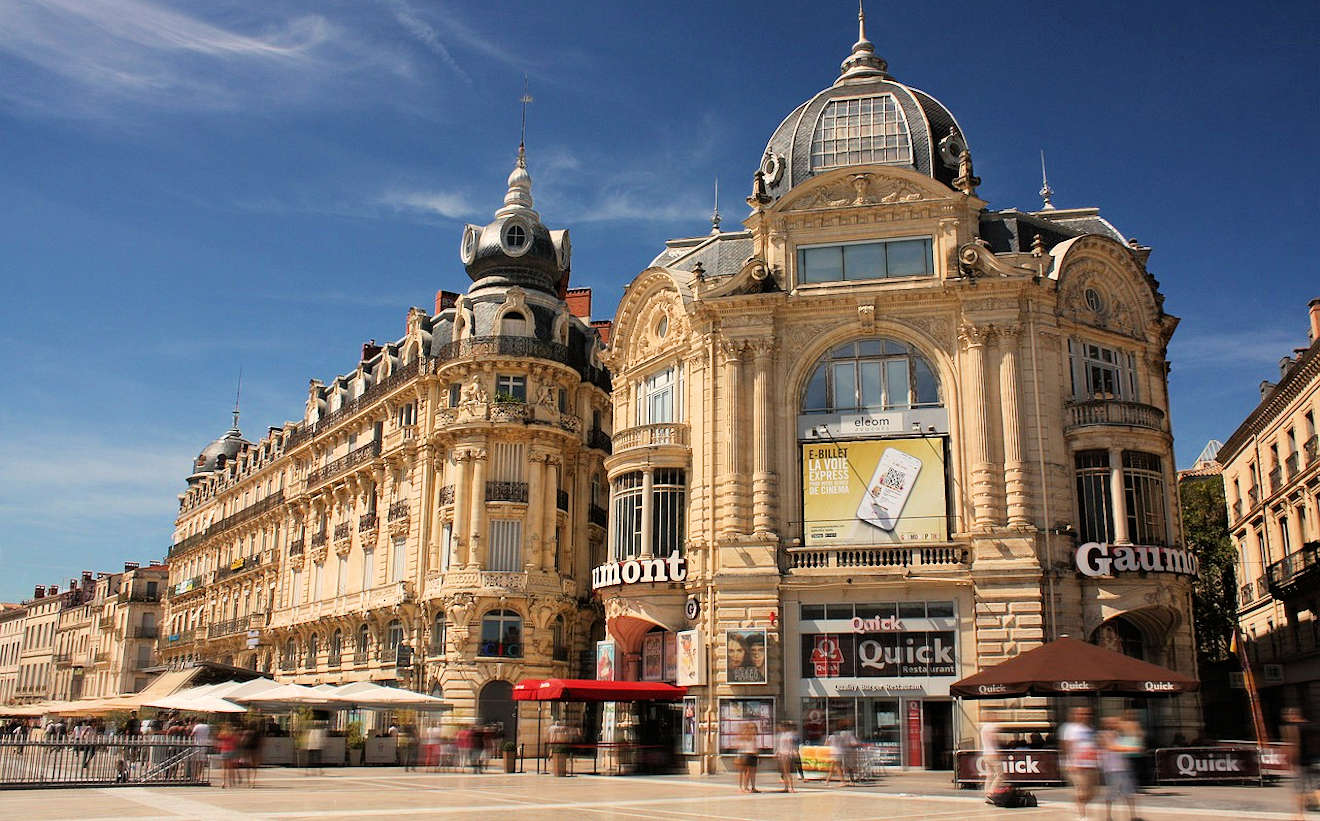 I love going to Montpellier. It is a real treat. The place is alive with amazing energy and is a real tonic to the lazy days spent in a Southern France village. With fine museums, a charming old centre, modern tramway network and booming hi-tech business sector with extraordinary modern buildings; you really get the feeling that Montpellier is the place to be Languedoc. It even has a Mediterranean beach!
It is of no surprise that within France, Montpellier has the reputation for being the most dynamic of the South of France cities to live and do business. Montpellier frequently tops the list of French cities the French people would like to live in.
Montpellier also has the world's oldest continuously operating university. Montpellier is the Capital of Languedoc and is also the fastest growing city in France. Montpellier's university helps to give the city an unusually large population of people under 25, which means that the bars, clubs and restaurants don't give up the ghost once summer ends. But once the students leave at the end of term, the annual summer festivities get into full flow.
The best time to come to Montpellier is during one of its excellent festivals such as the Montpellier Danse festival. See our article on Montpellier tourism for more details.
On Go Languedoc we have a number of popular villas in Montpellier and the surrounding villages to rent. See Montpellier villas to rent in France for our full listing of properties.
9. Best South of France cities to visit in 2023 - Aigues-Mortes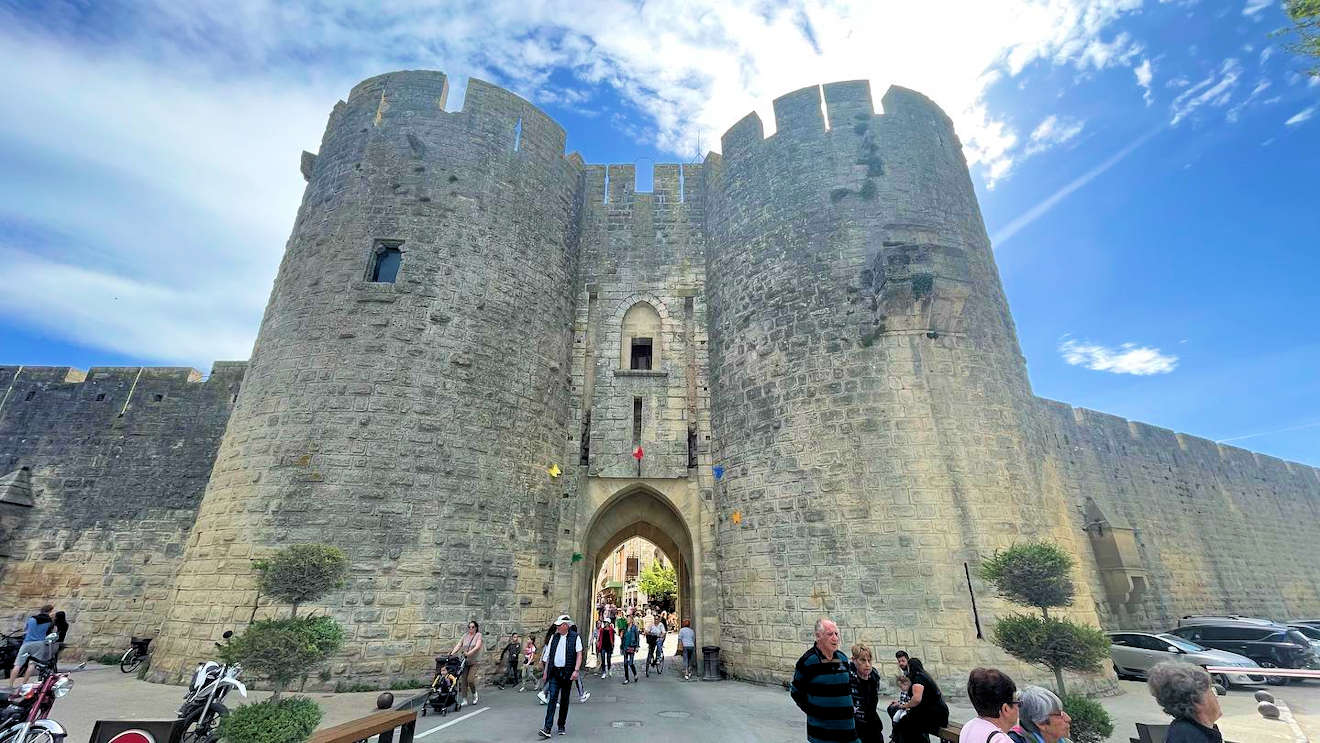 Spending time in Aigues Mortes is always enjoyable. This medieval walled town is romantically set among the dunes and plain of the Camargue. A tour of Aigues-Mortes' fortifications and grid pattern streets is a must on any visit to the South of France. Although popular in the height of Summer, you can easily spend a very pleasant day wandering around the shops and eating at the pavement restaurants in the centre. Aigues-Mortes, was originally intended to be the principal port in the South of France. It was founded in 1246 by Louis IX, who used the Port as his base for two expeditions from the South of France to Cyprus and Tunis (where he met with his death). His son, Philip, took over from his father and commissioned Genoan engineers to build up Aigues-Mortes' famous fortified walls and grid-pattern streets. For a time the town prospered from the nearby salt beds.
By the end of the 14th century Aigues-Mortes had become a back-water town, with its port area being swallowed up with silt. The town seems to have ambled through history up until the 19th century when it was rediscovered as a place to visit. Aigues-mortes is now a mandatory stopping off point on any tour of Languedoc and the South of France. One of the best times to visit Aigues-Mortes is during the bull festivals held in late May and in early September. The summer Thursday night 'spectaculars' are also worth attending. See our article on Aigues-Mortes tourism for more information.
10. Best South of France cities to visit - Uzes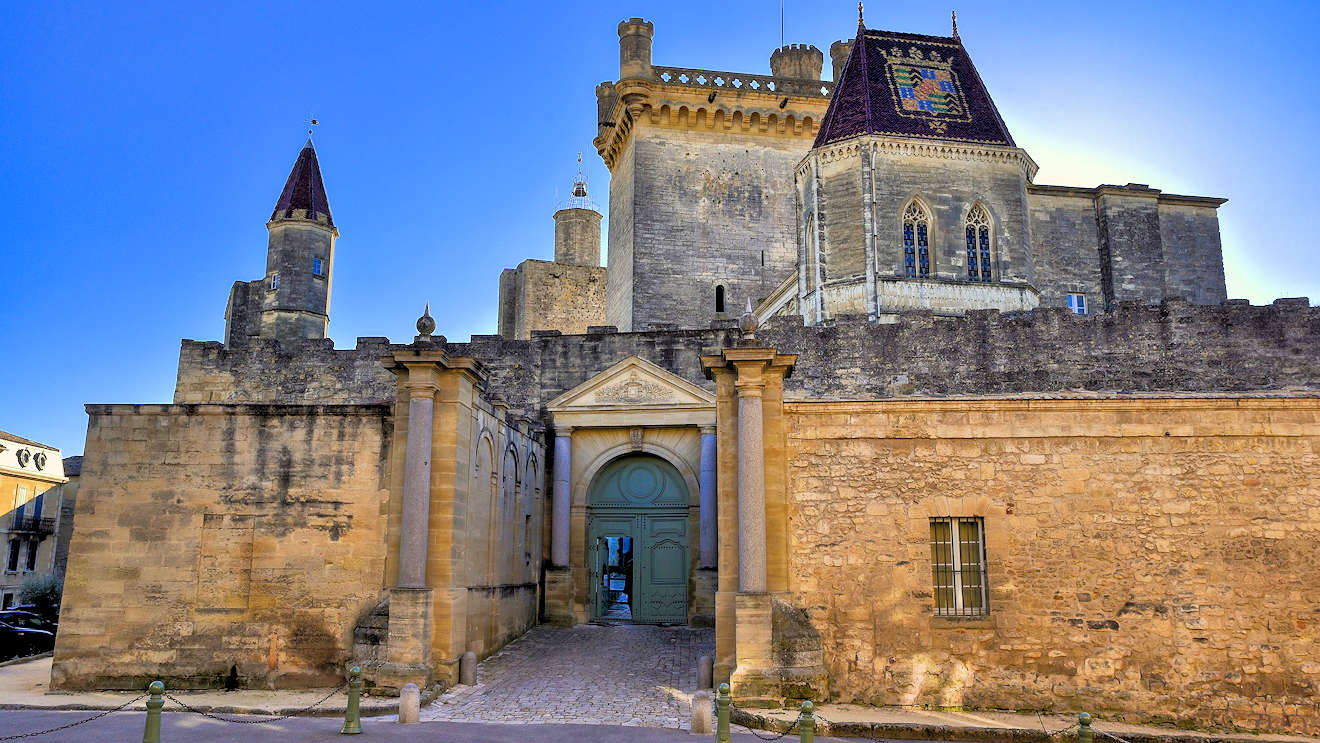 Uzes, South France is a very pretty town, set amongst the beautiful countryside of the Gard department. We recently spent a weekend there and we had a great time. Together with Aix en Provence, St Remy, Aigues Mortes, Avignon, Sommieres and Pezenas; Uzes really ought to be up there on your list of South of France cities to visit if you are planning a tour of the South of France.
In the centre of Uzes there are lots of narrow streets with little boutiques arranged around the old Duchy. In the centre you will find a big square (Place aux Herbes), laid out with fountains and plenty of decent restaurants. Whilst we were visiting, there was a big Arts Fair going on - which really sums up Uzes - it is a big art loving town. The Saturday market in Uzes takes over most of the town and it is supposed to be very good (as well as busy). Uzes and the surrounding region has a bit of a reputation as a foodies paradise.
The other reason for coming to Uzes, France (especially if you have kids - or a sweet tooth) is to visit the Haribo sweet museum. I took my three little monkeys there and they absolutely loved it. It was like Willy Wonkas Chocolate factory! There were plenty of free sweets, some boring exhibits of old sweet manufacture and more interesting interactive displays about how they make the sweets today. The shop on the way out is something to behold. I can tell you that it cost me a small fortune.
11. Best South of France cities to visit - Marseille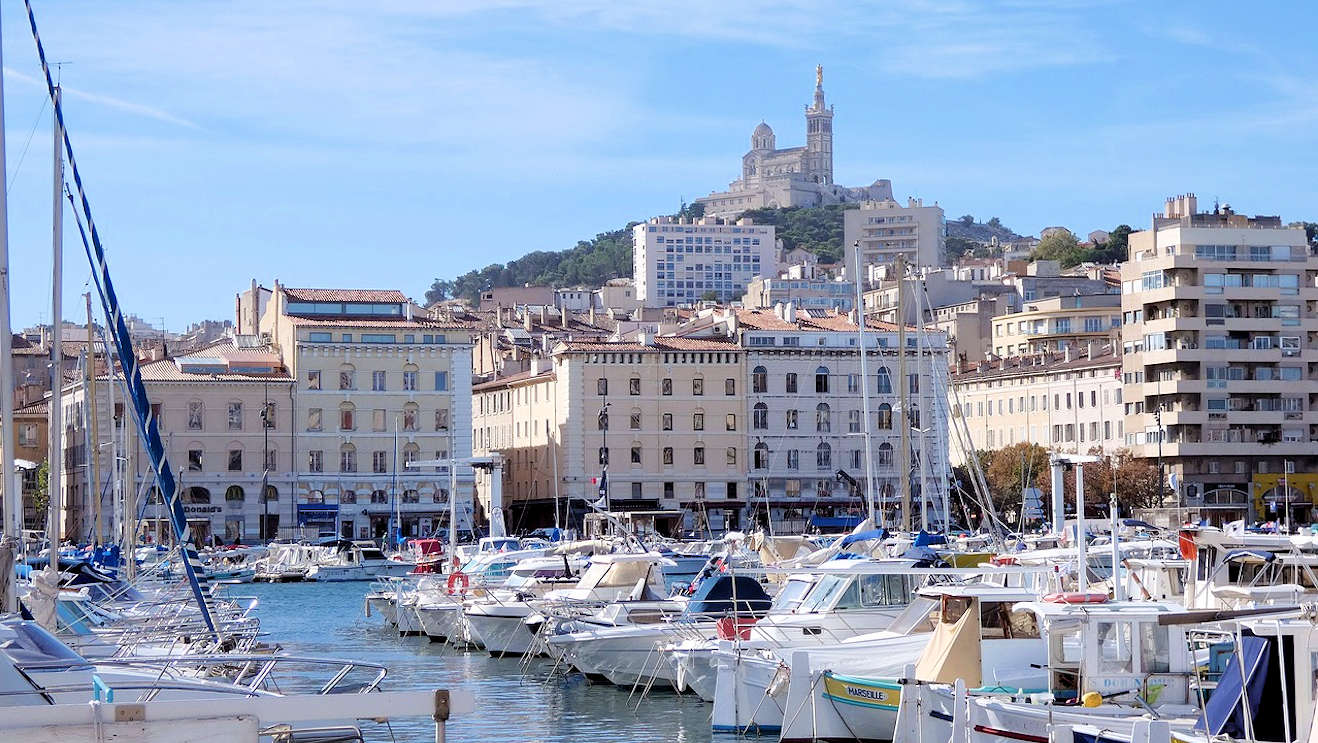 The port of Marseille is the largest city in Provence, being the second-largest city in France. The city is a bit of a mixed bag. Scruffy (and dangerous in parts) and also charming and modern in others. But do not be discouraged, Marseilles has much to offer.
Heading off to the Vieux Port area of the city is always rewarding and here you will find market stalls filled Provençal products, Moroccan-like souks and a centuries-old fish market with produce coming straight off the boats behind it. In Vieux Port's Le Panier neighbourhood, you'll find narrow, winding streets and authentic shops. You'll also find pedestrianized shopping streets such as Rue St-Feereol. Make sure you stop somewhere and get a steamy bowl of bouillabaisse, a traditional fish stew from Marseilles containing different kinds of fish, shellfish and vegetables, flavoured with a variety of herbs and spices such as garlic, orange peel, basil, bay leaf, fennel and saffron. Marseilles is often described as the gateway to Provence and from here you can easily strike out and visit the other towns of Provence, France.
12. Best South of France cities to visit - Nimes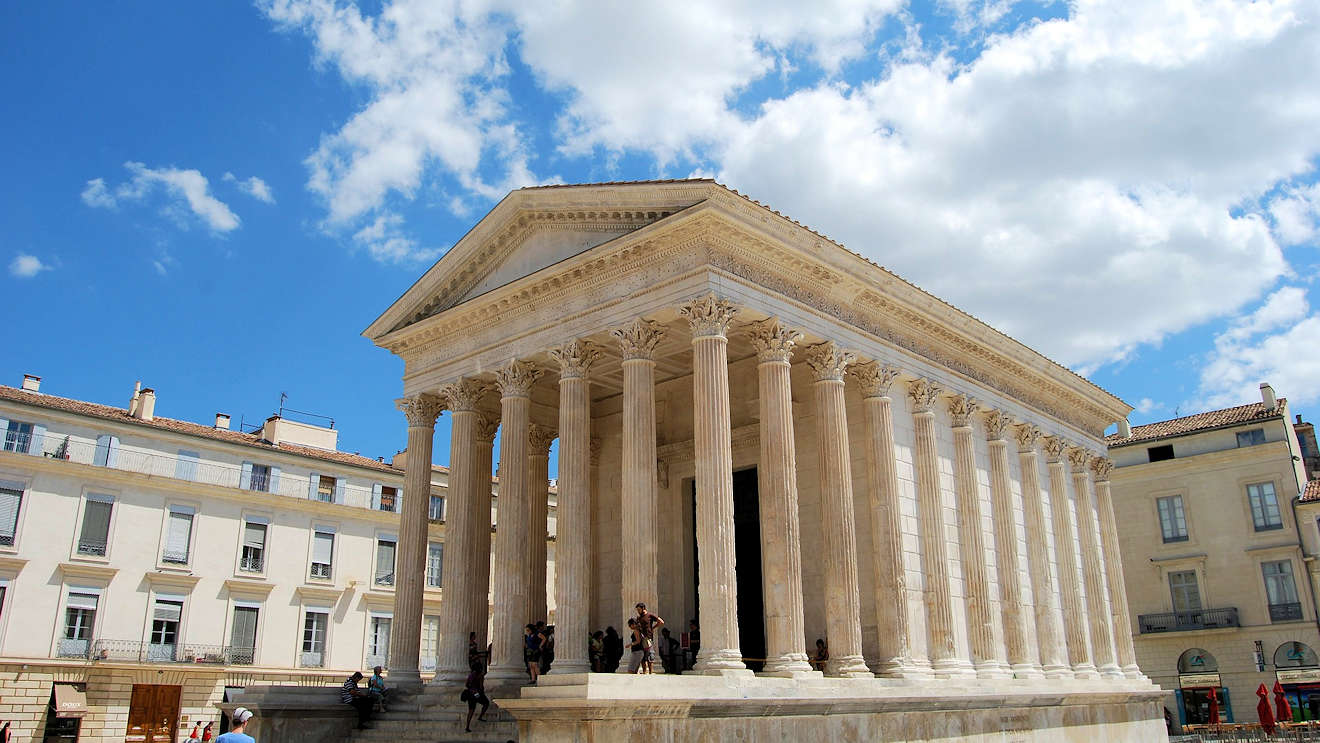 Nimes will always be associated with two important historical events: the Romans and Denim jeans. Its location on the Via Domitia - the main chariot route from Spain to Rome - helped make it a favourite with a series of Emperors. Today it is endowed with an outstanding collection of monuments including the Maison Carree, the Amphitheatre and the temple of Diana. Maison Carree (or "square house") is a perfectly formed temple that was once the centrepiece to Nimes' forum. It was built in 4AD at the intersection of two major Roman roads (one leading to Spain - the via Dormitia - the other going north to Germany and Britain) and was dedicated to Emperor Augustus' adopted grandson. Maison Carree is regarded as the world's best preserved Roman temple and despite its patchy history over the years (it was once used as a stable in the middle ages) it has been cited as inspiration for Thomas Jefferson's Virginia Capital building and the Magdalene Church built by Napoleon in Paris. Today Maison Carree, Nimes, sits in a sunken position in its own square, ringed by pavement bars and off-set by the impressive Modern Carre d'Art building. Inside Maison Carree you will find a small museum, providing details and excavations of the building itself.
During the middle ages up unto the late 19th Century, Nimes also forged a successful industry as a textile centre, including its famous blue cotton cloth "de Nimes" (thus later "denim") that was imported to America by Levi Strauss for use as clothing for working men.
Today, Nimes is home to a bustling commercial district, with winding streets hiding a large number of boutiques and artisanale shops. Nimes also houses two good art galleries and hosts some of the most colourful festivals in the South of France - February's Carnival and the Ferias of Pentecost and September. Visit our articles on Nimes tourism and the nearby Pont du Gard Roman aquaduct.
The area around Nimes is very popular with our customer looking for villas for rent in France. Here we have selected a small number of the most popular Nimes rental properties, but more can be found at: Nimes villas for rent in France.
13. Best South of France cities to visit - Avignon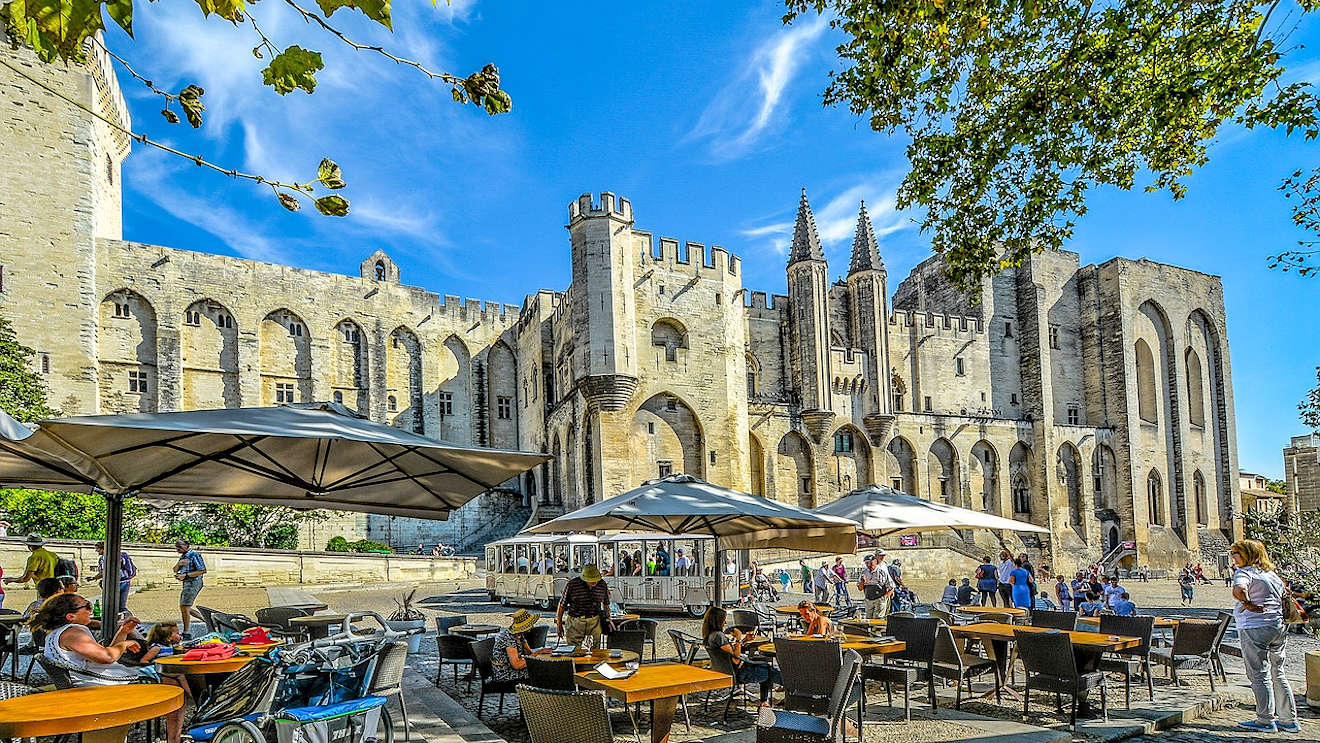 Avignon is a wonderful mix of history and culture, set on the banks of the River Rhone. Avignon is one of the most historical South of France cities to visit. Avignon arrived on the World's stage when in 1303 the Vatican decided to move away from the tribal violence of Rome to the peaceful pastures of Provence. Although the Papal only stayed for 70 years, their legacy can still be seen on the beautiful streets of Avignon.
Today Avignon is a charming city in Provence, with lots of bustling streets and squares. The Rhone river which runs through Avignon, has been developed into a nice park and walk-way. Avignon is well-served by the TGV and also the airports at Nimes and Marseille.
Set in the heart of Avignon, the Pope's Palace is the biggest Gothic palace in Europe. This Palace with its ceremonial rooms, chapels and private papal apartments, became a symbol of the power of the Christian world in the 14th Century. It certainly is a spectacular site, the whole complex is enormous and shows the wealth and power that the Vatican enjoyed at this time. At the back of the Palais, there is now a lovely park that commands great views over the River Rhone and the surrounding countryside.
The Pont d'Avignon (or Le Pont Saint-Bénézet to give it it's proper name) was built around 1180 and it is basically famous for falling down. The bridge was first destroyed in 1220 during a Crusade by Louis VIII of France. The bridge was then rebuilt (this time in stone with 22 spanning arches. But then it fell down again. This time it was the flood surges of the River Rhone which did the damage. The bridge was repaierd and rebuilt at various stages, but then in the middle of the 17th century the good people of Avignon got fed up with paying the taxes to maintain it, so the bridge was abandoned. The bridge was the inspiration for the song "Sur le pont d'Avignon" and if ever you mention this to any French person they will immediately break out into song, grab the nearest person and do the dance that was indoctrinated into them at school.
While Avignon is probably most noted for its famous bridge and the Palais des Papes, it is also a very vibrant city with an active student community, lots of history and makes for a great jumping off point for exploring other towns of the Provence region of France. Every year Avignon hosts a fantastic festival of street entertainment, theatre and music which takes over the whole town. This is probably the best time of year to visit Avignon, although it can be difficult to find accommodation in the city. See our article on Avignon tourism for more details.
14. Best South of France cities to visit during 2023 - Pezenas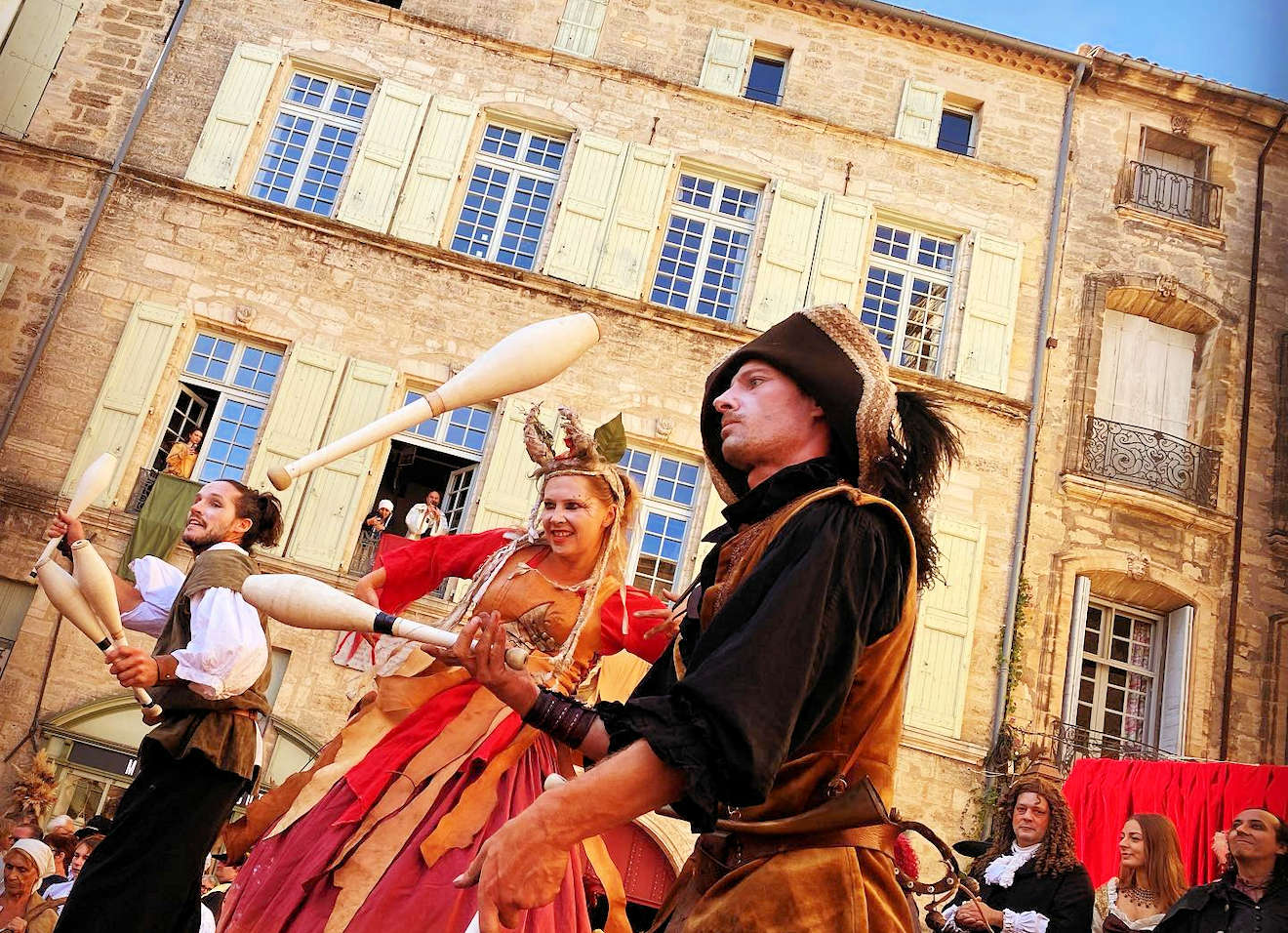 Well I have to admit to a bit of local self-interest. Pezenas is our local town, just 2 minutes down the road. But even allowing for this favouritism, I would still recommend Pezenas as a good place to visit. When you walk the old streets of Languedoc's former capital, you get a sense that nothing much has changed since the time of it's most famous former resident, the French playwright Moliere.
Pezenas today is now a haven for antiques shops and a fabulous Saturday market. Pezenas is probably the prettiest town in the South of France (although Uzes and Sommiers may have something to say about that!). Pezenas is also quite a lively place, with many arts festivals taking place throughout the year.
Perhaps the best time to visit Pezenas is during the summer, especially on a Friday night when a massive food & wine festival takes place all along the main street (Cours Jean Jaures). There is live music, plenty of local wine producers and plenty of stalls selling local food produce, including sea food from the local fishing villages of Meze and Bouzigues.
We just love wandering around the market on a Saturday and taking a detour off into the old Jewish quarter with the jewellers, cafes and boutiques. It is no wonder that Pezenas is such a draw for people all year around. (see Pezenas tourism for more details).
We have a large selection of villas in Pezenas and the surrounding villages. See Pezenas villas in South France for our full listing of properties.
15. Best South of France cities to visit - St Tropez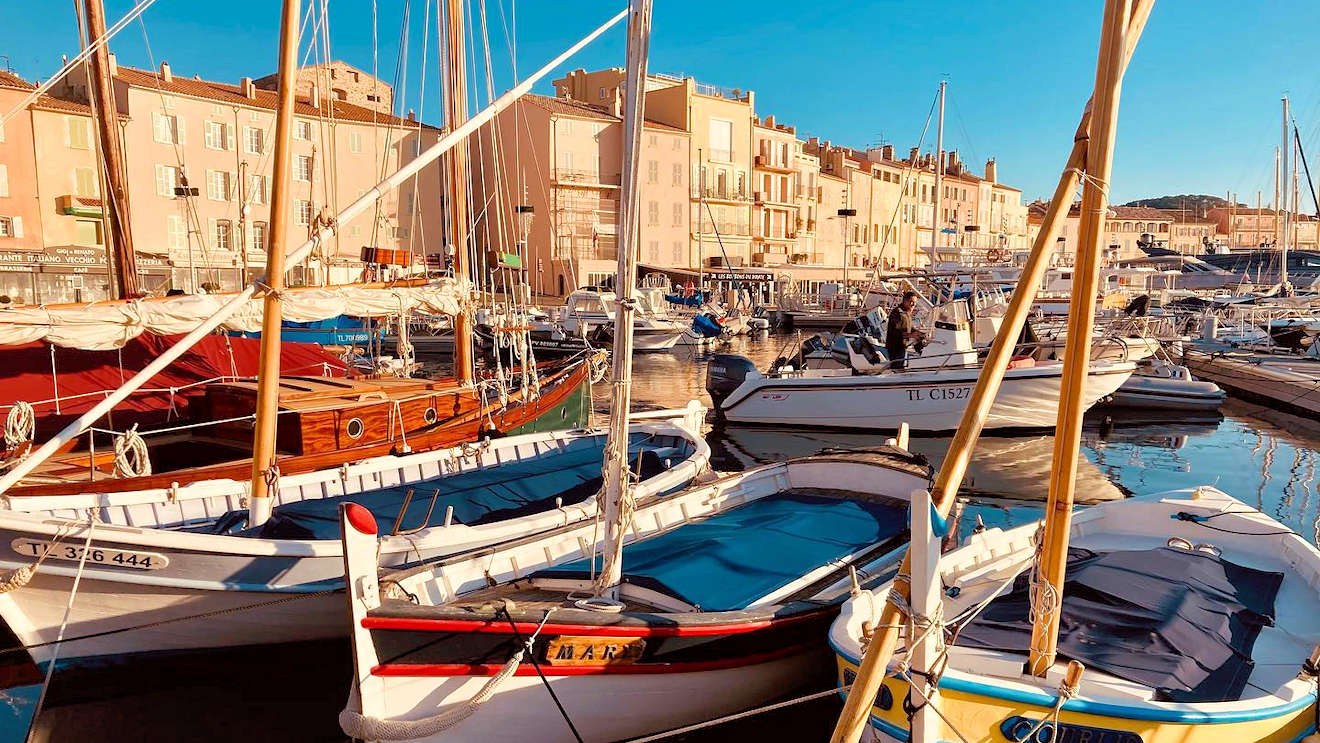 Glitzy, chic, relaxed, rich, sunny, beautiful. Whatever adjective you use to describe St Tropez, it still does not satisfactorily sum up this top South of France resort. Commencing with Bridget Bardot and continuing with present day celebrities, St Tropez in the South of France continues to be the summer home of the rich, famous and beautiful. St Tropez's beaches are among the best in the world and its harbour only loses out to Monaco for the impressive array of yachts on show.
If you would like to stay in St Tropez, Go Languedoc has a number of rental properties situated close to St Tropez (see St Tropez rentals).
16. Best South of France cities to visit - Sommieres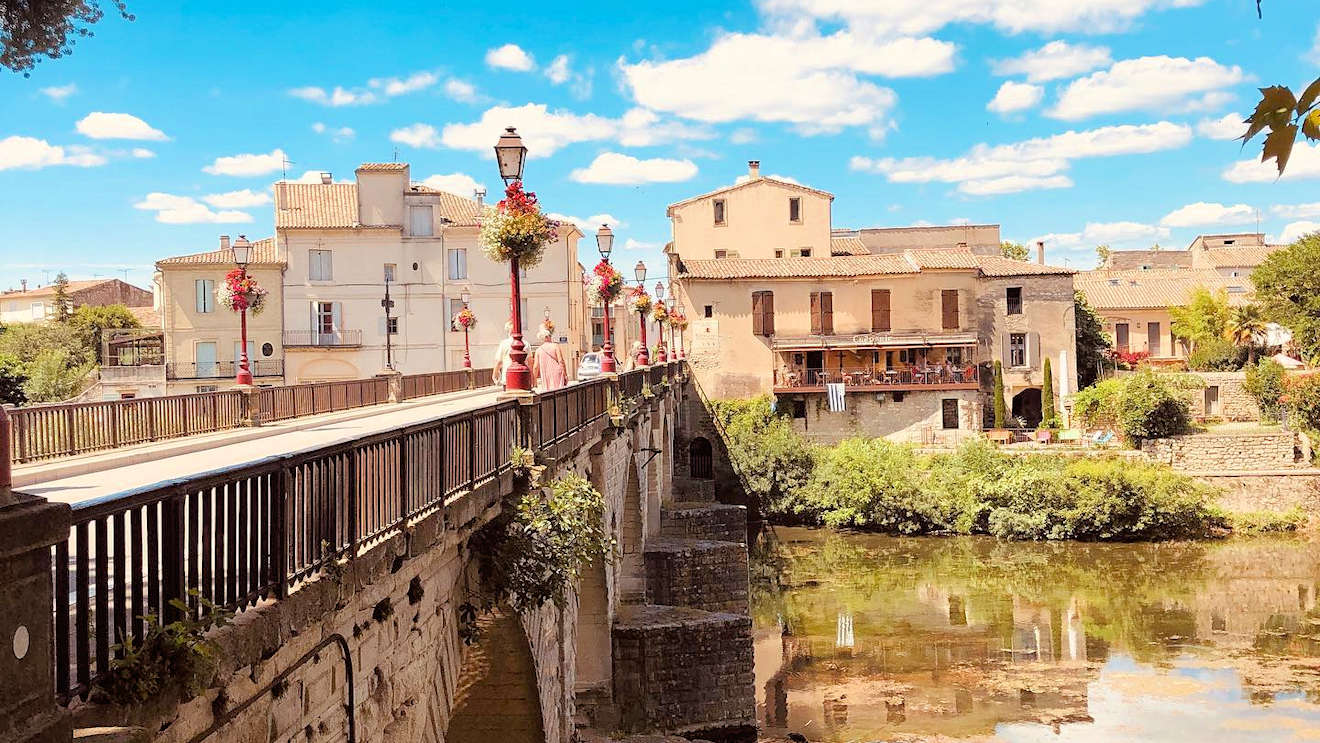 Sommieres is a very pretty Southern French town with a wide river flowing through it. Sommieres is situated in between Nimes and Montpellier and it is easy to spend a day here wandering around the old narrow grid streets of this ancient town. The old Roman bridge that crosses the river is still in use today and forms the centrepiece of Sommieres. The old town is situated on the east bank and this is probably where you will want to spend most of your time. After passing over the bridge you enter Sommieres through the 17th century Tour de l'Horloge, which as you would expect features a large clock face.
The old town of Sommieres was laid out on a grid pattern by the Romans and much of it remains the same. There are two traditional arcaded market squares around which are congregated some excellent bars and restaurants. On Saturdays, these squares are taken over by an excellent local market (see Sommieres France tourism).
Sommieres is a fantastic location for a holiday in the South of France. With beautiful scenery, great vineyards and plenty of historical villages, it is the perfect base. Visit our full listing of Sommieres villas to rent in France.
17. Best South of France cities to visit - Gordes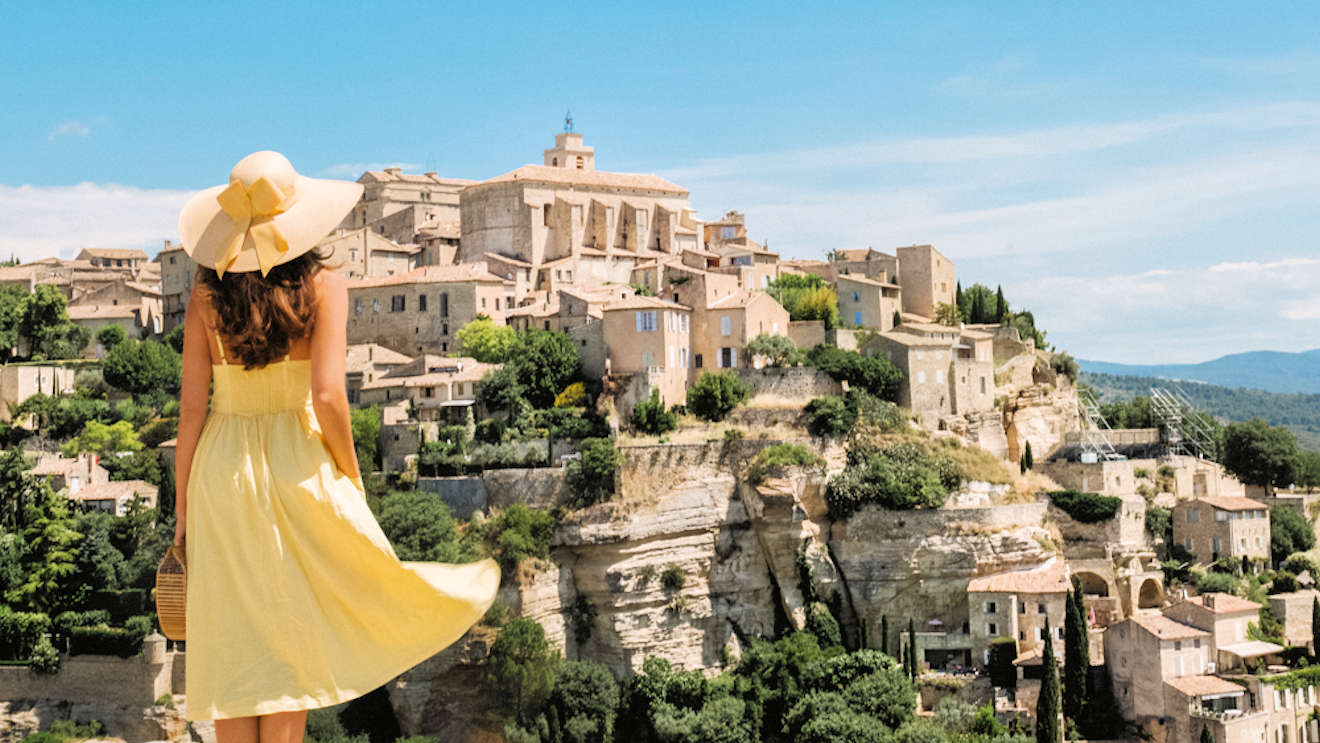 Photo courtesy of The Londoner [https://www.instagram.com/rosielondoner/]
The village of Gordes, perched on top of a cliff above the valley of Calavon is one of the best Provence towns to visit. Inhabited since Roman times, Gordes, is a delightful place to spend time in. The Mediterranean climate and relaxed pace of life create the perfect vacation environment. It is quite easy to spend the whole day doing nothing much: wandering the winding streets, leisurely taking coffee at a café and watching the world slowly go by, spending hours over a good meal in one of the many restaurants and watching the spectacular sunsets over the lavender fields in the valley below.
Gordes is known as one of the most beautiful cities in the Provence region of France. Gordes boasts an impressive castle, from which you can look down onto the terracotta roofs of the houses and enjoy the panoramic views of the countryside surrounding the village. It is easy to see why Gordes attracted artists such as Marc Chagall, Jean Deyrolle, Serge Poliakoff, Vasarely and Dewasne.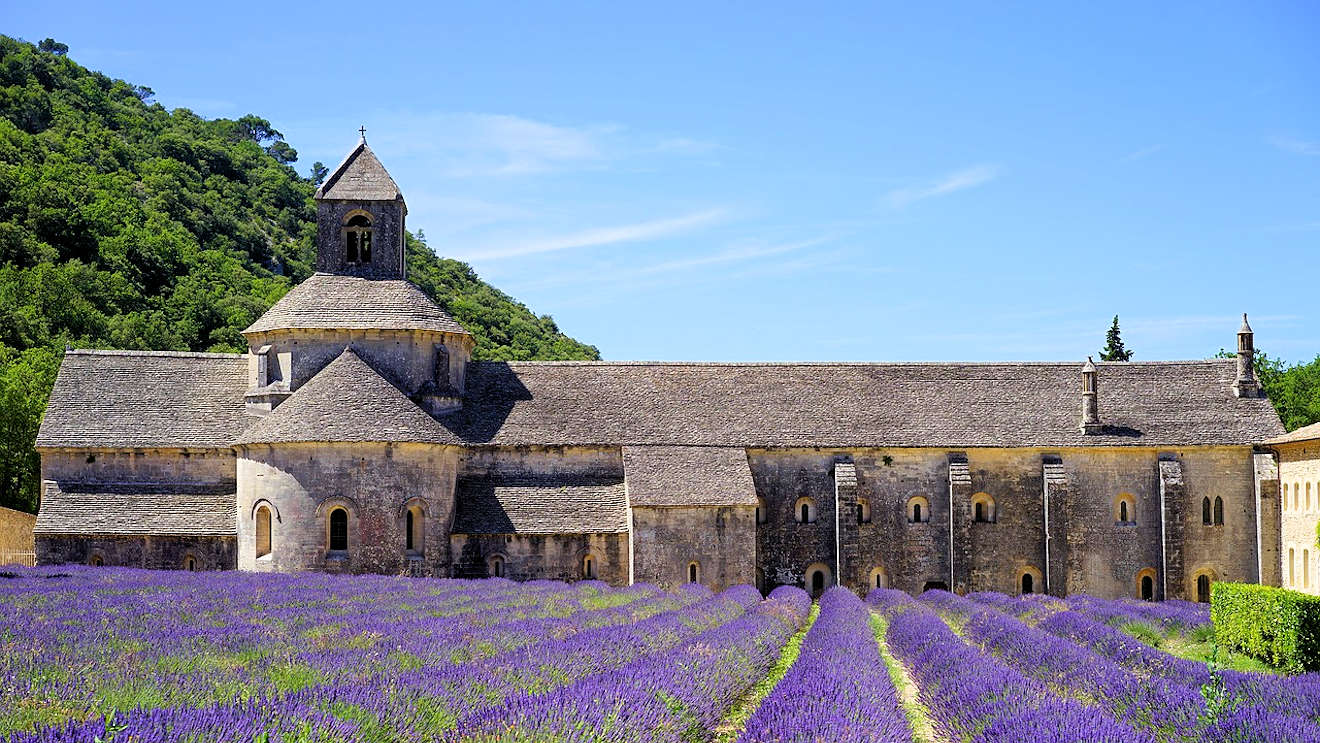 Gordes also provides you with the opportunity to explore many local attractions in Provence, such as the village of dry-stone huts called Les Bories, the beautiful city of Avignon (see above), the lovely town of L'Isle-sur-Sorgue and the picturesque Abbaye Notre-Dame de Sénanque with its famous Lavender fields.
18. Best South of France cities to visit - Perpignan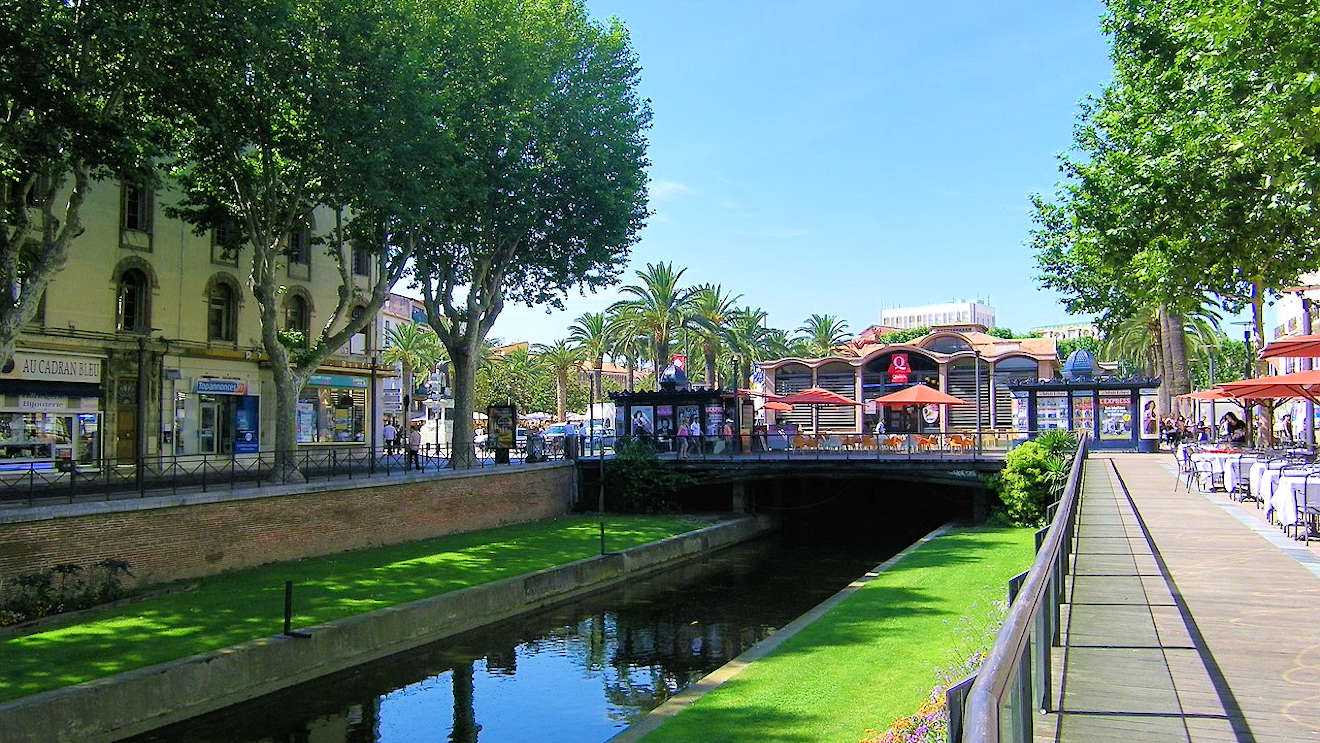 I really like Perpignan. It has a real Spanish feel to it and the old narrow streets towards the Palais des Rois de Majorque are a real pleasure to walk around. Perpignan has a couple of buildings worth searching out. It is also a great town to shop in and quite pleasant to look at along the grassy esplanades of the river that runs through it. Perpignan is the capital of Roussillon. Its Spanish influence predominantly comes from the thousands of refugees that fled Catalonia at the end of the Spanish Civil War. But it has also been part of the Catalan-aragonese Crown, before it was brought under French control in 1659. The most important building here though is the Palais des Rois. The Kings of Mallorca made Perpignan their mainland capital and brought with it propsperity from cloth-making. The Palais des Rois has come to symbolise Perpignan. It is a massive palace sitting on a hill to the south of the city centre. Some of the original building still remains, but the impressive outer defences were constructed by Louis XIII and Richelieu after they successfully took Perpignan from the Catalans in 1659. In the centre of Perpignan's old town you will find the 15th century Palais de la Deputation (where the Catalan Kings once convened the Roussillon parliament); the 16th century Hotel de Ville; and the 14th Century Loge de Mer, which served as the regions stock exchange. The square outside these buildings once served as a base for executions during the 15th-16th centuries. At the end of the place de Loge, you will also find the distinctive Le Castillet, a red brick tower that was once part of the old town walls, Visit our article on Tourist spots in France: Perpignan tourism for more information.
The beaches around Perpignan are some of the best in the South of France, especially those around Argeles sur Mer. For more information, please see our article 8 best beaches near Perpignan, France.
There is also a local airport at Perpignan, served by various low cost airlines with flights to 3 UK airports (Birmingham, Stansted and Leeds-Bradford), Dublin and Brussels. All in all, Perpignan is a great base for a holiday in Southern France. See Perpignan to rent in France for our full listing of holiday rental properties.
19. Best South of France cities to visit in 2023 - Sete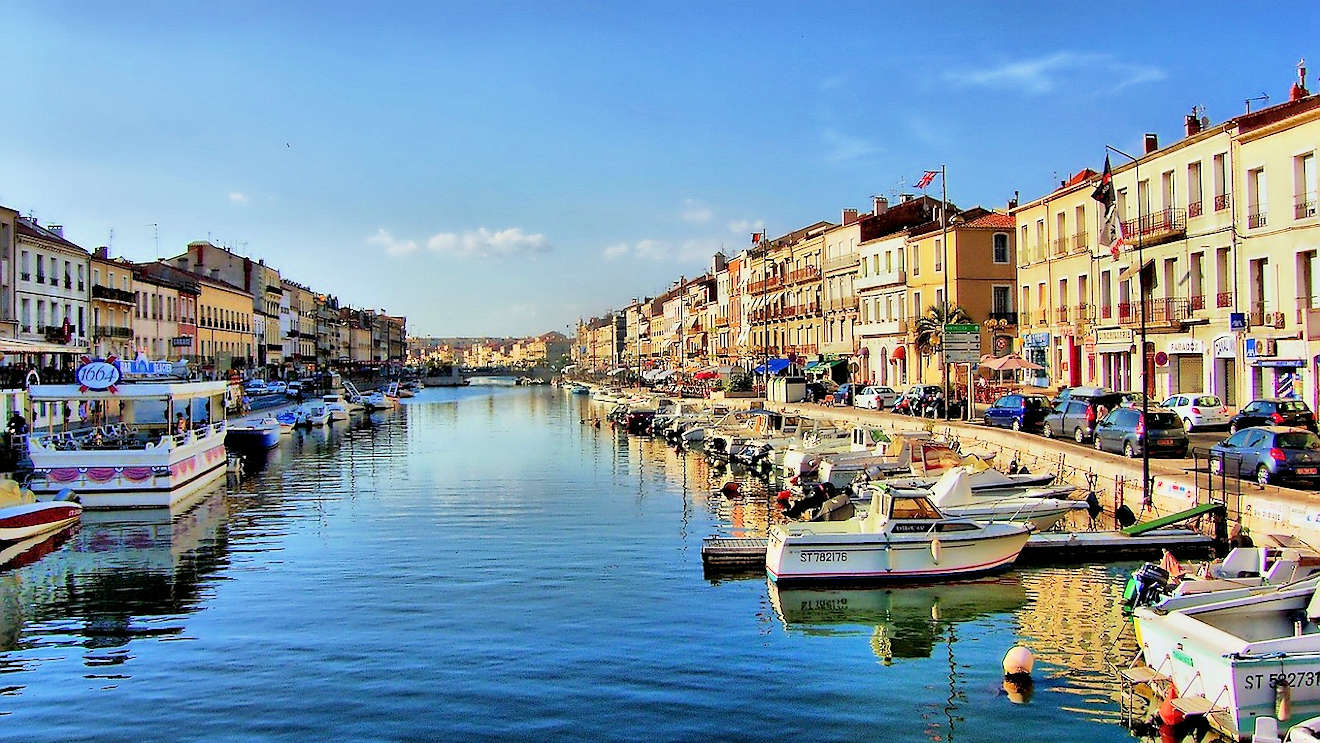 The busy port town of Sete is a real gem on the South France coast. Don't be put off by the industrial outskirts to the town, we love Sete and it has become one of the fastest growing property hot spots in the South France.
Sete grew rapidly during the late 17th Century due to its links to the Canal du Midi and the Canal a Rhone. The town of Sete itself wraps itself around the rocky Mont St-Clair promontory. The old quarter of Sete straddles the Canal Royal, the site of the famous Water jousting championships in the summer and the home of lots of good restaurants and bars. You will probably want to spend most of your time in Sete wandering around the canals and the old quarter. Here you will find lots of seafood restaurants and pavement cafes. On the other side of the town you will also find some excellent beaches, including a long stretch of golden beaches (running a full 20kms down towards Marseillan). The beaches to the north of Sete (Frontignan) are not much to right home about. The other two interesteing things to do in Sete, France, are to wander around the two museums dedicated to its famous sons: Georges Brassens and Paul Valery. Perhaps the best time to visit Sete is during the early summer when the Fiesta de Sete is in full swing or during the middle to end of August during the water jousting chanpionships. When it comes to food, Sete is a seafood paradise. Amazing seafood is literally pulled straight off the boat. It is also a stones throw away from the Etang Thau with its fantastic oysters. Sete is also home of 'La Tielle' a spicy tarte made with garlic, tomatoes and squid; and 'Zezette' a sweet biscuit. See our article on Sete tourism and the Festival de Sete.
Sete is a very compact town, with many apartments located in the old French town houses. Surrounding Sete and close to the beaches, there are now some modern villas which offer very good value. For our full range of properties to rent in Sete, see Sete apartments to rent in France.
20. Best South of France cities to visit - Narbonne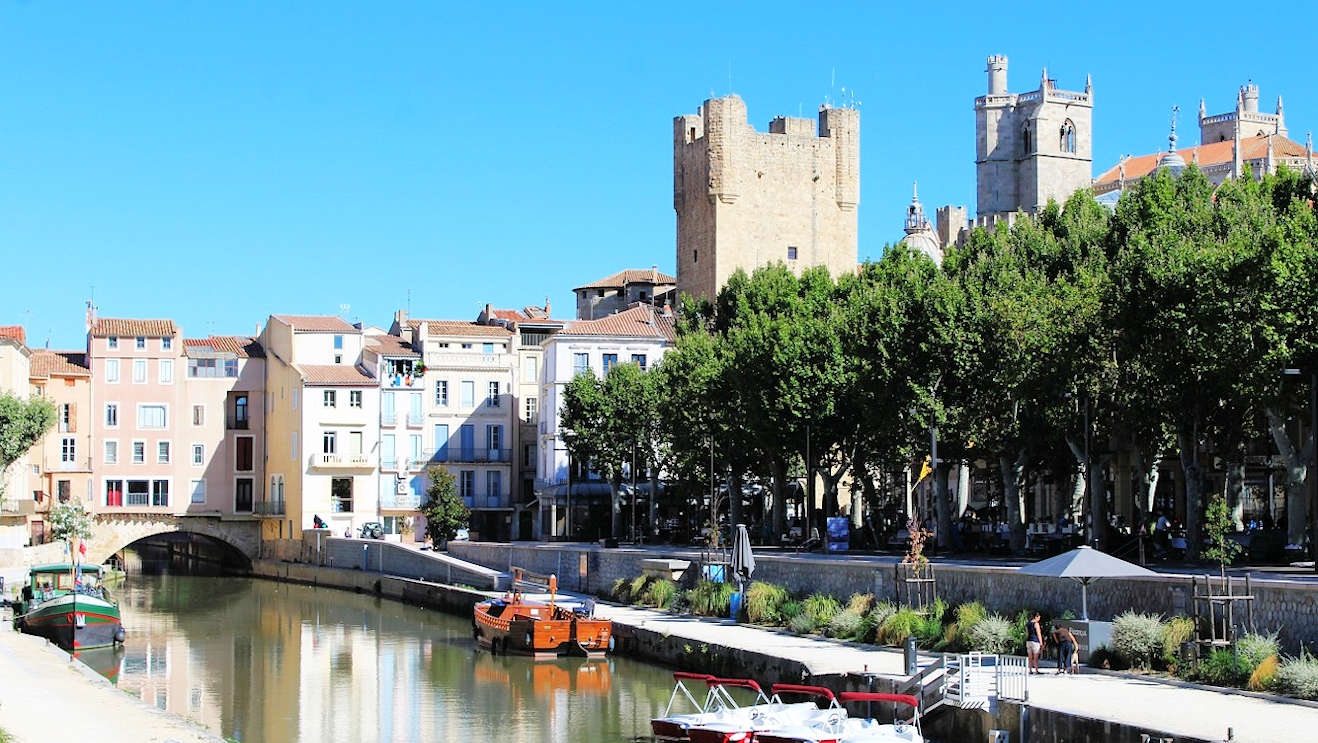 When see Narbonne from a distance, it appears just like any normal modern city, with its high rise buildings in its centre. But as you get nearer what surprises you is that these buildings that dominate the skyline are in fact some of Narbonne's oldest buildings, including Narbonne Cathedral.
Narbonne has a long and rich history. It was once the capital of the Roman province of Gallia Narbonensis, covering 70% of present day Languedoc. At the time it flourished as a port town, up until the system of dykes and canals fell into disrepair and Narbonne's river port silted up. It was also the site of an important Jewish University, until the Jews were expelled from Narbonne in the mid 13th century. Narbonne then really did go backwards for a while. The Black Prince burnt it down, like he did with a lot of South France towns that didn't fancy surrendering to him. It only really pulled itself through this difficult time by rediscovering its wine heritage in the late 1800s, which led to some form of prosperity.
The centre of Narbonne is quite small. In fact there are only really a few streets either side of the Canal du Robine that bisects the centre, that are worthy of a visit. Perhaps the best time to catch Narbonne is on a Sunday morning when the whole of the town is taken over with a huge market (see Narbonne Market for more details). The grassy banks of the Canal du Robine provide a pleasant splash of green and colourful flowers.
Around Narbonne, there are some beautiful places to stay. We advertise a combination of beach side apartments to rent, old stone cottages beside the Canal du Midi and large French villas with pools to rent. See Narbonne villas to rent in France for our full listing of properties.
Looking to visit France in 2023 . . . ?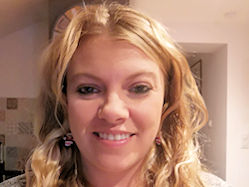 I hope that this article has provided you with some good ideas about the best cities to visit in South France. I am Tara Haacke and I manage all the holiday reservations on Go Languedoc. I live in the South of France all year around and I always out and about visiting new villa rental properties and researching tourism articles about the South of France. We have a great collection of articles with more ideas about things to do and places to go in the South of France, including:
If you would like some more detailed information or if you have any questions, then just drop us a quick message and we will come straight back to you. I wish you a wonderful stay in the South of France.
Contact Tara by Email or by phone +33 7 89 44 15 14