Last updated on .
Hits: 565
8 cheap villas to rent near Perpignan airport South France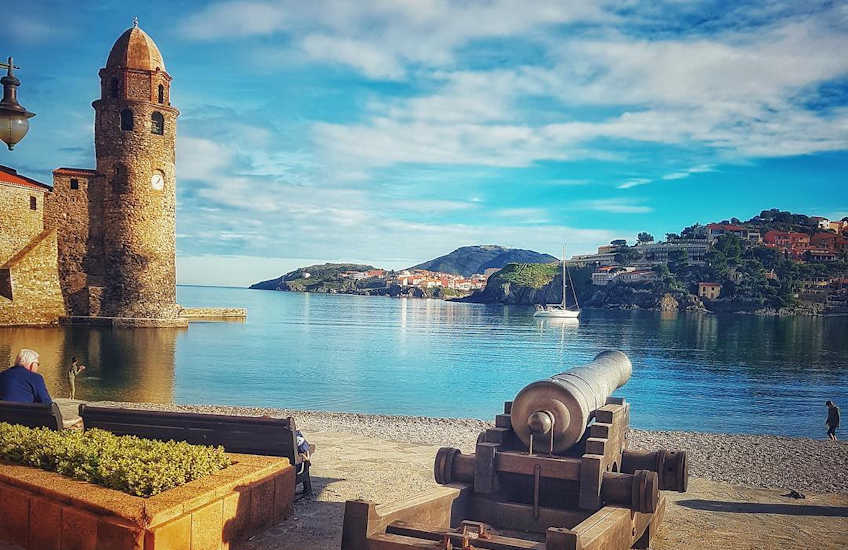 Image courtesy of Mas dels Esquirols [https://www.instagram.com/mas.dels.esquirols/]The city of Perpignan is the Southern-most city in France and is located 10km inland from the coast and 25km from the Spanish border. The beaches around Perpignan are some of the best in Southern France. The Cote Vermeille is a beautiful stretch of coastline and it includes flat open sandy beaches, like Argeles-sur-Mer and St Cyprien, to sheltered coves closer to the Spanish border (around Collioure and Banyuls-sur-Mer). If you head North of Perpignan, you will also find some interesting sandy beaches at Le Franqui and Torreilles Plage.
The centre of Perpignan is surprisingly small, but you can easily spend a very pleasant day here wandering around the narrow streets of the old town. The Majorcan Palace is well-worth a visit and you will find a good range of pavement cafes to grab some lunch.
8 cheap villas to rent near Perpignan airport
The coastal town of Collioure is for me the real highlight along this stretch of coast. This former Anchovy fishing village has over the years become a haven for famous artists, such as Derain, Miro, Picasso and Matisse. The setting is superb. The stunning castle and famous church in Collioure look out over a sheltered bay, with the hills in the background framing the town.
Other places I would recommend to stay in around Perpignan, include
Argeles-sur-Mer is the perfect place for a beach holiday near Perpignan. The town is 3km inland from the coast, but there is a regular shuttle bus down to Argeles Plage (where you will find 3 beaches, as well as numerous attractions for the kids). Argeles also has its own train station with services up to Perpignan and down the coast.
Laroque-des-Alberes is a very pretty village just south of Perpignan and 10 km from the coast. The village provides easy access to the beaches at Argeles-sur-Mer and Collioure
the collection of villages nestled below Perpignan and close to the coast (such as Brouilla, Ortaffa, Elne, Villelongue-dels-Monts and Saint-Andre).
The market town of Ceret is also a popular spot. The town has a distinctly Catalan feel to it. There are plenty of good restaurants in Ceret, as well as an excellent market and a fabulous Modern Art museum.
The small town of Thuir to the west of Perpignan is a pleasant place to stay.
Saint-Laurent-de-la-Salanque to the North-East of the Perpignan, is very close to the beaches and it is very well equipped with shops, restaurants and a weekly market.
Family holidays near Perpignan France
If you are planning a family holiday to Perpignan, with your children or grand children, then there are plenty of activities to keep them occupied. You have your usual water parks and theme parks in Argeles sur Mer and St Cyprien, but 2 activities that my kids really enjoyed near Perpignan, were the Canyon Park and the Teleski & Wake-boarding centre.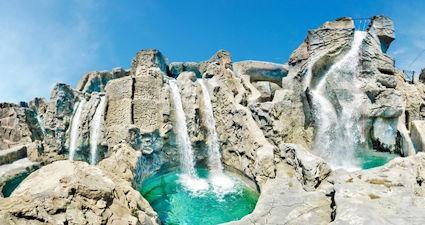 Canyoning - the Canyon Park near to Argeles sur Mer and Perpignan, is an amazing activity centre situated in a disused quarry where you can jump off cliffs into 14 different clear water plunge pools. There is also a 100m Tyrolene zip wire which drops you into another plunge pool. This is mainly aimed at older kids. For more information please visit Canyoning Park.
The daily ticket prices are:
Adult (12 years +) : 30 €
Child (8 to 11 years) : 26 €
Family (1 adult and 1 child) : 54 €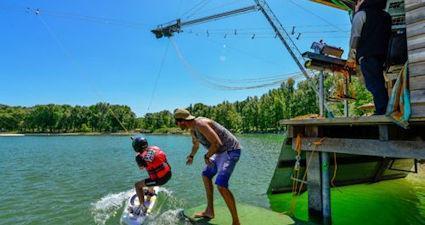 Teleski - is a watersports centre located near to Perpignan at St Jean Pla de Courts. It offers 4 different activities including wake-boarding on a zip wire, water skiing, water skating (I suppose the nearest equivalent is snowboarding on water) and Water jumping. There is an excellent website for the centre (in multiple languages) at Teleski.
The centre offers a Discovery introductory package at 27 € (29 € July and August) where you can try out individual activities.
The prices for individual activities range from €30 - €42 for a half day pass.
Cheap flights to Perpignan airport France
| | |
| --- | --- |
| | April-October 2022 |
| Birmingham airport | Tues and Sat |
| London Stansted | Tues, Wed, Thur, Sat, Sun |
| | June-Aug 2022 |
| Southampton airport | Sat |
| | May-Sept 2022 |
| Dublin airport | Mon, Wed, Fri, Sat, Sun |
| | |
Perpignan airport is the Southern most airport in mainland France. Although it has some regular flights to Paris and other cities in France (Nantes, Lille and Bastia), Perpignan airport is mainly a seasonal airport, with a summer schedule of flights from Birmingham and Stansted airports with Ryanair and Southampton airport with Flybe (June-August only).
Although, with the recently reported financial troubles of Flybe, there is some doubt that this route will continue to run. At nearly €590 return, it is doubtful that many passengers really regard this route as a low cost alternative to Ryanair.
During the summer months (May to mid-September), Air France and Aer Lingus run 5 flights per week from Dublin airport to Perpignan airport. The flight prices are currently quite reasonable, at around €200 each way.
Ryanair are currently advertising flights to Perpignan airport from London Stansted for just €40 return - which is an incredible price. The prices do pick up quite a lot for weekend flights, especially on a Saturday. So if you are looking to fly to Perpignan for a family holiday this summer, you might be advised to look for a villa to rent with flexible changeover dates. In fact, when you weigh up the costs, it may be worth paying slightly more for the villa (if you can arrive on a different day than Saturday), because you will then save quite a bit money on the flights.
Check the latest Ryanair flight costs and availability: FLIGHTS TO PERPIGNAN AIRPORT
Villas to rent near Perpignan airport in 2022
Here is a selection of 8 holiday villas on Go Languedoc, that are available for rent within 30 minutes drive of Perpignan airport during 2022:
1. Villa Fleurie, Ceret holiday villa South of France with private pool (Ref: 1456)
This lovely holiday villa near Ceret in South of France, is located on a hillside and comes with pretty mountain views. Ceret is a popular town, located 20 mins from the beaches and 20kms from Perpignan. The Spanish border is just a short drive away.
This villa features a large heated swimming pool (10m x 5m), 3 double bedrooms, 2 luxury bathrooms and a substantial garden. The villa is located in a very quiet and peaceful spot, but is only 10 minutes walk to the centre of Ceret.
Ceret is a popular town in the South of France on account of its award-winning Modern Art Museum, which celebrates the town´s long association with famous artists such as Pablo Picasso, Henri Matisse and Georges Braque. Ceret is also a large producer of Cherries and to this day, Ceret sends the first crate of harvested cherries to the President of France. Ceret features a host of cafes, restaurants and shops, as well as beautiful squares and tree-lined avenues.
2. Les Chartreuses Southern France villa rentals with pool (Ref: 1663)
This lovely villa in Les-Charteuses-du-Boulou is the perfect place for a family holiday in Southern France. The villa is equipped with everything that you could need including, WiFi, Satellite TV, private parking, well-equipped kitchen and walking distance to a bar/restaurant. .
The villa is located on an elevated position and provides wonderful views of the surrounding mountains. The Mediterranean beaches are just 15 mins away and the villa is just 20 mins drive to Perpignan airport. Inside the villa has a well-equipped kitchen, spacious living room, WiFI, Satellite TV and 2 bathrooms. Outside there is a swimming pool, large balcony and private parking for several cars..
Les-Chartreuses-du-Boulou is situated slightly elevated above the coastal plain around Perpignan in Southern France. The village is 200m above sea level and situated in a valley with surrounded by hills. The villa is located in a quiet cul de sac close to the heart of the village. There is easy access to the coast and mountain areas..
3. Argeles sur Mer villa for South of France beach holidays, pool (Ref: 1327)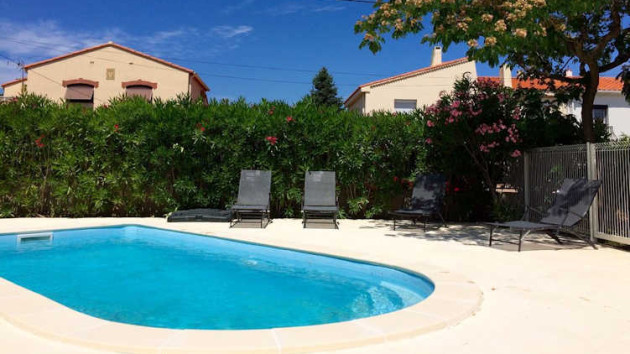 This villa is perfect for South of France beach holidays with the family. This villa comes with a private pool and is situated close to the beach in Argeles sur Mer. The villa has a garden and provides comfortable accommodation for up to 6 people. There are 3 double bedrooms, a spacious living room, WiFi and lovely views over the town and to the hills behind.
Argeles-sur-mer has 7km of beach, a marina and a host of restaurants and shops. Perpignan is 20kms to the North and the Spanish border is 25 kms to the South. .
If you are looking for a nice villa for South of France beach holidays with the family, then this property in Argeles-sur-Mer is ideal. The house has been updated to a very high standard and provides very comfortable accommodation. The house benefits from modern appliances and refurbished bathrooms. .
4. Villa Vell-Roure, South of France holiday home, sleeps 10 (Ref: 225)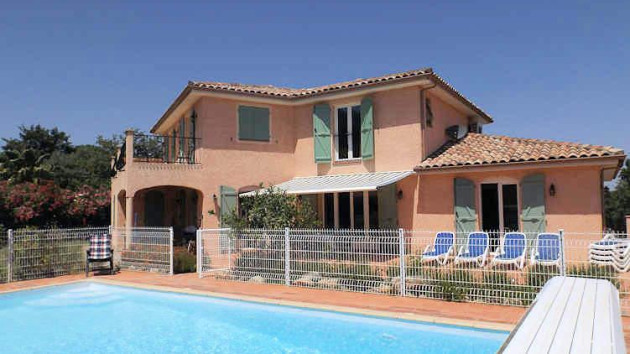 Villa Vell-Roure is a spacious 5 bedroom holiday villa in South of France. The villa is located on the edge of the small village of Villelongue-dels-Monts, in the foothills of the Pyrenees, just 15 km from the Mediterranean coast. The villa enjoys splendid views over the nearby village and on towards the Mediterranean coastline in the distance. The villa features 5 double bedrooms, all of which come with their own bathroom and air conditioning.
The villa is located up a private lane in a quiet residential area. The villa is situated on a substantial plot and there is ample parking for a number of vehicles. This South of France holiday villa is the perfect retreat for a large family group or crowd of friends looking for a very special property in a rural location. Sleeps 10 in comfort with large private pool.
5. Ceret holiday apartment South of France sleeps 4 (Ref: 751)
This Ceret holiday apartment in Southern France is a 2 bedroom apartment overlooking the main boulevard of this beautiful French town. The fully renovated apartment is situated at 1 Boulevard Arago and takes up the entire 3rd level of a classical 250 year old French home. It boasts gorgeous southern views to the rear of the building from the sunny terrace. Every Saturday morning the local market passes right by the front door of the apartment..
The apartment has 2 spacious bedrooms each with King size beds and a modern en suite bathroom. The apartment is ideal for a small family or a couple. It is located near the beaches and has WiFi and UK TV. Ceret is a good location for exploring the local area and provides easy access to the A9 motorway. It is very easy to hop over the Spanish border or explore the beautiful Pyrenees region or drive down to the coast around Perpignan. Highly recommended.
6. Ceret, holiday home Southern France sleeps 8 (Ref: 249)
If you are looking for a cheap villa holiday in South France, then this 4 bedroom villa close to the town of Ceret is a great choice. The villa is located in a quiet wooded valley called Vert Vallon, close to the popular town of Ceret. The villa can accommodate up to 8 people and also comes with an above ground plunge pool and 2000m2 private garden. The villa is perfect for a family or 2 families sharing.
This holiday home in South France provides plenty of peace and tranquility, but with all necessities such as shops nearby. The house is only 25km from the sandy beaches of the Mediterranean.
Furnished and equipped to a high standard, this villa near Ceret is a good choice for a self catering holiday in the South of France.
7. French gites for family holidays in South of France (Ref: 583)
These French gites for family holidays in South of France are situated close to Argeles sur Mer, in between the Pyrenees and the Mediterranean sea. There are 4 independent gites at Mas Lamon. Each gite has it´s own private terrace, either with sea views, or views towards the surrounding mountains.
The gites come with a large private garden and woodland beyond, a heated swimming pool, children´s play area, picnic area, boules pitch, as well as horse riding school on site.
Although surrounded by open countryside, these French gites are only 2kms from the traditional market village of Argeles sur Mer, and 5kms from the beaches and port. This is the perfect setting for family holidays in South of France.
8. Villa in Languedoc with private pool near Argeles sur Mer (Ref: 1229)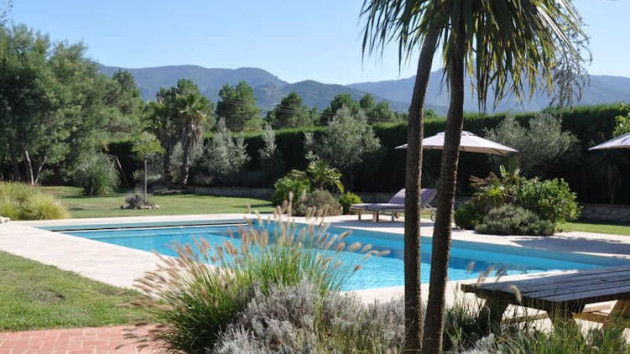 Mas Sangha is a stunning holiday villa in Languedoc with private pool close to the Mediterranean beaches at Argelès-sur-mer. The villa comes with 4 bedrooms, 2 bathrooms and large grounds. The villa can sleep up to 8 people and is surrounded by a fruit farm and vineyards. This is the perfect spot for a relaxing family holiday in South France. Argeles-sur-mer is located in the Southern-most part of France and has 7km of beach, a Marina and a host of restaurants and shops.
This Languedoc villa is located within 7000m2 of grounds which is fully enclosed. The villa is located 10 mins drive from Argeles-sur-Mer, 5 mins bike ride to the nearest village of Saint-André and 15 mins drive to the beaches.
If you are looking for peaceful holiday accommodation for a family holiday in the South of France, then this beautiful villa in the Languedoc is absolutely ideal. The villa benefits from a private pool, large garden and it furnished to a high standard. The villa is very private and comes with total peace and quite with no neighbours nearby! The beaches are closeby and it is easy to explore the sites of the Languedoc region or even a day trip down to Spain.
Looking for a great holiday deal to Perpignan, France in 2022 . . . ?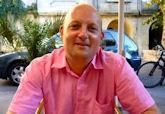 If you would like us to suggest some South France holiday villas or apartments to rent near Perpignan airport next summer, then please contact us with your requirements. We are in touch with our property owners every day and we are the first to know of any discounted rates.
Just drop us a quick message and we will come straight back to you with a selection of properties offering the best late deals.
Contact Iain by Email or by phone +33 6 95 00 28 44
You may also find the following information useful: