Last updated on .
Hits: 746
Things to do in Southern France: Carre d'Art, Nimes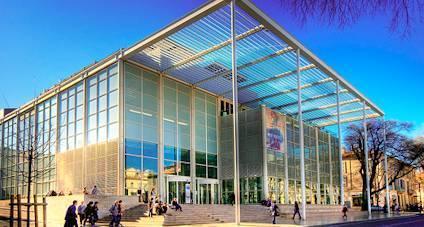 Nimes' modern art museum, the Carre d'Art, was built in 1993 by English architect Norman Foster. The museum quickly established itself as one of the best museums of contemporary art in South France A gleaming example of French architectural boldness, the Carre d'Art was designed by British architect Norman Foster. In spite of its size, this box of glass, aluminium and concrete sits modestly among the ancient roofs of Nimes, its slender roof-line, echoing that of the Roman temple opposite.
Things to do in Southern France: Carre d'Art Nimes
Musee Carré d'Art, Nimes modern art museum, hosts a number of visiting modern art exhibitions - see the Musee Carre d'Art, Nimes website for the latest details.