Last updated on .
Hits: 423
Places to visit in Languedoc: Abbaye de Fontfroide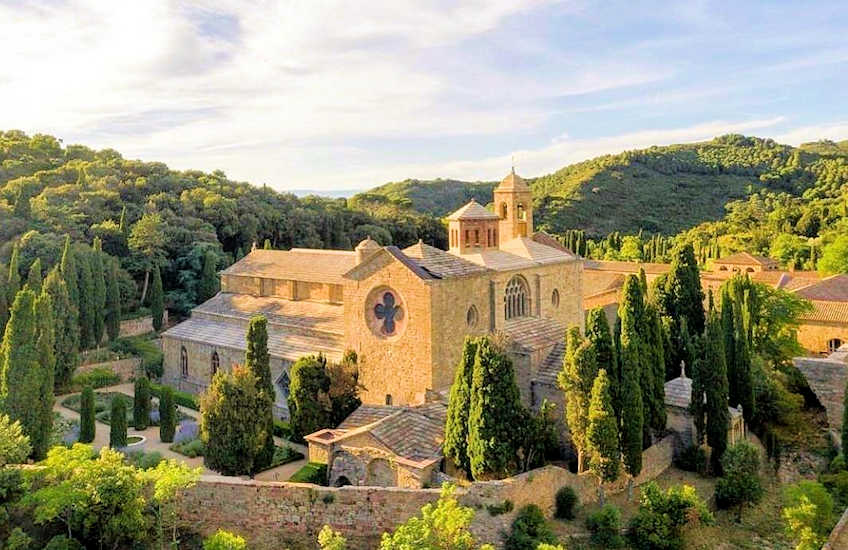 Situated in a small valley, insulated from the outside world, lies the Abbey of Fontfroide. This is one of largest Cistercian monasteries in France and a popular Languedoc site. Its architecturally beautiful buildings are the heritage of the monastic past. Founded in the 11th Century by the Count of Narbonne Abbaye de Fontfroide enjoyed a prosperous existence, before falling into a steady decline. The Monastery's most famous abbot was Jacques Fournier. When he was Bishop of Foix, he led the Inquisition against the Cathars of Montaillou and he later was elecetd Pope in 1337 as Pope Benedict XII. The monks of Abbey Frontfroide also played an important part in the fight against the cathars.
Nowadays, the monastic life has gone, but the buildings are magnificiently preserved. The organised tours of Abbaye de Fontfroide take in the monks' living quarters, the ancient storage cellars, the cloisters, church and marvellous chapterhouse. Afterwards you can take in the groves and well-tended gardens. Every year, many activities are organized in the enclosure of the Abbey of Fontfroide: concerts, garden exhibitions, gastronomy festivals.
Fontfroide Wine
On the road up to the Cistercian abbey of Fontfroide, the vines with their ditches and low stone walls of stone remain unchanged from medieval times when the monks worked the fields. For more information on the wines of the abbey of Fontfroide, please visit: www.vin-fontfroide.com
Eating:
The restaurant at the Abbaye de Fontfroide is a real treat. The "Table of Fontfroide" is open every day for lunch and dinner from March 17 until November. You're are well advised to book in advance (Tel.: 04 68 41 02 26; Fax: 04 68 45 50 69 or E-mail: This email address is being protected from spambots. You need JavaScript enabled to view it.). The less expensive lunch serves traditional dishes at around Euros 15. For the evening meal the menu is strictly gastronomique with a price to match (around Euros 30 per head). But there again how many times are you going to eat in a monastery?

Staying there:
Combined with a meal in the restaurant, staying in the top-of-the-range accommodation (the "House on the Bridge") with its privileged views of the Abbey of Fontfroide makes an unbelieveable vacation memory.
Getting there:
Abbaye de FontFroide is located just south of Narbonne. Take exits 'Narbonne-sud' or 'Lezignan-Corbieres' off the A61 (in between Narbonne and Carcassonne). The Abbey is well signposted along the RD 613, but be careful it is a narrow turn-off. Follow this road for about 4km until you arrive at the thick-set walls of the AbbeyAbbaye de Fontfroide is open every day all year around. The visits are guided only (in English, German, Italian, Spanish and Dutch, if you book in advance), and last roughly an hour. The times of departure vary according to seasons, but are generally on the hour from 10.00 till 16.00. The dogs are prohibited during the visit (hurrah!!). The entrance price is Adults: 9 Euros ; Young people (18-25 years): 6 Euros ; Child (10-18 years): 2 Euros . Group (more than 20 people): 7 Euros 50 each. It is probably best to visit Abbaye de Fontfroide early in the day or late afternoon as it can get busy.