Last updated on .
Hits: 527
Best Languedoc Museums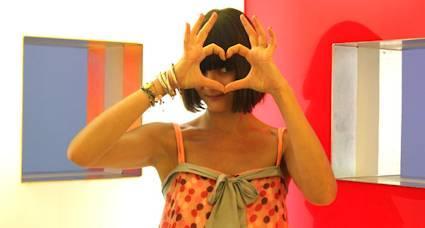 If you are a lover of history then you are in luck in the South of France. There are some excellent Languedoc museums covering a range of historical periods from the Dinosaurs through to the local resistance movement of the Second World War.
Best Languedoc Museums and Art Galleries
Here is just a selection of our favourite 5 Languedoc museums that we have visited over the years.
Best Languedoc Museum #1: Pont du Gard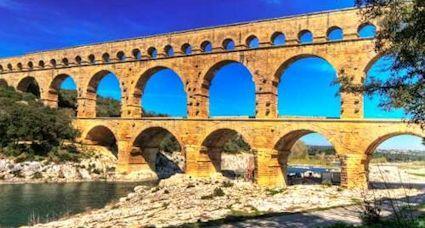 This extraordinary Roman aqueduct located just north of Nimes is another UNESCO World Heritage Site located in Languedoc-Roussillon. Complete with excellent museum & visitors centre and mediterranean garden, the Pont du Gard is a special place to visit. There is an excellent exhibition and video in the visitor centres about how the Pont du Gard was built and some of the findings from the recent excavations.
Best Languedoc Museums #2: Arles' Archeology museum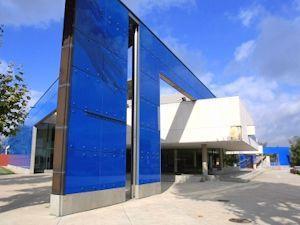 The Musee de l'Arles Antiques, situated in Arles opposite the remains of the Roman Circus, was opened in 1995. The wonderfully modern triangular building, designed by Henri Ciriani is a truly stunning piece of architecture and worthy of a visit on its own. The Musee de l'Arles Antiques presents collections of artefacts and important archeological discoveries from around Arles and across Provence. A unit of Arles' archeology museum also undertakes important restoration work and in particular has drawn academic praise for its work on restoring Roman mosaics. See our article on Musee de l'Arles Antiques for more information.
Best Languedoc Museums #3: Villa Loupian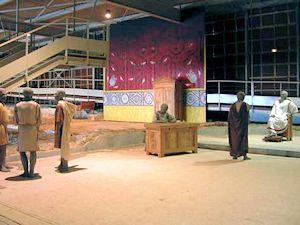 This excellent little museum of a Roman settlement in Languedoc provides an excellent day out. Dating from the end of the Roman period in Languedc, it contains some impressive artefacts recovered from the excavations. Villa Loupian is open every day from June to September. The museum opens from 11.00 to 14.00 and 15.30 to 17.00. The entrance is around €5 per person. Children under 6 are free. Under 12s are €3.50. Villa Loupian is located close to Meze near the Etang du Thau (in between Montpellier and Beziers).
Best Languedoc Museum #4: Meze Dinosaur museum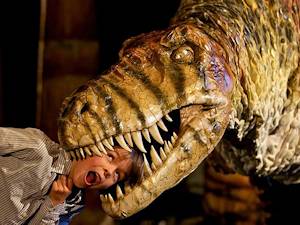 Not to be confused with 'DinoPark' located in Cap d'Agde, this Museum is the largest museum in the South of France devoted entirely to dinosaurs. The park is well laid out and there is lots of information. The museum is located on the site of an important discovery of dinosaur eggs and fossils in the South of France. There is a nice sheltered picnic area, a cafe bar, shop and outside cinema area. Connected to the Dinosaur Museum there is another park area devoted entirely to the development of Man. Personally I found this very informative, but if you are with children then they will probably have had enough by then. However, the collection of arrow heads and axes kept their interest for a bit. You can buy a dual ticket that covers both parks. Opening hours: The Dinosaur Park is open from April to October (14.00 to 18.00; July & August: 10.00 to 19.00)
Best Languedoc museums #5: Abbaye de Fontfroide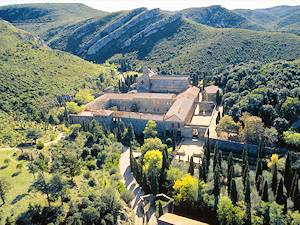 Situated in a small valley, insulated from the outside world, lies the Abbey of Fontfroide. This is one of largest Cistercian monasteries in France and a popular Languedoc site. Its architecturally beautiful buildings are the heritage of the monastic past. Founded in the 11th Century by the Count of Narbonne Abbaye de Fontfroide enjoyed a prosperous existence, before falling into a steady decline. The Monastery's most famous abbot was Jacques Fournier. When he was Bishop of Foix, he led the Inquisition against the Cathars of Montaillou and he later was elecetd Pope in 1337 as Pope Benedict XII. The monks of Abbey Frontfroide also played an important part in the fight against the cathars. Nowadays, the monastic life has gone, but the buildings are magnificiently preserved. The organised tours of Abbaye de Fontfroide take in the monks' living quarters, the ancient storage cellars, the cloisters, church and marvellous chapterhouse. Afterwards you can take in the groves and well-tended gardens. Every year, many activities are organized in the enclosure of the Abbey of Fontfroide: concerts, garden exhibitions, gastronomy festivals.