Last updated on .
Hits: 695
Van Gogh in Arles
In 1888 van Gogh left Paris for Provence. Here he painted some of his most impressive works. Van Gogh painted more than 200 canvases in 15 months. During this time van Gogh sold no pictures, was frequently in poverty, and suffered repeated mental illness, culminating in long spells in hospital in Arles and Saint-Remy. During this period in Arles, van Gogh began to use the swirling brush strokes and intense yellows, greens, and blues associated with such typical works as 'Bedroom at Arles' (1888, Rijksmuseum Vincent van Gogh), and 'Starry Night' (1889, Museum of Modern Art, New York City).
In his enthusiasm he induced the painter Paul Gauguin, whom he had met earlier in Paris, to join him in the South of France. After less than two months they began to have violent disagreements, culminating in a quarrel in which van Gogh physically threatened Gauguin with a razor. The same night, in deep remorse, van Gogh cut off part of his own ear. For a time he was in a hospital at Arles. In May 1889 he went at his own request into an asylum at St Rémy, near Arles. In May 1890 van Gogh moved to Auvers-sur-Oise to be near his devoted brother, lodging with his patron Dr Paul Gachet. During a tremendous burst of artistic activity he painted 70 canvases in the last 2 months of his life. Just after completing his ominous Crows in the Wheatfields (1890, Rijksmuseum Vincent van Gogh), he shot himself on July 27, 1890, and died two days later.
Vincent van Gogh Art trail in Arles
Walking around Arles today you can see some of the real-life scenes that van Gogh painted:
1. Starry Night.
Stand in the Place du Forum and see the street scene at night so vividly captured by van Gogh. When I was in Arles I just happened upon the Starry Night scene purely by chance. You would think that all the scenes and groups of tourists would have given the game away, but alas no. In fact it took me a couple of minutes thinking that the scene from my cafe chair was strangely familiar and then it slowly dawned on me!!
2. Jardin d'Ete
In the Jardin d'Ete there is now a monument to van Gogh. You can also find the pathway famously captured by van Gogh with an image of his original painting to compare with the actual view. It is surprising how little the park has changed
3. L'Hopital d'Arles(now Espace de Vincent Van Gogh)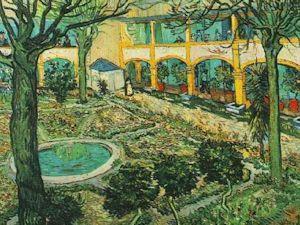 For a time van Gogh was in the hospital at Arles. He painted a striking picture of the hospital and the site has now been dedicated to him.
4. Saint-Remy
During his year at the asylum in Saint-Remy, van Gogh immortalised both the building and his Doctor (Dr Gachet).
5. Le Pont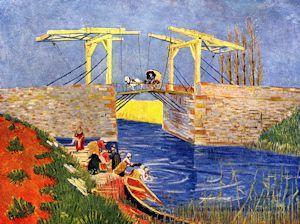 Just on the Southern outskirts of Arles you will find the Pont painted by van Gogh in 1888. You have to really imagine how this rural scene would have looked at towards the end of the 19th Century, because it is now envolped by an industrial estate, disused railway line and graffiti. This is a real shame because the area could become an important attraction and nature trail, just like John Constable's Flatford Mill has become in Ipswich, England.