Last updated on .
Hits: 676
Best South France art galleries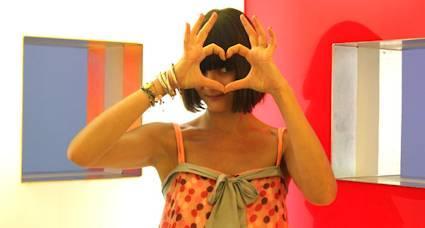 The South of France has been home to a wide range of famous artists throughout history. Towns such as Arles, Montpellier, Toulouse, Collioure and Ceret all boastan impressive art heritage. Van Gogh, Gaughin, Picasso, Lautrec, Chagall, Miro, the Fauvist movement, and the Cubists group of painters have all come to work in the South of France for the "special light" and create some fantastic art and paintings. Go Languedoc! selects the best art galleries and sites to visit in the South of France.
Best art galleries in South France
Here is the Go Languedoc selection of the best art galleries in South France:
South France Art gallery 1 - Musee Fabre, Montpellier art gallery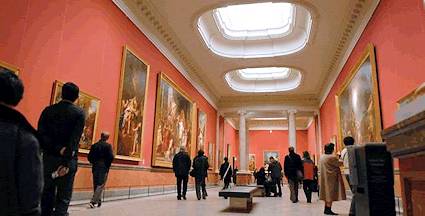 Montpellier's famed Modern Art Museum, Musee Fabre, has just completed a Euros 62m facelift. The renovation led by Georges Freche has added a new wing to the museum and constructed a new walkway up to Musee Fabre designed by Daniel Buren. There is also a new facade to Musee Fabre's good quality restaurant ("Insense"). Musee Fabre hosts a number of important paintings from the 19th and 20th century, including a number of Fauvist works. The artists featured include Frederic Bazille (Vue de village, Aigues-Mortes, La Toilette, Atelier de la rue Furstenberg); Francois-Leon Benouville (The Wrath of Achilles); Gustave Courbet (The Bathers or Les Baigneuses); Eugene Delacroix (Fantasia, Algerian women in their room); Raoul Dufy; Jean Hugo; Albert Marquet and Pierre Soulages. Further details about the works on show at Musee fabre can be obtained from the Musee Fabre website.
South France Art gallery 2 - Musee Carré d'Art, Nimes art gallery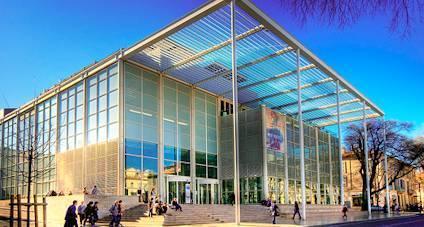 The Carre d'Art was built in 1993 by English architect Norman Foster to become Nimes media library and museum of contemporary art. A gleaming example of French architectural boldness, the Carre d'Art was designed by British architect Norman Foster. In spite of its size, this box of glass, aluminium and concrete sits modestly among the ancient roofs of Nimes, its slender portico echoing that of the Roman temple opposite. Musee Carré d'Art hosts a number of visiting modern art exhibitions - see the Musee Carre d'Art, Nimes website for the latest details
South France Art gallery 3 - Van Gogh in Arles art trail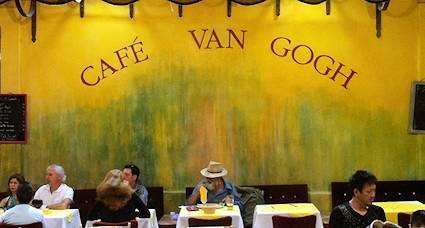 Well it is not actually an art gallery - more of an open air experience. In 1888 van Gogh left Paris for Arles, South France. Here, in collaboration with Paul Gauguin he painted some of his most impressive works. It was also the scene of his famous "ear cutting" act and his decline into mental illness. Today you can walk around Arles (a beautiful South France city) and see some of the scenes painted by van Gogh and Gauguin - virtually unchanged from the time that they painted them. Next to each of the sites you will see information boards showing the orignial paintings and a description of what the artists was creating. Amazingly, in their time in Arles Van Gogh and Gauguin created over 40 masterpieces between them, yet they sold precisely zero. Today, a conservative estimate of the "Arles paintings" is put at $80m. See our article on Van Gogh in Arles, South France for more details.
South France Art gallery 4 - Musee Riguad, Perpignan art gallery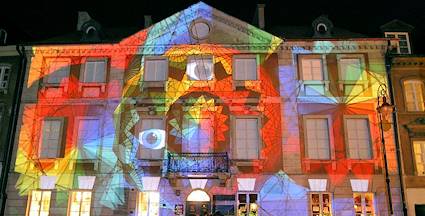 Musee Riguad serves as perpignan's Museum of Art. This old 17th century Palace, was originally the workshop of the artist Hyacinthe Rigaud, a favourite of the court of Louis XIV. But it later served as a studio for a range of famous artists such as Picasso, Dufy, Maillol and Cocteau. If you have time it is well worth popping in to see the collection of paintings from its former residents. Musee Rigaud, Perpignan art gallery is on rue Ange, close to place Arago.
South France Art gallery 5 - Ceret Modern Art Museum
In the very bottom of South France, close to the border with Spain, is the small town of Ceret, (about 30 minutes' drive from Perpignan). In Ceret you will find one of South France's top modern art museums. The Ceret Modern Art Museum hosts some very well-known artists, including Miro, Chagal, Dali, Matisse, Picasso and Braque. Ceret Modern Art Museum is located right in the centre of Ceret - you can't miss it. Ceret Modern Art Museum is open 10am-7pm in mid-summer, and till 6pm from Sept 16th-June 14th.