Last updated on .
Hits: 380
Things to do in Languedoc region: Musee Rigaud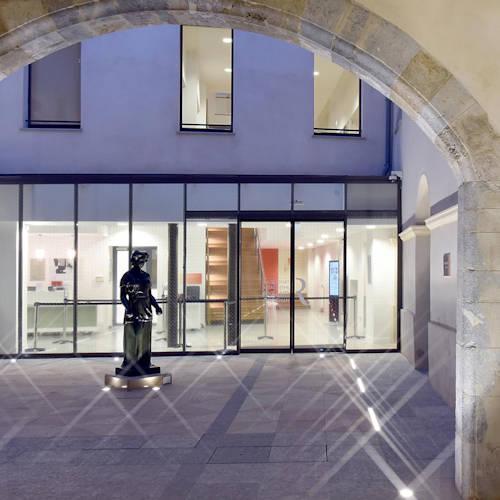 One of the most interesting Art Museums in Southern France is Musee Riguad in Perpignan. This old 17th century Palace, was originally the workshop of the artist Hyacinthe Rigaud, a favourite of the court of Louis XIV. But it later served as a studio for a range of famous artists such as Picasso, Dufy, Maillol and Cocteau. If you have time it is well worth popping in to see the collection of paintings from its former residents. Musee Rigaud is on rue Ange, close to place Arago (see Musee Rigaud for more information).
Perpignan train station
Perpignan train station itself is a relatively plain old building, but it has been adorned on top with a statue of Salavador Dali who immortalised it in a couple of his paintings and who once remarked that it was the "centre of the world". Indeed there was once an old milestone erected that simply read "Centre du Monde 0.0km".
Perpignan
I really like Perpignan. It has a real Spanish feel to it and the old narrow streets towards the Palais des Rois de Majorque are a real pleasure to walk around. Perpignan has a couple of buildings worth searching out. It is also a great town to shop in and quite pleasant to look at along the grassy esplanades of the river that runs through it. Perpignan itself is a good base from which to explore the rest of Roussillon. Either by car or train you can reach Ceret, Thuir, Ille-sur-Tet, Sales or the coast at Collioure and Argeles-sur-Mer. The outskirts of Perpignan are pretty scruffy. But all in all Perpignan is a good town and worth a visit. For more information on Perpignan see our article Perpignan.
Where to next . . . ?
Contact Iain by Email or by phone +33 6 95 00 28 44 if you have any particular questions you would like to ask about visiting the South of France. If you liked the article then please share it with others using the Twitter and Facebook buttons below. I wish you a wonderful stay in the South of France.