Last updated on .
Hits: 13924
Best Markets in Languedoc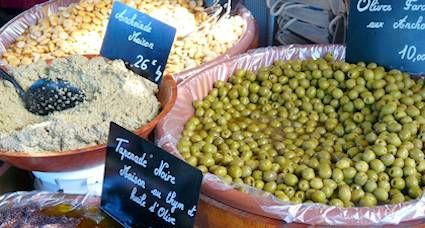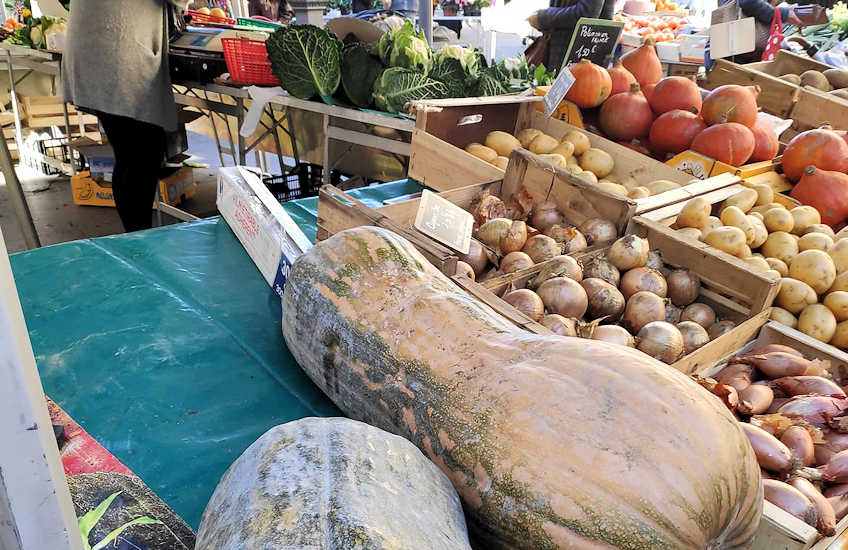 Whether you're visiting the Languedoc on holiday or you're a regular visitor, then experiencing the local markets is a real treat. Buzzing with life, full of colour, aromas and sounds; the markets of Languedoc is where you will find some of the best local produce in the South of France. I am sure that you will not want to go to a market everyday, but we have presented our selection of the best markets in Languedoc in a daily list to help you narrow down your choice. The markets we have chosen keep to a high standard in both the Summer and Winter. As with any market, you're best to get their early to grab your parking space and get the best deals.
Saturday - best markets in Languedoc

Pezenas market
There can be only one market to go to in Languedoc on a Saturday - and that is Pezenas. Taking over the whole town and offering a wonderful array of artisanale food, clothing, flowers, and general nic-nacs, this really is the place to be. It does get extremely popular in the Summer, but it is well worth it for the atmosphere. In the heart of the former capital of Languedoc, the market best sums up what Pezenas is all about. For more information see Pezenas Market.
Ceret market
I have heard good reports about the Ceret market. Make sure you go in cherry season (late April-May). You can also pop into the Modern Art Museum.
Carcassonne market
Carcassonne town always gets a real hard press from all the guide books, but I don't mind it. It is like the plain-Jane to the beautiful elder Sister. But when it comes to it, you'd rather spend more time wandering around the town and soaking up French-life than touring the plastic ambiance of the Citadel (anyway that's my opinion). The market here is best on a Saturday. Read our article on Carcassonne for more information.
Arles market
Further afield, but hardly a chore, the market in Arles on a Saturday morning is worth the trip. You also have the benefit of being around Van Gogh's Arles for the afternoon.

Sunday - best markets in Languedoc
Narbonne markets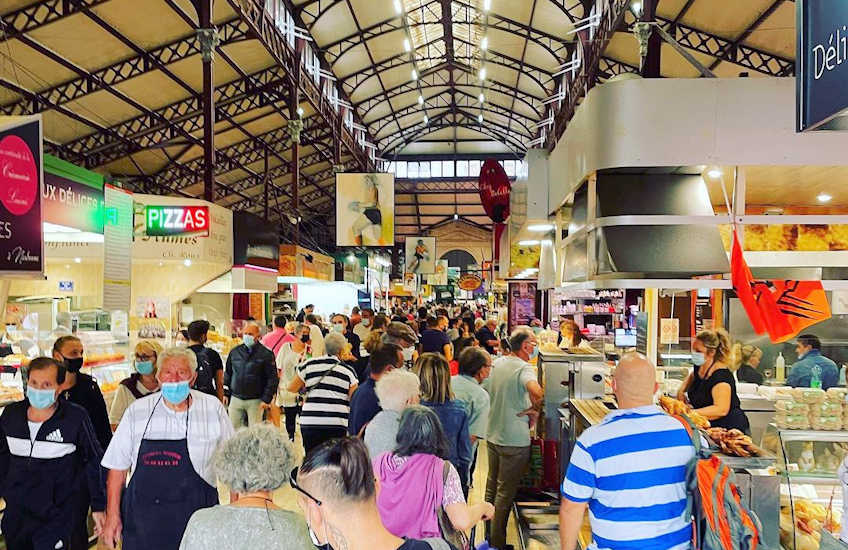 When everything else in Languedoc is shut on a Sunday, visiting Narbonne market provides you with a burst of life. Spread around the canal-side, the market mainly sells clothing, leather goods, shoes, etc. But there is a wonderful indoor food market that should not be missed. The food here is excellent, especially the cheese and pate.
Bessan market France
If we are not going to Narbonne, one of our favourite markets is in Bessan and is open Sunday mornings. There is a good range of food, clothing and hardware. It is spread out through the centre of the town and there is sometimes an exhibition taking place in the Foyer Rural.
Collioure market
I love going to Collioure no matter what day it is. There is something magical about the light in this harbour town close to the Spanish border - hence why it has attracted so many artists over the years. The market in Collioure on a Sunday is very popular. Collioure also features in our list of the 10 best sites in Languedoc.
Marseillan market
There is a large car-boot market in Marseillan every Sunday. Whilst you will find a lot of tat here, you will also pick up some bargains as well.
Olargues market
If you want to spend a pleasant Sunday morning out in the country, head up to Olargues in Haut Languedoc. This stunningly well preserved medieval village is included in the list of France's 151 "most beautiful villages". The small but lively food market is situated on Avenue de la Gare and offers plenty of cheeses, fruit, wild boar pates and much, much more.

Monday - best markets in Languedoc
Valras Plage market
Although not a good day generally for markets in Languedoc, the market at Valras Plage is worth a trip out. The fish stalls at the covered market are excellent, selling squid, crab, octopus, skate, etc. You will also find plenty of fruit, veg, cheese, cloths, furniture etc. During the summer months the market is moved from Place Rene Cassin to the sea front. For more information read our article on Valras Market. Valras plage is also one of our favourite beaches in the South of France (see Best Beaches in South of France).
Bedarieux market
The other place to head for on a Monday is the unpronouncable "Bay-dar-i-yuh". It is sometimes called "Bay-dar-i-oh" - even by some of our smug English friends who take great delight in correcting what was once described as my 'unique French accent'. The market at Bedarieux is a mixture of local food produce, clothes and other things.

Tuesday - best markets in Languedoc
Roquebrun market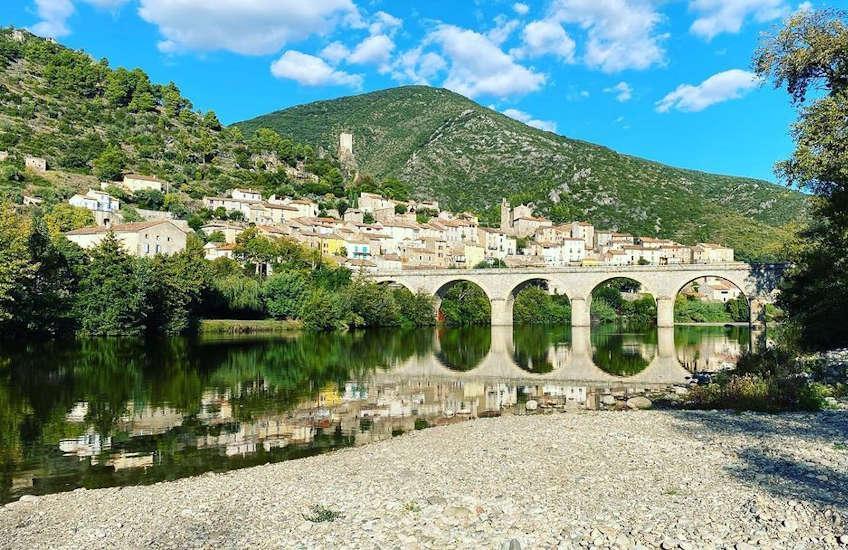 Although hard to get to (from anywhere) Roquebrun is a real delight. Perched on the edge of the River Orb, this is a very picturesque setting within the Languedoc Regional Park. There is a market here on a Tuesday (and also a Friday). The other reason to come here is that the local wine is mostly excellent. Produced under the Saint-Chinian appelation, the Roquebrun wines are well respected (see Best Languedoc Wines).
Olonzac market
Over in Minervois, Olonzac is the local town. The market here is best on a Tuesday when you get a mixture of food, clothes and nic-nacs.
Cap d'Agde market
I have to admit that I have never been to the market at Cap d'Agde, but I have added it to this list because good friends of ours, who are real foodies, rave about it. The market only takes place during the summer months (June to September) and is located on the Place du Barbeque. This artisanale market features local producers from the Haut Languedoc region and covers everything from honey to cheese, charcuterie, as well as local craft items.

Wednesday - best markets in Languedoc
Clermont l'Herault market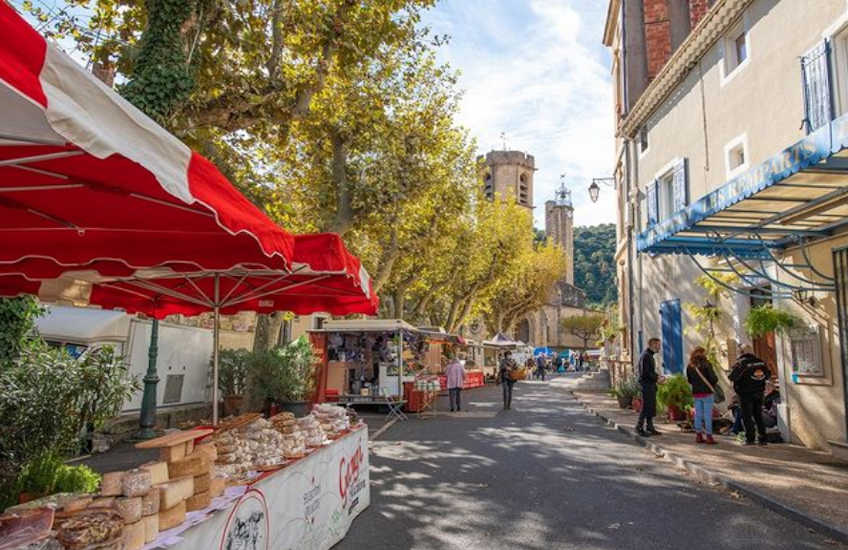 If you love food, then the Wednesday market in Clermont l'Herault is not to be missed. Here you will find the best olive oil, honey and goat's cheese in Languedoc. See Clermont L'Herault market for more information.
Lezignan-Corbieres market
There is a large market in Lezignan-Corbieres (not to be confused with Lezignan-le-Cebe, near Pezenas) every Wednesday. Lezignan is on the road to Carcassonne from Narbonne. I have never really known what to make of Lezignan. There are some nice old streets and buildings but it is largely a working town. It might be best to combine a visit here with a trip to Carcassonne.
Bize Minervois market
Up in the Orb Valley, Bize Minervois is a strange old place. Beautiful in parts, ugly in others, it still retains its local ambience. The drive up to it is great. When you've finished shopping you can also dip your toes into the cool River Orb (follow the sign posts to the Canoe base - about 3km from the town).

Thursday - best markets in Languedoc
Saint-Chinian market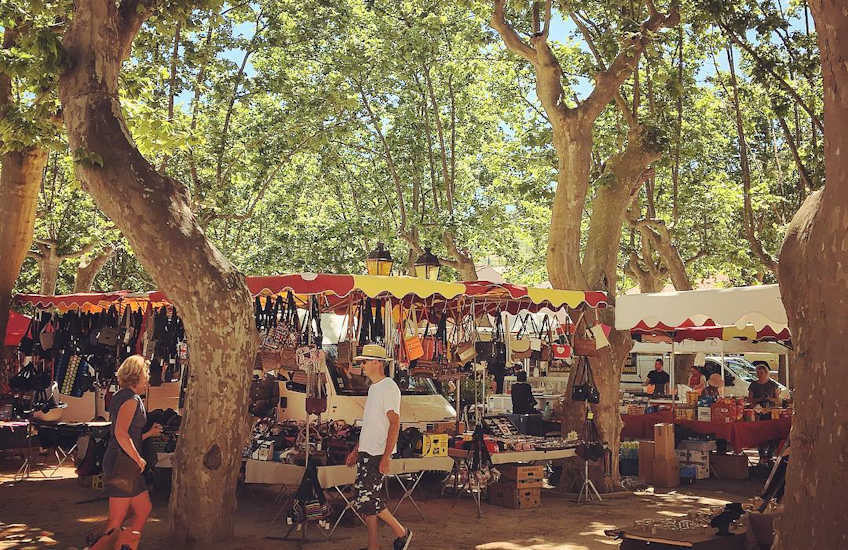 Although the town of Saint-Chinian doesn't really live up to the lovely drive up to it and its fame as a wine producer, the market on Thursday is worth a trip. The market is mainly food, but also has clothes, fabric, books, plants, as well as lots of local producers. Make sure you leave with a car full of Saint-Chinian wine, some of the best to be found in Languedoc (for more information see Saint Chinian market for more information).

Friday - best markets in Languedoc
Beziers flower market
The flower market in the allees Paul Riquet, Beziers; on a Friday morning is a real must. It is practically the only time I go into Beziers except for the Feria in August (see Best Festivals) and on business. The flower market sells an amazing colourful selection of cut flowers, plants and herbs. The indoor food market close to the Cathedral is also pretty good, although not as good as the indoor markets in Narbonne and Nimes.

Everyday
For food and local produce in Languedoc you can not beat the indoor food halls of Nimes, Narbonne and Beziers. Situated in lovely old market halls, these markets really make you feel that you're in France when you're shopping with the locals.
Where to next . . . ?
Contact Iain by Email if you have any particular questions you would like to ask about visiting the South of France. If you liked the article then please share it with others using the Twitter and Facebook buttons below. I wish you a wonderful stay in the South of France.