Last updated on .
Hits: 503
French Farmers markets: Organic Market, Pezenas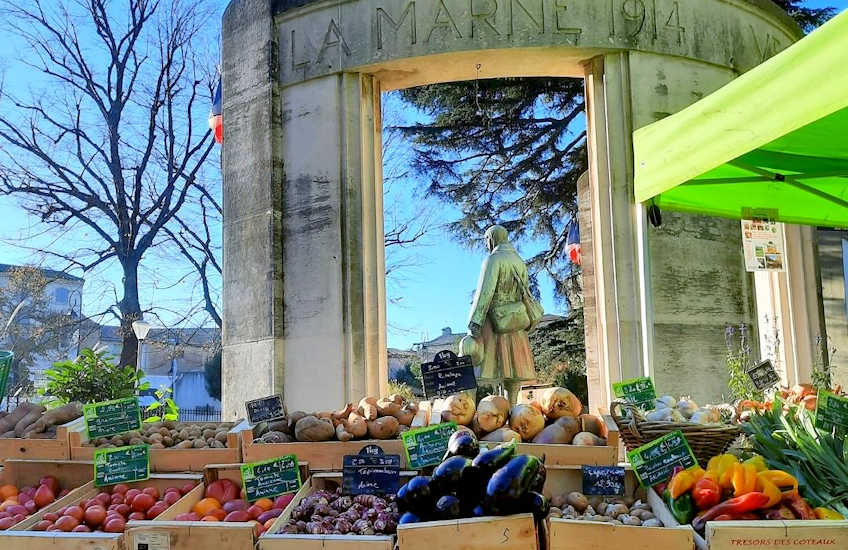 Pezenas Farmers Market [Photo courtesy of www.instagram.com/les_papilleuses/]The French Farmer's Market in Pezenas, South of France, is held every Saturday. It is one of the best markets for Organic food (Bio produce) in Languedoc. The Pezenas French Farmers Market features a range of local farmers and artisan producers. You will find a wide range of organic food, from vegetables to goat's cheese, honey, wine and herbs.
The "Marche Bio" is held at the Square Jean Moulin in Pezenas, which also features the main war memorial in Pezenas. This is located near the water fountain at the top of the main market street in Pezenas (Cours Jean Jaures).
French Farmers markets: Organic Market, Pezenas
The Marché de Bio has been in operation for over 15 years and is run by a local Association de Producteurs (see Marché de Bio Pézenas). The members of the Association are regional cheese, fruit, vegetable and wine producers, who must follow the approach of organic and artisanal agriculture. They favour the production of seasonal produce and old, non-industrial varieties. They undertake to supply the market mainly with their own harvest.
The Farmers market is a great place to stop off and stock up on your fruit and veg before heading to the larger main market that takes over the whole of Pezenas every Saturday morning (see Pezenas Market).
Pezenas itself is one of the most beautiful town's in Languedoc, if not the South of France (but I am biased because I live there !!).
For more information on Pezenas, please visit the Pezenas Tourism Website.
For more ideas about the best markets in Languedoc, please see our article Best Languedoc Markets