Last updated on .
Hits: 2272
Languedoc tourism: place to visit in France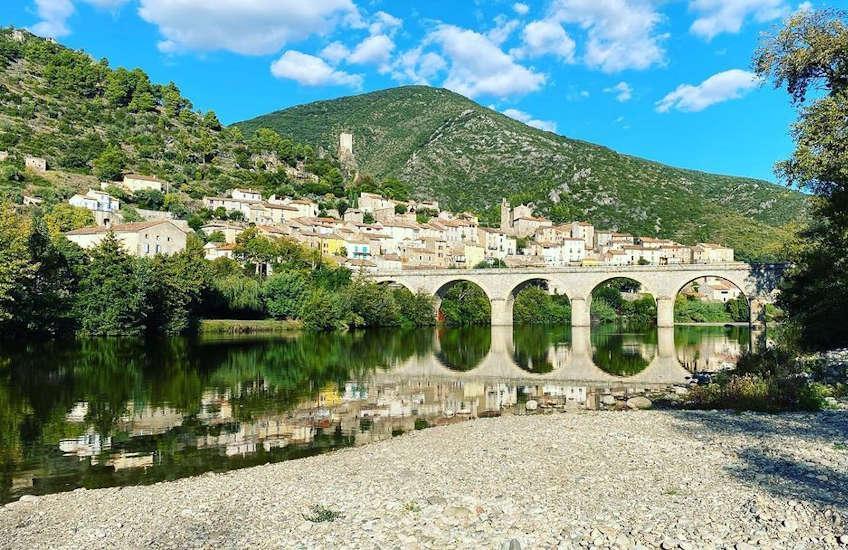 The Languedoc is one of the most fascinating areas of Europe, It has a wonderful climate, rich wildlife, a spectacular coast, chic resorts, beautiful scenery and astonishing history. It is a perfect French holiday destination, with long sunny days, Mediterranean beaches, wonderful food and wine, mountains & national parks, ancient towns & villages, Greek and Roman architecture, and thousands of miles of walks and bike rides.
The Best of Languedoc tourism
Here is our recommendation of the 10 things not to miss whilst you're in Languedoc-Roussillon:
Best Languedoc Tourism sites #1 - Arles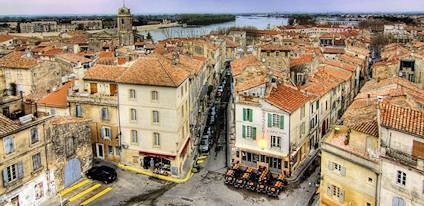 It is a close run thing, but Arles is definitely my favourite city in the South of France. With its Roman heritage - complete with Amphitheatre, Forum and Theatre; beautiful 17th Century mansions, mazy streets, modern Museums and wide rolling river; Arles has it all. Arles was also the base for Van Gogh and Paul Gauguin, during their ill-fated but successful partnership in the 'Studio of the South'. Here van Gogh painted some of his most famous masterpieces. For more information on Arles, please see our articles on Arles tourism and Van Gogh in Arles
Best Languedoc Tourism sites #2 - Canal du Midi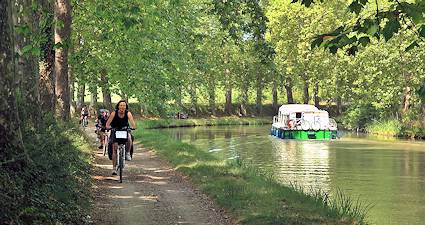 This tree-lined canal that runs from Toulouse to the Mediterranean sea, is the largest UNESCO World heritage site on earth. It has come to symbolise the slow, relaxed life of the South of France. The brain-child of Paul Riquet, a tax collector from Beziers, this mammoth civil engineering project was the most complex and greatest civil engineering undertaking since the time of the Romans. Passing under the walls of historic Carcassonne the quintessential South of France experience is to boat, walk or cycle along Riquet's canal. Our favourite stretch of the Canal du Midi is in between Colombiers and Capestang. Here you will also find the Oppidum d'Enserune. This pre-Roman settlement is perched on a ridge above the vineyards of Beziers. Look down and see the Basin de Montady, with its fields shaped like a wagon wheel. See also Top sites for Kids in the South of France
Best Languedoc Tourism sites #3 - Pont du Gard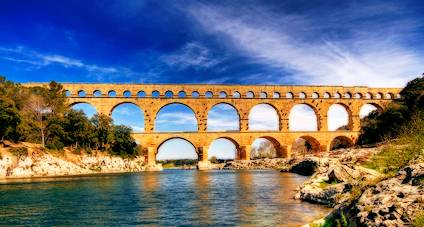 This extraordinary Roman aqueduct located just north of Nimes is another UNESCO World Heritage Site located in Languedoc-Roussillon. Complete with excellent visitors centre and mediterranean garden, the Pont du Gard is a special place to visit. One of my favourite days out with the kids is to swim under the arches of the Pont du Gard or take a canoe up the river. The Pont du Gard also appears in my Top Picnic Spots in the South of France.
Best Languedoc Tourism sites #4 - Carcassonne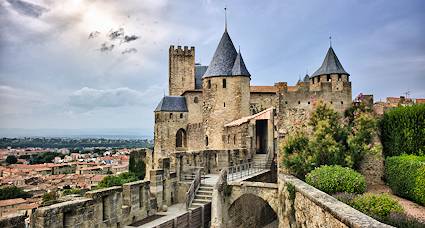 France's most famous and evocative medieval citadel. Carcassonne is the third UNESCO World Heritage Site in the Languedoc-Roussillon. It is the scale of the castle at Carcassonne that blows you away. A wonderful monument with an impressive history. If you do go, try and keep your hand in your pocket as you go past all the lines of tourist souvenier shops - most of the stuff they sell is absolute tat and you don't really need it!. There are however some reasonably priced restarants inside the Cite - although I can't vouch for the quality. More information on Carcassonne can be found at Carcassonne tourism information.
Best Languedoc Tourism sites #5 - Collioure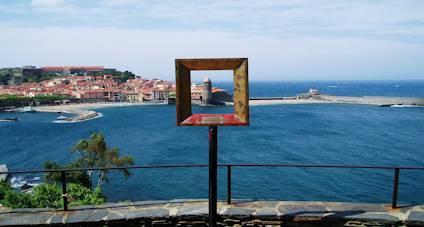 The picturesque beach town of Collioure is an idyllic place. It is situated in the very south of France, 26 km (approx. 15 miles) from the Spanish border. It has always attracted a host of artists because of its 'special light' and you can follow the unique art trail through the town. Its small Catalan harbour is sheltered by a quiet bay where the Pyrenees meets the Sea. You can count on having a splendid swim at one of the small coves. For more information about Collioure please go to our articels on Collioure tourism and Collioure Art Trail.
Best Languedoc Tourism sites #6 - Pezenas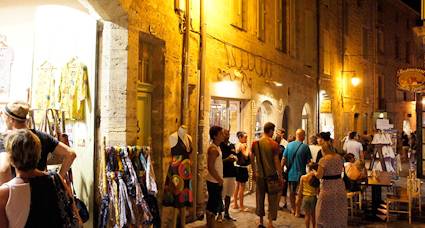 Walk the old streets of Languedoc's former capital. Once the stomping ground of Molliere and now a haven for antiques and a fabulous Pezenas Saturday market. Pezenas is probably the prettiest large town in the South of France (although Uzes and Sommiers may have something to say about that!).
We just love wandering around the market on a Saturday and taking a detour off into the old Jewish quarter with the jewellers, cafes and boutiques. It is no wonder that Pezenas is such a draw for people all year around. More tourism information about Pezenas can be found in our article Pezenas tourist information.
Best Languedoc Tourism sites #7 - Aigues Mortes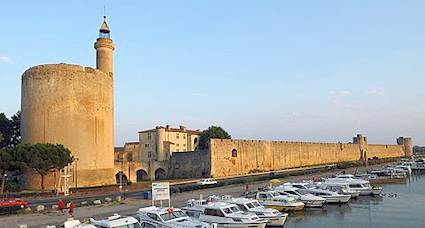 A medieval walled town romantically set among the dunes and plain of the Camargue. A tour of Aigues-Mortes' fortifications and grid pattern streets is a must on any visit to Languedoc-Roussillon. Surprisingly for such a tourist haven, the restaurants around the main square are actually quite decent . Our preference though is to buy sandwiches and have a picnic on the grassy slopes of the ramparts.
You will find more tourism ideas for Aigues Mortes in our article on Aigues Mortes tourism as well as our article on the Petit Carmargue region
Best Languedoc Tourism sites #8 - Nimes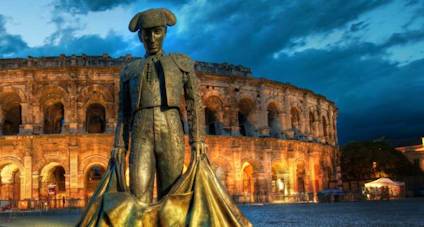 This city is inextricably linked to its Roman past. Its location on the Via Domitia - the main chariot route from Spain to Rome - helped make it a favourite with a series of Emperors. Today it is endowed with an outstanding collection of monuments including the Maison Carree, the Amphitheatre and the Temple of Diana. Today it is home to a bustling commercial district, with winding streets hiding a plethora of boutiques. It also has two good art galleries and hosts some of the most colourful festivals in Languedoc-Roussillon - February's Carnival and the Ferias of Pentecost and September.
Best Languedoc Tourism sites #9 - Montpellier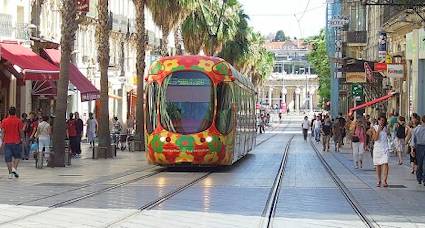 I love going to Montpellier. It is a real treat. The place is alive with amazing energy and is a real tonic to the lazy days spent in a Southern France village. With fine museums, a charming old centre, modern tramway network and booming hi-tech business sector with extraordinary modern buildings; you really get the feeling that Montpellier is the place to be Languedoc. The best time to come to Montpellier is during one of its excellent festivals such as the Montpellier Danse festival. It even has a Mediterranean beach!
More information about visiting Montpellier is found in our article Montpellier tour guide.
Best Languedoc Tourism sites #10 - Avignon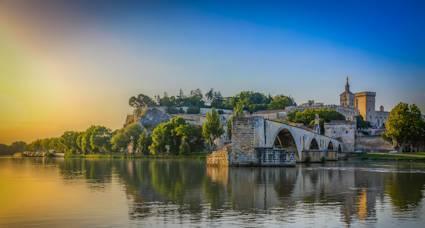 Avignon is a wonderful mix of history and culture, set on the banks of the River Rhone. Avignon arrived on the World's stage when in 1303 the Vatican decided to move away from the anarchic violence of Rome to the peaceful pastures of Provence. Although they only stayed for 70 years their legacy can still be seen on the beautiful streets of Avignon. Famous sites on your trail should include the Pont du Avignon and the Palais des Papes. Nearby you will also find the famous Chateauneuf-du-Pape wine appellation.
The Languedoc in the South of France: Click here for everything you need to know about the Languedoc-Roussillon - weather, holidays, beaches, property, tourism and travel, Cathar castles, history, sports, food and wine, and everyday living.