Last updated on .
Hits: 1029
10 best kids activities South France in 2023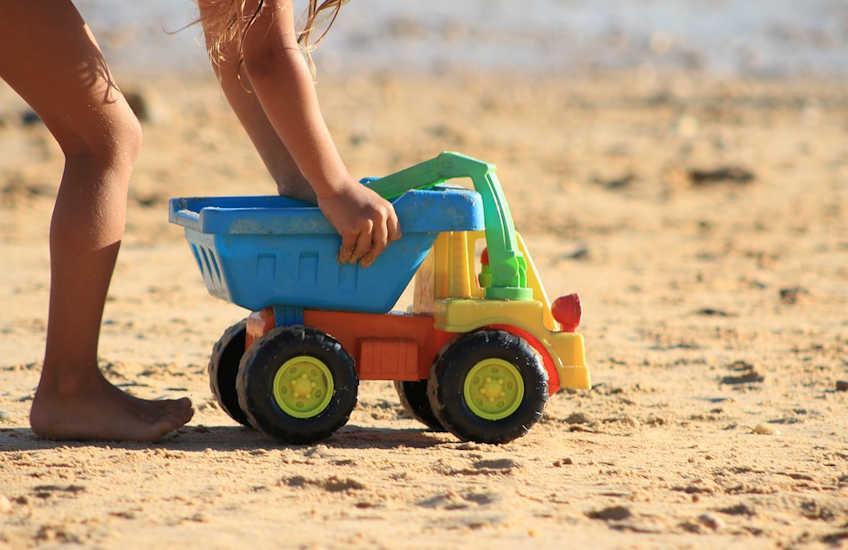 Here is our guide to the 10 best things to do in Languedoc, South of France, with kids during 2023. If you are in Languedoc with your children or grandchildren this summer and you're looking for things to do to occupy their time, then follow our list of kids activities to do in France, as compiled (following extensive research and much debate) by our 3 boys, Cameron 17, Archie 14 and Finlay 12.
10 things to do in South of France with kids
I am sure that this list of fun things to do in the South of France with kids will give you some good ideas about how to keep your kids entertained on holiday. We have tried to avoid the more obvious things (although Aqualand Water Park did creep onto the list). There were many other items that didn't make it into the Top 10. We have over 10 years experience of touring around Languedoc and the South of France entertaining our little monkeys, so If you are looking for a particular activity or want some ideas for your vacation in South France with kids, then please drop me a line (Iain Laverock) and I will be happy to send you some suggestions. Enjoy your visit.
1. France for kids - Canoeing Pont du Diable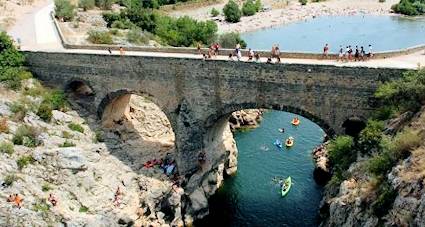 Whenever we have friends visiting with families, this is our favourite thing to do in the South of France with kids. Next to St Guilhem-le-Desert, the river has worn a dramatic ravine through the rock. Where the river emerges under the Pont du Diable, there is a small lake, complete with beach and now a wonderful visitor centre. The water is lovely and cool and crystal clear. You can see all the fish in the water and the lake is wonderful for swimming in during the hot summer months. Make sure you take some waterproof shoes with you because the stone pebbles are a bit awkward to walk on. These pebbles do however make excellent skimming stones and I like nothing better than thrashing my kids at a Skimming competition (competitive Dad!).
The Pont du Diable makes an excellent alternative to the beach. Normally when we go to the beach we come back with half a tonne of sand in the boot and I am chunterring all the way home. However, here there is zero sand, so the car doesn't end up smelling like a dead fish. There is a Canoe Hire kiosk at the Pont du Diable, where you can rent a canoe for €10 per hour. You canoe across the lake and then about 1km up the river. The water is calm and the only danger you will face is avoiding the teenagers who are hurling themselves off the bridge into the water below. The river is a bit windy in places, but this all adds to the fun. After about 20 minutes canoeing you will arrive at a big rock in the middle of the river. This is the turnaround point. Our kids love to scramble up on the rocks and jump into the river complete with dramatic screams (see Canoeing up the Ravine for further details on this activity).
2. South France activities for kids - Accrobranche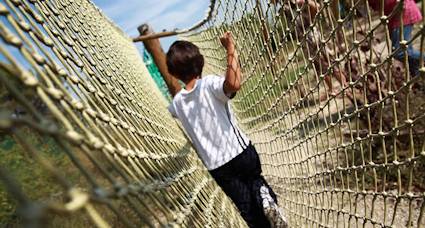 If you're looking for an activities to do in France for kids with a bit of a difference, then Accrobranche could be for you. Set in dense forest close in between Montagnac and Abbaye Valmagne, Accrobranche specialises in tree climbing for kids, encompassing abseiling, tree canopy walks and rope ladders. Whilst this may not be for those fearful of heights (which includes me!), this is great fun. It takes you back to being 10 years old again. Oh and the kids will enjoy it as well. Our kids thought it was brilliant and they slept like Pandas in the car on the way home (see Accrobranche for more information).
3. South of France with kids - Cycling along the Canal du Midi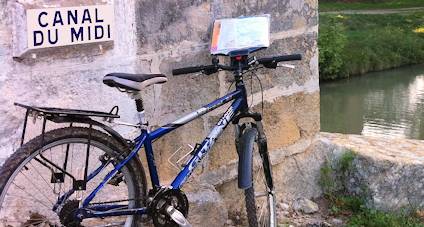 The Canal Midi is one of the South of France's most famous sites. It also makes a great day out in the South of France with kids. For parents it is a win:win situation. It gets them away from the Playstation or Gameboy for a few hours and by the end of it, they are so tired, you will have nodding heads all the way home (ah! the peace & quiet!!). Our favourite place on the Canal du Midi is to park up in Colombiers on the D11 west of Beziers. From here we cycle west towards Capestang. After about 15 mins you will reach the Oppidum d'Ensurune, a pre-Roman settlement perched on a hill above the vineyards. From here you get a spectacular view of the Basin du Montady. This is a Wagon-wheel shaped formation of fields (or like the 'triangle cheese wedges in a Dairylea cheese box' as Cameron describes it). We usually have our sandwiches here looking down on the Basin, before cycling on to the next village of Poihes for a drink. The return leg home is always quicker with a Stella Artois inside you! Also see Canal du Midi for more information on the Canal du Midi.
4. Activities to do in France for kids - Montpellier Zoo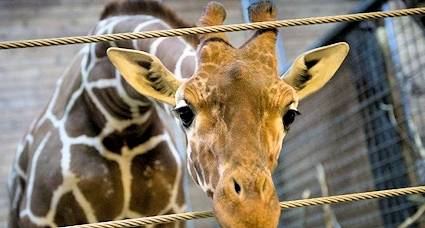 Montpellier Zoo is a cheap activity to do with kids in france. The Zoo - or Parc Zoologique Henri de Lunaret, to give it its full title - is a free day out in a lovely parkland setting in the North of Montpellier. Zoos are always a hit with our boys and we easily spent 4 hours walking round and we still didn't see all of the animals. There are bears, lions, cheetahs, leopards, rhinos, antelope - you name it. Since we first went to Montpellier Zoo, they have built an amazing Amazon rain forest section. This does cost to get in, but it is very good. The entrance fee is a bit steep, but probably worth it. the only problem is the queue. So either get here early or book in advance. Anyway, it is a good day out, our boys loved it and it is certainly a cheap alternative to Sigean African Safari. Did I mention that it was free? For more details and directions please visit : http://zoo.montpellier.fr/
5. Things to do in South France with kids - Sigean African Safari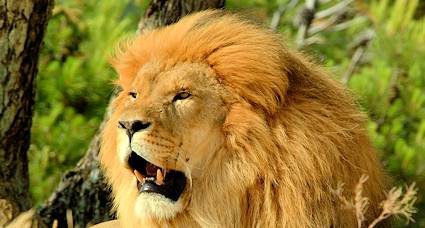 The Arican Safari Park in Sigean is very well laid out and has all the animals you can think off: Lions, Giraffes, Rhinos, Gorillas, Elephants (Archie's favourite), Emus with attitude and lots and lots of Monkeys. When we went the Pink Flamingos were flying in over the lake which was amazing. It is well worth the visit, although it can get very busy in the Summer. The only problem about the Safari park is the lunatics driving in front of you. There are signs everywhere not to stop the cars (especially in the Rhino area. So what does everyone in front of you do? Yep, park up and take loads of photos. This is absolutely no problem except for when the Rhinos are getting a bit frisky and starting to trun and make a run for your car stuck at the back of the line of cars. Personally, I would make any offenders walk through the lion park at feeding time, but maybe that is a bit extreme. For further details please visit: Sigean African Safari
6. Things to do in South of France with kids - Meze Dinosaur Museum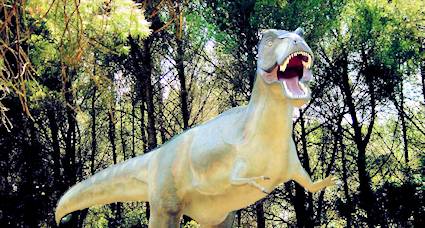 Not to be confused with 'DinoPark' located in Cap d'Agde, this Museum is the largest museum in Europe devoted entirely to dinosaurs. The park is well laid out and there is lots of information. The museum is located on the site of an important discovery of dinosaur eggs and fossils. Our 3 boys loved walking around and seeing all the real-scale reconstructed models located in amongst the tress and trying to find all the dinosaur eggs in the sand pit. There is a nice sheltered picnic area, a cafe bar, shop and outside cinema area. Connected to the Dinosaur Museum there is another park area devoted entirely to the development of Man. Personally I found this very informative, but the boys had probably had enough by then. However, the collection of arrow heads and axes kept their interest for a bit. You can buy a dual ticket that covers both parks.
The Dinosaur Park ranked highly with our crew. Even though when we went it was scorchingly hot, we still managed to grab some welcome shade as we walked around. Informative as well as entertaining.Visit http://www.musee-parc-dinosaures.com/for more details.
7. Things to do in the South of France for kids - Velorail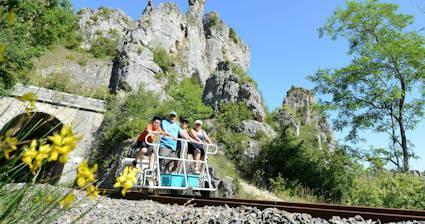 OK, so here is the tip. Do not do the Velorail at St Thibery. All you end up doing is cycling along a dual carriageway. Jump in the car and drive up the A75 up to the Millau bridge (the highest bridge in Europe). Then drive down into Millau town, loop back under the motorway and follow the directions to Roquefort - yes! the Roquefort where they make the cheese. Don't do the tour of the caves (not exactly rivetting entertainment), but do go into the visior centre and bag all the free samples of cheese (they all taste the same no matter what the lady tells you!). Then jump back into the car and head of in the direction of Sainte-Eulalie-de-Cernon. This is a stunning old Knights Templier village set in a deep valley. There is a small reptile zoo here (again, do not bother). But from the village follow the signs and drive up to the Velorail centre. This is an old dis-used railway line that they have turned into an amazing activity for kids. You rent these old railway bogey cars that they have turned into a cycling unit. You cycle (mainly downhill) for about 8kms, through railway tunnels and over bridges and then an old steam train comes and collects you for the reurn trip. The views along the way are spectacular (far better than the D13 between St Thibery and Nezignan l'Eveque!!). It is a really fun thing to do with kids in South France. There is also a lovely picnic area at the old station where you can have a pre-cycle meal. It is advisable to book ahead. They do speak a decent level of English if you want to call (+33 5 65 58 72 10) or you can visit the website Velorail Larzac and leave an email message.
8. France for kids - Having a Picnic at the Pont du Gard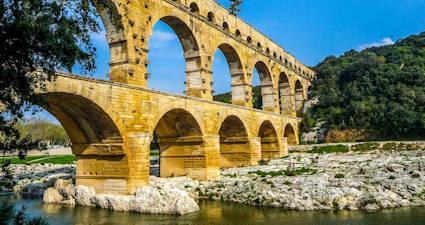 Pont du Gard, situated just north of Nimes, is one of the most dramatic monuments of the Roman architecture in France. This Roman aqueduct, was built around AD50 to carry water over 50 km from Uzes to Nimes. There are two alternative places to eat at this famous Roman Aqueduct. You can either eat on the banks of the river with a fantastic view of the bridge in all its glory, or you can pick a nice shady spot on the botanical trail through the Mediterranean garden.
Once you've finished with your picnic, you children can be entertained swimming in the river under the bridge, visiting the childrens activity centre in the Pont du Gard visitors centre or just lazing in the sun besides one of the most famous sites in the South of France (see Pont du Gard for more details). For other Picnic ideas see our article Best Picnic Spots
9. Fun things to do in France for kids - Aqualand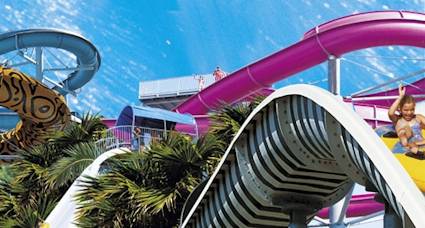 Our favourite rides at the Aqualand waterparkwere the Niagra - absolutely terrifying, a straight slide that takes you down from about 50m to zero in about 2 seconds!; the Colarado - you sit in a long rubber canoe and your whizzed round in the dark before descending like a bullet down the slide; and the Black hole - a massive flume. Don't bother with the Congo River - unless you have young kids or you're a bit of a girl. You also get a nice view over Cap d'Agde from on top of the rides. The wave machine pool is very good and the toddler pools are safe and entertaining. There was not too much to go on if you were under 1.10m. If you do have small children, you might be better visiting La Grande Bleu in Grande Motte, as I doubt they will get their money's worth here (see below)
Despite all the queueing we had a good day out. It is not something I want to do every day, but it is good fun nonetheless. It certainly brings out the big kid in you. See Aqualand for more information.


10. Activities to do in France with kids - Espace Grande Bleu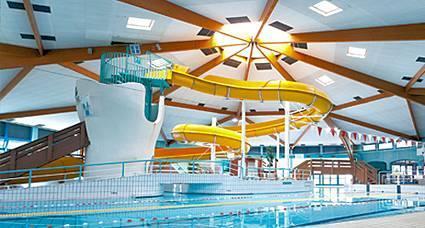 If you want an alternative to the beach or an economical alternative to Aqualand, then La Grande Bleu in La Grande Motte could be just the place for you. La Grande Bleu is an indoor and outdoor swimming pool complex with 'flumes'(or 'toboggans' in French), up to 48m in length, 3-4 swimming pool areas, a toddler pool, sun terrace, solarium, steam room & sauna, jaccuzis, water jets, wave machine, etc. There is also a cafeteria and ice cream bar inside the swimming pool area. We went about 2 months ago and all our children (ages 3, 5 & 8) had a great time. We've not been outdoors in the summer, but from what we saw it looked good. For more information (see Espace Grande Bleu).
Other activities to do in South of France with kids:
Planetarium Galilee - Montpellier's own superb planetarium. We have not been ourselves, but we've heard good reports about it. There is an excellent website for the Planetarium (http://www.planetarium-galilee.com/).
Train Juane - a yellow train that snakes its way up the Pyrenees from Villefranche-de-Conflet and climbs up to the highest train station in France at Bolquere. Further details can be obtained from the website at :Train Juane
Aquarium, Le Grau-du-Roi - one of the best aquariums around this area (do not go to the Aquarium in Cap d'Agde as it is rubbish). Visit http://www.seaquarium.fr for more information
Crocodile farm - this is a good day out. It is situated between Avignon and Orange. Make sure you go on a cool day because it is bloody hot inside!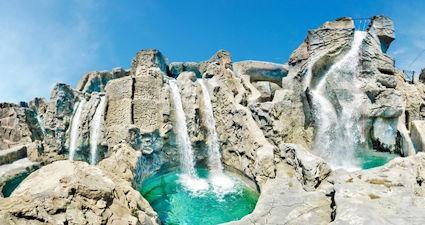 Canyoning - the Canyon Park near to Argeles sur Mer and Perpignan, is an amazing activity centre situated in a disused quarry where you can jump off cliffs into 14 different clear water plunge pools. There is also a 100m Tyrolene zip wire which drops you into another plunge pool. This is mainly aimed at older kids. For more information please visit Canyoning Park.
The daily ticket prices are:
Adult (12 years +) : 30 €
Child (8 to 11 years) : 26 €
Family (1 adult and 1 child) : 54 €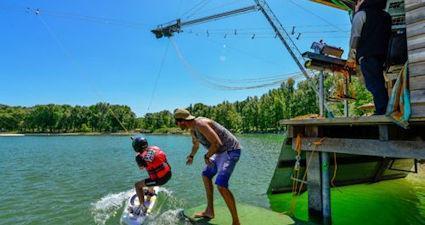 Teleski - is a watersports centre located near to Perpignan at St Jean Pla de Courts. It offers 4 fidderent activities including wakeboarding on a zip wire, water skiing, water skating (I suppose the nearest equivalent is snowboarding on water) and Water jumping. There is an excellent website for the centre (in multiple languages) at Teleski.
The centre offers a Discovery introductory package at 27 € (29 € July and August) where you can try out individual activities. The prices for individual activities range from €30 - €42 for a half day pass.
Where to next . . . ?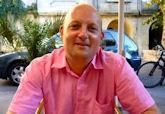 I hope that this article has provided you with some good ideas about how and where to entertain your children and grandchildren during your to visit to South France. We live in the South of France all year around and we absolutely love being here. We are always out and about visiting new villa rental properties and researching tourism articles about the South of France. We have a great collection of articles with more ideas about things to do and places to go in the South of France, including:
Go Languedoc provides holiday accommodation, long term rentals and tourism information about the South of France - covering Cote d'Azur, Provence and the Languedoc. If you would like some more detailed information or if you have any questions about finding accommodation for your visit, then just drop us a quick message and we will come straight back to you. I wish you a wonderful stay in the South of France. Contact Iain by Email or by phone +33 6 95 00 28 44.