Holidays in Menton South of France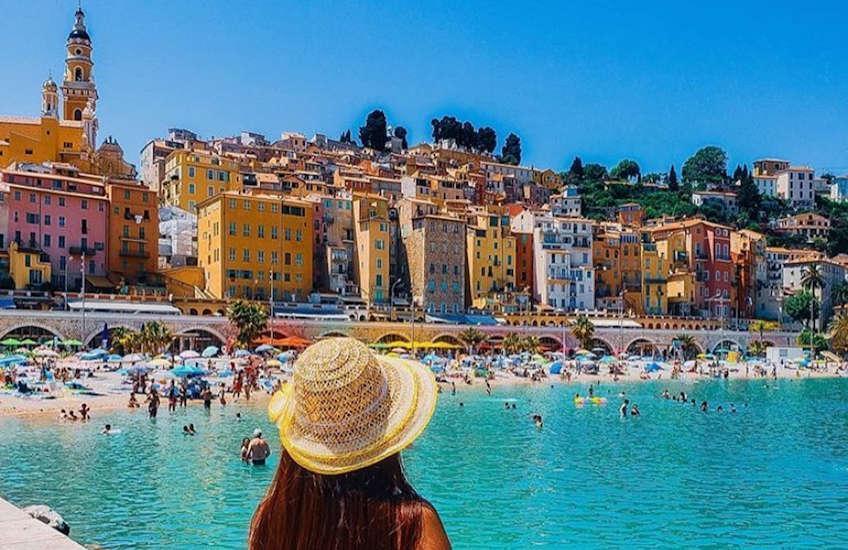 The coastal town of Menton is a beautiful place for a holiday in the South of France. For centuries, Menton has attracted visitors on account of its micro-climate and it still remains one of the sunniest towns in France. Menton has a good range of beaches in the lovely bay and the old town is a great place to walk around. The town has an excellent market, lots of good restaurants and cafes and the old town is a great place to walk around. Menton is also famous for its impressive gardens and there are 7 main gardens to visit (see Menton Garden festival). It is easy to see why thousands of visitors choose to holiday in Menton each year.
Holidays in Menton South of France
Menton is located just a 3 kilometres from the Italian border and during it's history, it has been under both French and Italian (Sardinia) rule. Menton is famous in France for the production of lemons and citrus fruits and there is a marvellous Lemon Festival held in the town each year (usually late February). The French artist and film producer, Jean Cocteau, stayed in Menton for a long period of his life and there is an excellent museum in the town dedicated to him. Other famous residents of Menton include the Irish poet WB Yeats and the founder of the sport of Rugby, William Webb Ellis, who lived and died in Menton during 1872.
There is always something going on in Menton and you should not miss the Christmas festival, Lemon festival in February, Menton Tango dancing festival in July and Classical Music festivals in July and August. Menton is also an excellent spot to stay in during the near-by Monte Carlo Grand Prix. Menton is also home to some good restaurants, including the fabulous Mirazur restaurant run by Chef Mauro Colagreco. Since opening in 2006, the Mirazur has achieved 2 Michelin stars and has entered the list of the top 10 restaurants in the World at #4.
Menton holidays apartments
We have a number of holiday apartments in Menton, which make an excellent alternative to staying in a hotel. With the excellent local transport network, it is certainly not necessary to hire a car if you are planning a holiday in Menton. There is a direct bus and train service from Nice airport to Menton. There are also regular trains and buses to Nice, Monaco and Italy. Our tow most popular holiday apartments in Menton are both well located in Menton for the restaurants, shops and the beaches. Both apartments come with satellite TV channels and an internet connection.
This gorgeous 1 bedroom Menton holiday apartment benefits from a central location in the heart of Menton near the indoor market. You are just a few steps away from the restaurants, shops and the beach. Menton is a beautiful location for a holiday in the South of France. Located just 3 kms from the Italian border, Menton is also very close to Monaco and Nice. Nice airport is just 30 mins away and can be reached by a direct train and bus service. This very practical apartment also comes with internet and UK TV channels.
This Menton apartment is also available for long term rentals during the low season.
These holiday apartments to rent in Menton, France, encompass 2 large apartments in a residence overlooking the sea. The apartment featured here is located on the second floor and can sleep up to 5 people in 2 bedrooms. The apartments are extremely well maintained and provide very comfortable accommodation in Menton. This apartment has a balcony with a nice sea view and the apartment building has it's own private garden which provides direct access onto the beach (Promenade du Soleil). You do not need a car to stay in these beach-side apartments in Menton. There is a bus stop directly outside the apartments building which has direct buses to Nice airport. Menton also has it's own train station, with trains to Nice, Monaco, Cannes and Italy. The apartment comes with wi-fi and satellite TV channels.
Where to next . . . ?
Contact Iain by Email if you have any particular questions you would like to ask about visiting the South of France. If you liked the article then please share it with others using the Twitter and Facebook buttons below. I wish you a wonderful stay in the South of France.