Last updated on .
Hits: 1896
Best Languedoc festivals: Gypsy Fair, Saintes-Maries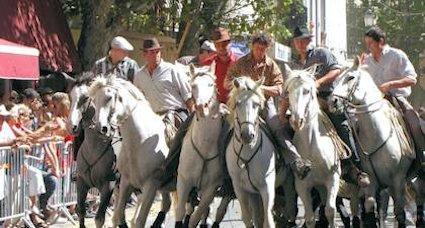 A huge gypsy fair is held in Les Saintes-Maries-de-la-Mer every year towards the end of May. This fair has a long old history. The story starts shortly after the Crucifixion of Christ, when many of his disciples were being hunted out of Palestine. One group of disciples boarded a boat, which according to legend had no sail or oars and was guided by God across the Mediterranean to Provence. This group contained Lazarus, Mary Magdalene, Maria Jacobe, Maria Salome and Lazarus' sister Mary Martha. On arrival, Mary Martha went north to Tarason, Lazarus and Mary Magdalene went east towards Marseille and the other two remained in the Camargue. Here they built a small church and lived out their lives quietly. They had a local gypsy servant Sara, who has since been adopted as the patron saint of all gypsies.
Gypsy Fair, Saintes-Maries-de-la-Mer
Saintes-Maries-de-la-Mer is situated on the Camargue coast, of Languedoc (see Petite Camargue). Although the place is tiny, it is absolutely heaving in the summer. The place itself is a fairly non-descript sort of place, but you can imagine that for centuries fishermen have dragged their boats and their catch up onto the beach - just as they do now. What makes Les Saintes-Maries-de-la-Mer standout however has been the succession of pilgrims that have visited it for centuries. Click here for more information on Saintes-Maries-de-la-Mer.