Last updated on .
Hits: 3305
Fiesta de Sete music festival in France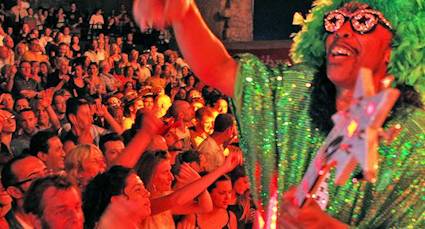 The Fiest'A de Sete is a World music festival in France covering a wide range of musical styles from North Africa and Europe. The dates for the 2017 Fiest'A de Sete have just been announced and it takes place from 22 July to 7 August 2017. Sete has a crowded calendar of festivals in July & August. There is the Worldwide Festival in early July, the Water Jousting festivals towards the end of August and then the Fiest'A de Sete French music festival in late July and early August.
Fiest'A de Sete France festival
During the 2 week long Fiest'A de Sete,world music festival, over 70 artists play at 4 locations around the town of Sete, including the impressive Théâtre de la Mer, an amphitheatre on the banks of the Mediterranean sea. It really is one of the most special events in the calendar of summer French music festivals. As you take your seat you get fantastic views over the Mediterranean sea. The early evening shows are the best, just as the sun is going down over the Mediterranean and the party atmosphere in Sete is building up. During the 2 weeks of Fiest'A de Sete France, over 30,000 spectators visit the town. The festival also includes special showings of films (either musicals or related to music in some way) and a number of art and photgraphy exhibitions.
Fiest'A de Sete, music festivals in France 2017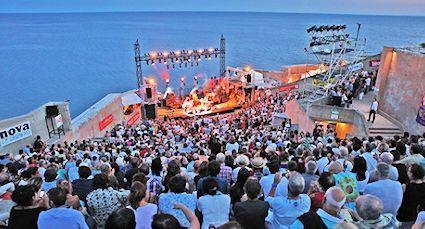 The line up for the 2017 Sete festival France has just been announced. This South of France music festival has firmly established itself as one of the best World Music festivals in France. Previous musicians appearing at this South of France music festival have included such celebrated artists as Bootsy Collins & The Funk Unity Band, Nile Rodgers, Taj Mahal, Hugh Masekela, Ebo Taylor, George Clinton, Pee Wee Ellis and Johnny Clegg. There is always an eclectic blend of African, Jazz, Funk, Soul and Latin American music on show at this South of France music festival, with seemingly the only connecting factor being that they are all great performers.
This year the Sete festival France will be held from 22 July to 7 August 2017 and over 50 musicians have already been booked. As per usual, tickets are predicted to sell out fast.
Line up for Fiest'A de Sete festival, France 2017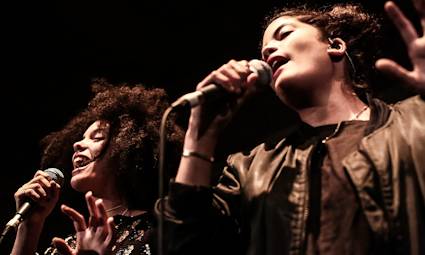 Probably the highlight for me at this year's Sete Music festival is the appearance of Hindi Zahra. Hindi Zahra is a French-Moroccan singer and actress who is very popular in France. She will be appearing alongside a Mali musician called Fatoumata Diawara on 3 August 2017. The Tunisian artist, Dhafer Youssef will be appearing on stage on 5 August 2017. The Cuban guitarist, Eliades Ochoa, first came to international prominence during his involvement in the Buena Vista Social Club, although he was famous in his own right in Cuba before then. Eliades Ocho will be playing on the Théâtre de la Mer stage on Wednesday 2 August 2017.
Opening the whole season of shows at the Théâtre de la Mer stage, is the celebrated Jazz-Funk pioneer, Roy Ayers. Ayers is most known for his songs "Everybody Loves The Sunshine" and "Searchin". During his long musical career Roy Ayers has covered jazz, R&B, funk, soul, and acid jazz. A very talented jazz composer and proiducer in his own right, Ayers is sure to be playing an eclectic mix of his own tunes re-worked standards. Roy Ayers will be playing on Tuesday 1 August 2017.
Music festivals in France 2017
For more information on the full 2017 line-up for one of the most dynamic World Music festivals in France, please visit www.fiestasete.com. Ticket prices are €32 for the headline shows and between €20-€30 for the day time acts.
For more information visit www.fiestasete.com