Last updated on .
Hits: 3140
Fete de Drac, Mondragon 2023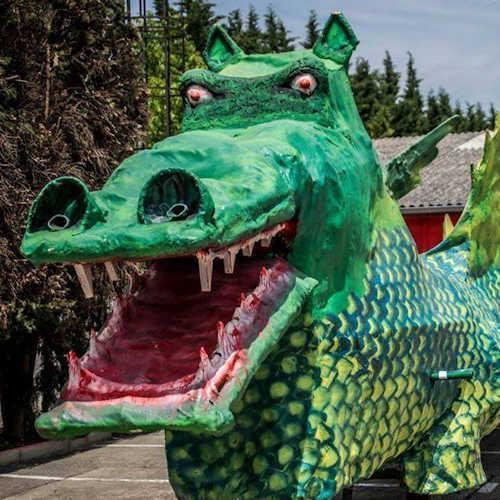 The Fete de Drac or Dragon festival in Mondragon, South of France, has been taking place for the last 40 years. The origins of the festival is a local old legend of a dragon that appears on the banks of the Rhone river and captures unsuspecting virgins from the village of Mondragon. This festival is always a raucus affair, with plenty of fireworks, fancy dress and general mayhem. The main festivities takes place during the early evening and long into the night when virtually the whole town comes out to join in the procession. During the day there is a medieval market and a thing called a Drac Ball - which can only be described as men dressing up as women and gladiators and monks and hitting the Pastis early doors. Or maybe the pastis drinking comes first and then the dressing up in women's clothes. Well either way, you will probably not see anything similar this side of Bangkok.
Fete de Drac 2023 - Dragon festival South of France
The Fete de Drac is organised by the local Comité des Fetes in Mondragon. They still haven't announced the actual date for the 2023 Fete de Drac festival but it will be taking place towards the end of May. For further information about this Dragon Festival South of france, can be obtained from the Fete du Drac website.