Last updated on .
Hits: 3410
Pezenas: Le Poulain festival South France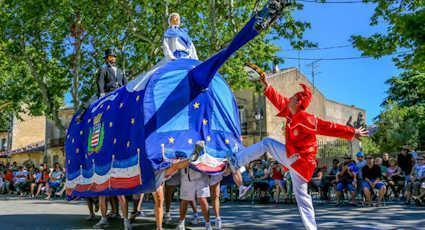 Le Poulain festival South France, held in the historic town of Pezenasis at the start of Lent in late February or early March, is a great festival to visit. The festival features a symbolic horse (Le Poulain) reputed to represent the favourite foal of the Prince de Conti from the time when Pezenas was the capital of the Languedoc region. Le Poulain is pushed through the old streets of Pezenas (usually by the rugby team of Pezenas) accompanied by a local flute and drum band as well as plenty of beer and pastis.
Poulain festival Pezenas France
This a mock horse, is constructed of a cloth head draped over a wooden frame. Underneath, there are 8 burly rugby players who make the horse dance up and down the streets. The history of Le Poulain festival dates back to 1226 when a foal was born to the favourite mare of King Louis VIII. The Le Poulain festival kicks off a three-day Mardi-Gras festival in Pezenas, which is one of the highlights of the Languedoc festival calendar. The Monday night celebrations are usually pretty raucous. Without doubt it is the highlight of the year for the local townsfolk. I can honestly say that I have not seen so many drunk French people in one place. The participants are usually decked out in white night shirts and the purple colours of the local rugby team.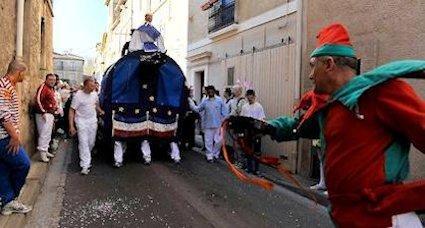 The Tuesday carnival is also just as lively and features all the local children indulging in a giant flour, eggs and shaving foam fight all through the streets. There is never any trouble, everyone is just having a grand old time. Probably one of the most unusual and fun Languedoc festivals to visit if you get the chance. You will usually catch the Poulain fiestival in Pezenas towards the middle to end of February, to coincide with Lent.
Le Poulain Pezenas Languedoc festival
Le Poulain is featured in our selection of the Best Languedoc festivals. For more information on the Le Poulain festival see the Pezenas tourism website.
If you are looking for a house or apartment to rent in Pezenas, please see Go Languedoc's selection of Pezenas vacation rentals.
Where to next . . . ?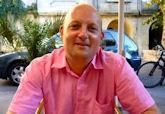 If you are looking for ideas about what to do and see during your stay in Pezenas, as well as some great places to stay, the following articles will be useful reading:
If you would like some more detailed information about renting in Pezenas, France, then just drop us a quick message and we will come straight back to you. I wish you a wonderful stay in the South of France.
Contact Iain by Email or by phone +33 6 95 00 28 44