Last updated on .
Hits: 2407
Flights to Perpignan airport South France 2023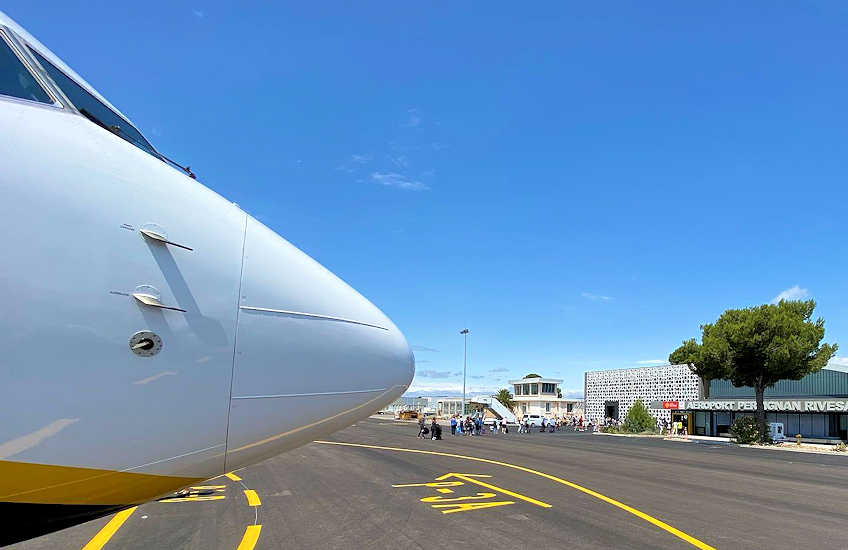 Perpignan airport is the Southern most airport in mainland France. The airport at Perpignan really started developing once Ryanair began operating flights to Perpignan from Ireland and the UK. But in the last few years Ryanair has cut back on its schedule of flights to Perpignan and it now only operates seasonal flights from Dublin and Birmingham and some schedule routes to London Stansted and Charleroi airport in Belgium. This is a real shame because the Ryanair flights really helped open up the region and some of the local towns and the ski resorts at Font Romeu and Les Angles really benefitted from that. There was a rumour circulating that Ryanair fell out with the CEO of Perpignan airport over landing fees, but I don't know if there is any truth in that.
Flights to Perpignan airport, South France
I must admit, Perpignan is not my favourite airport to land at because its situation close to the Pyrenees and the coast means that you can often get some very strong cross-winds. Perpignan airport has recently undergone a much need refurbishment and it has expanded its schedule of flights mainly through Air France, but also with Iberia. Cheap flights to Perpignan airport can be found from the following destinations:
Marrakech, Morocco (Ryanair)
Agadir, Morocco (Ryanair)
Paris Orly (Air France)
Nantes, France (Air France)
Lille, France (Air France)
Brussels-Charleroi, Belgium (with Ryanair)
London Stansted, UK (with Ryanair)
Birmingham, UK (with Ryanair)
Leeds-Bradford, UK (Ryanair)
Dublin, Ireland (Aer Lingus)
2023 flights to Perpignan airport France
This is the schedule of 2023 flights to Perpignan airport in South France:
| | |
| --- | --- |
| | 1 Jun-26 Oct 2023 |
| Birmingham airport | Thurs, Sun |
| Leeds-Bradford | Thurs, Sun |
| | 26 Mar-27 Oct 2023 |
| London Stansted | Tues, Wed, Thurs, Fri, Sun |
| | 3 May-30 Sept 2023 |
| Dublin airport | Mon, Wed, Sat, Sun |
| | |
Perpignan airport is the Southern most airport in mainland France. Although it has some regular flights to Paris and other cities in France (Nantes, Lille and Bastia), Perpignan airport is mainly a seasonal airport, with a summer schedule of flights from Birmingham and Stansted airports with Ryanair.
During the summer months (May to mid-September), Air France and Aer Lingus run 5 flights per week from Dublin airport to Perpignan airport. The flight prices are currently quite reasonable, at around €200 each way.
Ryanair are currently advertising flights to Perpignan airport from London Stansted for just €40 return - which is an incredible price. The prices do pick up quite a lot for weekend flights, especially on a Saturday.
So if you are looking to fly to Perpignan for a family holiday this summer, you might be advised to look for a villa to rent with flexible changeover dates. In fact, when you weigh up the costs, it may be worth paying slightly more for the villa (if you can arrive on a different day than Saturday), because you will then save quite a bit money on the flights.
Check the latest Ryanair flight costs and availability: FLIGHTS TO PERPIGNAN AIRPORT
Car hire rentals at Perpignan airport
There is a good range of car rental companies operating out of Perpignan airport. The car rental pick-up and drop off zone is located opposite the Terminal building, just a 60 seconds walk from collecting your bags.
Hertz
Tel +353 1 844 5466
www.hertz.com

Budget
Tel : +353 1 844 5150
www.budget.com

Avis
Tel : +353 1 605 7500
www.avis.com

Sixt
Tel : +353 1 812 0410
www.sixt.com

Europcar
Tel : +353 1 812 2800
www.europcar.com
Best places to stay near Perpignan
If you are flying into Perpignan airport, then you have a good choice of places to stay within 30 minutes drive. The coastline around Perpignan, the Cote Vermeille, is really beautiful and resort towns such as Argeles sur Mer, St Cyprien and Le Bacares are all really popular with tourists.
The jewel in the crown of the Cote Vermeille is the harbour town of Collioure. Collioure is a beautiful place in both summer and winter and it should definitely feature high up on your list of places to visit (see Collioure for more information).
There are also some inland towns which are worth searching out, including Ceret, with its Modern Art Museum; and the lovely towns of Villelongue-del-Monts and Laroque-des-Alberes, both of which are just a 15 minute drive from the coast.
Here are 3 of our most popular villas to rent in the Perpignan area during summer 2023:
Villa Vell-Roure, South of France holiday home, sleeps 10 (Ref: 225)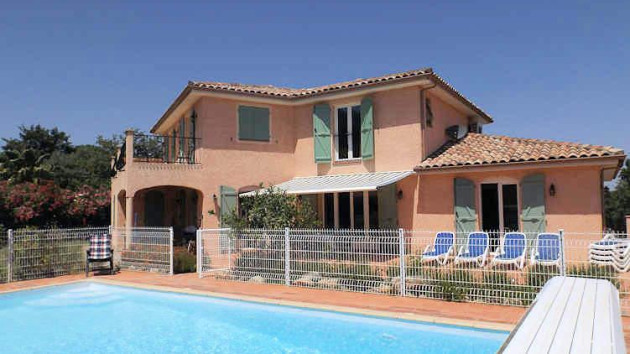 Villa Vell-Roure is a spacious 5 bedroom holiday villa in South of France. The villa is located on the edge of the small village of Villelongue-dels-Monts, in the foothills of the Pyrenees, just 15 km from the Mediterranean coast.
The villa enjoys splendid views over the nearby village and on towards the Mediterranean coastline in the distance.
The villa features 5 double bedrooms, all of which come with their own bathroom and air conditioning. The villa sleeps 10 guests in comfort and comes with a large private pool (with a security fence).
The villa is located up a private lane in a quiet residential area. The villa is situated on a substantial plot and there is ample parking for a number of vehicles.
This South of France holiday villa is the perfect retreat for a large family group or crowd of friends looking for a very special property in a rural location.
Villa in Languedoc with private pool near Argeles sur Mer (Ref: 1229)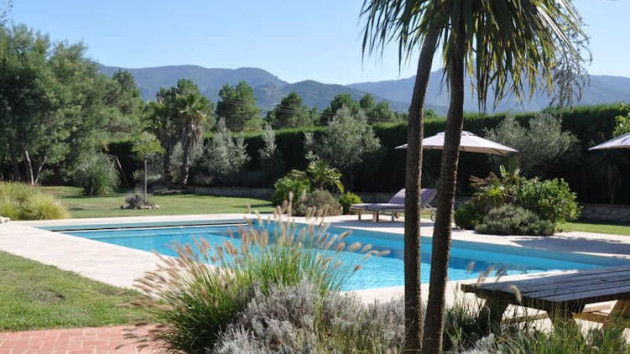 Mas Sangha is a stunning holiday villa in Languedoc with private pool close to the Mediterranean beaches at Argelès-sur-mer. This is the perfect spot for a relaxing family holiday in South France. Argeles-sur-mer is located in the Southern-most part of France and has 7km of beach, a Marina and a host of restaurants and shops.
The villa comes with 4 bedrooms, 2 bathrooms and large grounds. The villa can sleep up to 8 people and is surrounded by a fruit farm and vineyards.
This Languedoc villa is located within 7000m2 of grounds which is fully enclosed. The villa is located 10 mins drive from Argeles-sur-Mer, 5 mins bike ride to the nearest village of Saint-André and 15 mins drive to the beaches.
If you are looking for peaceful holiday accommodation for a family holiday in the South of France, then this beautiful villa in the Languedoc is absolutely ideal. The villa benefits from a private pool, large garden and it furnished to a high standard. The villa is very private and comes with total peace and quite with no neighbours nearby! The beaches are close-by and it is easy to explore the sites of the Languedoc region or even a day trip down to Spain.
Casa Baléares - 5 bed coastal holiday villa private pool South France (Ref: 2029)
Casa Baléares is a lovely 5 bedroom villa with private pool in Southern France that can sleep 12 people. The villa is set in the foothills of the Pyrenees, just 15 minutes drive to the Mediterranean coast and the beaches at Argeles-sur-Mer, Saint Cyprien and Collioure. A short walk takes you into the centre of the sought-after village of Laroque des Alberes, with all the shops and restaurants that you will need. Perpignan is just 20kms to the North and the Spanish border is just 15 mins away.
The villa is located in a quiet residential on a large plot of 2,800m2 plot. This holiday rental villa comes with 5 bedrooms, 4 bathrooms, a well-equipped kitchen, spacious lounge, games room and lovely views.
This large holiday rental villa in Laroque-des-Alberes is the perfect accommodation for a large family or a couple of families holidaying together.
Laroque is a great village to be based in, providing easy access to the Mediterranean beaches and the sites of the Languedoc and Northern Spain. The village comes with a popular bar and a couple of restaurants. A great location for a family holiday in Southern France.
Available for weekly rentals in July and August from €3500.
Where to next . . . ?
Contact Iain by Email if you have any particular questions you would like to ask about visiting the South of France. If you liked the article then please share it with others using the Twitter and Facebook buttons below. I wish you a wonderful stay in the South of France.