Last updated on .
Hits: 1873
Cheap flights to Carcassonne airport France 2023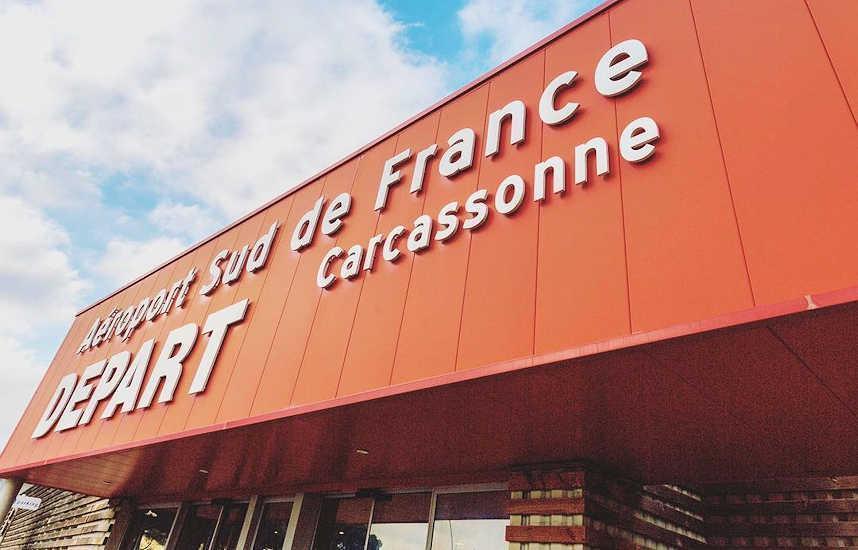 Carcassonne airport provides cheap flights to Languedoc and the South of France, mainly through Ryanair (from UK, Ireland & Netherlands), but also with Iberia to Alicante and Atlas to Algeria. The 2023 schedule of flights to Carcassonne airport continues the upward trend of passenger numbers to this busy French airport.
Carcassonne airport has grown enormously over the last 10 years, mainly thanks to its association with Ryanair. During 2022, there was just under 100,000 passenger journeys through Carcassonne airport.
But Carcassonne airport is actually remains quite small, but I enjoy flying out of Carcassonne for that very reason. You can be dropped and through to the departure gate in under an hour. Although they have recently upgraded the terminal at Carcassonne airport, don't expect lots of shops and restaurants. There is a bar and restaurant upstairs, a shop (called Trib's) and a few car hire desks.
Carcassonne airport South France
The city of Carcassonne is famous throughout France on account of its magnificent Castle. You actually get a great view of Carcassonne castle as you fly into the airport. You really get a good sense of the scale of the castle when you see it from above.
The inside of the castle is actually like a small village. The original castle was built by the Cathars and was destroyed during a siege of the city. The castle was then rebuilt by Simon de Montfort. But only 40 years later the city was again held siege, this time by the Black Prince. Roll forward another 600 years and the present castle was reconstructed on the site of the earlier fortifications.
Visiting the castle is definitely the main attraction in Carcassonne, but there is also an excellent Australian animal park (yes you read that right, an Australian animal park) and a fantastic music festival during July each year. But the best time to visit Carcassonne is on Bastille day (14 July) when you will see the most amazing fireworks display.
Best places to stay near Carcassonne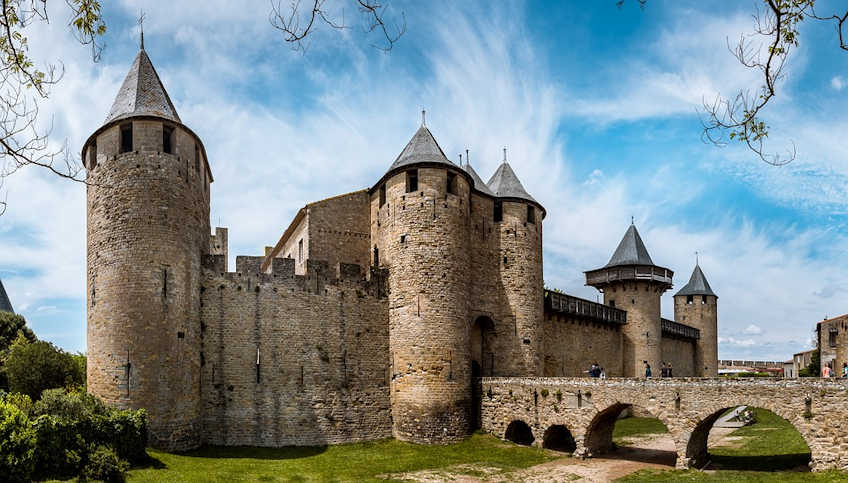 Carcassonne is located in a long valley, with the Black Mountains to the north and the Corbieres hills to the South.
The nearby Minervois wine region is one of the best in the area, closely followed by the wines of Corbieres (which are really starting to make a name for themselves).
The Canal du Midi runs through Carcassonne on its route from Toulouse to the Mediterranean coast. There are some really nice places to stay near to Carcassonne. I would certainly recommend:
Mirepoix with its lovely medieval market square;
the hill town of Fanjeaux,
the small town of Lagrasse and the nearby village of Ferrals-les-Corbiers;
the peaceful village of Chalabre to the South of Carcassonne and the picturesque village of Cuxac-Cabardes to the north of Carcassonne.
Also, if you are visiting Carcassonne, then you must make a special detour to the wonderful 3 Michelin star restaurant, the Auberge de Vieux Puits. It is amazing!
Cheap flights to Carcassonne airport 2023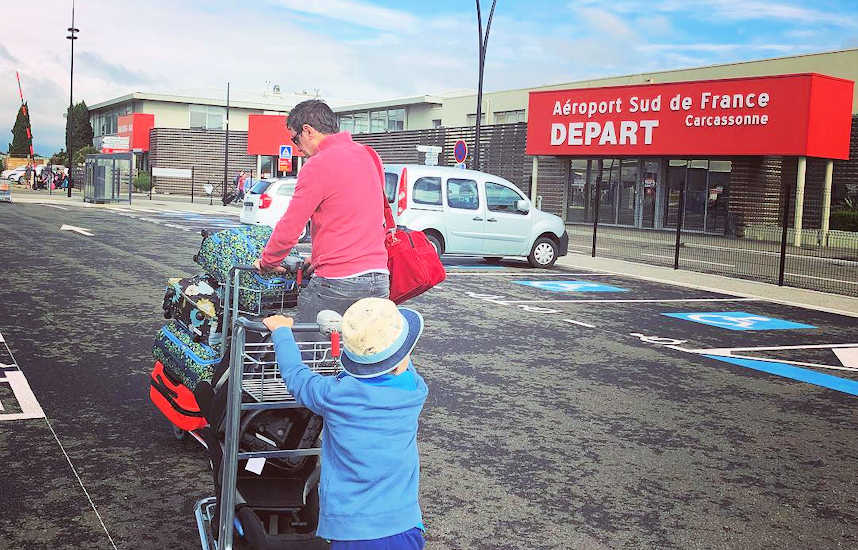 I have no idea who runs Carcassonne airport, but they are not exactly going to make a great career in Airport Marketing. The amount of times we have been asked by customers "Which is the nearest airport to Carcassonne?". Maybe the CIA should employ these people to ensure that the location of Interrogation Black sites is also kept a secret.
Carcassonne airport actually runs flights to 7 different countries, including UK, Ireland, Holland, Belgium, Spain, Portugal and Algeria. The flights from Carcassonne to Alicante in Spain are run by Iberia during the summer period only and Carcassonne flights to Oran in Algeria are operated by Atlas Atlantique Airlines (yep, I have never heard of them either!).
There is a busy schedule of flights to Carcassonne airport in South France during 2023. We have highlighted the Saturday flights to coincide with holiday villas that have a Saturday changeover during the high season:
East Midlands airport to Carcassonne airport (Ryanair: Monday and Thursday flights during 1 June to 326 October 2023)
Edinburgh airport to Carcassonne airport (Ryanair: Monday and Thursday flights from 1 June to 28 September 2023)
Bournemouth airport to Carcassonne airport (Ryanair: Monday and Friday flights from 1 May to 27 October 2023)
London Stansted to Carcassonne airport (Ryanair: Friday and Sunday flights all year round; Monday and Wednesday flights during 27 March-28 Oct 2023; and Tuesday, Thursday and Saturday flights during 1 June-30 Sept 2023 )
Dublin airport to Carcassonne airport (Ryanair: Monday, Tuesday, Wednesday, Friday and Saturday flights - from 25 March to 28 October 2023)
2023 flights to Carcassonne airport France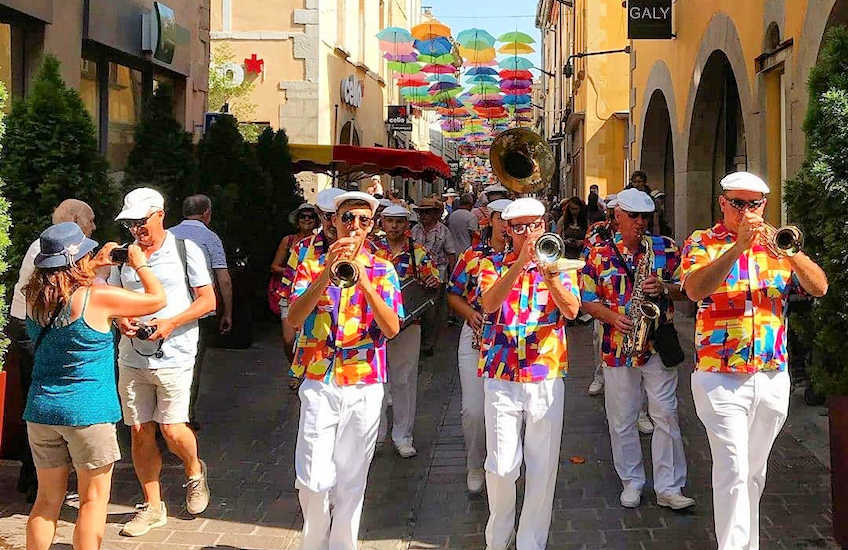 Cheap flights to Carcassonne airport can be found from the following destinations:
Bournemouth, UK (Ryanair)
Porto, Portugal (Ryanair)
Cork, Ireland (Ryanair)
Cagliari, Sardinia (Ryanair)
London, UK (Ryanair)
Charlrroi, Belgium (Ryanair)
Dublin, Ireland (Ryanair)
East Midlands, UK (Ryanair)
Car hire rental at Carcassonne airport
There are 4 main car hire rental companies at Carcassonne airport. The rental car pick up and drop-off zone is located directly opposite the main arrivals terminal, less than a 60 seconds walk.
Avis car hire rental
Tel : +33 (0)4 68 25 05 84
www.avis.fr

Rent-a-car at Carcassonne airport
Tel : +33 (0)4 68 71 69 97
www.rentacar.fr

Hertz rentals cars at Carcassonne airport
Tel : +33 (0)4 68 71 00 55
www.hertz.fr

Europcar rental at Carcassonne airport
Tel : +33 (0)4 68 72 23 69
www.europcar.fr
Where to next . . . ?
Contact Iain by Email if you have any particular questions you would like to ask about visiting Carcassonne and the South of France. If you liked the article then please share it with others using the Twitter and Facebook buttons below. I wish you a wonderful stay in the South of France.