Last updated on .
Hits: 533
Montpellier tourism: things to do in Montpellier France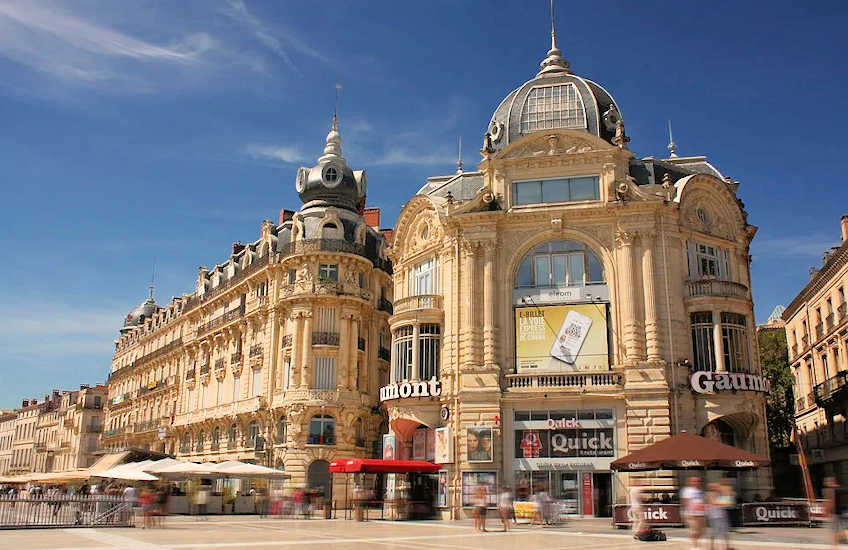 I Love going to the city Montpellier in South France. It makes such a change from our sleepy little Languedoc village. Montpellier in contrast is a buzzing, vibrant, youthful, bright, and cultured City. Montpellier's shops are excellent and so are the restaurants. There are always plenty of things to and see in Montpellier all year around.
Montpellier is located just 6 mile inland from the Mediterranean coast and you can feel the Mediterranean vibe as you walk around the palm tree-lined streets.
Starting in the 1980's, Montpellier's then Mayor, Georges Frêche, set about transforming the city by building a number of flagship attractions. In addition to the internationally acclaimed Musee Fabre, Montpellier's Modern Art Museum; Montpellier also has a wonderful Zoo, a Planetarium, an Aquarium, an international airport, a large botanical garden, a fantastic modern tram system and beaches a short bus ride away.
What more could you want from a city? If you are in Languedoc on vacation it is definitely worth spending a day in Montpellier as part of your itinerary.
Montpellier tourism: things to do in Montpellier France
Montpellier is the fastest growing city in France and along with Nimes is probably the most vibrant City in Languedoc. In 2017, Montpellier was confirmed as France's 7th biggest city with now 275,000 inhabitants living in the compact area of the city. What makes this even more remarkable is the statistic that Montpellier has now doubles in size since 1960. Starting off life as an old University town, Montpellier grew to be an important medieval commercial centre, rivalling only Paris in size by the end of the 13th Century. Later on, Montpellier was also an important agitator during the French revolution, indeed the revolutionary anthem: "Le Marseillaise" was first sung by a medical student at Montpellier university. In recent years, Montpellier has become an important high tech business centre for Languedoc. University spin-offs and international investment have transformed the Antigone quarter of the city into a wonderful 21st Century business district. This forms a good contrast to the 17th Century mansions of Montpellier's old town in the Les Arceaux district. I could go on and on, but trust me, Montpellier really is a great city. You will not be disappointed.
Montpellier tourist information: Old Town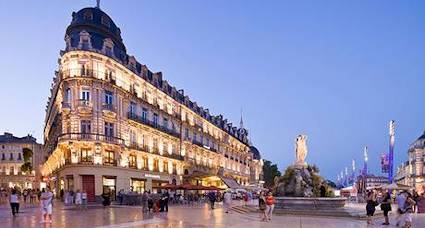 More or less everything worth seeing in Montpellier is contained within the old town. Here you will find narrow streets, wide open boulevards and busy squares. At the centre of Montpellier lies the enormous Place de la Comedie. There is not a lot going on here, except you will find the nice old Opera house. There are a few old style pavement cafes, but Place de la Comedie is really a place people walk through to go somewhere else. At the eastern end of the Place de la Comedie you will find "Le Triangle" and "Le Polygone". These are Montpellier's indoor shopping centres. I tend to go here if : a.) I am in a rush; b.) I can't be arsed walking up the hill to the other shops and c.) I am running low on cash and want to buy a Euros 40 shirt instead of an Euros 80 shirt up the hill.
Things to do in Montpellier France: Shopping
The hill I am referring to is Rue de la Loge, which takes you up from the Place de la Comedie to the Arc de Triomf. On either side of this pedestrian street you will find a maze of alleyways hiding small boutiques and restaurants. Although I love Nimes, I have to say that I think that the shops in Montpellier have the edge in terms of quality. Whenever my wife has the 'girls' from home over, we always send them into Montpellier shopping. It is worth spending the time trudging round these shaded streets window shopping, because you really pick up a feel for the relaxed atmosphere of Montpellier. One thing I always notice is that it is such a young city. I would have to guess that because of the presence of the University about 30% of the population is under 30 and mostly very slim, tanned and attractive - which is no bad thing.
The other shopping area in Montpellier is the Odysseum shopping complex located on the east of the City, near Ikea and the airport. This open are shopping centre features a good range of stores, restaurants and cafes. In fact, this is about the only 'shopping centre' I will ever voluntarily set foot in. It is not too overcrowded and if want to get to a store at the far end of the complex, you simply need to drop down a level to the Tram tracks and walk along undisturbed. The Odyseum is also home to Ikea, Decathlon (a large sports store), the Planetarium, Aquarium, indoor climbing wall and restaurants from every country imagineable.
Montpellier tourist information
At the far end of the Place de la Comedie, you will find Montpellier's Tourism office. To the left of this and stretching as far as you can see is the Champs de Mars, a huge park containing promenades, shaded seating areas and if you are lucky, sunbathing students in bikinis. At the far end of the park you will find Le Corum, which houses a new Opera house and an exhibition centre. The main reason to come is for the great views you get of the old town from the terrace.
Things to see in Montpellier: Musee Fabre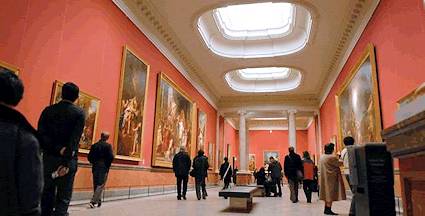 About halfway up the Champs de Mars on the left you will come across the marvellous Musee Fabre, Montpellier's Modern art museum. Musee Fabre has recently undergone a Euros 62m refurbishment, some of which is great, other bits not so (in my opinion). Musee Fabre houses many exhibits from famous French Impressionist painters and contemporary artisits. They also have many visiting exhibitions from other Art Museums from around the world. Read our review on Musee Fabre for more details or see the Musee Fabre website.
Montpellier tourist attractions: Arc de Triomf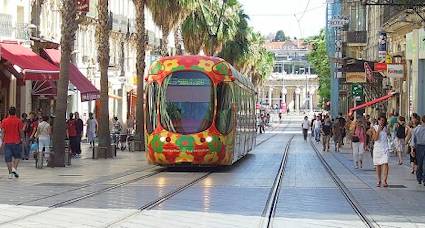 At the top end of Montpellier's main shopping streets (Rue de la Loge and Rue Foch), you will arrive at city's Arc de Triomf. Smaller than it's Parisian namesake, the Arc de Triomf is situated within the neoclassical splendour of the Place du Peyrou. Well that's what the guidebook tells me. This area of Montpellier doesn't really do an awful lot for me - lots of statues, fountains and pavilions. But you do get some good views over the city and out to the coast from here. The Palais de Justice, to the left of the Arc is however a really smart looking building.
Things to do in Montpellier France: Jardin des Plantes
Over the road from the Arc de Triomf, you will find the large Botanical gardens - "Jardins des Plantes". The garden dates back to 1593, when it was founded by the King of France to encourage the study of herbal remedies and medicines and has always been closely linked to the University's medical and botanical schools. Anyway, you can spend a pleasant hour or two wandering around all the paths.
Montpellier things to do: Montpellier Zoo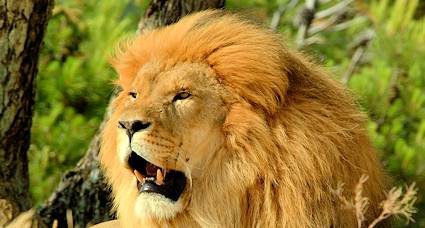 Montpellier is also home to a fantastic zoo which is a great place to take the children or grandchildren for the afternoon. The Zoo is situated in the Northern suburbs of Montpellier and is spread over 80 hectares of forest and parkland. The zoo has just undergone a major overhaul with the creation of a new Amazon House, containing tropical plants and exotic birds and animals. Although you have to pay to get into the Amazon house, the rest of the zoo is free (see Montpellier Zoo for more details and visit 10 adventures for Children in Languedoc for more ideas about entertaining children in Languedoc). You can reach the Zoo by taking the #9 bus from the Gare Routiere (south side of the Place de la Comedie).
Montpellier attractions: Planetarium Montpellier, France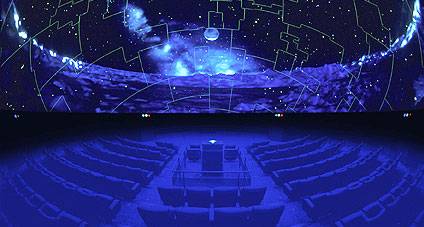 Planet Galilee is an acclaimed planetarium located on the eastern side of Montpellier, France. Further details about Planet Galilee can be obtained from the interactive website. You can reach the Planetarium by taking the superb Tram (Ligne 1 to Odeyssum).
Montpellier tourism, the End
And that's it really for Montpellier, France. I haven't covered the restaurants or the shops, but you will find some details in our Best Restaurants guide. Also I have not covered Montpellier's famous festivals and cultural events, details of which you will find in Best Languedoc Festivals. This article probably doesn't do it justice, but I do recommend that you do spend some time here, you will not be disappointed.