Last updated on .
Hits: 657
Avignon France tourism information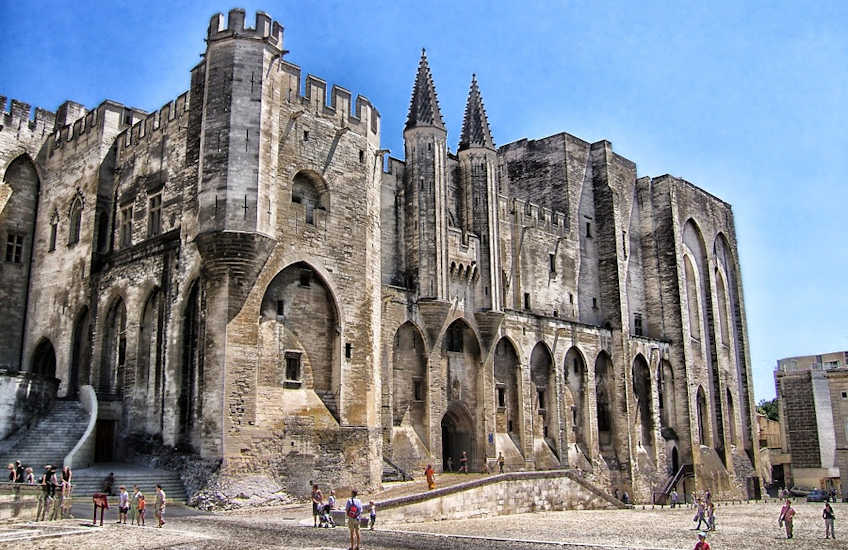 Avignon arrived on the World's stage when in 1303 the Vatican decided to move away from the anarchic violence of Rome to the peaceful pastures of Provence. Although they only stayed for 70 years their legacy can still be seen on the beautiful streets of Avignon. Today Avignon is a charming city, with lots of bustling streets and squares. Avignon is the administrative and cultural capital of the Provence and Camargue regions. It is widely regarded as one of the most active and beautiful cities in France, thanks to its architectural heritage and its world famous theatre festival.
Avignon, France tourism - Palais des Papes
Set in the heart of Avignon, the Pope's Palace is the biggest Gothic palace in Europe. Once home of the Sovereign Pontiffs, this Palace with its ceremonial rooms, chapels and private papal apartments, became a symbol of the power of the Christian world in the 14th Century. It certainly is a spectacular site, the whole complex is enormous and shows the wealth and power that the Vatican enjoyed at this time. If Avignon was to be the temporary home of the Popes whilst the trouble in Italy died down, then it was certainly one hell of a vacation home.
Close by to Avignon is Chateauneuf-du-Pape, famous the world over for its wines. See our article on Chatauneuf-du-Pape for more information about this historic village and the wines.
Pont du Avignon
The 'Pont d'Avignon' is the bridge Saint Bénezet which once crossed the River Rhone. Built in the 12th Century this bridge was finally washed away (or most of it) by a huge flood in 1668. At the mere mention of the song "Sur le pont d'Avignon" any true French person will burst into song and grab the nearest female/male for an impromptu dance ('Sur le pont d'Avignon, l'on y danse, l'on y danse ...'). This song dates from the 19th Century when it was included in an Operetta.
Avignon, France
As a stopping-off point, Avignon is worth a visit. The Palais des Papes aside, there is not a lot of other sites to visit. The Pont du Avignon over the River Rhone is worth a look at. But for me, the enjoyment of Avignon is just to wander around its ancient streets and soak up the atmosphere.