Last updated on .
Hits: 733
Arles tourism: things to see in Arles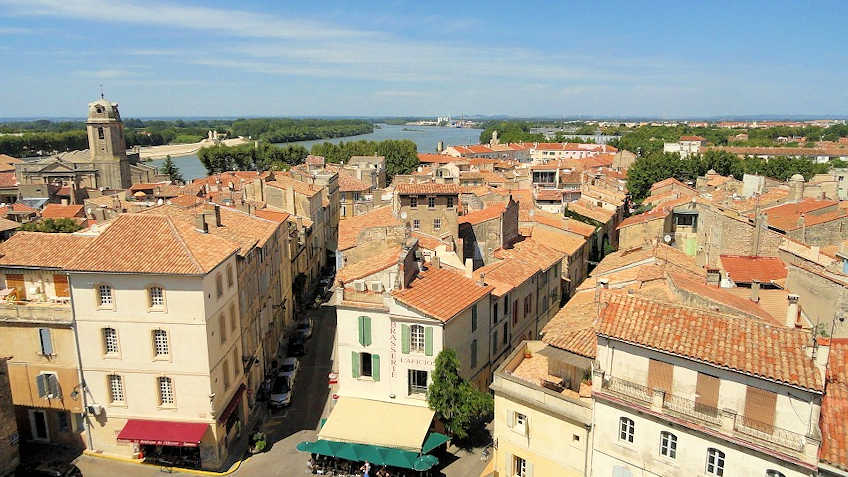 Arles is famous for its short but memorable association with Vincent van Gogh. Van Gogh stayed in Arles for only 18 months yet during this time he produced some of his most famous paintings of landscapes and real life in and around Arles. For more information about van Gogh's period in Arles please visit our article on van Gogh in Arles and plan your visit to take in some of the scenes painted by van Gogh in this beautiful city.
Arles tourism guide
Arles is widely regarded as the heart of Provence. It is an excellent little city, with beautiful 18th and 19th century Mansion houses and old Roman buildings. Arles was made famous through its association with van Gogh and there are plenty of van Gogh's famous scenes to see around the town. Arles is bisected by the wide River Rhone, with one major bridge across (Pont de Triquetaille). In the height of summer Arles is absolutely awash with visitors and all the pavement cafes and restaurants are full with people and create a lively atmosphere. I visited in late March and it was still very busy. It only takes about 20 minutes to walk from one side of Arles to the other. In fact I navigated it quite successfully on a bike with my youngest son Finlay on the back ("Faster Daddy! Faster!")
Arles tourist information -
History of Arles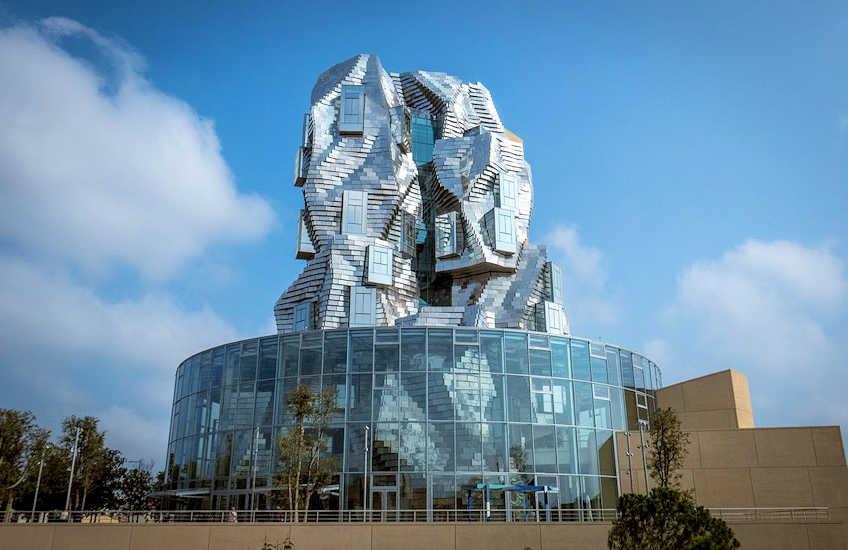 Although Arles was first settled by the Greeks, it was really under the Romans that it prospered. In 43BC the town sided with Julius Caesar over his rival Pompey (supported by nearby Marseille). As a result, when Caesar became Emperor, Arles was rewarded with magnificent gifts such as theatres, circus, baths, amphitheatre and a forum. Indeed these were larger than the small town of Arles could really support. Since that time Arles has been fought over and conquered by many groups, but its attachment to Christianity and Catholicism has stood it well - as witnessed by the magnificent Archbishop's Palace and the Cathedrale de St Trophime.
Arles tourist attractions - Theatre Antique
Theatre Antique was a purpose built theatre that could house 10,000 spectators. Little remains of the original structure, but the space is still used for open-air theatre productions and you can get a very good feel for what the space was originally like.
Arles France tourism - Place de la Republique
This is the imposing square in the centre of Arles. It is ringed by several impressive buildings such as the Archbishop's Palace, the Hotel de Ville and the cathederale de St Trophime. In the centre is a giant obelisk brought here from the site of the Roman Circus. Throughout the square are placed 49 statues and brass plates depicting the ensign of Arles - the Lion. This symbol is borrowed from the emblem of the Roman VI Legion that was once stationed here under Caesar.
Arles France tourism - The Arenes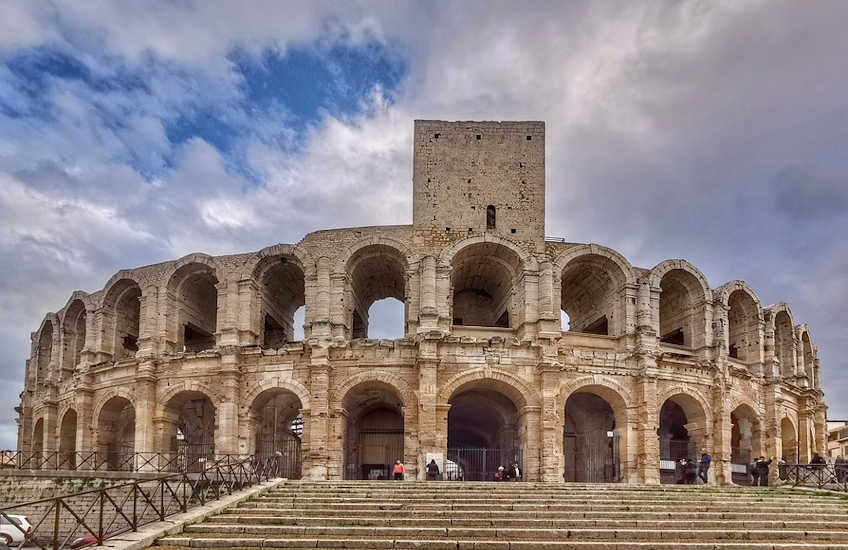 Arles has a fantastic Roman ampitheatre that was rescued from dereliction in the mid 19th century when the village that had taken it over was cleared and the original building restored.
Today it can still seat 12,000 people, although in its heyday it could seat around 22,000 to watch gladiator combats and mock naval battles. After the Romans left, the site was used as a fortress by the Barbarians. Today it is a popular venue for bull fights and Camarguais festivals.
Arles toursit attractions - Musee Reattu
Musee Reattu on the banks of the Rhone is a little museum featuring important works by Picasso and the 18th century artist Jacques Reattu. Apparently, Picasso was horrified to discover that despite van Gogh's close association with Arles, the town did not possess a single one of his paintings. To make amends he donated a significant number of drawings. Since that time the Museum has obtained a number of van Gogh's letters to his Brother, but still no paintings.
Arles tourist information -
Espace Van Gogh
This was the original site of the old hospital in Arles. Van Gogh spent time in the hospital after he cut off his ear and he immortalised it in his painting (see Van Gogh in Arles for more details). Today the hospital has been converted into an open space with gardens, together with artist studios and small exhibition galleries. It is well worth a visit and you will get a good view of one of his famous paintings. The scenery has changed a bit, but you can still recognise the garden and hospital from the painting.
Things to see in Arles -
Roman Circus and Musee de l'Arles Antique
The original Roman Circus (like its famous namesake in Rome itself) is now sadly just a dilapidated open space. It was once a magnificent horse-racing track that could seat 20,000 spectators. When I went there was a family of Gypsies camped on it with their white Camargue horses - which I suppose provides some sort of symatry. The main reason to come over to this part of town however is to visit the excellent Musee de l'Arles Antique. I reckon that this is one of the best modern buildings I have seen. It was designed by Henri Ciriani and looks brilliant. It is a shame the inside exhibitions are not quite up to the standard of the building, but I am sure that will change. The museum features a range of artefacts from the Roman period, including a scale model of the original town Visit the Musee de l'Arles Antique site for more details.
Arles tourism
If you love art or history then Arles is definitely a place worth visiting. The combination of Roman artefacts and the scenes of van Goigh's paintings are enough to draw you to this beautiful city and keep you in Arles for the whole day. Arles is small enough to get yourself around and all the sites are conveniently located. Arles is situated on the edge of the Petite Camargue. A short drive from Arles is an informative little museum about the Camargue and its people (Musee Camarguais).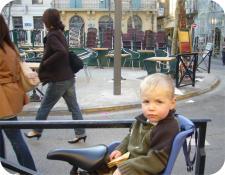 This article was written with the help of my 4 year old son Finlay. He toured historic Arles on the back of my bike. He shouted words of encouragment when we were cycling too slowly and didn't mind all the frequent photo stops. Arles is mainly pedestrianised and is very compact in the centre. There are also enough sites to see to keep young children occupied.
Where to next . . . ?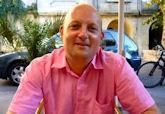 Read our article on the Van Gogh in the South of France to discover the places where he stayed and the famous paintings he created during his time in Arles
Interested in visiting the South of France? Check out our French villas with pools to rent
Read our reviews on the Best South France Museums to visit during your stay
Contact Iain by Email if you have any particular questions you would like to ask about visiting the South of France. If you liked the article then please share it with others using the Twitter and Facebook buttons below. I wish you a wonderful stay in the South of France.