Last updated on .
Hits: 48546
5 Best beaches near Montpellier France to visit in 2023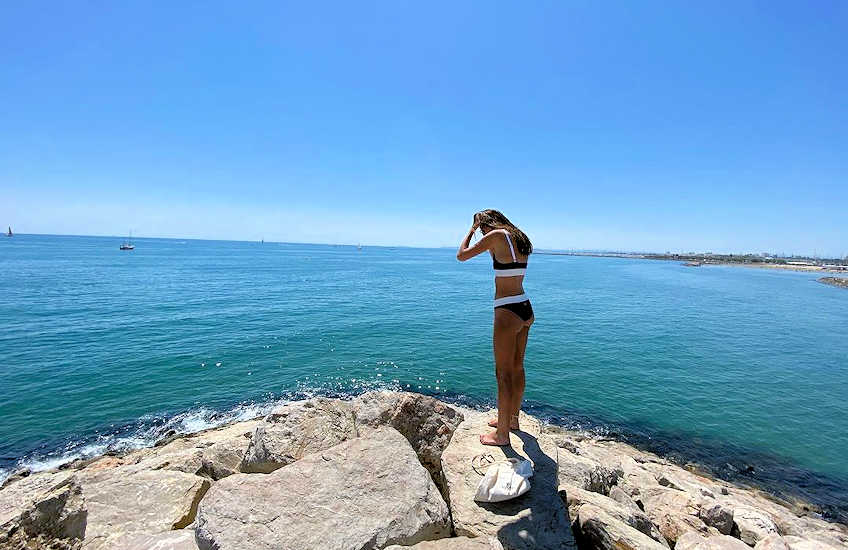 The main beauty of the beaches near Montpellier is that you can easily reach them without a car - you simply take a tram from Montpellier city centre (Line 3 to Perols Etang de l'Or and then walk to Carnon beach). The nearest beach to Montpellier city centre is just 13kms from the city (Carnon Plage beach).
During the summer months, the local residents of Montpellier tend to head out to the beaches in the late afternoon and stay until the early evening. Palavas and Carnon Plage are always popular (because they are the closest beaches to Montpellier, but if you head slightly further afield, you can reach some of the better beaches to the North of Montpellier.
Here is a list of the 5 best beaches near Montpellier, France, to visit in 2023 and a guide of how best to reach them.
Best beaches around Montpellier
Montpellier is a vibrant, metropolitan city in the South of France. Regular voted as the most desired city to live in France, Montpellier is also expanding rapidly and has recently surpassed Strasbourg as the 7th biggest city in France. Montpellier is a well connected city, with the TGV, an international airport and the main North-South autoroutes through France all close at hand.
Best Montpellier beaches to visit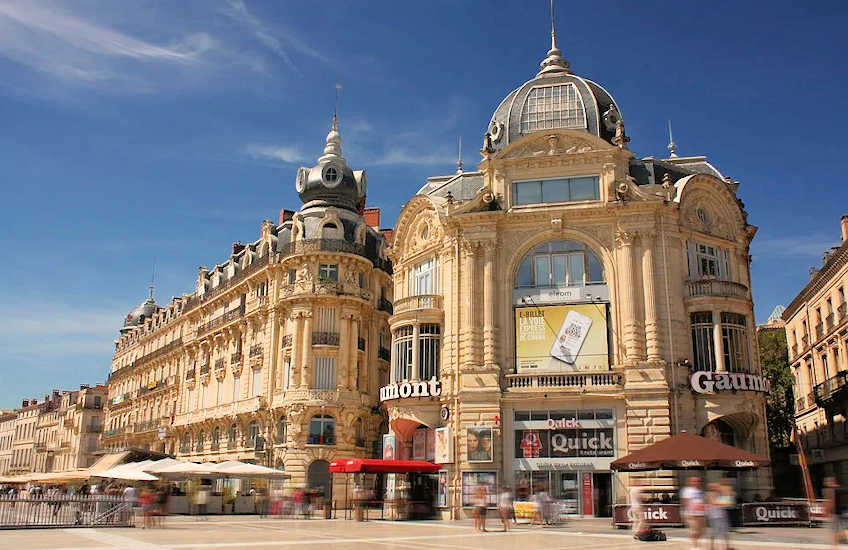 If you are planning on visiting Montpellier in South France in 2023 and you want to discover the best beaches to visit, we have created a list of 5 great beaches within easy travel distance of Montpellier city centre.
There are a number of Montpellier beaches to choose from. Probably the closest beaches near to Montpellier, France are at Pavalas and Carnon, approximately 13 km from the city centre in the direction of Montpellier airport. But I don't find Pavalas to be a particularly great beach.
Some of the best beaches Montpellier has to offer are to be found to the North East of the city, close to Le Grande Motte. The beaches here are sheltered and have golden sand. Whilst La-Grande Motte resort might not be everyone's cup of tea, with its pyramid hotels and modern housing suburbs, there is no denying that beach at Point Zero Plage, situated in the centre of La Grande Motte, is absolutely stunning. It is perfect for kids and adults alike. There is also plenty to do after the beach as well. You can take your pick of restaurants and bars along the front.
But if I had to pick my favourite beach around Montpellier, then I would go for L'Espiguette beach. This beach is a lot wilder than the others around Montpellier, with bigger waves and lovely sand dunes at the back of the beach. It is not the easiest beach to reach without a car, but it is well worth the effort if you are staying in Montpellier for a few days.
Carnon beach near Montpellier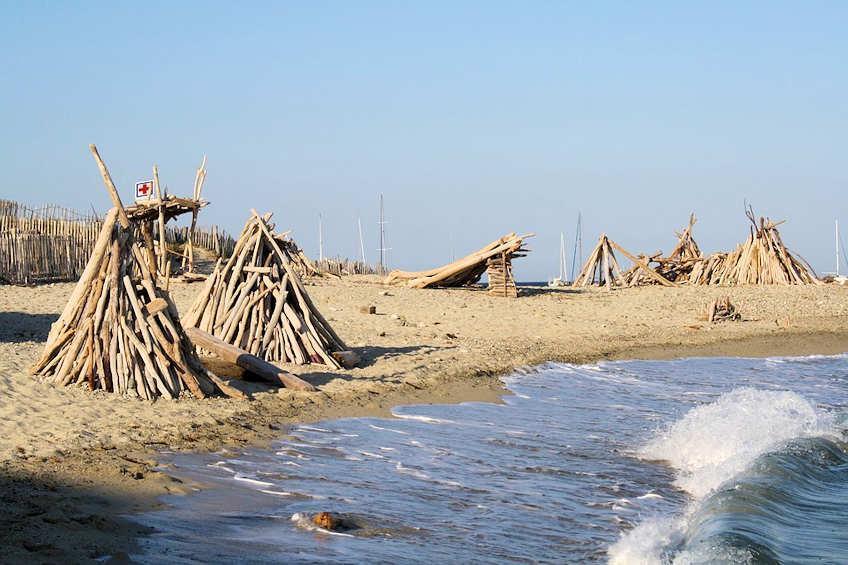 Carnon Plage is the closest beach near Montpellier, France. You can also reach Carnon by public transport, by taking a bus from Montpellier city centre (bus number 106 direction Carnon and Aigues-Mortes). Alternatively, you can take the Tram (Line 3) from Montpellier city centre to the tram stop Perols Etang de l'Or and either walk or pick up the shuttle bus to Carnon Plage beach.
Carnon originally started off life as a military camp. Then in the 1960s, the area was developed as a tourist resort (once they had eradicated the mosquitos from the marshland around the town). Today Carnon is home to nearly 4,000 people, but in the summer the number of resident can swell to over 20,000 people.
In terms of a beach, I would probably say that Carnon Plage is OK, but nothing really special. The sand is slightly gritty and the beach can get quite busy. Carnon beach is quite large and you will find plenty of bars and cafes in Carnon itself, as well as a nice marina.
But if you are stuck in a city centre apartment or hotel with no outdoor space during a hot summer's day, then the fact you can reach this beach in 15 minutes by public transport does have its advantage.
I would probably say that Carnon Plage is definitely the beach of choice for most local people from Montpellier. However, if you have a car and are willing to travel a few kilometres in either direction you will find some much better Montpellier beaches.
L'Espiguette Plage - best beach near Montpellier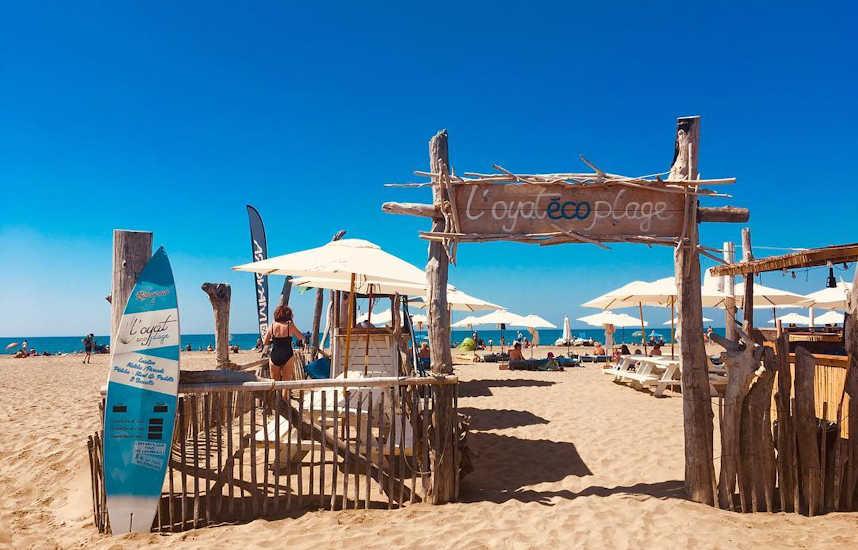 I think without a shadow of a doubt, L'Espiguette beach is the best beach near Montpellier, France. Situated to the east of Le Grau de Roi, this white sandy beach has a wild windswept look. At the back of the L'Espiguette beach you have these wonderful sand dunes and you tend to get a few rollers coming in off the sea at this point of the coast (the sea at La Grande Motte and Carnon tends to be a bit flat). Don't expect any restaurants or cafes nearby, but that is the reason why you come here. There are a couple of pop-up beach bars along the 18 km stretch of L'Espiguette beach (probably one of the best ones is near the large car park at the Lighhouse end of the beach).
It is technically possible to reach L'Espiguette beach by public transport from Montpellier. You can take a local train from Montpellier to Le Grau de Roi or alternatively, the 106 bus does stop off in Le Grau de Roi after visiting Aigues-Mortes (see Montpellier Transport Herault). From the centre of Le Grau de Roi, you can take a local bus (C32) which runs past the Town Hall and the Aquarium. From here you can access the western end of L'Espiguette beach.
It is much simpler to access the best parts of L'Espiguette Plage by car. From Montpellier city centre, either head North towards Lunel and then follow the signs to Aigues-Mortes and Le Grau de Roi, or alternatively follow the D66 out of Montpellier towards Montpellier airport and Arena. After the Arena, continue on the road towards Palavas and Carnon, before taking the D62 towards La Grande Motte. Continue past La Grande Motte and then follow the signs for Le Grau de Roi. You don't want to head into Le Grau de Roi itself, but instead you should follow the by-pass road that runs along the Etang (salt water lagoon) at the back of Le Grau de Roi. Continue on this road for as far as you can go (past the Amusement park, Campsites and Camargue horse stables). You will then see a sign to "L'Espiguette". At the end of this road you will arrive at a large car park at the back of the beach.
Le Grau de Roi is a nice enough place to catch a beer or a meal besides the river. The aquarium here is also very good.
La Grande Motte beaches near Montpellier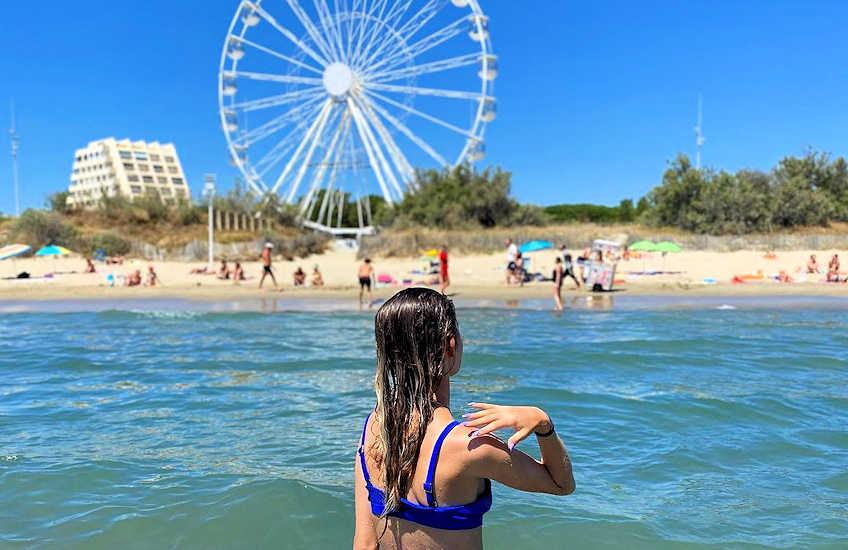 I must admit, I prefer the Montpellier beaches at La Grande Motte to Carnon and Palavas. Althought they get busy in the height of summer, most of the time the beaches are quite calm. My favourite beach in La Grande Motte is the Point Zero beach because it is closest to the car park. But the other beaches are OK as well. The beaches are man made, but they are kept scrupulously clean.
Most people tend to turn their noses up at La Grande Motte, but I quite like it. Yes it is a modern resort (built sometime in the 1960's) but it has a sort of ordered and planned charm about it. I even think that the pyramid apartment buildings are so far out of fashion that they are almost on the verge of coming back in style.
The other thing about La Grande Motte is that it is a real sporty town. You will always see people cycling, running, walking, swimming, etc. If you want a break from the beach the Spa at La Grande Motte (the Thalasso) is wonderful and relaxing.
I suppose one of the disadvantages of the Montpellier beaches at La Grande Motte is that it is harder to reach them by public transport (your only real option is to take the bus (#106)), but if you have access to a car, they are worth checking out.
Palavas Montpellier France beaches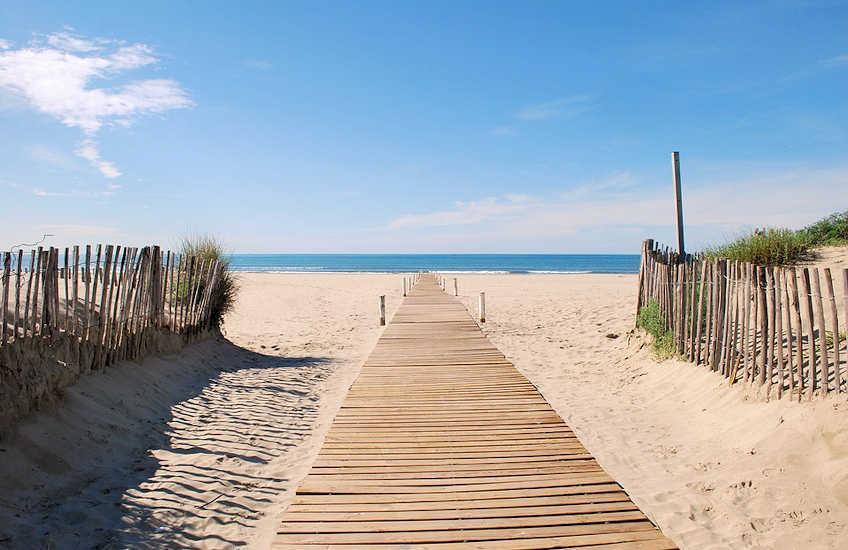 Palavas les Flots is an old French resort town, very popular with the French and situated about 12kms from Montpellier city centre.
Like a lot of the Montpellier beaches it can get very crowded in the summer, especially from 3.00pm onwards, when the workers in the city flock out to the beaches. One of the stories our French friends tell us is that about 2 years ago there was a documentary on TV in France which was trying to discover why the sickness absence level of the Montpellier city council was the highest in France. They interviewed all these psychologists and Management experts and they were coming out with all these theories about the wicked Management culture; sick building syndrome, influx of different cultures, etc. So then the camera crew went out onto the streets and interviewed ordinary Montpellier citizens. They interviewed 10 different people and asked them their thoughts on why the absence levels were so high. Every single person pointed up to the sun or the direction of the beach.
It seems that is not for nothing that Palavas Plage is otherwise known as the Plage des Fonctionnaires (Civil Servants beach). Still, if this Montpellier beach is good enough for poorly paid tax inspectors, teachers and administrators; it will do for me.
Montpellier beaches France near Sete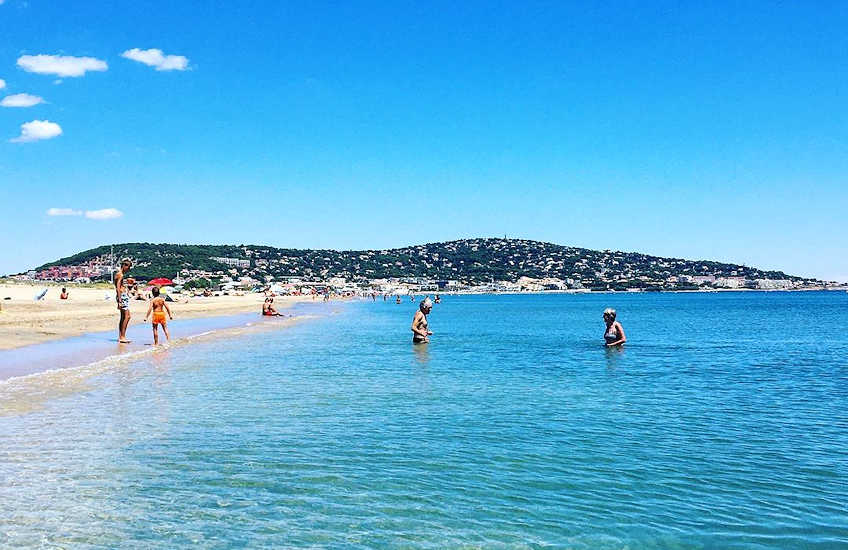 To the South East of Montpellier, you will find the large coastal town of Sete. This former fishing port is home to a thin 20km strip of beach, that separates the Mediterranean sea from the Etang du Thau, an inland lake that is famous for growing oysters and mussels.
The regional government has spent a small fortune redeveloping the beach facilities of Sete, including widening the beaches themselves and introducing more parking facilities. There are now 3 or 4 good beach bars along the beach, where you can hire sun loungers or grab a cheeky Mojito.
When we first moved to the Languedoc about 15 years ago, the main road literally ran along the back of the beach and in the summer, it was like a car park with hundreds and hundreds of camper vans just parked up on the pavement. The redevelopment has made this whole stretch of beach much more pleasant to look at and the road is now much less dangerous
So if you don't mind a short train journey from Montpellier, these beaches could be well worth it.
Sete is also a great town to have a meal in after you have sunned yourself on the beach. In the centre of Sete along the Grand Canal, you will find a lot of really good fish restaurants, that are relatively inexpensive.
Apartments and villas near Montpellier beaches
On Go Languedoc we have a number of apartments and villas near the Montpellier beaches for rent. Here is a selection:
Apartment Plage - beach-side apartment rental Meze, South of France Ref: 143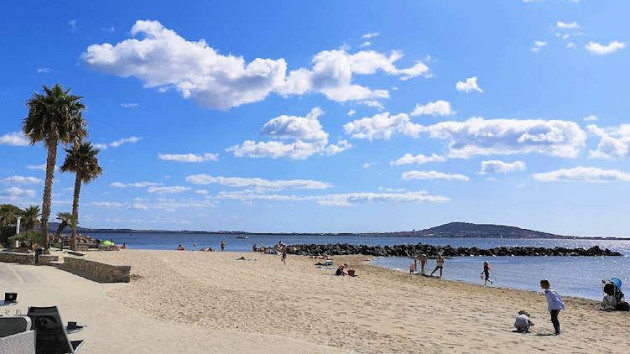 Apartment Plage is a lovely one bedroom apartment for rent in South France over-looking the beach. The apartment is in a perfect location, just a hop, skip & a jump to the beach and a few minutes walk to the fabulous harbour of Meze. The harbour front has an abundance of restaurants, bars and shops.
The apartment itself is well finished and has all you could ask for a relaxing summer vacation.
Spacious living room with sofa bed & TV with direct access to the fabulous terrace overlooking the Bassin
Dining Area for 4 people
Fully equipped kitchen with dishwasher, fridge/freezer & oven
Double bedroom with storage
Family bathroom with shower
The apartment is also suitable for the elderly or disabled as it is located on the ground floor.
Villa Paon - South of France villas to rent in Sommieres with pools Ref: 1578
Villa Paon is a modern 1 bedroom villa located on the edge of the popular town of Sommieres, it benefits from a large swimming pool and a private hot tub/jacuzzi.
Sommieres is a wonderful old French town, close to Montpellier and Nimes and just a short drive to the Mediterranean beaches. There is a large market every Saturday and plenty of restaurants shops and cafe-bars. There are two villas to rent and each has its own private terrace and garden and is located in a peaceful and quiet area on the edge of Sommieres.
These South of France villas to rent in Sommieres, come with a large swimming pool and a private hot tub/jacuzzi. The villa can sleep 4 people in one double bedroom and a double sofa bed.
The villa comes with Wi-Fi, air conditioning and is well decorated throughout.
These South of France villas to rent in Sommières is ideal for a couple or friends sharing together.
Villa Pic St Loup to rent France with shared pool Ref: 1633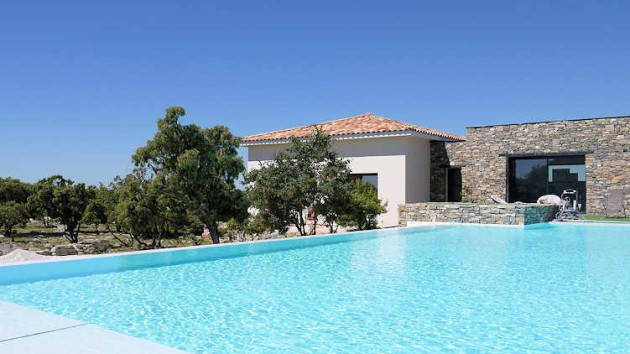 At the foot of the Pic St Loup mountain to the north of Montpellier in Southern France, this stunning modern villa with shared pool provides comfortable accommodation for up to 4 people.
Domaine du Cade offers a total peace and tranquillity with breath-taking views in all directions.
The villa is located in the middle of the countryside close to the idyllic village of Cazevieille. The village itself has a little restaurant and a wine bar, with further shops and restaurants available close by in St Martin de Londres and St Gely du Fesc.
The villa features:
Lounge with fantastic views over the countryside benefitting from comfortable sofas & TV
Fully equipped kitchen with dishwasher, oven & fridge/freezer with patio doors to the sunny terrace.
Dining Area for 6 people
2 Identical double bedrooms with en-suite shower rooms & access to the fabulous private terrace.
It is hard to imagine, but Montpellier city centre is just 20 mins drive and the Montpellier beaches are 30 mins away. It is the perfect place to spend relaxing beach holidays in France.
Where to next . . . ?
Contact Iain by Email if you have any particular questions you would like to ask about visiting the South of France. If you liked the article then please share it with others using the Twitter and Facebook buttons below. I wish you a wonderful stay in the South of France.
---