Last updated on .
Hits: 1958
10 best Best Languedoc beaches in Southern France
The South of France has some of the best French beaches: Languedoc-Roussillon alone has more than 40 of them flying the blue flag, the European award for clean bathing water. Following a summer spent visiting the coastline of Southern France, here is our insider's guide to the best beaches in Languedoc. Other beaches could have made our list from further round the South of France coastline in Cote d'Azur, such has Rayol Canadel-sur-Mer and Tahiti beach near St Tropez or Theole-sur-Mer near Cannes - all of which are certainly worth a visit. But if you are in Languedoc, then these are the beaches to go to.
Best Languedoc Beach 1: Vias Plage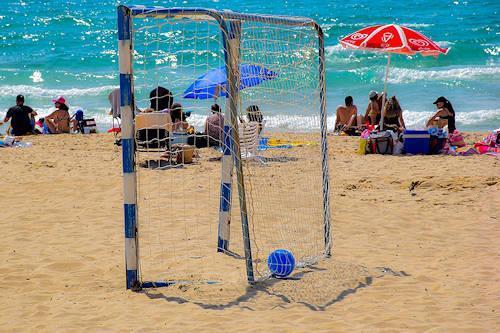 Situated in between Cap d'Agde and Valras Plage, this small bay has some of the warmest water, sheltered beaches, golden sands and accessibility of all the beaches in Languedoc. You will of course find beaches with better facilities, but as an overall package, this beach to us tops them all.
See Vias Plage for further information.
Best Languedoc Beach 2: Rochelongue Plage, Cap d'Agde beach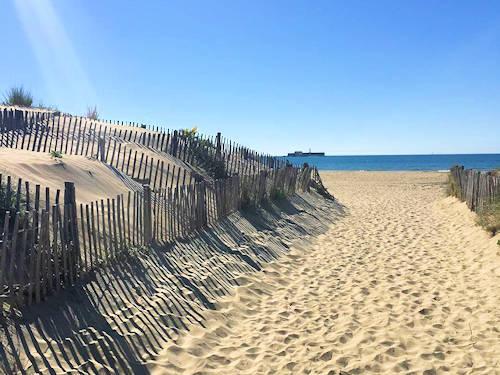 Rochelonge plage, is in the centre of Cap d'Agde. It is our preferred choice out of the 3 beaches on the Cap. There is a nice beach side restaurant and bar and you get lovely sweeping views of the whole bay down to Narbonne plage
See Rochelongue Plage, Cap d'Agde beach for more details
Best Languedoc Beach 3: La Grande-Motte, Point Zero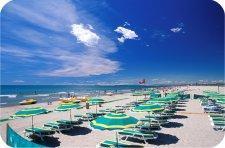 Whilst La-Grande Motte might not be everyone's cup of tea, with its pyramid hotels and modern housing suburbs, there is no denying that the beach at Point Zero is absolutely stunning. It is perfect for kids and adults alike. There is also plenty to do after the beach as well. You can take your pick of restaurants and bars along the front.
For more information on Point Zero beach and La Grande Motte click here Point Zero beach.
Best Languedoc Beach 4: Gruissan Plage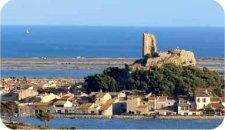 For me, it is a close run thing between Narbonne Plage and Gruissan Plage, but Gruissan just gets it by a nod because the town behind it is a far nicer place to walk around when you're looking for a break from the sun. All the beaches around this area of the coast are characterised by open, flat expanses of golden sand.
See Gruissan Plage for further details
Best Languedoc Beach 5: Valras Plage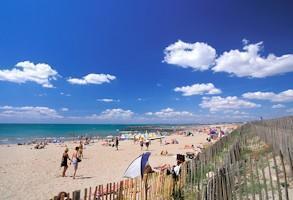 The wide open expanse of sand at Valras Plage comfortably accomodates large numbers of holiday makers, allowing you enough room to spread out and relax. There is also plenty to do after the beach with lots of restaurants, boutiques and ice cream stalls. During the summer there is also a childrens adventure park and fairground rides just by the harbour.
Visit Valras Plage for more information