Last updated on .
Hits: 582
Provence towns: L'Isle-sur-Sorgue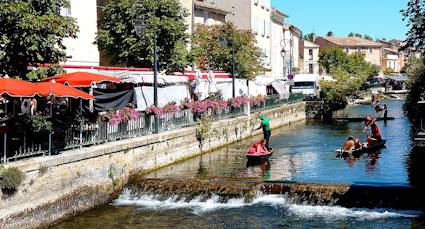 L'Isle sur Sorgue is often regarded as one of the prettiest towns in Provence to visit. Located on the banks of the river Sorgue, L'Isle sur Sorgue was originally a fishing village, situated on an island in the middle of marshland. The river Sorgue provided a a healthy source of income for the town's inhabitants from crayfishing and milling (oil and flour). This historic Provence town also became an important centre for silk, paper, wool, rugs and dyeing. L'Isle sur Sorgue has a network of canals that cross through the town between the narrow ancient streets.
L'Isle sur Sorge antiques market
Today, L'Isle sur Sorgue is famous for its many antique shops and hosts an antique market most Sundays. There are reputed to be nearly 300 antique dealers and second hand shops in L'Isle sur Sorge. L'Isle sur la Sorgue hosts a large antiques fair every Easter and over the August 15th holiday, where up to 500 Antique dealers from all over the world participate.
Provence towns to visit: L'Isle sur Sorgue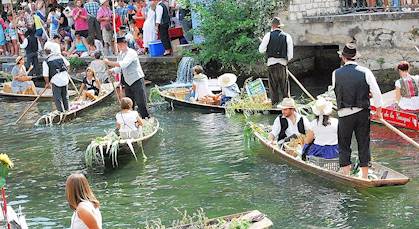 In L'Isle sur Sorge you will find many charming waterside cafés and restaurants, all within walking distance of each other. L'Isle sur Sorgue is also famous for its many water wheels located throughout the town, many of which are still in working order.
Many of the magnificent mansions built by the silk and paper merchants have been converted into art galleries, in particular the famous Maison René Char, which is now a museum exhibiting such artists as Miro, Mauguin and Dufy.
L'Isle sur Sorge also hosts a large floating market every year on the first Sunday of August. At the market traders sell produce from the traditional flat-bottomed boats of the region.
L'Isle sur Sorgue accommodation
If you are looking to stay in L'Isle sur Sorgue during your holidays to Provence, Go Languedoc has the perfect accommodation for you. We have two gites with pools close to L'Isle sur Sorgue, which provide good value accommodation.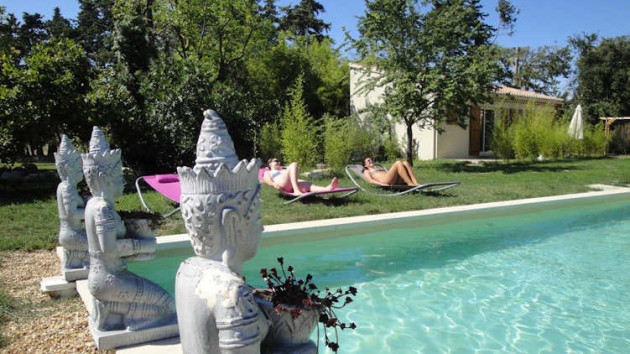 These Provence holiday gites are set in a garden of bamboo with a swimming pool 9mx4m, close to the beautiful town of L`Isle-sur-la-Sorgue in Provence. There are two lovely studio flats with a private terraces and a private access. The gites have been carefully decorated for your pleasure. With their proximity to L'Isle sur la Sorge, Uzes, Avignon and the Pont du Gard, these Provence holiday gites at L'Isle sur la Sorgue are ideally situated to explore the local surroundings of Provence - and for a swim when you get back!
Where to next . . . ?
Contact Iain by Email if you have any particular questions you would like to ask about visiting the South of France. If you liked the article then please share it with others using the Twitter and Facebook buttons below. I wish you a wonderful stay in the South of France.