Last updated on .
Hits: 948
12 Prestige holiday properties to rent in South France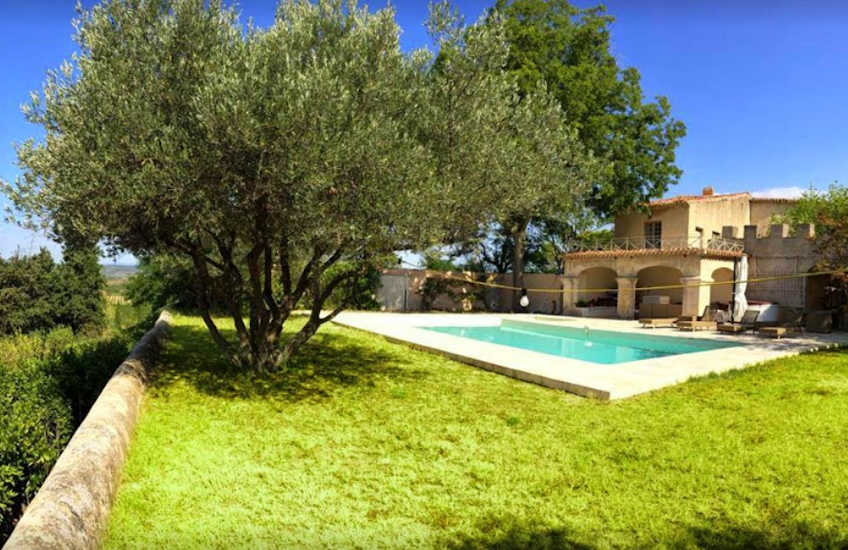 We all need a bit of luxury in our life, so why not treat yourself when booking your summer holiday to the South of France. These 12 luxury holiday rentals in South France are available for 2023 reservations.
You may ask, what classifies a property as luxury or Prestige as we like to call it. Well we have a strict criteria before we put a property into this section of our website.
The property must have a good quality kitchen with all the equipment you may need, such as a blender for those morning smoothies, a coffee machine for those mid day pick me ups, plenty of storage and all the regular necessities such as an oven, fridge & washing machine. After all, if you want to bake a cake you shouldn't have any prohibitions doing it,
A good nights sleep is vital, how else would you have the energy to do all your holiday activities? Well you don't need to worry about that when booking one of our Prestige Properties. All of the them have excellent pillows, mattresses and linen. No scratchy towels in sight!
The properties are all located in a peaceful areas, some have beautiful views and most are within easy access to amenities.

Prestige holiday properties to rent South France - Our Top Picks
Our Prestige Properties are all individually unique, they have a touch of elegance and a spoon full of Relaxation. They also are very practical, so you don't need to worry about your family having a fantastic holiday! Here are 12 of the best holiday properties to rent for a luxuy holiday in South of France in 2023.
1. Villa L'Esterel - Holiday Home with sea views and pool near Cannes (Ref: 1433)
Villa L´Esterel is a fantastic private villa located just a few minutes from the seaside town of Theoule-Sur-Mer and boasts fabulous views, 3 terraces and an infinity swimming pool. The villa is located only a short walk from sandy beaches, it is the perfect place for a family holiday.
This private villa near Cannes, South France, comes with stunning sea views, a beautiful infinity swimming pool and is just a short walk to the sandy Mediterranean beaches.
The villa is located in a fabulous spot, just next door to the famous Bubble House owned by Pierre Cardin.
The home is spread over four floors and comes with 4 double bedrooms comfortably sleeping 8, a private lift, air conditioning and private off-road parking. The villa is situated in a quiet residential area on a hillside overlooking the Mediterranean sea and the Bay of Cannes.
2. Le Manoir - Holiday rental retreat in South France sleeps 8 (Ref: 1856)
Le Manoir is a fantastic large holiday home on the outskirts of the popular market town of Clermont L'Herault. It is situated on 6000m2 of landscaped garden, with fountains in the front courtyard and several covered terraces to enjoy those evening Aperos. Le Manoir is a fantastic large holiday rental in the South of France, near both the market town of Clermont ´L´Herault and the Historic town of Pezenas.
The interior is what makes this place special. Lovingly furnished with antique furniture throughout and a fantastic open plan living area with cathedral ceiling and a hanging fireplace.
Le Manoir is the perfect place for a large family holiday. Boasting 5 bedrooms, comfortably sleeping 10, a Private swimming pool, Fabulous views and Charm throughout it is the perfect base for a large family holiday. The location is superb and with the swimming pool you will never want to leave.
3. La Flamant Rose - Villa rental South France with pool sleeps 12 (Ref: 1509)
La Flamant Rose is a stunning villa rental in the village of Caux, South France. The villa comes with a heated pool, air conditioning, Wifi, Satellite TV and can easily sleep 12 people in its 6 bedrooms. This is an ideal villa to rent for a multi-generation family or 2-3 famillies holidaying together with children. The property has been extensively renovated and features a gorgeous double height living room and kitchen, a TV room, summer kitchen and a beautiful swimming pool with sun terrace and covered seating areas. This stylish villa rental property comes with private parking and is centrally located in the wine producing village of Caux, just a short drive from the Languedoc coast.
The villa rental is just a short walk to the boulangerie, cafe-bar, shop, wine cellar and restaurant in the village. The historic town of Pezenas is just 2-3 minutes away. Caux is surrounded by vineyards in all directions and the village also benefits from the backdrop of the Black Mountains in the distance.
4. Villa La Merveille - Luxury Languedoc villa, near Pezenas with pool, sleeps 10 (Ref: 258)
Villa Le Mervielle is a fabulous 5 bedroom holiday villa located in Alignan du Vent near the medieval town of Pezenas. Over the centuries, this Languedoc villa with pool has been a church, a farmhouse, a retreat for monks from a nearby Abbey and finally became a winery in the 19th century. The villa is sumptuously furnished and decorated throughout, with comfort written all over it alongside a splash of elegance.
The exposed walls throughout give you a glimpse of what this beautiful old building used to be. The gardens are large and spacious with fabulous views over the surrounding countryside.
The large 12 x 5m pool is nestled in amongst the olive trees and has a pool house with ample seating. It really is the perfect place to relax, sunbathe and read that book you've been meaning to.
5. Mas Coton - Farmhouse in Provence for holiday rental with pool (sleeps 12) (Ref: 810)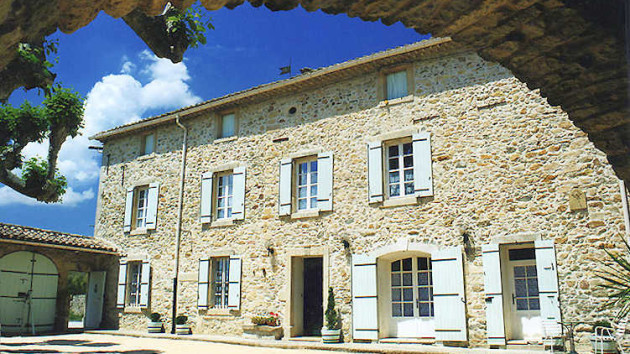 Mas Coton is a renovated farmhouse in the Provence region of South France , it features 6 bedrooms comfortably sleeping 12, a private pool & fantastic outside space for those warm summer evenings enjoying a glass of wine. Situated on the edge of Provence Mas Coton is in a great location for exploring the Avignon, Uzes, Orange and Gard region of the South of France.
The holiday home is located in the charming village of Cavillargues, which has a local bar, a shop, a boulangerie, a butchers' shop, post office, 2 hairdressers and a beauty salon (all within walking distance of the house). If you are looking for a Provence holiday rentals property with private pool which can accommodate 2-3 families or a group of friends, then this large farmhouse is the perfect place.
6. Au Vieux Castel - Luxury holiday accommodation South of France (Ref: 309)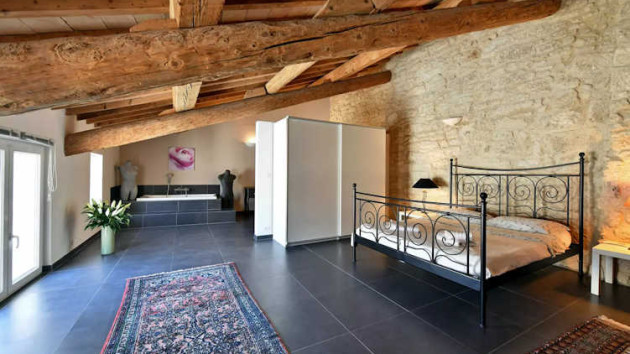 Au Vieux Castel is a luxury holiday accommodation in the South of France which sleeps up to 10 guests in its 5 bedrooms. The property is located in the heart of a beautiful medieval village of Nezignan L´Eveque close to the Mediterranean coast and the popular town of Pezenas. The property dates back to the 14th Century and successfully combines stunning old stonework and exposed beams, with 21st Century fixtures and fittings. There is an inner courtyard with bar and dining area, a heated plunge pool and 2 terraces with stunning views.
This luxury holiday accommodation is in the heart of the village so walk able to all the amenities. You can also walk out into the vineyards within a few minutes. The property is finished to a luxurious standard whilst keeping many of the original features. If you are a large group or family this accommodation is pefect if you wish to holiday near the beaches and Pezenas in the South of France.
7. Mas Sangha, Villa with Pool near Argeles-Sur-Mer (Ref: 1229)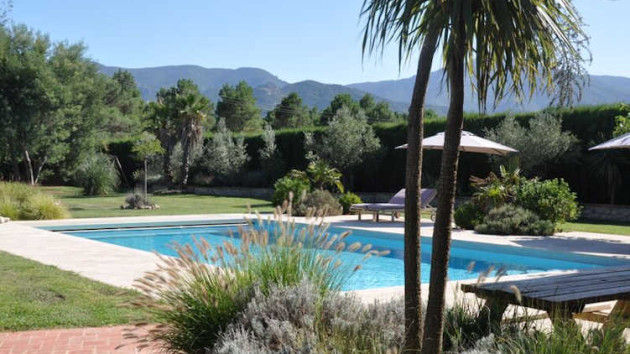 Mas Sangha is a stunning holiday villa with a swimming pool close to the Mediterranean beaches at Argelès-sur-mer. The villa comes with 4 bedrooms, 2 bathrooms and large landscaped gardens. The villa can sleep up to 8 people comfortably in its 4 bedrooms, and is surrounded by countryside and vineyards. This is the perfect spot for a relaxing family holiday. Argeles-sur-mer is located in the Southern-most part of France and has 7km of beach, a Marina and a host of restaurants and shops.
If your ideal holiday villa is luxury, then choose Mas Sangha - ideal for those seeking peace and tranquillity or larger family groups. Peaceful landscaped gardens amongst the vineyards and peach farms of Argeles yet the busy village of St. Andre is just a cycle ride away.
8. Maison des Chasseurs - 6 bed character house to rent in South France with pool sleeps 14 (Ref: 1491)
Maison des Chasseurs is a fabulous traditional town house located in the pretty town of Lespignan,South of France. The large house can sleep up to 14 guests easily in its 6 spacious bedrooms all with fine french furniture & comfortable beds and would suit either a large family group or a couple of families holidaying together. There is a private pool to take a refreshing dip in and a gorgeous terrace for those Al Fresco meals.
In the town of Lespignan you can enjoy endless days of sunshine , fine cuisine and delicious wines from the world´s largest wine region, Languedoc-Roussillon. Also on your doorstep, there are plenty of exciting historic excursions and beautiful scenery with nice hiking trails. Lespignan is just 10 kms from the beach at Valras Plage and 10 km from the city of Beziers. Maison des Chasseurs is perfect for beach holidays, family reunions, wine tours and just chilling out with a good book.
9. Villa D'Or - Charming French property with private pool (Ref: 1420)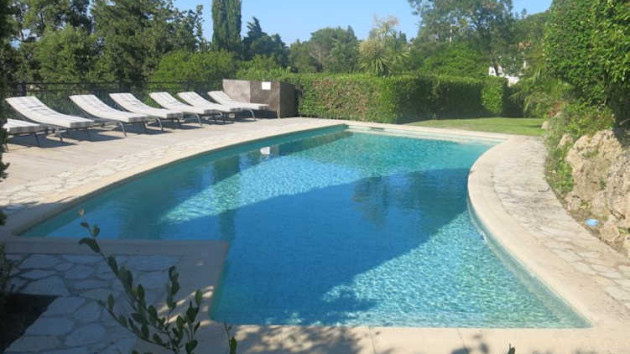 Villa D'Or is a beautiful French villa for rent with heated private pool situated in Vallauris, a quiet neighbourhood in Super Cannes. The French villa in Cannes can sleep up to 8 people in its 4 bedrooms and comes with air conditioning, internet, a brand new kitchen and satellite TV (UK & international channels). The villa has been recently renovated throughout and provides very comfortable accommodation with modern appliances throughout.
The villa has secure private parking for 4 cars and the large garden and pool terrace provide stunning views over Cannes, perfect for those summer evenings. Maid service and airport pick-ups can also be arranged.
10. Villa Valbonne - Cote d'Azur holiday villa with pool, sleeps 8 (Ref: 933)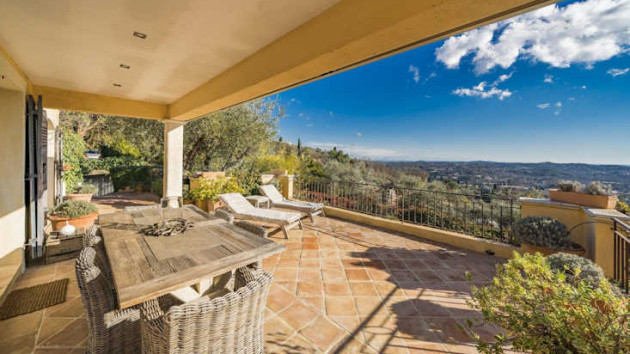 This Cote d´Azur holiday villa comes with a large heated pool and amazing scenic views. The property is on two floors, with four bedrooms (2 master suites and 2 guest rooms) and four bathrooms / shower rooms. The villa is situated within a 1,780 sq. m garden with a small olive grove. The stone floors throughout help keep the villa cool and welcoming. The master and first guest room have sea views. There are five fantastic separate terrace areas and a huge 48 square metre "auto covered" terrace and outside eating area overlooking the pool and the sea view.
This Cote d`Azur holiday villa with pool is in a great location with everything on your door step. This holiday villa is near Cannes and the beaches on the French Riviera. The villa comes with all mod cons you will need including a heated pool and wifi. For those of you who want to party in Cannes and Juan Les Pins, but want to stay in a calm luxury retreat, then this is the place to pick.
11. Le Bel Apartment - Luxury holiday apartment South France with pool and jacuzzi (Ref: 1627)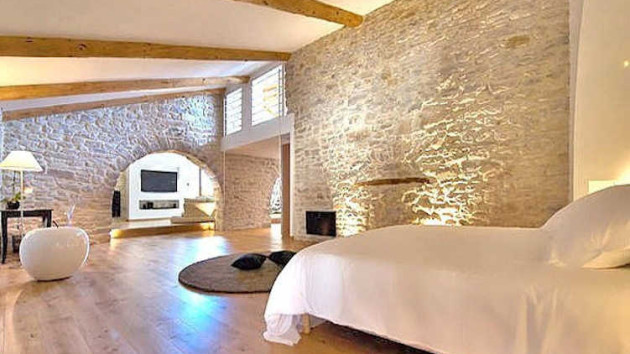 Domaine de Monteils is a luxurious gite complex located between Nimes & Montpellier in South France, near the town of Sommieres. It is the perfect place for a peaceful couple retreat. Whether you want a week of exploring, eating, tasting wine or just to relax by the fabulous pool. There are five 1 bedroomed gites to choose from. But the pick of the bunch is Le Bel Apartment - a stunning property providing 160m² of living space. With thick stone walls first laid over 800 years ago, solid wooden floors and modern stylish furniture, the apartment is a successful blend of young and old.
Inside the apartment, you have your own private Jacuzzi and outside you have an intimate roof terrace. The apartment also has full use of the parkland garden and large swimming pool at Domaine de Monteils.
Domaine de Monteils is a former monastery, surrounded by vineyards in South France. It is an easy location for reaching Montpellier and Nimes airport, as well as the TGV train station in Nimes.
12. Baronnie de Caux - Large holiday home rental South France (Ref: 1864)
Baronnie de Caux is a beautifully restored Maison de Maitre in Southern France. This large home boasts 7 bedrooms comfortably sleeping 14, Private swimming pool, expansive parkland grounds and a large sunny terrace. The beautiful house is perfect for large families or special occasions due to its fantastic location and grounds.
The luxury holiday home has perfect relaxation areas throughout, whether you want to read a book in peace, get working on that sun tan or just to enjoy some delicious wine. The decor throughout is reminiscent of time gone by but has a modern flare with the praticalities of all the mod cons needed.
This large holiday home rental in South France is located in the pretty wine-making village of Caux, just 5 mins from the picturesque town of Pezenas.
Looking for a luxury holiday to South France in 2023 . . . ?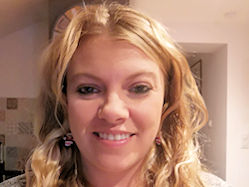 If you would like us to suggest some luxurious South France holiday villas or apartments to rent next summer, then please contact us with your requirements. We are in touch with our property owners every day and we are the first to know of any discounted rates. Just drop us a quick message and we will come straight back to you with a selection of properties offering the best late deals.
Contact Tara by Email or by phone +33 6 95 00 28 44
You may also find the following information useful: