Last updated on .
Hits: 1687
10 famous places in France to visit in 2023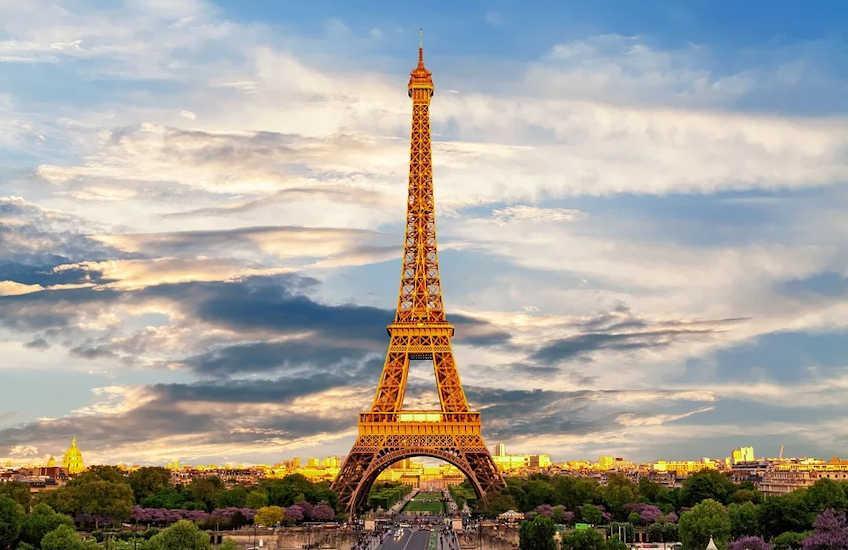 France remains the number one tourist destination in the World. Each year it receives over 89 million visitors - more than America, Spain and Italy. In 2019, Paris retained its title as the most visited city on the globe. Tourism is an important business to France, contributing nearly 10% of its annual income. From a visitor perspective, the key attractions of France are its history, its culture, its gastronomy and its climate.
History: France has 44 UNESCO World Heritage Sites (some of which I have listed below). Only China, Spain and Italy have more UNESCO sites within their borders. You do not have to wander far to find important Roman monuments, impressive gothic churches, stunning Cathar castles and impressive French Chateaux
Culture: the arts remain such an important part of French life. For example, Nice, which is only the 6th largest city in France has an astonishing 14 different museums celebrating famous artists, the Sciences and Sport.
Cuisine & gastronomy: French cuisine is famed throughout the world. France is home to over 594 Michelin star restaurants, including 26 restaurants with 3 Michelin stars (representing nearly 25% of the World's 3 star restaurants). France also has over 1,600 different types of cheese and 360 different vineyard regions. The wine regions of Bordeaux, Burgundy and Champagne are internationally famous, but the less well-known Languedoc wine region is the single biggest wine-producing region in the World, producing more wines than the whole of the United States.
Climate: the climate in France is exceptionally varied from North to South and East to West, but the country typically enjoys long hot summers, mild winters (apart from the montainous regions) and the city of Marseille is the second most sunniest city in Europe (more hours of sunshine per year than Madrid, Athens and Lisbon).
Many visitors just head straight for Paris and ignore the rest of France. But they are missing out on some spectacular sites throughout the country. If you are looking for some famous places to visit in France outside of Paris during 2023, then here is a list of my 10 personal favourites. I may have missed off some obvious places off the list, but I think that this is a pretty good choice of tourist places to visit if you are planning a vacation in France in 2023.
1. Famous places in France to visit - Pont du Gard, Uzes and Nimes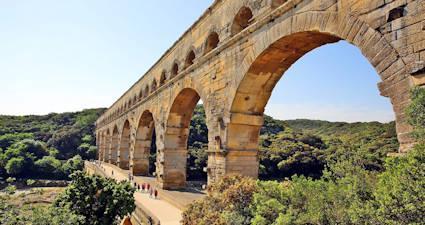 The Pont du Gard, South of France, is probably one of the most famous Roman monuments outside of Rome. This extraordinary Roman aqueduct is located just north of Nimes. The Pont du Gard is one of 4 UNESCO World Heritage Site located in the South of France. Complete with an excellent visitors centre and Mediterranean garden, the Pont du Gard, is a special place to visit in France. One of my favourite days out with the kids is head off to the beautiful town of Uzes, 15kms to the west of the Pont du Gard. We like to potter around in the town and grab some lunch in one of the pavement restaurants in the main square.
We then head off for the afternoon at the Pont du Gard. The boys like to swim under the arches of the Pont du Gard or take a canoe up the river. The Pont du Gard is a fully in tact Roman aqueduct that brought water 50km from the town of Uzes to the garrison town of Nimes. The aqueduct itself is a remarkable feat of engineering (how did they lift those huge stone blocks some 40m, without any modern cranes?). But what absolutely blows my mind is that the the straight line distance between Nimes and the source of the water is just 20kms (12 miles), but because of the undulating terrain, the route of the water runs over a route of 50kms (31 miles). Over this distance, the height of the water course falls only a few centimeters. The Romans literally built this aqueduct without any modern technology, yet it was constructed without any mortar and built to a tolerance of milimeters. It is estimated that the water took 27 hours to flow from the source to the centre of Nimes (without any pumping required).
In the early evening we then head off to the Roman city of Nimes, for a wander around, do some shopping and to grab some dinner. Nimes is a lovely city. The outskirts are a bit scruffy, but the town centre is gorgeous. This city is inextricably linked to its Roman past. Its location on the Via Domitia - the main chariot route from Spain to Rome - helped make it a favourite with a series of Emperors. Today it is endowed with an outstanding collection of monuments including the Maison Carrée, the Amphitheatre and the temple of Diana. It also houses two good art galleries and hosts some of the most colourful festivals in the south of France - February's Carnival and the ferias of Pentecost and September.
2. Famous places in France to visit - Chateau de Chambord, Loire Valley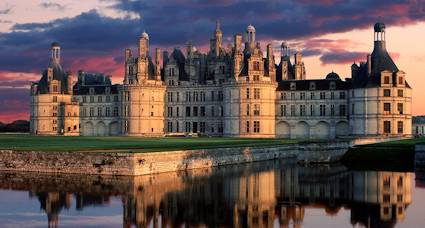 If you want to visit a Chateau in France, then I would suggest you skip Versailles (strictly speaking this is a palace) and Fontainebleu and head straight to the Loire Valley and see the impressive Chateau de Chambord. Chateau de Chambord is located South West of Paris, close to the lovely towns of Blois and Amboise. Whilst Chateau de Fontainebleau near Paris gets all the visitors and it is certainly an amazing place, my favourite Chateau in France is at Chambord. This is the image you conjure up when you think of a French Chateau, full or turrets and ornate design, as well as a moat. You have got to have a moat if you want a proper Chateau. And there is also deer wandering about as well. A Chateau has to have deer as well! The building, which was never completed, was constructed by King François I. One story tells how it was supposed to be the home for his mistress; another story says that it was supposed to be a hunting lodge. Another (probable) tall story indicate that Leonardo da Vinci may have designed it, but you suspect that he may have been too busy designing helicopters and painting ceilings. The history of the Chateau tends to follow the same pattern with many different generations trying to find a use for it. Napoleon passed it off to one of his Generals. It was used as a field hospital during the Franco-Prussian war and in 1939, shortly before the outbreak of World War II, the art collections of the Louvre and Compiègne museums were stored at the Chateau.
The Loire Valley is a lovely place to explore. Full of interesting little towns, rolling countryside and lots of good wine and cheese. To reach Chateau de Chambord take the A10 from Paris towards Orleans and exit at Mer or the A10 from Bordeaux and exit at Blois. There is a TGV train that runs in between the Montparnasse station in Paris and Tours (around 35 mins). Alternatively you can catch a regional train to Blois.
3. Famous places in France to visit - Monte Carlo, Monaco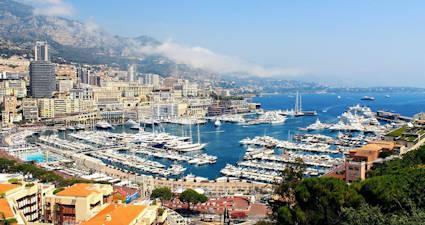 Yes alright, I know it is not strictly French, but you have to include Monte Carlo, Monaco in any list of places to visit in France. This tiny but wealthy Principality, covering just one square mile, is the World's smallest Sovereign state after the Vatican. When the state was faced with bankruptcy in 1848, the then Prince of Monaco (Charles III), decided to open a casino. The profits of the famous casino soon proved to be so large that all taxes were abolished and the grateful citizens renamed the hill by the casino 'Monte Carlo' (Mount Charles). Today it is a glitzy place, home of not just the rich and famous but also a legendary Grand Prix. If you get beyond all the enormous yachts and showy jewellery shops, I have always found Monte Carlo quite pleasant to walk around and not too expensive. The view from the top of the Monte Carlo hill up near the castle is absolutely amazing.
4. Famous places in France to visit - Aix-en-Provence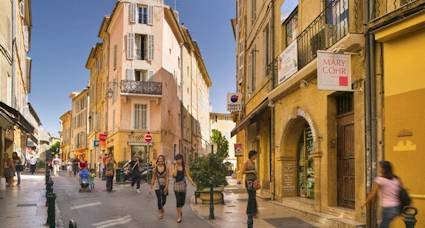 Provence as a region is hard to pin down in terms of its exact geographical location and borders, but Aix-en-Provence is often regarded as its central point. This is a very pretty town and you can easily spend a pleasant few days here. It is an excellent base for exploring Provence itself. Aix-en-Provence is famous for being the home of Cezanne. Aix is surprisingly well-equipped with shops and boutiques and there are plenty of pavement restaurants and cafes. The city centre consists of lots of narrow streets and squares.
The town is also home to 3 universities and several French-language schools, so you are always surrounded beautiful young students (which is always a good thing!). Aix holds two music festivals each year (Festival d'Aix-en-Provence) and it has a reputation as being an arty town. Aix is just 30km from Marseille. What I would say is if you want to chill out and be somewhere clean and comfortable, then stay in Aix. If you are looking for a bit of life with an edge, then head on down to Marseille, especially around the Old Port area. The restaurant "Boite à Sardine" is one of the trendiest places to be in Marseille. It is only open at lunch time and has only 12 tables, but this restaurant inside a fishmonger is the hottest ticket in town.
5. Famous places in France to visit - Arles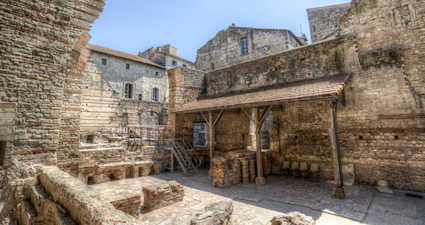 It is a difficult choice, but I think that out of all the cities in the South of France, Arles is my personal favourite. With its Roman heritage - complete with Amphitheatre, Forum and Theatre; beautiful 17th Century mansions, mazy streets, modern Museums and wide rolling river; Arles has it all.
Arles was made famous as the base for Van Gogh and Paul Gauguin, during their ill-fated but successful partnership in the 'Studio of the South'. Here Van Gogh painted some of his most famous masterpieces. It has been estimated that the 40 paintings that Van Gogh and Gauguin produced during their 3 month stay are now collectively worth over $120 million, yet they never sold a single painting during this time.
Arles is located on the edge of the Camargue, due South from Avignon and East of Nimes. You can pick up the TGV at either Nimes or Avignon and you can fly to Marseille or Montpellier.
6. Famous places in France to visit - Aigues Mortes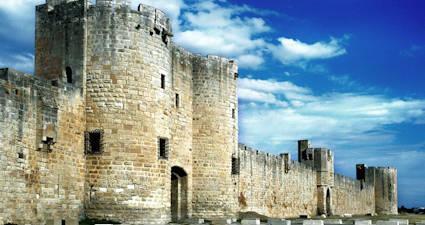 Spending time in Aigues Mortes is always a pleasant experience. This medieval walled town is romantically set among the plains of the Camargue. A tour of Aigues-Mortes' walls and grid pattern streets is a must on any visit to the South of France. Although popular with tourists in the height of Summer, you can nonetheless still spend a very pleasant day wandering around the shops and eating at the pavement restaurants in the centre. Aigues-Mortes, South France, was originally intended to be the principal port in the South of France. It was founded in 1246 by Louis IX, who used the Port as his base for two expeditions from the South of France to Cyprus and Tunis (where he met with his death). For a time the town prospered from the nearby salt beds, but by the end of the 14th century Aigues-Mortes had become a back-water town, with its port area being swallowed up with silt. The town seems to have ambled through history up until the 19th century when it was rediscovered as a place to visit.
7. Famous places in France to visit - Mont Saint Michel, Normandy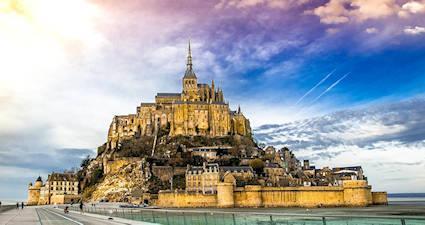 Every year 2.5 million people visit the site of Mont Saint-Michel, a spectacular castle situated on a rocky outcrop in the sea, off the Normandy coast in Northern France. The Mont-Saint-Michel and its bay are part of the UNESCO list of World Heritage Sites. The castle is separated from the mainland by a causeway. Actually, to be precise, over the years this tidal causeway had silted up so the castle had become a part of the mainland, but a project commissioned by the French government in 2006 built an hydraulic dam to make Mont-Saint-Michel an island again. The tides can vary greatly, at roughly 14 metres between high and low water marks. There has been a monastery at St Michel since 708 AD. During the Hundred Years' War, the English made repeated assaults on the island, but were unable to seize it due to the abbey's fortifications. During the French revolution the abbey was closed and converted into a prison. A campaign led by Victor Hugo in the mid 19th Century led to the Abbey being restored and declared an historic monument in 1874.
8. Famous places in France to visit - Nice/Cannes, Cote d,Azur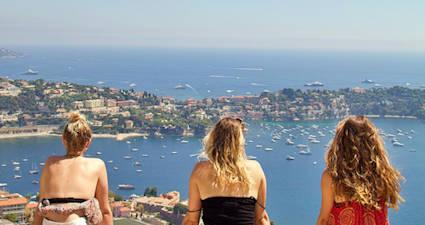 If you think of the South of France, then Nice and Cannes spring automatically to mind. Along the 120km coast of the Cote d'Azur, there are many places to stop off and enjoy, such as St Tropez (see below), Frejus, Sainte-Maxime, Cap Ferrat and Cassis; but Cannes with its international film festival and Nice with its exotic buildings and promenade have the wow factor. With its broad avenues, wide sweeping bay and golden beach it is not difficult to see why some 3 million people flock to Nice every year. The long sweep of the Baie des Anges is a magnificent beach, bordered by the Promenade des Anglais - named after the first tourists who came here in the late 18th century and began to transform this once sleepy fishing port into the Mediterranean's premier resort. Only Paris rivals it as a tourist attraction. Equally so, Cannes with its 3 local beaches, narrow streets and celebrity visitors is an excellent base for exploring the South of France.
9. Famous places in France to visit - St Tropez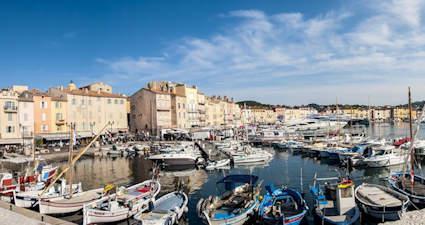 Glitzy, sexy, chic, relaxed, rich, sunny, beautiful. Whatever adjective you use to describe St Tropez, it still does not satisfactorily sum up this top South of France resort. Starting with Bridget Bardot and continuing with present day celebrities, St Tropez in the South of France continues to be the summer home of the rich, famous and beautiful. St Tropez's beaches are among the best in the world and its harbour only loses out to Monaco for the impressive array of yachts on show. The town itself is nothing to write home about, an old fishing village that has been gentrified. That is a bit harsh, but it is not as nice as Antibes or Cassis. But what it may lack for in character it more than makes up for in ambiance.
Nearby, Port Grimaud is a seaside town located in between Saint-Tropez and Sainte-Maxime that is always worth a walk around. It was created by architect François Spoerry in the 1960s and built out of the marshes of the bay of Saint Tropez. Built with small canals like Venice, the mainly traffic free town is popular with boat owners as most properties come with their own berth. The beach, located slightly away from town is one long stretch of golden sand. The sea is shallow and gently sloping, making it perfect for families. Windsurfing and kayak hire is also available. Port Grimaud beach does get quite busy during the high season, but it is probably one of the best beaches around St Tropez. If you are looking for a beach near St Tropez, then I would head out for Tahiti beach. It is small, but beautifully formed (just like the bikinis you will see on the beach!).
10. Famous places in France to visit - Carcassonne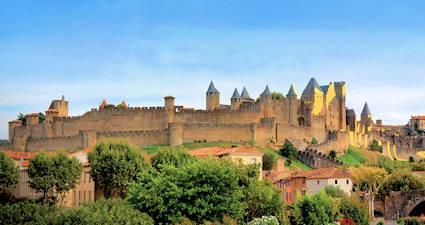 Carcassonne, South of France, is France's most famous and evocative medieval citadel. Carcassonne is an UNESCO World Heritage Site in the South of France. It is the sheer scale of the castle at Carcassonne that blows you away. There is a full size village inside the walls of the castle. The castle was first established in the 11th Century and in 1209 it was taken by Simon de Montfort during his crusade against the Cathars. He made Carcassonne his capital. In 1299 it came under control of the Royal Court and King Louis IX laid out the plans for the building of the town underneath the Citadel. The Black prince laid siege to Carcassonne in 1355 during the Hundred Years' War, but he was frustrated in his attempts to take the Castle. According to my son, who isn't always to be believed, Carcassonne gets its name from the time of the siege. Eager to show the invaders that they had plenty of supplies (which they did not have) the villages killed the last pig in the castle, then rang the church bells (sonar: 'sonne') and then threw the carcase ('carcasse') of the pig over the walls. Unfortunately, the plan didn't entirely work out as the invaders stayed and burnt down the castle. During the 19th century the castle was extensively rebuilt by Viollet-le-Duc. Some would say that he overdid it somewhat, letting his artistic licence overcome historical accuracy. But nonetheless it remains a fantastic monument.
The best time to visit Carcassonne is on Bastille day (14 July) when the firework display at the castle is second to none. It is very impressive indeed. Carcassonne is situated in the Aude department, 1 hour East of Toulouse and 1 hour to the Mediterranean coast. There is a local airport and regional trains run in between Narbonne and Toulouse.
Where to next . . . ?
Continue your journey to finding the best places to visit and stay in France during 2023. Here are some more articles to help you find the perfect place for your vacation in France: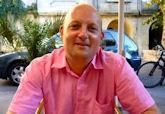 Read our article on the Best South France cities to visit this summer
Interested in visiting the South of France? Check out Where to stay in South of France in 2023
Check out the Best holiday villas in South France to rent during 2023
Contact Iain by Email if you have any particular questions you would like to ask about visiting the South of France. If you liked the article then please share it with others using the Twitter and Facebook buttons below. I wish you a wonderful stay in the South of France.