Last updated on .
Hits: 3521
L'Octopus Michelin restaurant Beziers France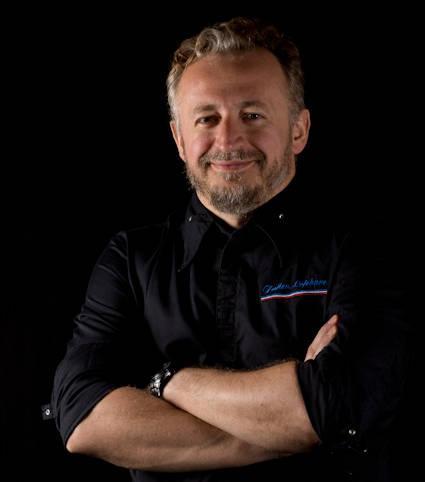 L'Octopus restaurant is now the only Michelin star restaurant in Beziers. Unfortunately, my meagre financial budget hasn't yet allowed me to sample the delights of this restaurant, but my wife knows somebody who has eaten here and her description was simply "OMG". L'Octopus restaurant is run by Fabien Lefebvre, who achieved his first Michelin star award in 2008. His wife, Rachel Lefebvre, is the Wine Sommelier at L'Octopus.
L'Octopus restaurant Beziers France
Fabien Lefebvre is a native of Beziers (un Bitterois) who was taught to cook by his grandmother in nearby Valras. Following his cookery training in Perpignan, Lefebvre worked at a number of fine dining restaurants in Axi-en-Provence, Juan les Pins and Saint Raphael, before moving to Paris where he takes up a position at the Bristol hotel under Chef Del Burgo. It was at the Bristol that he met his future wife. Fabien Lefebvre purchased L'Octopus in 2004. The restaurant was already established in Beziers and it had previously held a Michelin star from 1977 to 1985. But the restaurant had become tired and outdated. 4 years of hard work were eventually rewarded in 2008, when L'Octopus received its first Michelin star, which it has continued to hold for 10 years (unlike L'Ambassade restaurant in Beziers which lost its Michelin star in 2015).
L'Octopus michelin star restaurant Beziers France
The Michelin guide lists the L'Octopus as an outstanding high quality restaurant. The Michelin report which accompanied the award of the first Michelin star in 2008 stated that L'Octopus represented "beautiful Fine dining in the heart of Beziers, delicious seasonal cuisine, superb seafood and fish, accompanied by a nice selection of wines. Warm, contemporary decor and lovely terrace to boot!".
The starters at L'Octopus restaurant in Beziers feature Shellfish tempura with an avocado, grapefruit and sweet-chili vinaigrette; Marinated red tuna with spring vegetables; and the two signature dishes of Avocado gazpacho and Bouzigues oysters and vodka sorbet lemon. Fish is a particular speciality of L'Octopus restaurant and includes Roasted Lobster with a fennel sangria; Roasted turbot with veal juice vinegar accompanied with a spinach and apple soufflé; and the most famous dish of all (which sealed the Michelin star award): Seabass cooked in a citron vapour with golden octopus and artichoke ravioli. The meat dishes at L'Octopus include Roast veal with fragrant rice and pea rissoles and Lamb of Aveyron with burnt Aubergine (eggplant).
L'Octopus restaurant Beziers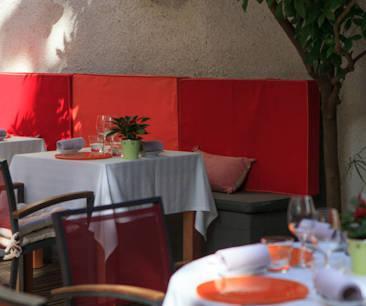 L'Octopus is located on a small side street, running parallel to Allees Paul Riquet, the main tree-lines boulevard in Beziers city centre. The outside of L'Octopus looks pretty inauspicious, but the interior of the restaurant opens out onto a lovely courtyard garden. Like the nearby Maison de Petit Pierre restaurant, the atmosphere at L'Octopus is pretty informal and relaxed (which pretty much somes up the atmosphere in Beziers full-stop).
The prices at L'Octopus are certainly not cheap, but they are also not Cote d'Azur stupid prices either. The cheapest menu starts at €55 with an 8 course lunch/dinner menu costing €90 per head.
You will find L'Octopus restaurant at 12, Rue Boieldieu, Beziers, Languedoc-Roussillon, France (which is just behind Allees Paul Riquet). For reservations please call +33 04 67 49 90 00 or email This email address is being protected from spambots. You need JavaScript enabled to view it..
L'Octopus restaurant is open Tuesday to Saturday (closed Sunday and Monday).