Last updated on .
Hits: 11247
10 Best restaurants to eat at in Carcassonne, South France
If you are coming to Carcassonne on vacation and you want some tips on the best restaurants in to eat at, we have selected some of the finest restaurants in Carcassonne's medieval city, as well as in the town itself. These 10 restaurants cover a range of budgets from inexpensive lunches to fine dining evening meals.
I have to say that I used to find that the restaurants in Carcassonne were pretty so-so. In fact when I first wrote this article 10 years ago, I really struggled to find more than 5 restaurants in Carcassonne that I would actually recommend people visit. A lot of the restaurants in the walls of the Castle were just tourist traps and I found that in the town of Carcassonne, there just wasn't a real vibe for eating out. You see that is the thing about Carcassonne, it is just not a very rich town. The Aude department where it sits, is largely an agricultural area and one of the poorest departments in France. And with Carcassonne, if you took away the revenue generated by the Castle and also the large military base on the outskirts, it would actually be the second poorest town in France (per capita GDP).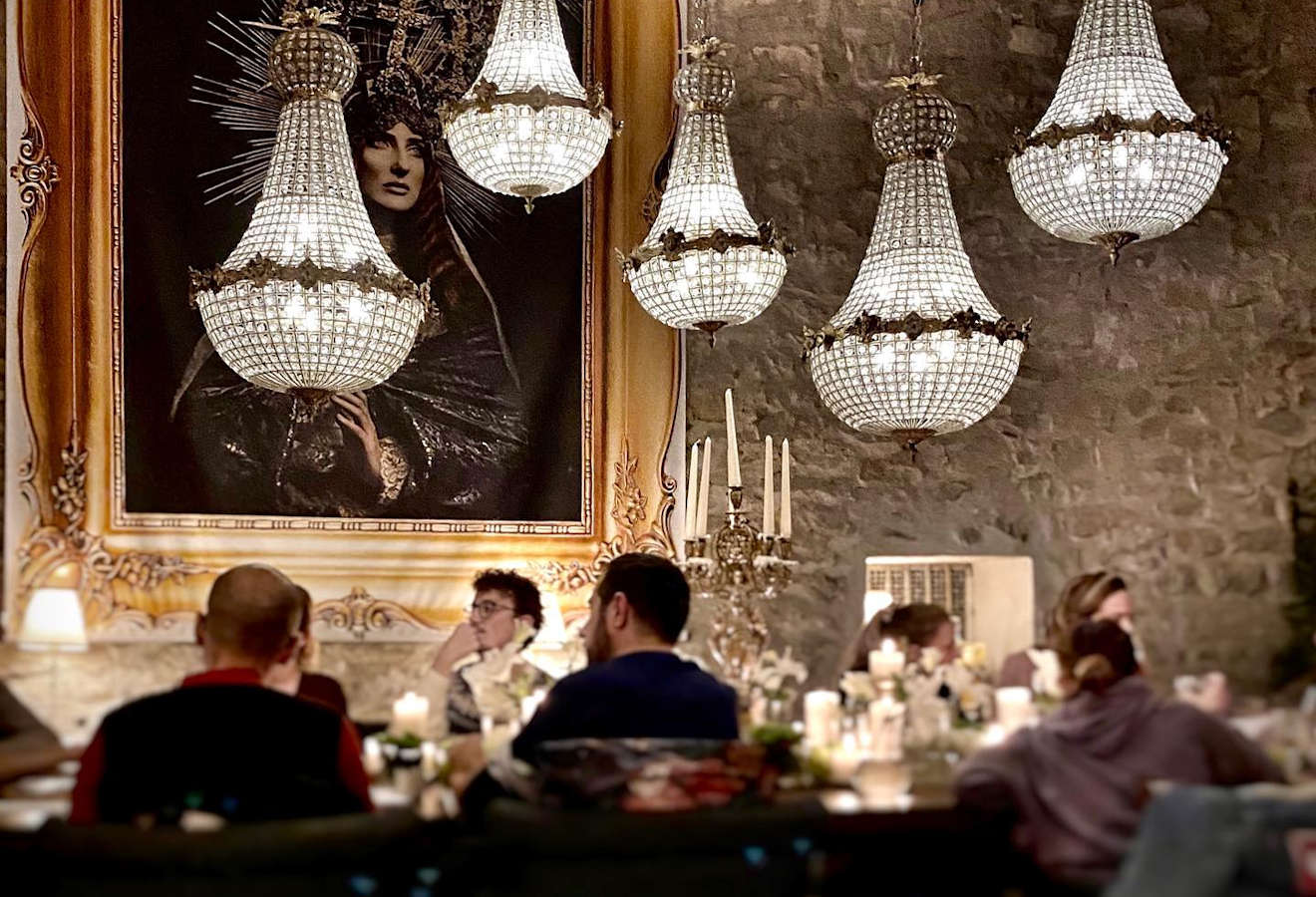 Now I am not saying that Carcassonne is the sort of place where you are going to see burnt out cars and beggars on the streets. Nothing could be further from the truth. It is just that the town has a high proportion of retirees (with not a lot of money) and civil servants (who again don't have a lot of spare cash). And this is not by accident either. The former Mayor of Carcassonne purposely attracted fonctionaires (public sector workers) to move to Carcassonne and he invested in the infrastructure to attract them (presumably lots of clothing stores selling cardigans and beige trousers). So in Carcassonne there is not a lot of money flushing around - outside of the summer tourism season - which doesn't make for a vibrant restaurant scene.
However, in recent years there has been a flurry of new restaurants opening in Carcassonne. There are now two Michelin star restaurants in Carcassonne (Le Table de Franck Putelat and La Barbacane), as well as 7 other restaurants that have entries in the Michelin guide. So if you are visiting Carcassonne now, you have a good choice of places to eat at. But you don't just have to head to Michelin restaurants to find a good meal in Carcassonne.
The cuisine in Carcassonne and the Aude region leans heavily on authentic local produce. Carcassonne is reputed to be the best place to eat the famous Languedoc dish of Cassoulet. Cassoulet is a hearty stew made from white beans, duck and sausage is a proud feature of many restaurants. But you will also find a wide range of fish dishes (river trout especially) and a good use of seasonal organic vegetables.
1. La Table de Franck Putelat best restaurant Carcassonne France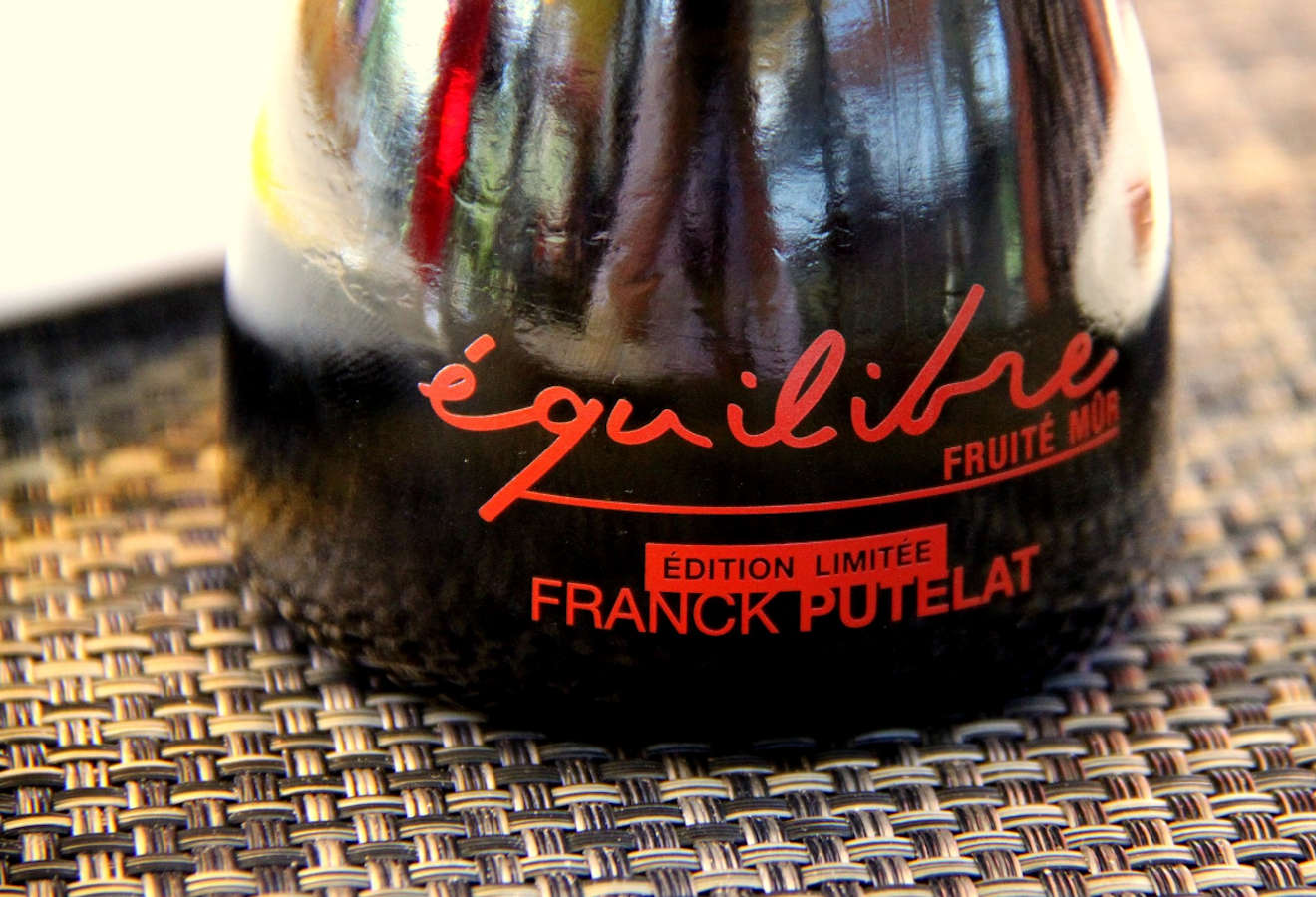 Undoubtedly the best restaurant to eat at in Carcassonne is the Table de Franck Putelat. Franck Putelat is a celebrate French Chef who currently holds 2 Michelin Stars. He runs a 7 bedroom 5 Star hotel (Le Parc), which is situated just below the famous medieval castle in Carcassonne. Putelat has owned the hotel since 2005 and the restaurant has gained a huge reputation for honest French cooking with a twist. Originally from the east of France (Franche-Comté), Putelat trained at the Auberge de Chavanne in Courlans, then at the Taillevent and finally at Georges Blanc restaurant, where he held the position of executive chef. In 2018 he won the prestigious Bocuse d'Or world chef championship (named after the famous French chef, Paul Bocuse).
The restaurant is not cheap (set menus vary from €105 to €235 per head, not including the wine), but for a 2 star restaurant that is to be expected. Amongst some of his signature dishes include a Bouillabaisse with fois gras, a savoury Creme Catalan, and a local Cassoulet dish made from wood pigeon.
The Michelin guide describes La Table du Franck Putelat as:
In his place at the foot of the ramparts of the medieval town, Putelat cooks the produce from his large (one hectare) vegetable garden . . . appetising visuals, flavour and finesse, to be savoured in a lively atmosphere, in the company of a very diverse clientele . . .
Le Table de Franck Putelet can be found at Hotel Le Parc, 80 Chemin des Anglais, 11000, Carcassonne France. Reservations can by made by telephone (+33 4 68 71 80 80) or through the website (Table du Franck Putelat).
2. Best restaurants Carcassonne medieval city: La Marquière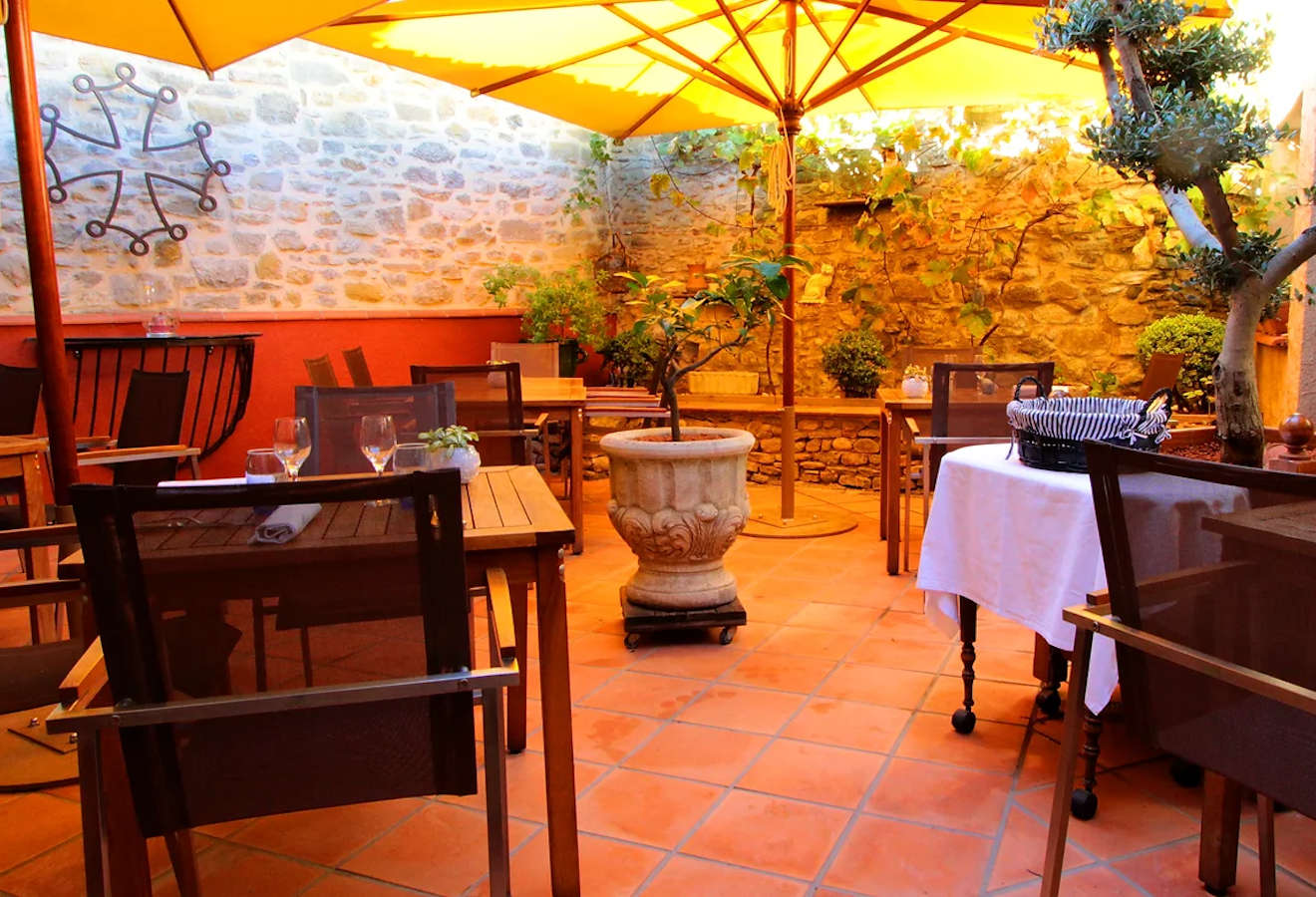 I have never eaten here, but friends of ours reckon that it is the pick of the mid-priced restaurants in Carcassonne's medieval city. This family-run bistro serves classy, beautifully presented French cuisine in an old shuttered Auberge. The head chef is Marius Bernard, who has run this Carcassonne restaurant since 1985. Inside, the restaurant contains the original wooden beams and fireplace. The menu at La Marquière contains many regional dishes such as cassoulet, duck breasts, fillets of Charolais beef, salmon and trout tartare with ginger and citrus, or a Bourride of monkfish on crushed tomato toast. When our friends went they both had the Foie gras Raviolis with mushroom ceps sauce which they said was sublime.
The restaurant has a huge wine list and it is supposedly the best wine cellar in the region. There is a really nice courtyard which is a great place to sit from April through to October. This restaurant is closed on Wednesdays and Thursdays out of the summer season. During the summer La Marquière is open from 12.00-2.30pm & 19.00-10.30pm.
La Marquière restaurant:
Address: 13 rue St-Jean, La cité, 11000 Carcassonne. Tel: +33 4 68 71 52 00. Website:
www.lamarquiere.com
3. Le Barbacane restaurant, Carcassonne Cité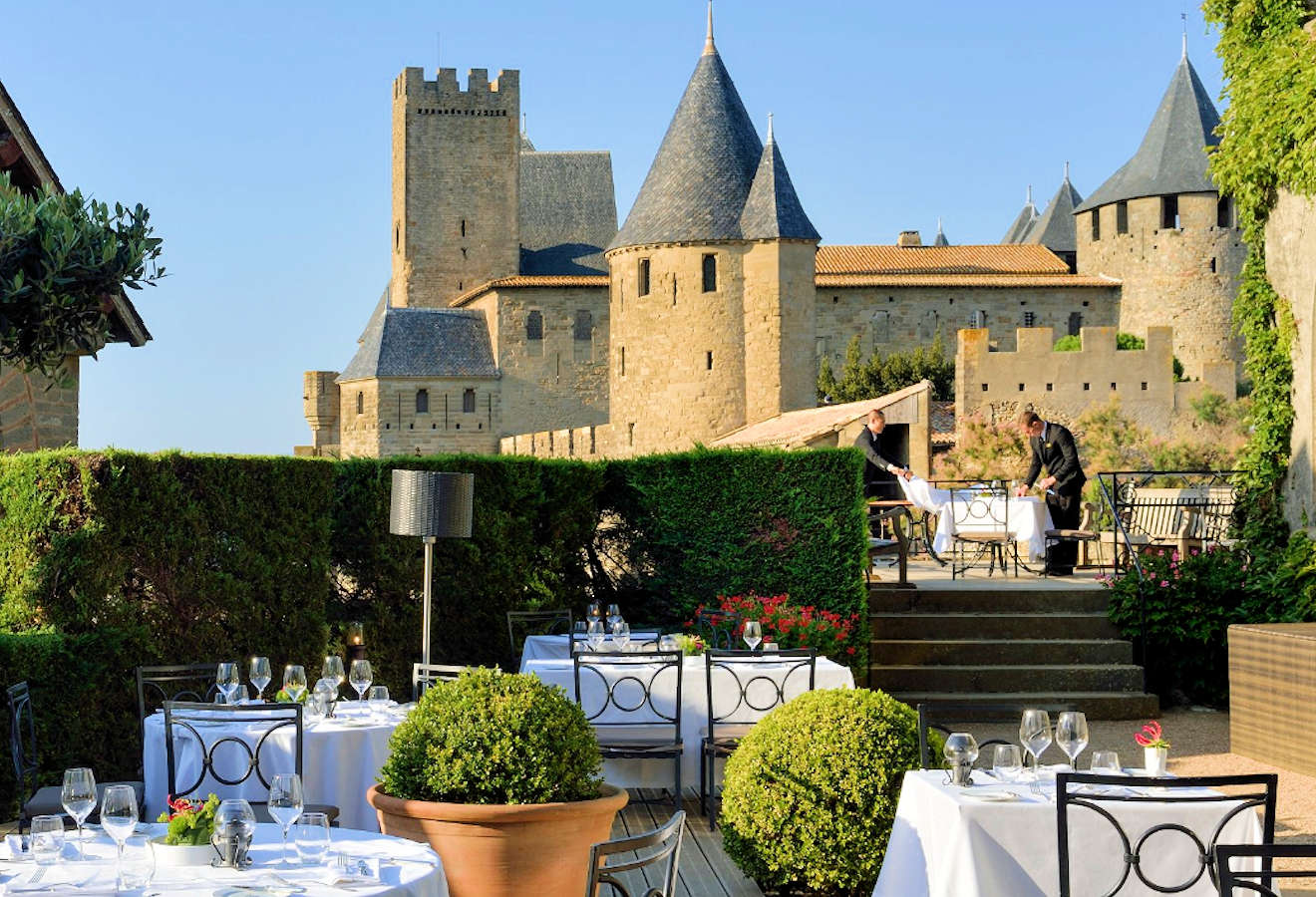 If you are looking for an excellent place to eat, right in the heart of Carcassonne's castle, then you can do no better than Le Barbacane restaurant at Hôtel de la Cité. From the terrace you can enjoy magnificent views out over the turrets of Carcassonne Castle. Inside, the restaurant is just as impressive with gothic chairs which match the large gothic windows and the metal chandeliers.
Le Barbacane restaurant is part of the Hotel de la Cité and has 1 Michelin star. The restaurant is led by Chef Jérôme Ryon, who used to work alongside another Michelin Starred Chef in Carcassonne, Franck Putelat (see above). and the menu is definitely fine dining. The menu combines both local Occitanie produce (such as Morel mushrooms and black truffles) with a range of ingredients from all over France (such as Lobsters from Brittany, Beef from Aubrac and Asparagus from La Lande). Set menus range from €90 euros to €165 euros for the taster menu.
The Michelin guide describes Jérôme Ryon's food as follows:
His delicious cuisine champions the region's terroir in dishes such as fricassee of summer vegetables, braised sea bass, and fillet of Aubrac beef with foie gras... accompanied by an impressive cellar of Southern French wines.
You will find Le Barbacane restaurant within the walls of Carcassonne Castle at Hôtel de la Cité, Place Auguste Pierre Pont, 11000 Carcassonne, France. Reservations can be made by telephone (+33 4 68 71 98 71) or through the website (Le Barbacane).
4. Carcassonne restaurants: Agape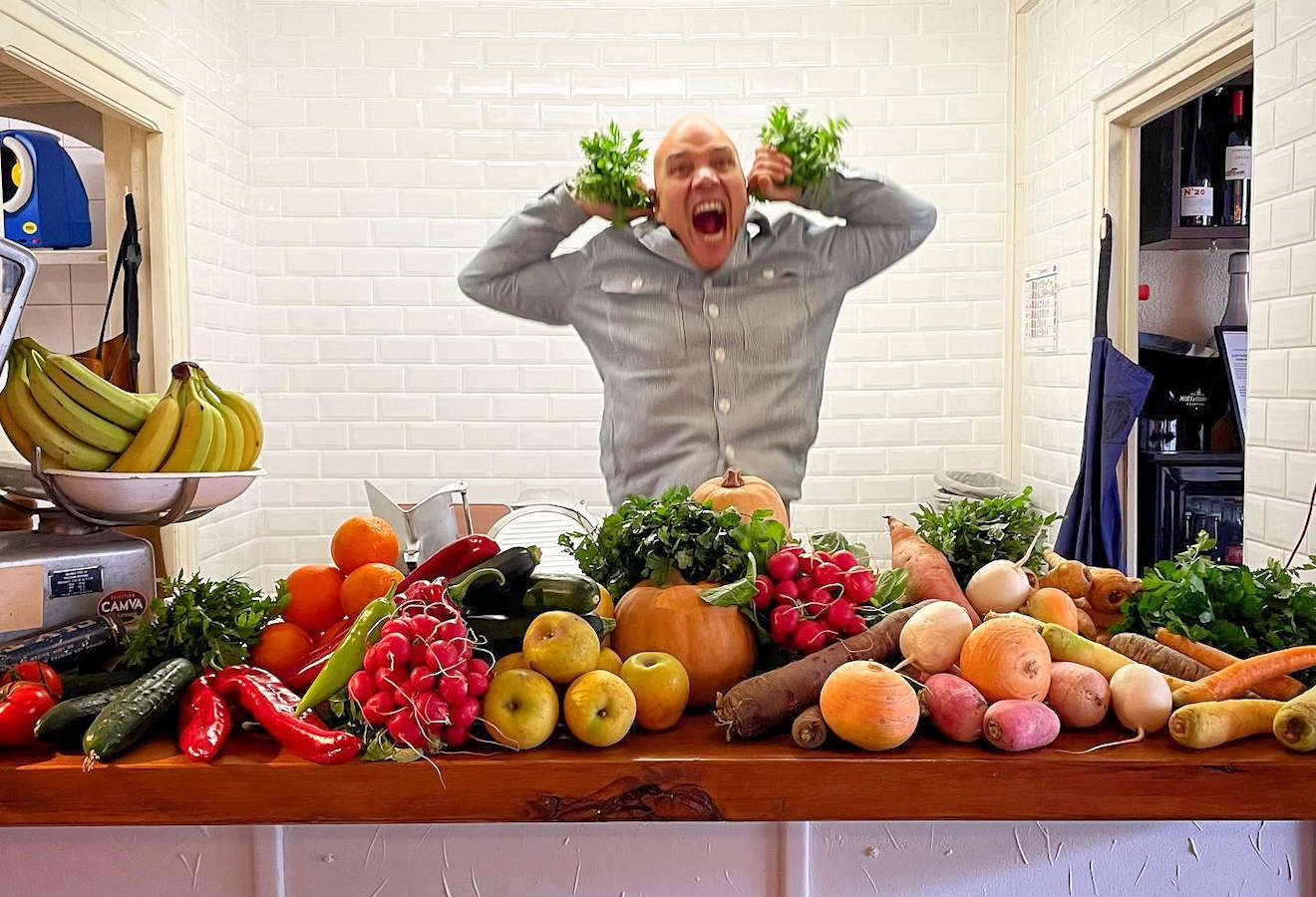 Agape restaurant is a hidden gem of a restaurant located on a side street in the centre of Carcassonne. The restaurant offers a menu du jour for lunch and a tapas style tasting menu with 8 courses for dinner that is very reasonably priced (about €25 euros). The service is very friendly from the husband and wife team. The Pork Tenderloin in a Bourbon Sauce is always a crowd pleaser. This is a top, top place, so you are either going to have to arrive early or book in advance.
Agape restaurant is located at 15 rue des 3 Couronnes, 11000 Carcassonne, France. For reservations call +33 4 68 72 12 10 or visit (Agape).
5. La Bistro d'Alice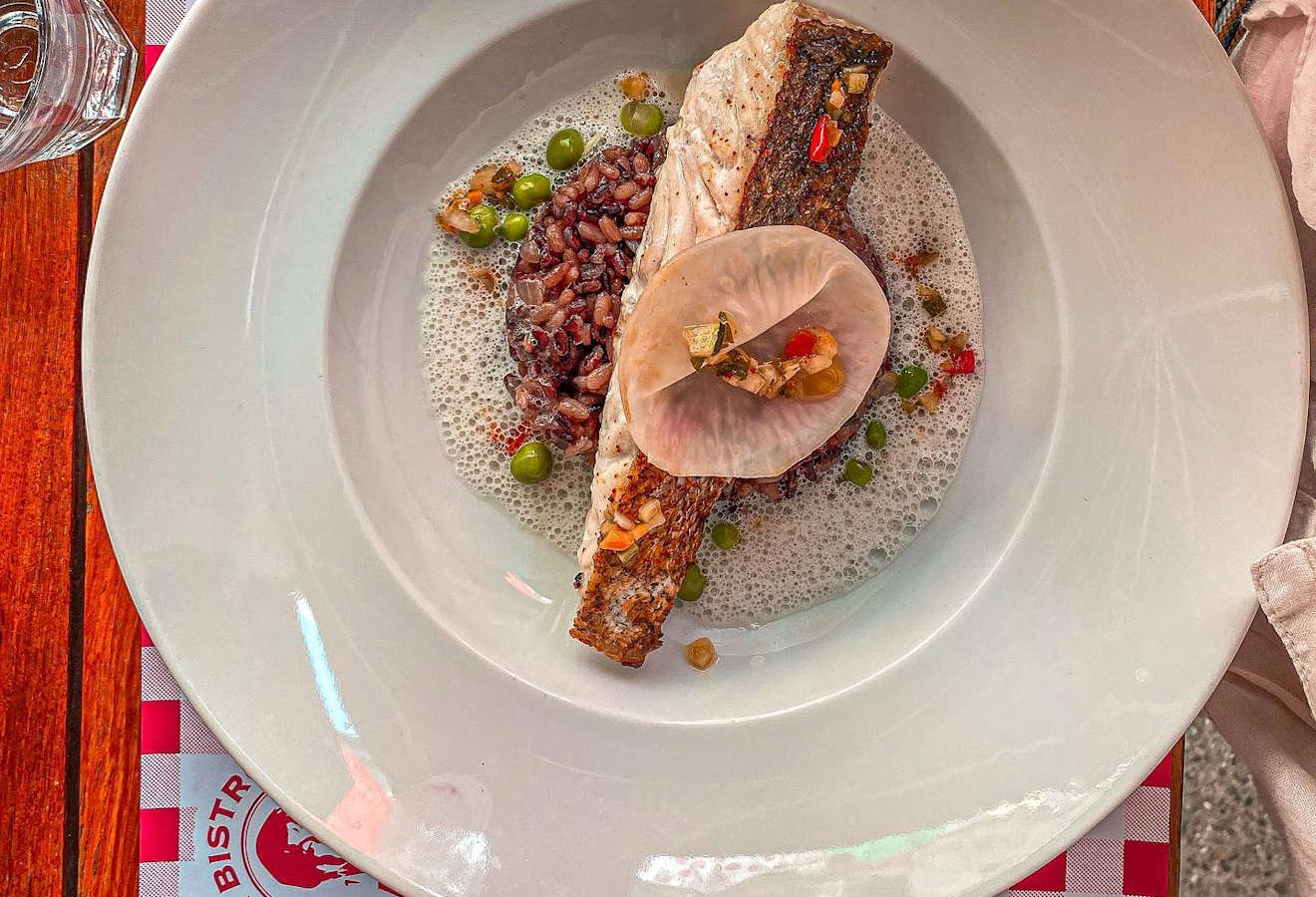 I am always a sucker for a charming French bistro with red-checked table cloths. Admittedly, at Bistro d'Alice in Carcassonne, they only have red-checked place mats, but it still creates the right ambience. For me it ticks all the boxes. It looks nice. It is not too expensive (€18-25 euros for a main course). And it is a great spot for people-watching.
Of course you can get a Cassoulet here, but you can also get other standard French Bistro staples, such as Steak Tartare, Filet de Boeuf and Rabbit.
You can find Bistro d'Alice at 26 rue Chartran, 11000 Carcassonne, France. For reservations call +33 4 68 47 25 51 or visit the website (Bistro d'Alice).
6. L'Escargot restaurant Carcassonne France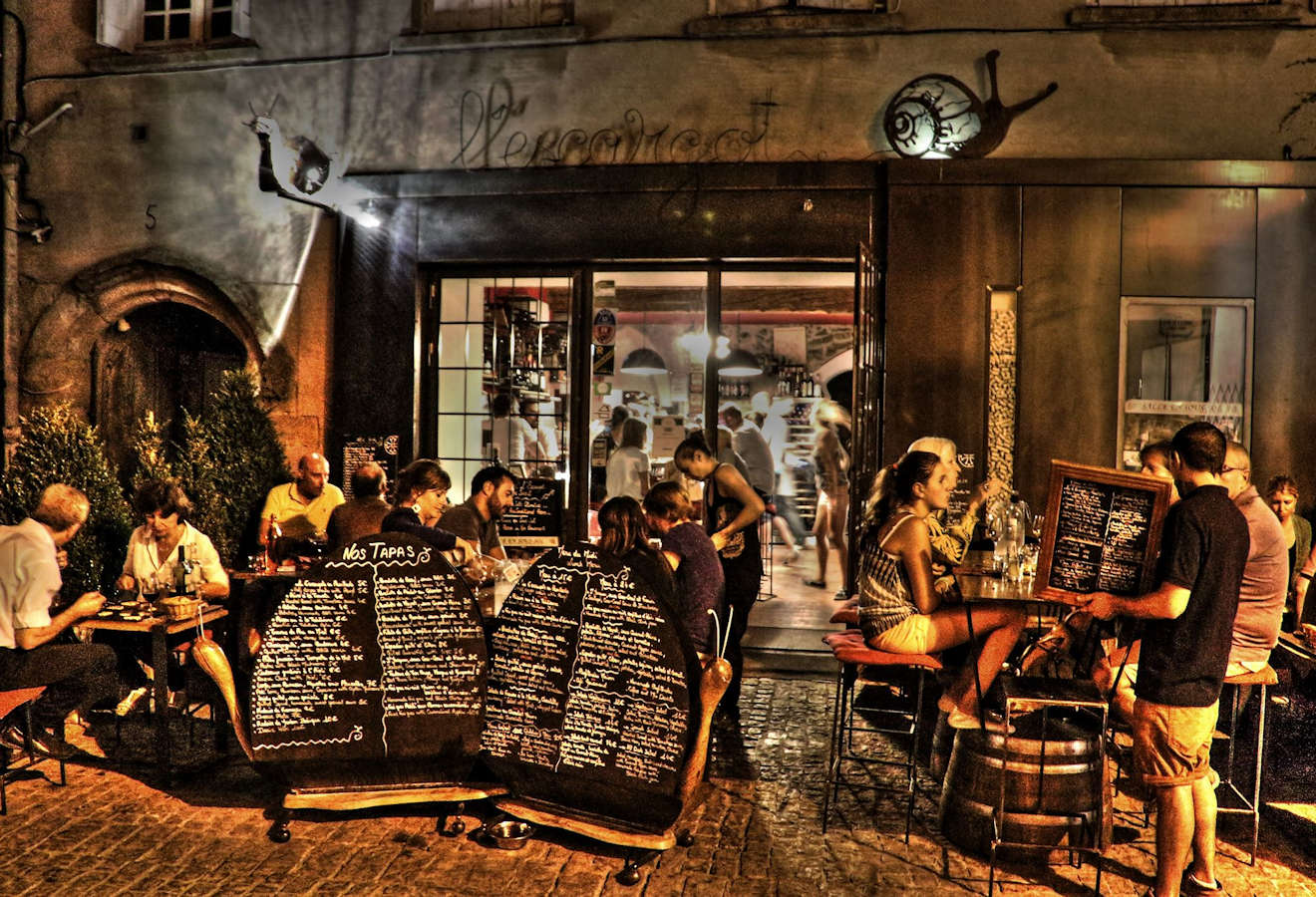 If you are visiting the medieval castle at Carcassonne and you are looking for a reasonably priced lunch or a bite to eat during the evening, then the L'Escargot restaurant is a good choice. L'Escargot is located in the centre of the castle in Carcassonne; South France. The restaurant has an extensive tapas menu, covering everything from Fois gras to grilled Cuttlefish and of course, Escargots.
L'Escargot restaurant is located at 7 rue Viollet le Duc La Cite, 11000 Carcassonne, France. Reservations can be made by phone () or through the website (L'Escargot restaurant)
7. Brasserie à 4 Temps Carcassonne restaurant South France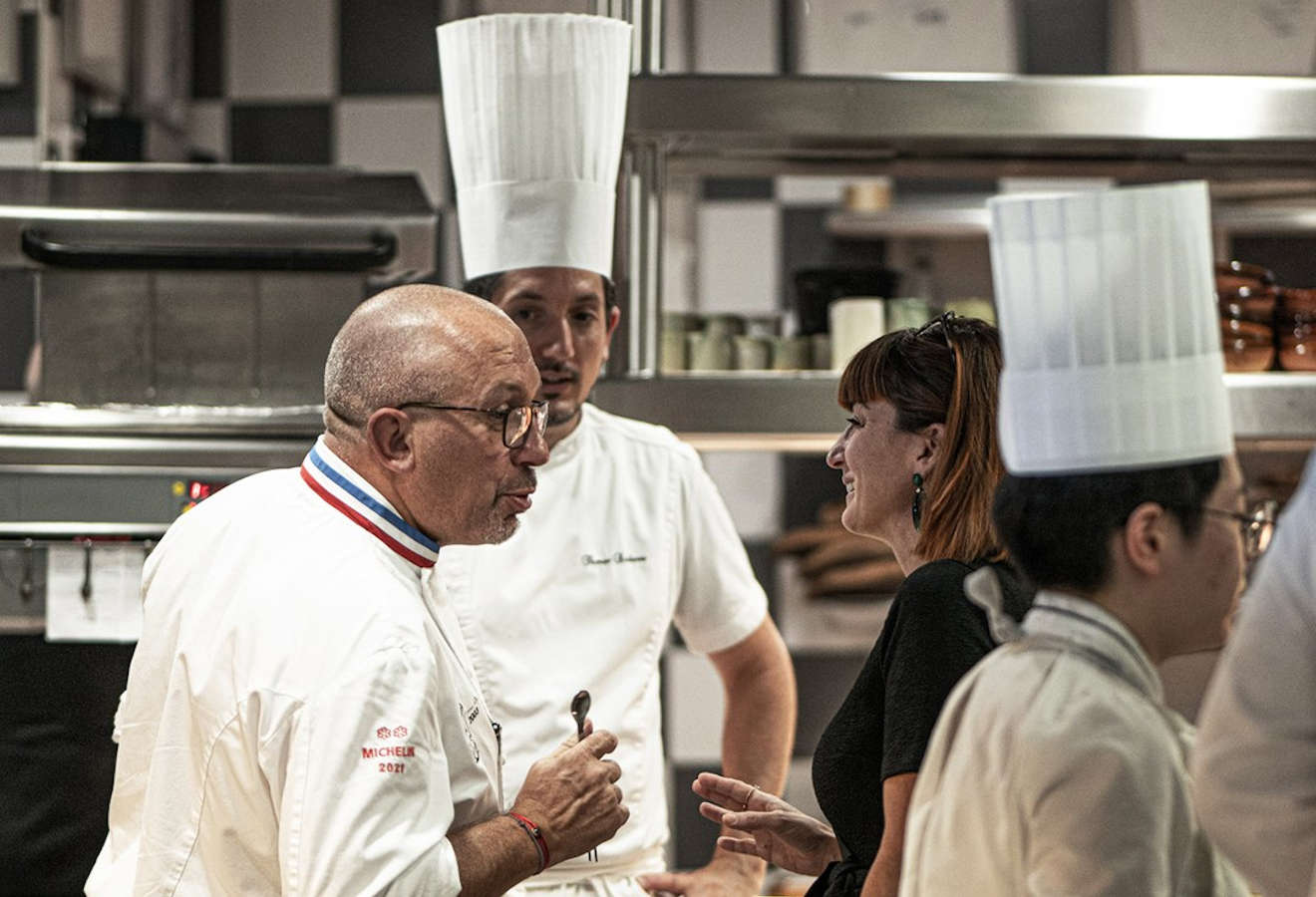 Franck Putelat is a a busy man. Not content with running a 2 star Michelin restaurant in Carcassonne, he also owns Brasserie à 4 Temps, located in the heart of the town. The Chef is Tony Beteille, who used to be Putelat's second in command at Table du Franck Putelat.
The Brasserie is an upmarket Gastro-Pub/Bistro which is open all day from 07.00 in the morning until 22.00 at night. It does get very busy, especially during the lunch service on the shaded terrace. What I like about it is that the Brasserie knows its customers - a quick meal at lunch or in the evening but a higher quality than you would get from a plat du jour. The menu is simple, just 4 choices for each course. You are not going to eat here every day, but 3 courses at around €35 is still pretty good value. Especially from an Owner who has 2 Michelin stars and a Chef who excelled under Putelat.
Brasserie à 4 Temps is located at . For reservations (advisable) call +33 4 68 11 44 ​​44 or book through the website (Brasserie à 4 Temps).
8. La Table du Vatican Carcassonne restaurant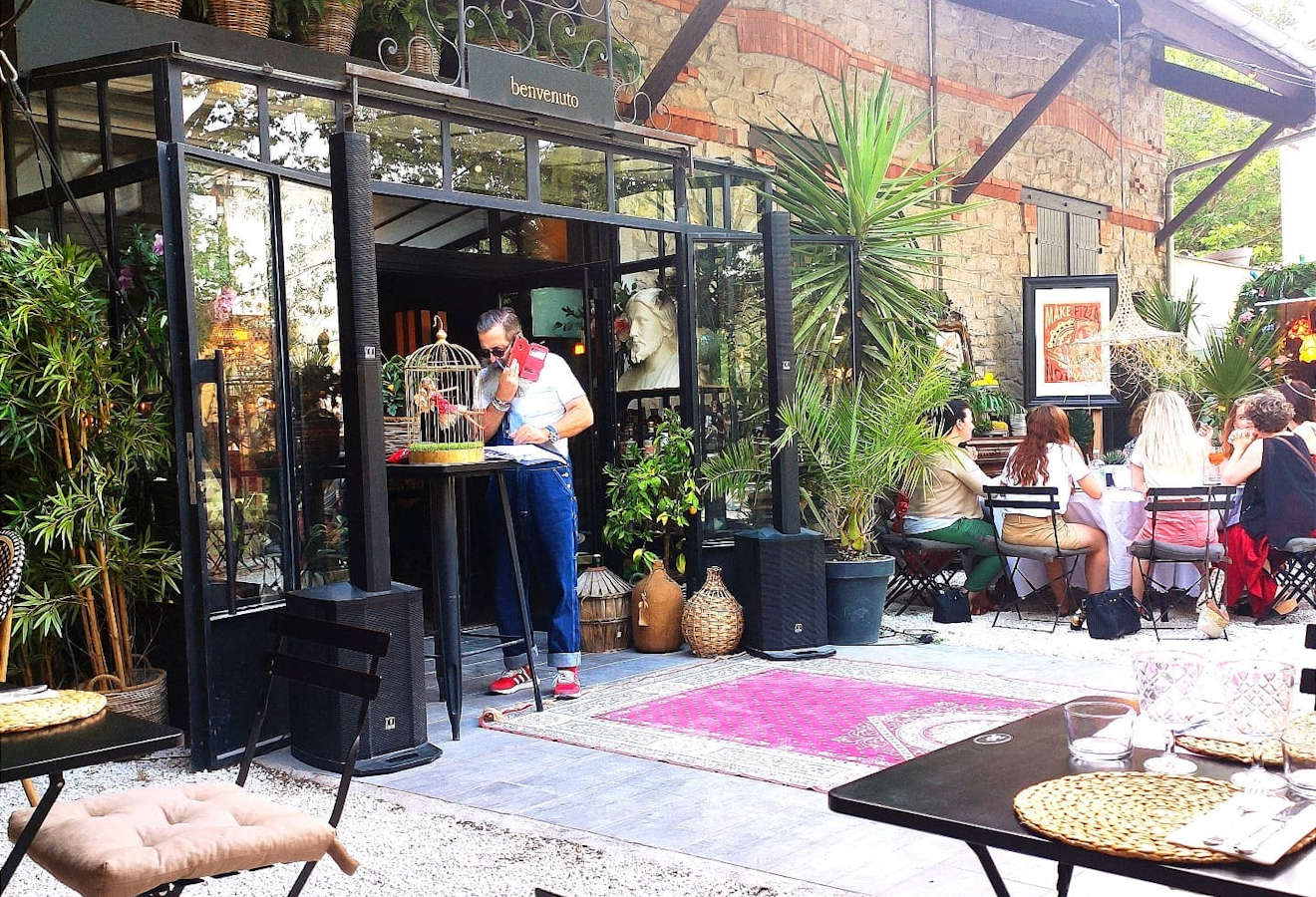 Lat Table du Vatican is a popular restaurant in Carcassonne that leans heavily of authentic Italian cuisine and offers a good range of cocktails. It is a very trendy place and often attracts a younger crowd of people. It has a really nice vibe - relaxed but a bit quirky. Very friendly and entertaining Owner and he has nailed the service. The staff are great.
La Table du Vatican is located by the Canal du Midi in the centre of Carcassonne. The address is 13 quai Riquet, 11000 Carcassonne, France. Probably best to book in advance, especially Thursday to Sunday. For reservations call +33 6 32 92 30 11 or vist (Table du Vatican)
9. Restaurant Comte Roger, Carcassonne France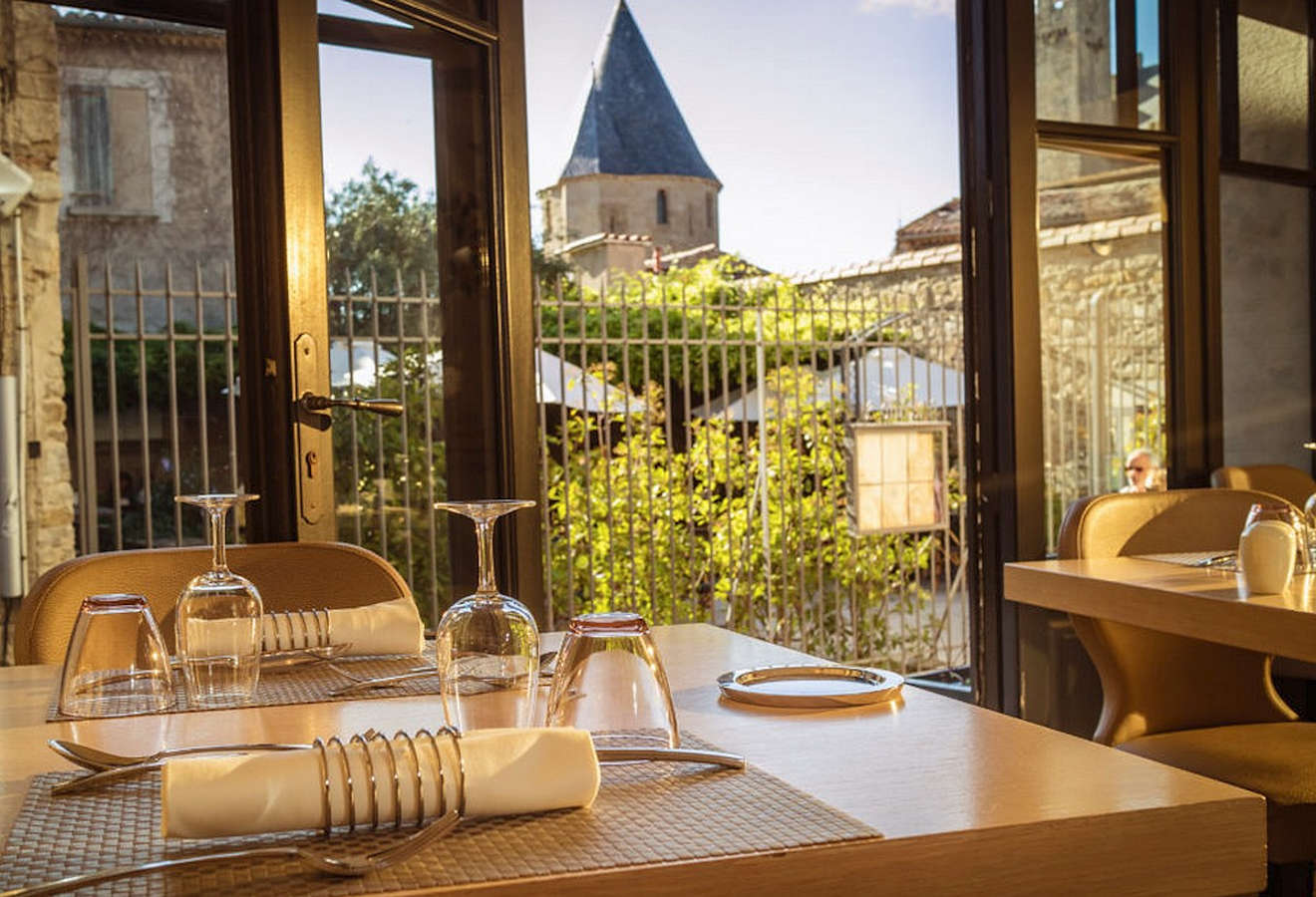 When you are in Carcassonne of course you have to try the local Cassoulet dish. Cassoulet is a hearty stew containing confit duck, white beans, pork sausage and lardons. The best place to sample a Cassoulet in Carcassonne is reputedly at Restaurant Comte Roger.
Restaurant Comte Roger is located in the heart of Carcassonne Castle. The menu features a good range of Southern French dishes, including Filet de boeuf de l'Aubrac, Pork cutlets with local black pudding and of course, their famous Cassoulet. In fact the Cassoulet remains the most popular dish on the menu. Restaurant Comte Roger also has a vegetarian menu.
Restaurant Comte Roger can be found at 14 rue Saint Louis, 11000 Carcassonne, France. Reservations can be made by telephone (+33 4 68 11 93 40) or through the website (Restaurant Comte Roger)
10. La Table de la Bastide restaurant Carcassonne France.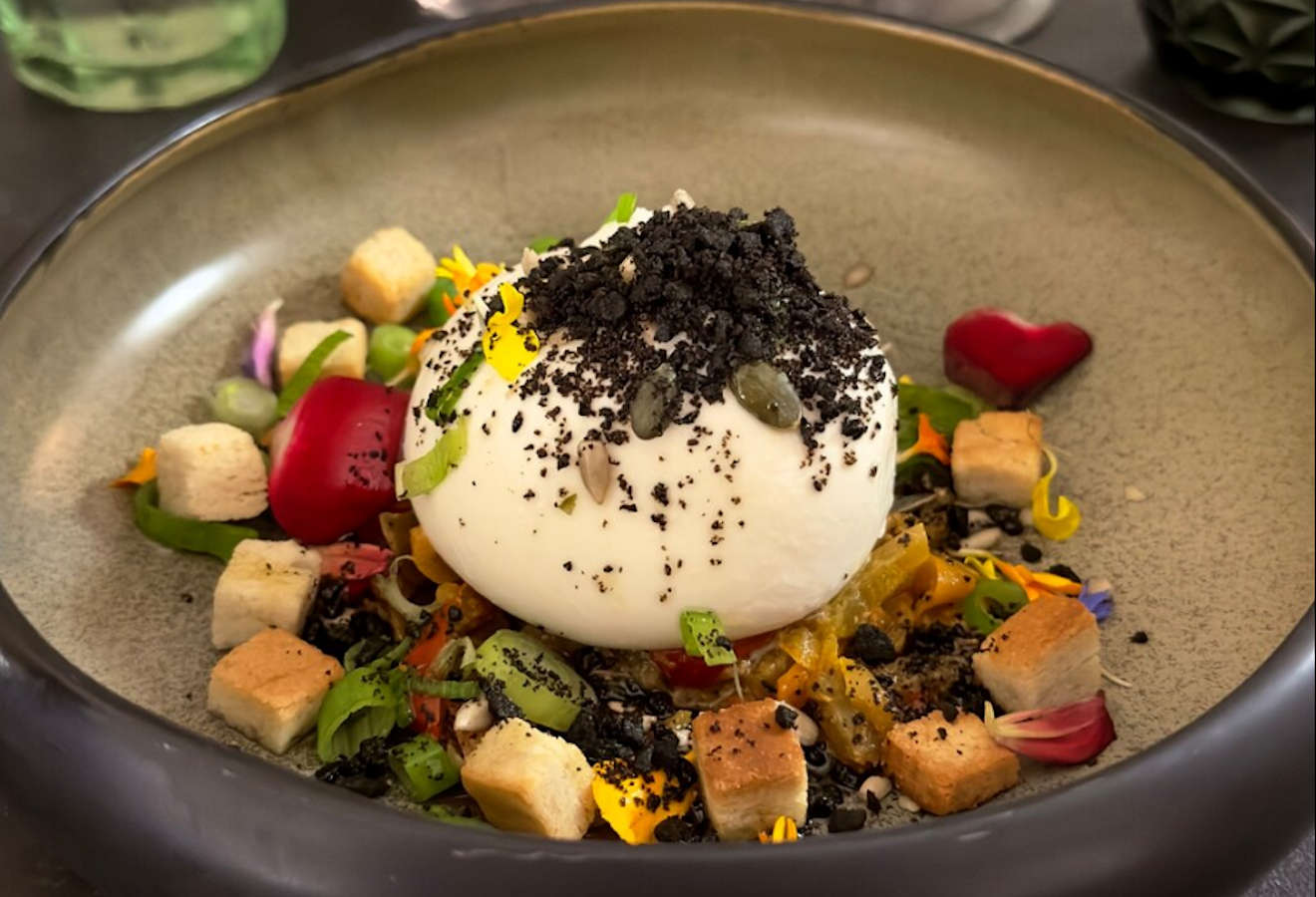 This is a place for top nosh in Carcassonne and each plate comes beautifully decorated. The surprising thing is that it is not too expensive either. The main courses are about €20-25 euros (which you can't complain about). There are a couple of tables out on the pavement outside and 3-4 inside on the ground floor. But the best tables are downstairs with the vaulted stone ceiling.
La Table de la Bastide restaurant is located right in the centre of Carcassonne at 55 rue Aime Ramond, 11000, Carcassonne France. For reservations call +33 6 01 40 63 86 or visit the website (Table de la Bastide).