Last updated on .
Hits: 9902
Best restaurants Carcassonne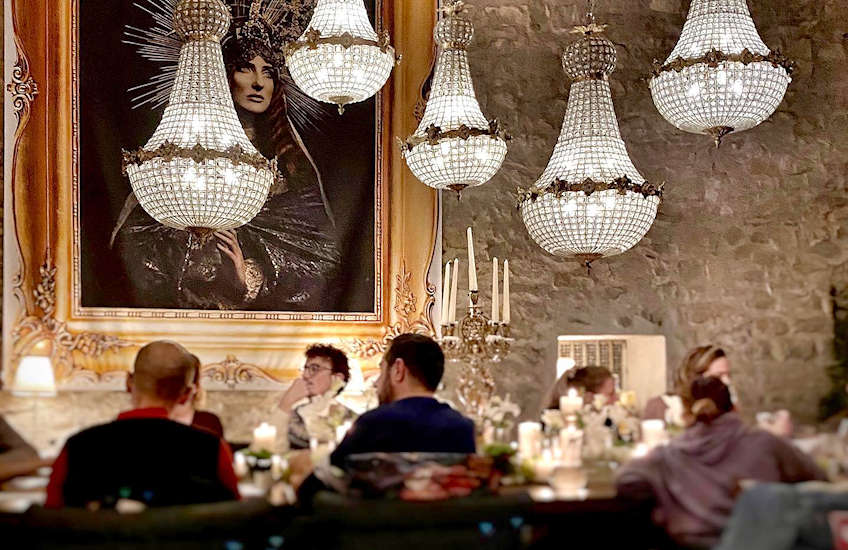 If you are coming to Carcassonne on vacation and you want some tips on the best restaurants in Carcassonne to eat, we have selected some of the best restaurants in Carcassonne's medieval city and in the town itself. The cuisine in Carcassonne and the Aude region leans heavily on authentic local produce. Carcassonne is reputed to be the best place to eat the famous Languedoc dish of Cassoulet. Cassoulet is a hearty stew made from white beans, duck and sausage is a proud feature of many restaurants. But you will also find a wide range of fish dishes (river trout especially) and a good use of seasonal organic vegetables.
Best Carcassonne restaurants: Chez Saskia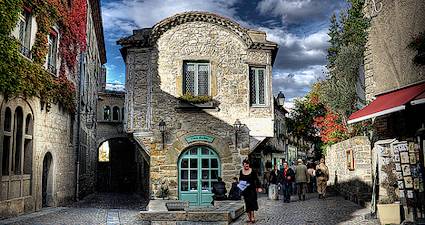 This little restaurant next to the Hotel de la Cité inside Carcassonne's castle walls, offers classic French dining. Here you will find a proper cassoulet (not the poor imitations cooked up down the road). Other dishes that feature on the menu include lemon sole in beurre blanc and faux filet in a pepper sauce. The walls are covered in photos of the famous faces who have stayed at the neighbouring hotel, including Jacques Chirac, Winston Churchill, Yves Montand and many more. This restaurant inside Carcassonne's medieval city is open 7 days a week during the summer, but it is closed on Tuesday & Wednesday outside summer.
Chez Saskia
: Address: place Auguste Pont, La cité, 11000 Carcassonne. Tel: +33 4 68 71 98 71.
Best restaurants Carcassonne medieval city: La Marquière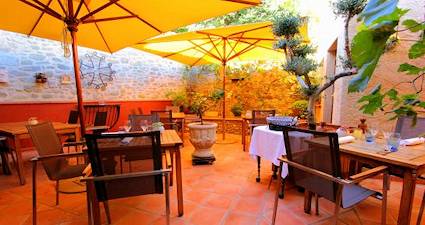 I have never eaten here, but friends of ours reckon that it is the pick of the restaurants in Carcassonne's medieval city. This family-run bistro serves classy, beautifully presented French cuisine in an old shuttered Auberge. The head chef is Marius Bernard, who has run this Carcassonne restaurant since 1985. Inside, the restaurant contains the original wooden beams and fireplace. The menu at La Marquière contains many regional dishes such as cassoulet, duck breasts, fillets of Charolais beef, salmon and trout tartare with ginger and citrus, or a Bourride of monkfish on crushed tomato toast. When our friends went they both had the Foie gras Raviolis with mushroom ceps sauce which they said was sublime. The restaurant has a huge wine list and it is supposedly the best wine cellar in the region. There is a really nice courtyard which is a great place to sit from April through to October. This restaurant is closed on Wednesdays and Thursdays out of the summer season. During the summer La Marquière is open from 12.00-2.30pm & 19.00-10.30pm.
La Marquière restaurant:
Address: 13 rue St-Jean, La cité, 11000 Carcassonne. Tel: +33 4 68 71 52 00. Website:
www.lamarquiere.com
Restaurants in Carcassonne: Cuisine Jardinière de Saisons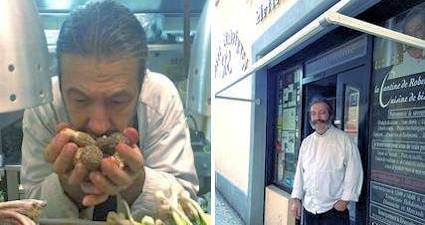 Robert Rodriguez' restaurant in Carcassonne is described in the Michelin guide as "An authentic bistro, friendly and beautifully retro. The chef prefers to use organic products and dishes are very generous and indulgent (cassoulet, pies, etc.). In short, we enjoy!". Well you can't get much better praise than that. If you are looking for authentic French cooked food in an environment that is, well, shall we say eclectic!, then this is worth a shot. The chef has a huge mustache (and I mean huge!) and the restaurant is full of retro antiques and old French singers playing on the stereo. Robert Rodriguez loves his Languedocien cuisine, so the menu contains plenty of meat, fish and game served with a dash of Michelin flair. Robert Rodriguez uses only organic, locally sourced, pesticide-free produce. He also runs a grocery opposite. Closed Wednesday & Sunday evenings.
Cuisine Jardinière de Saisons
: Address: 39 rue Coste Reboulh, Carcassonne. Tel: +33 4 68 47 37 80; Website:
www.restaurantrobertrodriguez.com
Other recommended Carcassonne restaurants:
Carcassonne restaurants: Auberge du Chateau
Auberge du Chateau is located close to Carcassonne in the village of Cavanac, near Carcassonne golf course in the direction of La Cite. Take the road to St.Hilaire and Cavanac. When you reach Cavanac take the first turning on the left and follow the road through the village until you will see the iron gates of the chateau. There is a set menu for 44.00€. This includes, as much red/white/rose wine you can drink, 5 courses, an aperitif, coffee/tea and night cap. If you fancy a very special treat then this is a lovely place to go. In summer we would recommend you dine on the terrace. They are closed Mondays.
Auberge du Chateau: Address: Cavanac, 11570 Carcassonne. Tel: +33 04 68 79 61 04
If you're visiting Carcassonne be sure to spend an evening at the beautiful "La Table du Vatican"

Gorgeously decorated, perfect service, heavenly food, crystal chandeliers, candles everywhere and a piano on the loo...
Stunning restaurant, highly recommended
Restaurants in Carcassonne: Le Clos Occitan
This Carcassonne restaurant is based in the centre of city. Le Clos Occitan restaurant specialises in traditional French cuisine. It is not cheap, but the food is excellent. An average meal for two costs in the region of 80€ including a bottle of wine. The courtyard is very romantic and the food is excellent.
Les Clos Occitan
: Address:
68, boulevard de Barbés, 11000 Carcassonne. Tel: +33 04 68 47 93 64
Carcassonne restaurants: Le Trivolou
Placed just below La Cité, in the centre of Carcassonne, Le Trivolou restaurant is a cheaper alternative to some of the restaurants located actually in the castle. Good, reasonably priced French cuisine. Menus from 18€ and special lunch at 12.00€. Closed Monday and Tuesday.
Le Trivolou: Address: 69 rue Trivalle, Carcassonne. Tel: +33 04 68 71 23 11.
Restaurants Carcassonne: Jardin en Ville 5
This restaurant is situated in the lower part of Carcassonne. The price for a meal for two is about 45€-50€. All food is sourced from local producers. This is the only restaurant who offers a good vegetarian menu. There is also a shop where you can buy retro-style ornaments etc. Great place to spend an evening. Open from Tuesday to Saturday, lunchtime and evenings.
Jardin en Ville 5: rue des Framboisiers,– Carcassonne. Tel: +33 04 68 47 80 91
Restaurants in Carcassonne: La Compte Roger
This restaurant is situated in the medieval castle of Carcassonne (La Cité). Prices start at 35.00€ for a three course meal. It has been beautifully decorated and the food is delicious. A bottle of wine costs about 16€ a bottle.
La Compte Roger:
Address: 14, rue St.Louis, La Cité, Carcassonne. Tel: +33 04 68 11 93 40