Last updated on .
Hits: 5831
Best Languedoc restaurants in Marseillan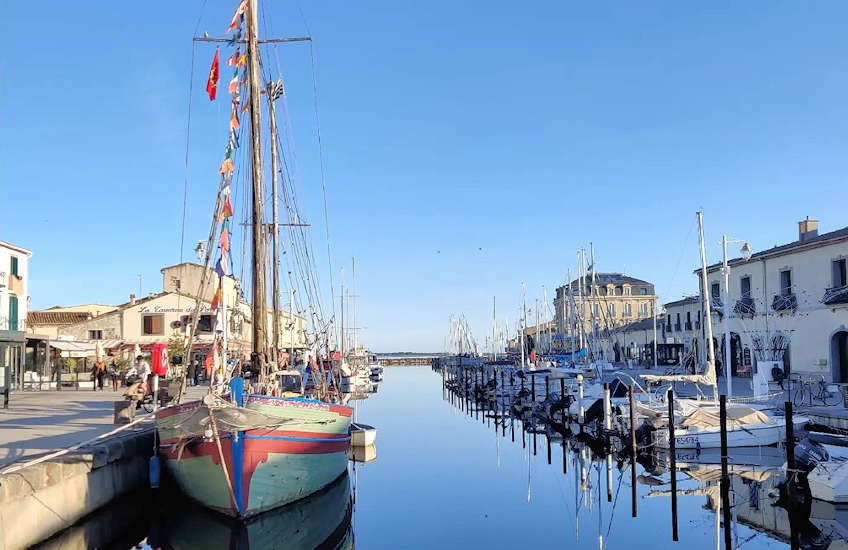 Marseillan is a lovely harbour town situated on the banks of the Etang de Thau, a salt-water lagoon, just 3kms inland from the Mediterranean coast. Marseillan is located in between Montpellier and Beziers on the South France coast and it shares the sea food harvest from the Etang du Thau, with the coastal towns of Sete and Meze and the fishing village of Bouzigues. The oysters produced in Bouzigues are famous throughout France and often feature on the menus of 5 star restaurants in Paris, Nice and Bordeaux.
Marseillan has a lovely port area where you will find many restaurants and cafes to sit and watch the world go by at the slow South of France pace of life. Marseillan is also the home of the Noilly Prat distillery and you can enjoy a short tour around the museum there. The museum has recently opened a new cocktail bar where you can plan your own cocktail drink, made to order by the helpful bar man.
Best restaurants in Marseillan France
Being so close to the sea and sitting on one of the best sea food lakes in France means that fish and seafood features heavily on most of the menus from the restaurants in Marseillan. But you will also find a good range of fresh local ingredients and meat-based dishes
A word of warning. Some of the restaurants around the harbour in Marseillan are real tourist traps. They are OK for a spot of lunch (salad, etc.), but not really worth spending money on a larger meal. Here are some of our recommendations of the better restaurants to eat at if you find yourself in Marseillan.
Table d'Emily, Marseillan restaurant Languedoc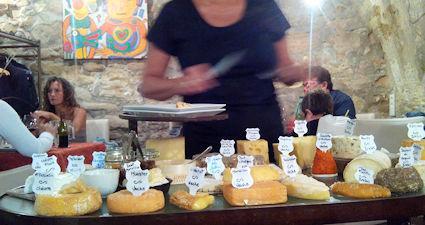 What a great little place this is. Tucked in the narrow streets in the heart of the port town of Marseillan, this restaurant was recommended to us by many friends who raved about it. It took us around 3 years to actually get to go there, but we were very impressed. The lunch time menus start from around €19 a head. We went full out and had the taster menu which was around €49. This menu combined oysters, St Jacques with Iberico ham, duck, beef and chacuterie in a never ending series of dishes. The wine is pretty good but a little on the dear side. We took a bottle of Picpoul de Pinet, followed by a Saint Chinian wine. But the most amazing thing is the cheese board. I thought that I had died and gone to heaven.
Table d'Emily is located at 8 place Carnot, Marseillan. Tel: 04 67 77 63 59. I would advise you to book ahead (certainly for the evening). The restaurant is closed during November and I think that it is also not open on a Tuesday (if memory serves me correctly). Table d'Emily seats around 50, with an extra 15-20 seats outside in the courtyard during the summer months.
I would say that Table d'Emily restaurant is probably one of the best restaurants in Marseillan.
La Maison de Camille, Marseillan restaurant/cafe, Languedoc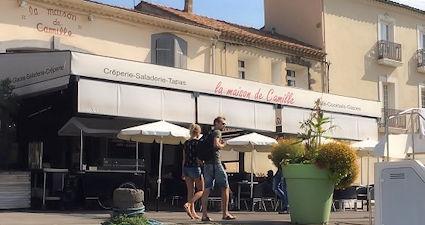 La Maison de Camile restaurant/cafe is run by very friendly people and is located right on the port side. The decor is very stylish and La Maison de Camille is a nice place to have a drink during the day or have a simple meal at night. We have only ever had drinks here and crepes for our boys, but I would like to try it during the evening. It would be a great place just to watch the world go by.
La Maison de Camille is located on Quai Atonin Gros, Marseillan, France.
La Taverne de Port, Marseillan restaurant, Languedoc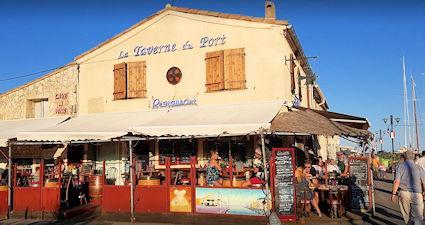 Now I have never been here and the main reason forthis is that whenever I go past La Taverne de Port, it is always jammed full (always a good sign). It is only a small place, but the atmoosphere looks good. The menu seems to lean towards fish and shellfish (which makes sense given you are sitting on the edge of the best oyster and mussel producing lake in France). Also, people we know in Marseillan say that you can always get a good bottle of wine here.
La Taverne de Port is located at 32 Quai Atonin Gros. It is advisable to book ahead if you are planning to go there for an evening meal (Tel: +33 (0)4 67 01 78 78, Email: This email address is being protected from spambots. You need JavaScript enabled to view it.).
Le Chateau du Port, Marseillan restaurant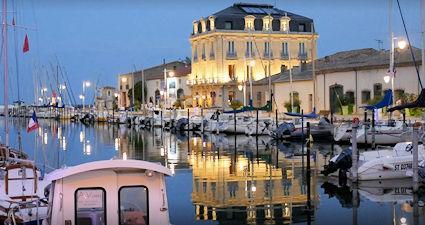 Friends bought us a meal here as a joint birthday gift. It was a few years back when we were really struggling for money whilst we were building up the website, so it was very much appreciated. I cannot remember much about it, other than the wine was extremely good and the food was a good standard, (but without being spectacular). The inside is very chic and it is located overlooking the port (on the quieter right side). We have friends who always go there and they say that they have never had a bad meal yet.
La Chateua du Port restaurant, Marseillan is located at 9 Quai de la Résistance. For reservations: Tel: +33 (0)4 67 77 31 67; Web: www.lechateauduport.com).