Last updated on .
Hits: 5870
Best Canal du Midi restaurants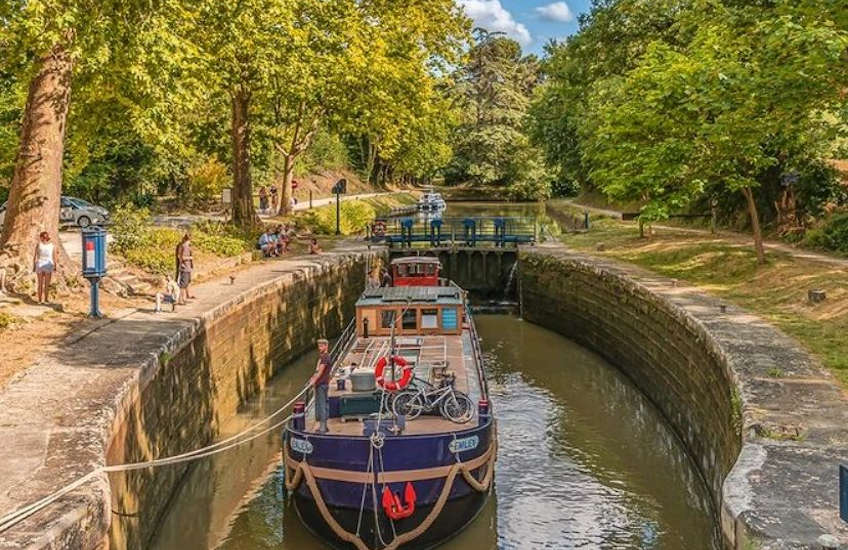 If you are visiting the Languedoc region on vacation and you are staying near to the Canal du Midi, we have selected some of the best Canal du Midi restaurants to eat at. The cuisine in the Aude department of Languedoc leans heavily on authentic local produce and season vegetables. The famous Languedoc dish of Cassoulet, a heavy stew made from white beans, duck and sausage is a proud feature of many restaurants. But you will also find a wide range of fish dishes (river trout especially) and a good use of seasonal organic vegetables.
Canal du Midi restaurants: Café du Port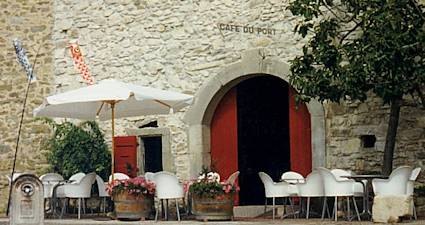 Café du Port is a very popular bistro on the banks of the Canal du Midi at Paraza. The restaurant specialises in home cooked food (don't expect a fast service as everything is cooked fresh in-house). The menu is Mediterranean and relies heavily on seasonal market vegetables and regional products. Café du Port Canal du Midi restaurant is open daily from Spring to October.
Café du Port: Address: 11 Rue du Port, Canal du Midi, 11200 Paraza, France. Tel: +33 6 28 82 80 42. Website: www.cafeduport.com
Canal du Midi restaurants: Auberge de La Croisade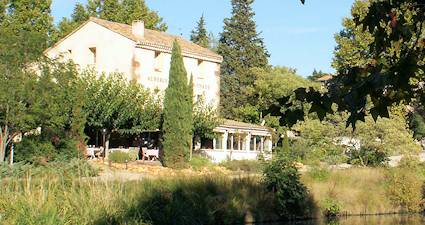 The renowned gourmet restaurant of Auberge de La Croisade is situated by the side of the Canal du Midi in the village of La Croisade. The Auberge offers a very good value leisurely lunch menu and the setting is top class with views across the valley of the Aude to the Pyrenees. The menu is surprisingly well priced and uses only fresh local produce. The wine list features many local wines from the Corbières, St Chinian and the Minervois. The head chef was trained at the Hôtel Crillon in Paris and at the Dorchester and Claridges in London. The Auberge is located in a converted Canal workers' building and was opened in 1993. You can either sit in the beautifully restored dining room or in the conservatory, overlooking the Canal. Druing the summer there is a shady terrace with fantastic views. La Croisade is a small village situated between the villages of Cruzy and Ouveillan. Auberge de La Croisade is located 17 km north of Narbonne, 23 km west of Béziers and 50 km east of Carcassonne. It is situated ninety minutes by boat along the Canal du Midi from Capestang or Le Somail, and can be reached on foot or by bicycle along the towpath from Capestang or Argellersd. The Auberge is open all year, apart from ten days in late November and three weeks in February. The restaurant is very popular with locals and you are advised to book in advance. The restaurant is open for lunch and dinner from Thursday to Sunday inclusive and closed ou Tuesdays.
Auberge de La Croisade:
Address: Port Sériège, Hameau de la Croisade, 34310 CRUZY. Tel: +33 04 67 89 36 36. Website:
www.auberge-de-la-croisade.com
Domaine Encairo, a local wine grower/sales outlet is directly opposite the Auberge de La Croisade by the canal bridge.
Canal du Midi restaurants: La Table de Roueire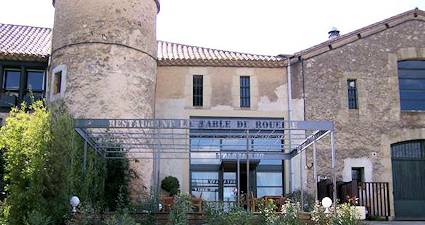 Another high end restaurant worth mentioning is the Table de Roueire; which is situated between Quarante and Capestang. The restaurant has a superb terrace overlooking fields towards Creissan, which is lovely for summer lunches. The head chef prepares daily menus made fresh on the premises and he is very skilled at combining wild flowers and herbs in the dishes. Table de Roueire is open daily 12.00 am – 10:30 pm
La Table de Roueire:
Address: Domaine de Roueire, 34310 Quarante. Tel: +33 04 67 89 72 68. Website:
www.latablederoueire.com
Other places nearby:
There's a super bar in Quarante, Bar le 40, which is very popular with locals and tourists alike. Cheap and cheerful, but also a good range of grilled meat and fish dishes.
In the beautiful village of Poilhes, situated on the banks of the Canal du Midi, there is a new wine bar opened which is very popular and there is also a Tapas Bar featuring wine tastings and a great place to hang out for a lazy afternoon by the banks of the Canal du Midi!