Last updated on .
Hits: 5314
Best Beziers restaurants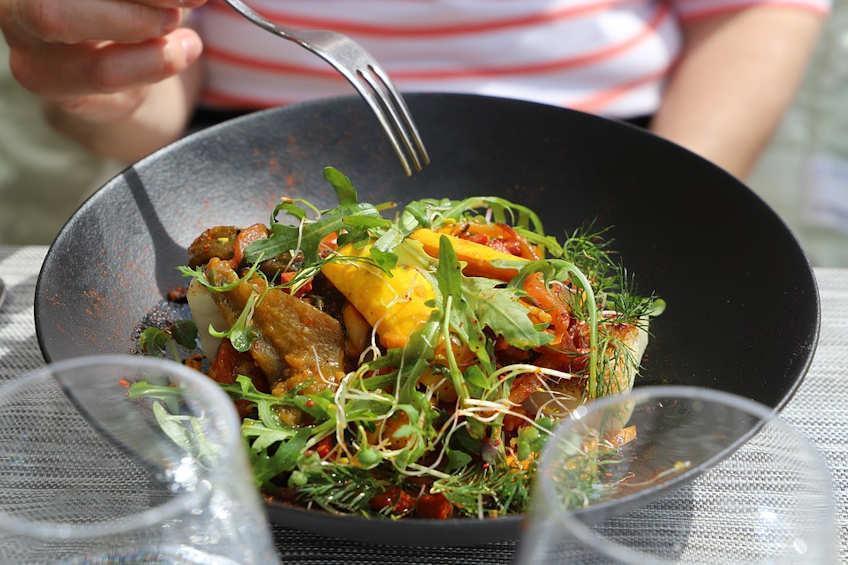 When I started writing this article I was thinking that Beziers is a bit of a wasteland for good restaurants. But the more I thought back to some of the good meals I have had in Beziers and did a little bit of research; I actually realised that as long as you choose carefully, you can eat pretty well in Beziers. Beziers is currently home to two of the best Chefs in Languedoc (Piere Augé at Maison Petit Pierre and Fabien Lefebvre, who runs L'Octopus in Beziers).
Restaurants Beziers France
The problem with the restaurants in Beziers (and a lot of Southern French towns) is that there is an awful lot of pretty mediocre restaurants. We have a couple of French friends that run restaurants and what they tell us is that the 35 hour week really hammers restaurants. The kitchen staff only have the time to either do the starter and main meal prep, or to do the main meal and desert. There is simply not enough hours in the day for them to prepare the whole meal. So what basically happens is that most of the deserts are bought in or some of the dishes are made from vacuum-packed bags. The other problem that restaurants in South France face is the impact of the tourist season. There is a massive spike in trade during the summer months and then during the winter and autumn, the restaurants have to slim down and lay-off staff. The hotel and restaurant staff in France are also impacted by the peculiarity of the French social security system. There is actually an in-built disincentive for them to work on a full time annual contract. They can earn more money on "chomage" (unemployment benefit) during the winter months, than they would recieve on reduced hours working in a restaurant. You can't blame the staff, you can't really blame the restaurants - but the net effect is that most restaurants do not build up a settled team of people. This is part of the reason the Socialist government in France have tried to introduce some (pretty timid) labour reforms to make it easier for businesses to average out the 35 hour week across the year. I expect that the Macron government will take these reforms further.
Best Beziers restaurants
Anyway, enough of French politics, let's get down to food. I have listed below 5 restaurants in Beziers that are worth checking out. I have eaten regularly at 3 of them, the other two come from recommendations from two of my wife's friends who are active members in the Ladies in Languedoc group (or 'Lushes in Languedoc' and 'Ladies at Lunch' as I shamefully refer to them).
#1 Best Beziers restaurants - La Maison de Petit Pierre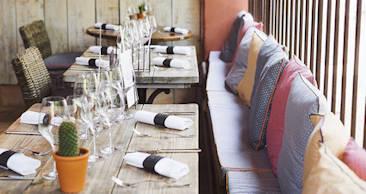 The Petit Pierre restaurant, Beziers, first came to prominence when the Chef and patron, Pierre Augé, won the Top Chef TV title in France in 2010. Top Chef is the French equivalent of Masterchef. Augé has since gone on to win this coveted title 3 times, this most recent victory being in April 2016. What is perhaps surprising is that Augé has yet to achieve a Michelin star, but this is sure to come soon.
What is surprising about Petit Pierre when you visit it, is that it is not the sort of stuffy, formal restaurant you may expect. It is relaxed and friendly. The waiters are very knowledgeable and will always stop for a chat and discuss the dishes with you. The seating for the restaurant is mainly in the patio garden, with vines hanging down, parasols and distressed wooden tables. Inside you have wooden chopping boards hanging on the walls and plenty of colourful cushions.
Lunch at Petit Pierre starts from around €15 and Dinner ranges from €40-€70. There are 4 menu choices: €15, €23 (the three course lunch menu), €40 and €70 (which includes 6 courses + amuse bouche). You will find the Petit Pierre restaurant at 22 Avenue Pierre Verdier, Beziers, France. This is very close to the Bullfighting arena in Beziers. For reservations pleases call : +33 4 67 30 91 85 or make a reservation through the restaurant website: Petit Pierre. For more information on the Petit Pierre restaurant, please see our article Maison de Petit Pierre.

#2 Restaurants in Beziers: L'Octopus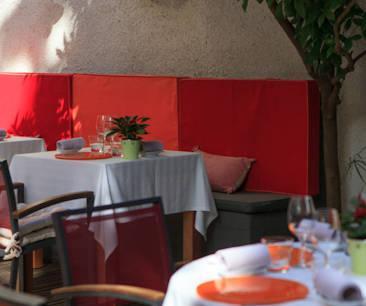 L'Octopus restaurant is now the only Michelin star restaurant in Beziers, after the L'Ambassade restaurant in Beziers lost its Michelin star in 2015. L'Octopus restaurant is run by Fabien Lefebvre, who achieved his first Michelin star award in 2008. Chef Lefebvre is a native of Beziers who was taught to cook by his grandmother in nearby Valras. After training in Cote d'Azur and at the Hotel Bristol in Paris, Lefebvre purchased L'Octopus in 2004.
The Michelin guide describes L'Octopus as "beautiful Fine dining in the heart of Beziers, delicious seasonal cuisine, superb seafood and fish, accompanied by a nice selection of wines. Warm, contemporary decor and lovely terrace to boot!".
The starters at L'Octopus restaurant in Beziers feature Shellfish tempura with an avocado, grapefruit and sweet-chili vinaigrette; Marinated red tuna with spring vegetables; and the two signature dishes of Avocado gazpacho and Bouzigues oysters and vodka sorbet lemon. Fish is a particular speciality of L'Octopus restaurant and includes Roasted Lobster with a fennel sangria; Roasted turbot with veal juice vinegar accompanied with a spinach and apple soufflé; and the most famous dish of all (which sealed the Michelin star award): Seabass cooked in a citron vapour with golden octopus and artichoke ravioli. The meat dishes at L'Octopus include Roast veal with fragrant rice and pea rissoles and Lamb of Aveyron with burnt Aubergine (eggplant).
You will find L'Octopus restaurant at 12, Rue Boieldieu, Beziers, Languedoc-Roussillon, France (which is just behind Allees Paul Riquet). For reservations please call +33 04 67 49 90 00 or email L'Octopus restaurant.
L'Octopus restaurant is open Tuesday to Saturday (closed Sunday and Monday. For more information on L'Octopus restaurant, Beziers, please read our article on Fabien Lefebvre and L'Octopus.
# 3 Bezier restaurants: Le Taj Mahal, Indian restaurant Beziers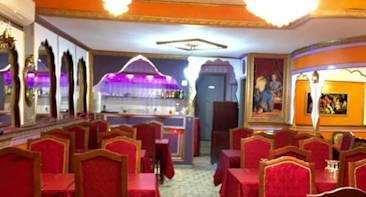 This is our treat whenever we visit Beziers. Le Taj Mahal is the nearest you are going to get to a British Indian restaurant in South France. The food is reasonably priced, the waiters speak French and English, they serve Indian beers and the decor is authentic Indian restaurant style. The Taj Mahal also do deliveries within a 25-30km radius and it is surprisingly cheap (you get a reduction on the delivery charge the more you order). We have tried all our favourites at the Taj Mahal: Lamb Rogan Josh, Chicken Tikka Masala, Prawn Bhuna, Chicken Korma and Chicken Jalfrazee. All are cooked well and the flavours take me back to the curry mile in Rusholme Manchester. The co-owner and head waiter at Le Taj Mahal, is a very nice lad and he always spends time chatting away. If I could make just one request though: please put popadoms on the menu!!
You will find Le Taj Mahal restaurant at 8 Boulevard de Starsbourg, Beziers, France. This is actually a small side street off Avenue Georges Clemenceau, the main route into Beziers from the north of the city. It is 4 blocks before the main round about at the top of Allees Paul Riquet. For reservations or a take away order please call +33 4 67 77 76 17.
Le Taj Mahal restaurant is open from 11.30am to 11.30pm daily. For more information please see Taj Mahal Indian restaurant Beziers.
#4 Johny's Bar - La Charniere restaurant Beziers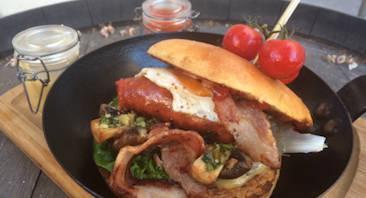 Right this is not a fine dining restaurant at all. But if you want simple, good tasting food, washed down with a nice beer or glass of wine, then La Charniere in the centre of Beziers is the place to go. La Charnier is run by a former Bezier Rugby player, Johnny Howard. The term charnier is used in Rugby to describe the No 9 (Scrum-half) and No 10 positions (Fly-half) - of which Howard was a fine exponent, playing for Northampton, Bayonne and Beziers. He is also a really top-guy, always got a smile on his face and always spending time to chat with the customers. We take our boys to La Charniere because they love the gourmet burgers. I love La Charniere because it is the only place to get a decent beer in the South of France!
In the rugby-mad town of Beziers, La Charniere is the perfect place to hang-out and watch the 6 Nations rugby tournament.
You will find La Charnier at 22 Place Jean Jaurès, Beziers, France (which is just next to La Poste in the heart of town). For reservations, please call +33 (0)4 67 36 83 10 or +33 (0)6 82 61 34 73 or by email to This email address is being protected from spambots. You need JavaScript enabled to view it..
#5 Best restaurants in Beziers: La Chameau Ivre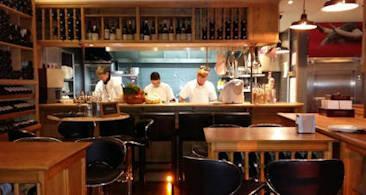 Strictly speaking this is more of a tapas bar than a restaurant, but La Chameau Ivre does serve up some excellent food, especially at lunchtime. Situated at the top end of the central square in Beziers, La Chameau Ivre is really what has been missing in Beziers for so long. A cool place to hang out, drink good local wine, listen to some music and taste some well-cooked local dishes. Just around the corner from La Charniere, these two bars are combining to bring back people into the city centre of Beziers during the evening. The bars and restaurants along Allees Paul Riquet should be the places to go, but they are just tourist traps. I remember once talking to an elderly lady who had lived in Beziers for most of her life. She told me that in the late 1950's and 1960's, Beziers was THE wealthiest town in the South of France and it was simply beautiful. Then in the 1980's and 1990's Beziers steadily declined and when we arrived in France in 2006, Beziers was not a place you wanted to visit, even (and especially) during the famous Beziers feria. But Beziers recently seems to have started a process of renewal and I think in 10 years time it will become what it should be: a safe, lively, friendly and fun town to visit. But anyway, back to La Chameau. The bar has a reputed 3,000 bottles of wine from all over France, but with a heavy slant towards the Languedoc. The tapas food is primarily local dishes, which is presented very well. It is also not the stingy portions that you often get at tapas bars. The service can be a bit so-so, we waited quite a long time for our meal. But overall, I would rate it.
You will find La Chameau Ivre at 15, Place Jean Jaures, Beziers, France. For reservations please call +33 4 67 80 20 20 or email La Chameau Ivre.
Other Beziers restaurants
There are probably a couple of other restaurants in Beziers that should have made the Top 5 list, but either I have not visited them or from what I have heard they can be a bit variable. L'Ambassade restaurant was until very recently the place to go in Beziers. Located opposite the Train station, this used to be a Michelin star restaurant, but it loss its crown in 2015. La Raffinerie restaurant, down by the canal should be good given its nice location, but I have heard people rave about it and also complain. We had our Go Languedoc Xmas dinner at the Bistro L'Orangeraie, right in the heart of the old town of Beziers. I would say it was pretty good and it is in a lovely location down a side street running parallel to Allees Paul Riquet. The restaurant is upstairs and there is a wine bar on the ground floor. Not bad, but not spectacular either.