Last updated on .
Hits: 3853
Auberge du Vieux Puits, Michelin star restaurant, Languedoc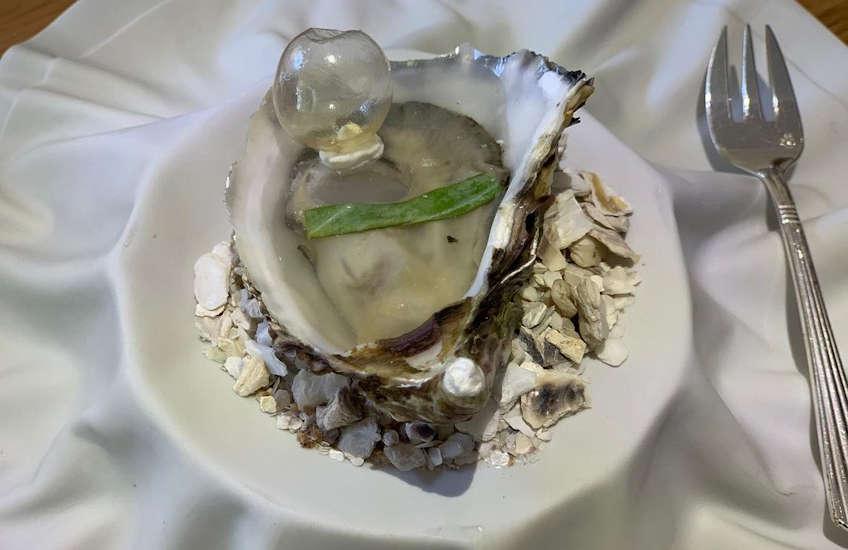 If you love excellent food and wine, then there can be no finer restaurant in the South of France as Auberge du Vieux Puits. This 3 star Michelin restaurant is run by the celebrated French chef, Gilles Goujon. I can not recommend this restaurant highly enough. The food, the service, the wine, the cheese . . . all were excellent.
We went taken to Auberge du Vieux Puits by a group of our french friends and we had an excellent day out. It must be the most bizare location for a 3 star Michelin restaurant. You head down to the Corbieres hills (exit A9 at Sigean). You then drive inland for about 15 minutes, you then turn of the main road and drive on a track for about 10 minutes, until you reach the small village of Fontjoncouse. Here you turn off the main road onto a side street and then onto an even small track. Then you will see the red doors of the restaurant. You almost feel that you deserve a good meal for just finding the restaurant in the first place. The scenary along the way however is very pretty.
3 Michelin star restaurant South France
A 3 star Michelin rating is defined as "excellent cooking, worth a detour" - and that basically sums up Auberge du Vieux Puits. You can either choose from the a la carte menu - but it is much better to go for one of the menu options. You get your own waiter who explains each course and usually a special sauce or accompaniment is served direct at your place. The chef himself also comes out to welcome you and to thank you for coming. The food is not nouvelle cuisine, but it is very ingenious and extremely well presented. I can not remember everything I had - there were about 6-7 courses, but the combination of flavours were amazing. Probably out of the 6 or so dishes 2 were "Wow!", 3 were "Good, interesting" and 1 was "what the hell was that?". But special mention must go to the "Chariot de Fromage" - there must have been over 40 cheeses on this trolley - all served by an expert Cheese Waiter. The Chariot is the size of a Smart Car.
Auberge du Vieux Puits - Example menu (93 euros)
Confiance et plaisirs canailles
Menu servi par table entière et pour un minimum de deux personnes
Tout changement aux menus sera facturé au prix carte
Tournedos de homard Breton de casier sur un embeurré de spaghetti, crème de corail et coulis de tomate acidulé.
&&&&
Loup de Méditerranée sur une tarte sablée au parmesan, concassée de tomates Marmande à la Provençale, pomme paille contemporaine et sorbet tomate basilic.
Tourte d'anguille, saoule de vin, en matelotte fumée, girolles et mousserons en fine croûte de pain « cramat ».
&&&&
Noisette de veau en croustille de pomme de terre et rognon rôti entier, réduction des sucs à l'estragon, coco girolle au beurre de ciboulette.
Poitrine de pigeon rôtie, pastis croustillant d'aubergines confites à la cannelle, Perrote de la Saint Jean safranée, une gastrique au miel de romarin.
&&&&
Chariot de fromages affinés surtout des Corbières… mais aussi d'ailleurs
&&&&
Sablé feuille à feuille de chocolat, Surprise de framboise et mousseux « Tannéa », Sauce choc o'thé et sorbet framboise.
Les Mignardises du Vieux Puits
Auberge du Vieux Puits - best restaurant Languedoc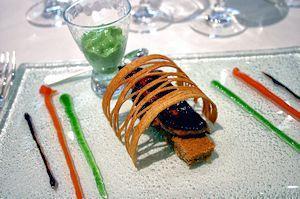 And the price? Well, when you go out with our French friends then you always come back sideways. Do not believe the lie that the French do not drink much. They pack it away quite happily. We chose the €105 menu and the wine we had was superb - probably the best white wine I have ever tasted. When the bill came I just closed my eyes and entered the pin number. When you have eaten that well, who are we to quibble with the bill.
The head chef is Gilles Goujon - a celebrated French chef. What I most like about M.Goujon is his waistline. After all, you know the old adage - never to "trust a thin chef". Well, I can assure you that you can indeed trust M.Goujon!
You will find the Auberge du Vieux Puits in the middle of the Corbieres Hills in the tiny village ofFontjoncouse. You best bet is to visit the website below and ask for directions. The restaurant is open most days (but I would be careful about going on a Monday, as this is the day that most restaurants close in France). We went on a Sunday afternoon and I think that the restauant is closed Sunday evening. It is often recommended to make a reservation at least 2 months in advance - but try giving them a call just on the off-chance if you are here on holiday. Website: Auberge du Vieux Puits restaurant Languedoc
Where to next . . . ?
Contact Iain by Email if you have any particular questions you would like to ask about visiting the South of France. If you liked the article then please share it with others using the Twitter and Facebook buttons below. I wish you a wonderful stay in the South of France.