Last updated on .
Hits: 2638
L'Auberge du Presbytere, Languedoc restaurant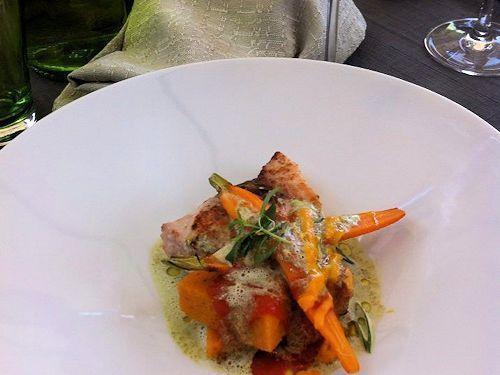 L'Auberge du Presbytere, Languedoc restaurant, has one of the most amazing views. It is located on a rocky outcrop in the hills above Roujan. The local village is called Vailhan and we often go here to swim in the lake that is below the village. We have also been to a Music Festival in the village (a very drunken night). It is a sleepy sort of village and you do need a map and compass to find it (it is about 5kms along country roads out of the back of Roujan). We took two of our sons here, just before I was going away on a work contract. It was the middle of August, the sun was shining and we were sat outside having fantastic food.
L'Auberge du Presbytere restaurant
The lunchtime menu at L'Auberge du Presbytere, Languedoc restaurant, is small, but you can easily find something that you like. All the produce is locally sourced and cooked very well. They tend to overdo the 'foaming' but the taste combinations are very good. Wine is the usual restaurant price. But the most interesting thing that happened was that I was stung on the underside of my foot by something (it must have been a hornet) and then when I was on the plane the next day my foot swelled up like I had Elephantitus. I do not know what they feed the bees and wasps in Vailhan, but it must be good. So all in all, I would recommend this place for a treat. I think that it would also be very nice to go here in the evening (less killer hornets around at night).
L'Auberge du Presbytere, Languedoc restaurant
L'Auberge du Presbytere is located at 1 Rue de l'Eglise, 34320 Vailhan, France; Tel: +33 4 67 24 76 49. The restaurant is quite well sign-posted when you get into Vailhan. Just head for the church.