Last updated on .
Hits: 2521
10 Best beach bars & restaurants in South France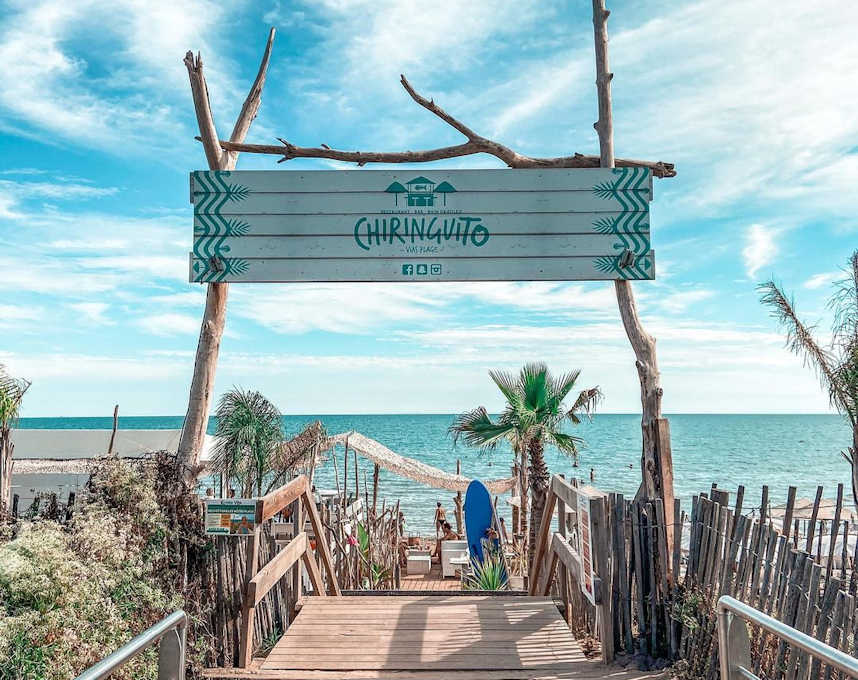 Here is a selection of the best beach bars and restaurants in South France to visit in 2023. The list includes many restaurants on the beach that we have enjoyed visiting in recent years in South France. We have traveled up and down the South France coast over the years and this selection of beach bars covers the French Riviera coast and the Languedoc coastline down to Spain.
These French beach restaurants range from high end fine dining restaurants overlooking to sea to beer and flip flops shacks on the beach.
10 best beach bars/restaurants in South France
For me, a great beach bar can be summed up in a number of phrases - Mojitos, ice-cold beer, chilled out music, driftwood, denim shorts and bikini tops, shade, cheerful bar man, people-watching,
You are never going to go to a beach restaurant for fine dining and I think some of worst beach bars tend to have an over-elaborate menu. They just need to keep it simple - salads, nachos, moules et frites, seiche a la plancha, fresh fish and local ingredients.
A lot of the beach bars in South France are effectively pop-up restaurants. The Owners have to remove every single plank from the beach in October and then re-build the whole thing again in April. A recent French law was passed which has actually tightened these regulations even further. The aim was to free up more beaches for public access.
If you have ever been to places like St Tropez, Theoule-sur-Mer or Cannes, you can sort of understand this because the best sections of the beaches are mainly private. You either have to be eating at the restaurant or pay to enter a beach club in order to use the beach. Whilst it used to be that 70% of the beach had to be available for free public access, this has now increased to 80%. The result is that more pressure is applied to the private beach clubs to be temporary structures. As a consequence, with a lot of the beach bars you often get a 'driftwood-overdose' or "Shack-attack". The bars feel thrown together, because in reality they are.
I don't have a major issue with this and it is quite cool sometimes to have a barefoot meal on the sand. But I think if you are paying €35 a head for a meal, you don't want to feel that you are on a picnic with your chin resting on the table and your chair sinking ever-deeper into the sand.
#1. Les Vagues beach restaurant, Grau d'Agde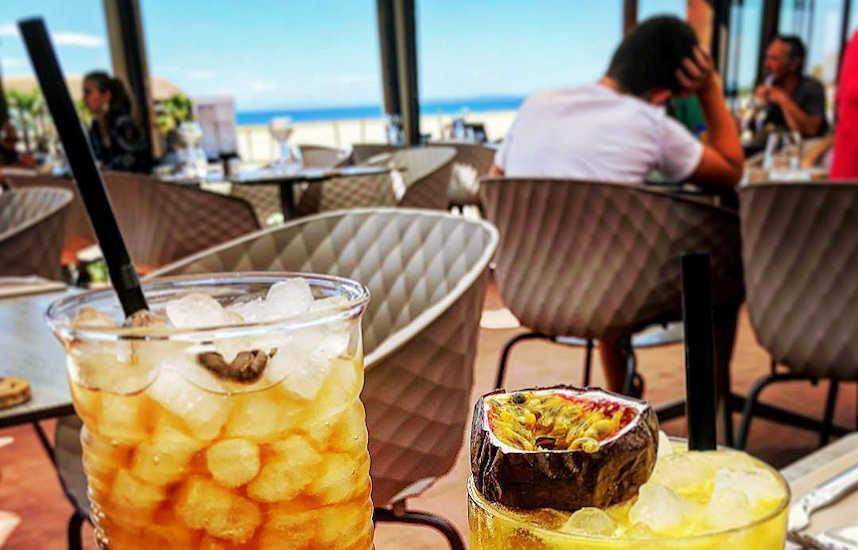 I stumbled across Les Vagues one Sunday morning in March. I was walking along the beach from Grau d'Agde harbour over towards the resort of Cap d'Agde. The sea was completely calm, the sun was shining and there was blue sky overhead, but it was biting cold. In the distance I could see what appeared to be a Thai-style straw hut stuck on the beach. As I drew closer, not only did it turn out to be a bar-restaurant right on the beach, but amazingly it was also open. So we all popped in for a hot chocolate while gazing out over the sea. And so began my love affair with Les Vagues.
Over the years we have been back to Les Vagues many a time and we used to make a regular pilgrimage on my birthday each year. Whenever we had family or friends over, we always used to make a special trip down to Les Vagues and everyone loved it. You see the thing with Les Vagues is not only is it a really cool bar to hang out in, but it also happens to be one of the best restaurants in the area as well. The restaurant menu is always really interesting, with a South Asian twist on some classic French dishes like St Jacques, Duck breasts and Monkfish skewers.
I think that one of the things which makes the difference with the atmosphere of the Les Vagues, is that the beach restaurant is actually a permanent structure.
Some of the beach bars have found creative ways of creating a cool and stylish restaurant experience (see some of the examples below). With Les Vagues, there is no pretence. You are in a restaurant, which happens to be on the beach. There are solid hardwood floors. Large windows provide panoramic views over the beach (but can also shelter you from sand storms if the wind picks up). The staff are all immaculately dressed. There are proper toilets. The huge ceiling fans hanging from the large beamed roof, provide a gentle cooling breeze. In short, you feel that you are somewhere special.
There is a full à la carte menu at Les Vagues and a 3 course menu with wine will probably set you back about €40-50 per head. After a couple of years of eating at Les Vagues fairly regularly, we found that it was getting more and more expensive, so we restricted our visits to special occasions. However, having said that, you can always order a beer and a really tasty Burger de Maison for around €15.
Les Vagues does get very busy during July and August and you are well-advised to reserve a table, especially if you want to be right at the front near the big windows. Whilst the beach bar is open throughout the day, the restaurant service is open between noon and 14.00 and then again from 19.00 till midnight. They don't exactly chuck you out of your seat at 14.00. In fact they are more than happy to let you sit there whilst you finish off your wine.Then you can head down to the beach to sleep it all off.
You can also hire a sunbed for the whole day, and order drinks to be brought to you. Alternatively, you can just stretch out for free on the wide beach or go paddling with the kids in the shallow sea and then pop back to the shaded beach bar for a beer or cocktail. The beach and the sea near Les Vagues is very safe and we always used to encourage our kids to head down to the beach after they had finished eating. You always have a clear sight of them before they inevitably started fighting over who has the spade. But for 15 blissful minutes you could sit at the table nursing your last glass of wine and re-imagine what life was like before kids!
Les Vagues Beach restaurant
Address: 124 Chemin du Littoral Prolongé, 34300 Agde
Phone:04 67 39 08 63
Alternatively, visit Les Vagues facebook page for more information and the latest menu.
#2. Les Voiles beach bar, Portiragnes Plage, France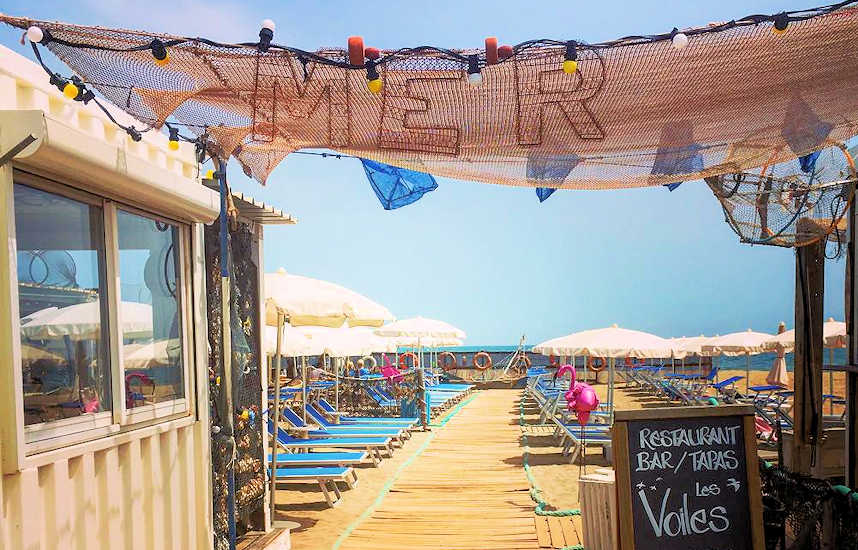 Often good food and beach bars don't go hand in hand. Either the food is over-priced for what it is or the dishes simply come about from opening a packet of salad and throwing in a few ingredients. The exception to this is Les Voiles beach bar at Portiragnes Plage, near to Beziers in South France. This is a pop-up restaurant right on the beach at Plage Ouest in Portiragnes Plage is fully dismantled every October and then reconstructed piece by piece every April. The main restaurant kitchens are constructed from reclaimed shipping containers. The rest of the restaurant has a relaxed chilled-out feel. There is a section of sun beds next to the cocktail bar and the sea is just 30m away across the golden sand.
The specialty at Les Voiles is fish - although you can also find steaks, duck, burgers and vegetarian dishes on the menu. But the fish dishes are the stand-out items. Not just because they are cooked really well, but because they also come with interesting sauces and accompanyments.
Les Voiles is our favourite beach restaurant to visit when we have guests over in the area. We always try and tie it in with a trip to Beziers airport (either to pick up family and friends or to end their stay with a great last meal). It never disappoints and this year was even an improvement on last, which is saying something. We were a party of six and all had great food, efficiently served in the perfect position overlooking the beach. The fish and seafood is fantastic, but they do other options well too! Great value for a super meal, thank you.
It's a lovely rustic restaurant on the beach with great views of the sea. It can be very hot, so advice is to sit inside and book the table as soon as you arrive. They have a good selection of fresh fish on display too .... also, a tapas bar next door. If you are unsure about fish, the fish and chips is always a safe bet - fresh fish goujons. I don't want to give the impression that they only serve fish because they do have other stuff ... especially for children. Anyway, if you are in the area, please give it a go, you won't be disappointed.
Les Voiles beach bar Portiragnes South France
Address: plage ouest, 34420, Portiragnes, France.
Facebook: Plage les Voiles
#3 Best beach bar South France: Tahiti Plage St Tropez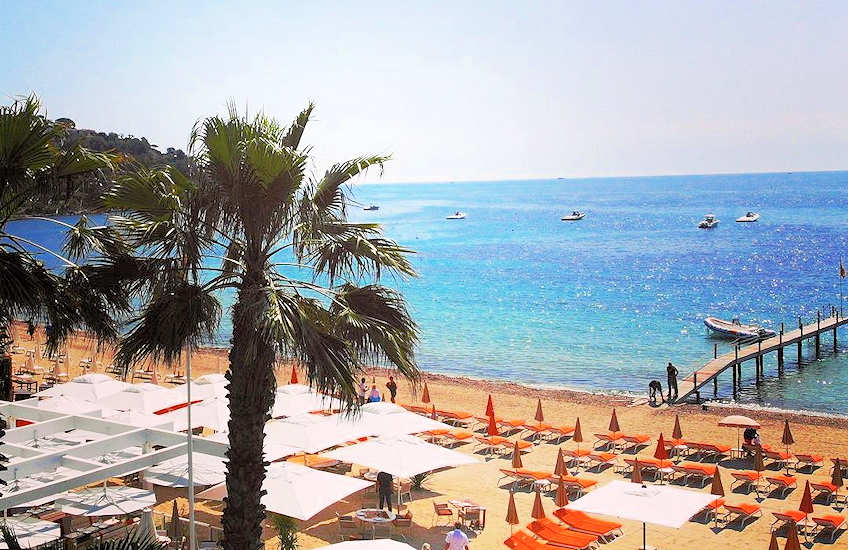 We first went to Tahiti Plage about 20 years ago. It sticks out in my mind for 2 reasons.
The first was the endless procession of helicopters taking A List celebrities off a large yacht moored out in the bay and dropping them in the car park at the back of the Tahiti Plage beach bar.
The second reason is much more tragic. It was 11 September 2001. A waiter rushed over to us thinking that we were American. He told us that Manhattan was on fire. I will never forget that.
Tahiti Plage is a private beach club located on the Southern side of the St Tropez pennisular. We found it completely by accident because it was the only place that we could find a parking space close to the beach. Tahiti Plage is a small sandy beach which is ringed by pine trees at the rear.
It has been a few years since we have been back to Tahiti Plage, but it remains one of my favourite beach bars. You get such a great mix of people - from poor folk like ourselves to rich actors and hyper-trendy twenty-somethings. Irrespective of who you are, the bar staff treat you the same and it is not really that expensive considering the location. I am not going to say you will have the best meal of your life here, but it will give you great memories.
You can find Tahiti Plage beach bar at:
Address: Route de Tahiti, 83350 Ramatuelle, France
Phone: 04 94 97 18 02
#4. Chiringuito, Vias beach bar, South France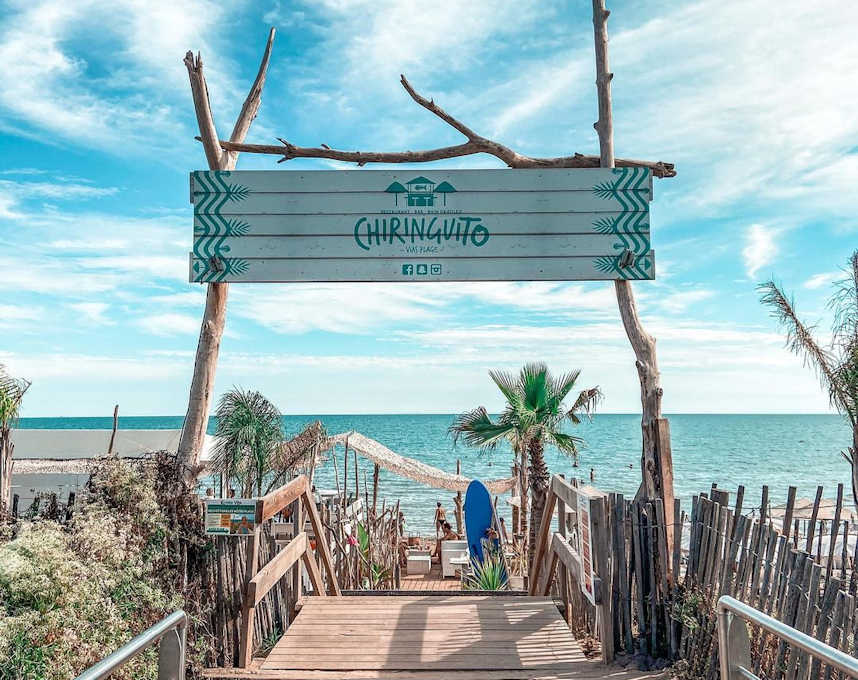 There is a great beach bar at Vias Plage called Chiringuito that is really popular with our French friends. The bar serves some excellent Mojitos and there is a simple but very good bar menu. You can also hire sun loungers or sit on the deck over looking the beach. The main restaurant is located on a covered terrace, looking down on the beach.
Vias Plage is a lovely beach located close to Beziers in South France. The shallow water makes it especially suitable for families.
We took my brother-in-law and his wife here last summer and I have to say that it was excellent. It was a baking hot day and we managed to get a table right at the front of the terrace, so we had the sea breeze to keep us cool.
For a small kitchen, Chiringuito manages to turn out some interesting plates of food. I had Sea Bass in a Thai dressing and the rest of the table had Burgers a la Maison, Steak and Confit Duck.
It is probably advisable to book ahead during the high season.
Visit Chiringuito beach bar Vias Plage for more information.
Address: Farinette plage 34450, Vias PLage, France.
Telephone: +33 06 74 94 62 21
#5. Les Pieds dans l'O beach restaurant, Marseillan Plage, France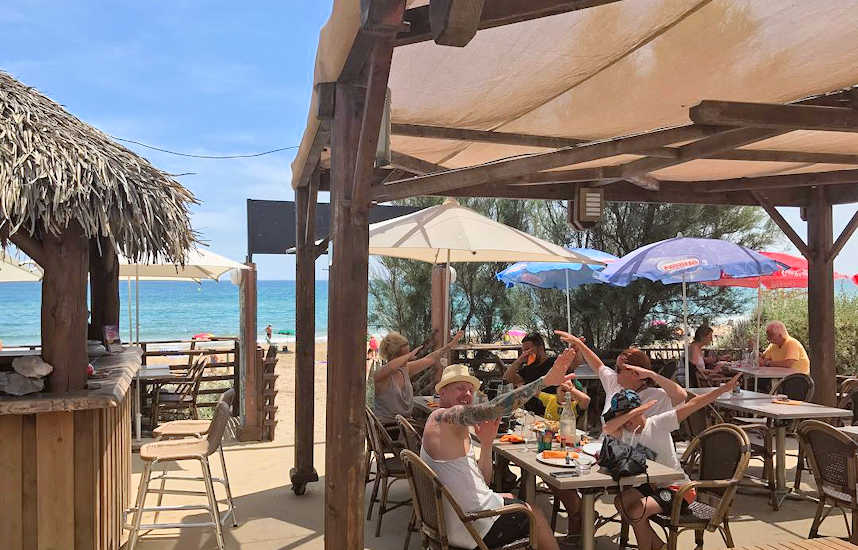 We went to this beach restaurant in Marseillan Plage just last week. We had a really lovely meal. They do the best Moules with curry sauce that I have tased in a long time and the salads are also excellent. My son had fresh Seiche (Cuttlefish) cooked on the plancha grill with a pesto sauce and he was very impressed with it. But the best thing we ate was the starter. My wife and I shared a baked Camembert. Well, that was amazing. It was baked with lots of olive oil and the base of the dish was lined with baguette, pesto and tomatoes. I still have the dribbles of oil and cheese all the way down my white linen shirt.
The restaurant is in a slightly elevated position above the beach, which is quite nice because you have great views. The best tables are next to the bar, because you literally look down on the beach, but there is also a large covered terrace to the side.
The restaurant is connected to a campsite at Marseillan Plage and it is basically always busy from April through to October. It must be a gold mine for the Owners. So I would certainly advise you to get there well before 12.00 noon, or alternatively book ahead.
Les Pieds dans l'O beach restaurant is located at 69 Chemin du Payrollet, 34340 Marseillan, France.
Telephone: +33 4 34 33 25 02
#6 Beach bars in South France: La Playa, Saintes-Maries-de-la-Mer, Camargue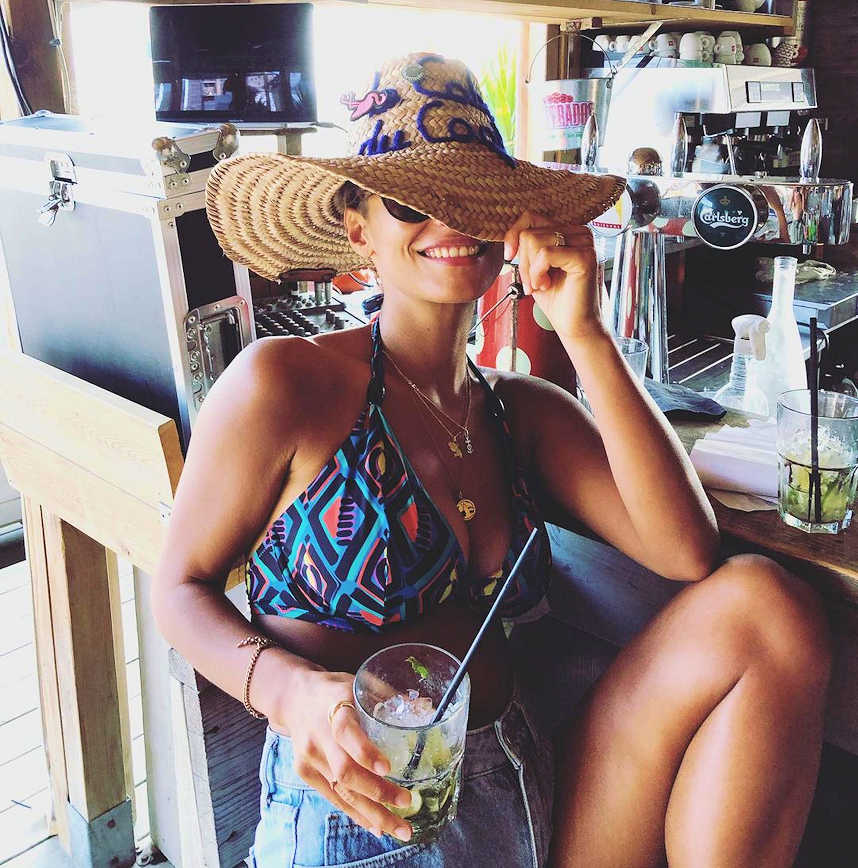 A 10 minute walk along the seafront at Saintes-Maries-de-la-Mer, you will find a really cool beach bar called La Playa. It is located on Plage Est in the town.
Saintes-Maries is an interesting place to visit. It is located on the Camargue coast, in Southern France and the area is famous for its pink flamingos, white horses and black bulls. Saintes-Maries-de-la-Mer is a small coastal town that for centuries has been home to fishermen who bring in their daily catches from the Golfe du Lion. There is an annual pilgrim festival in the town every summer which is held to celebrate the arrival of Mary Magdalene and the disciple Lazarus on their voyage across the Mediterranean.
La Playa is a lovely looking beach bar which is situated at the back of the beach. It has the standard deck flooring, distressed wooden tables and straw-matting awnings for shade. But what makes this beach restaurant stand-out is the heavy emphasis the menu gives to fresh local Camargue produce. All the fish is provided by the fishermen from Saintes-Maries, usually accompanied by local Camargue wild rice and vegetables.
I also love the sense of humour of the bar staff. They have created a special cocktail called a Trumpch, and dedicated to the US president. This is a blend of vodka, beer and lime and it is served with a small Barbie doll head in the top.
You can find La Playa beach bar at:
Address: La plage Est, 13460 Saintes-Maries-de-la-Mer,
Website: laplaya-en-camargue.fr
#7 L'Oyat beach bar, L'Espiguette Plage near Montpellier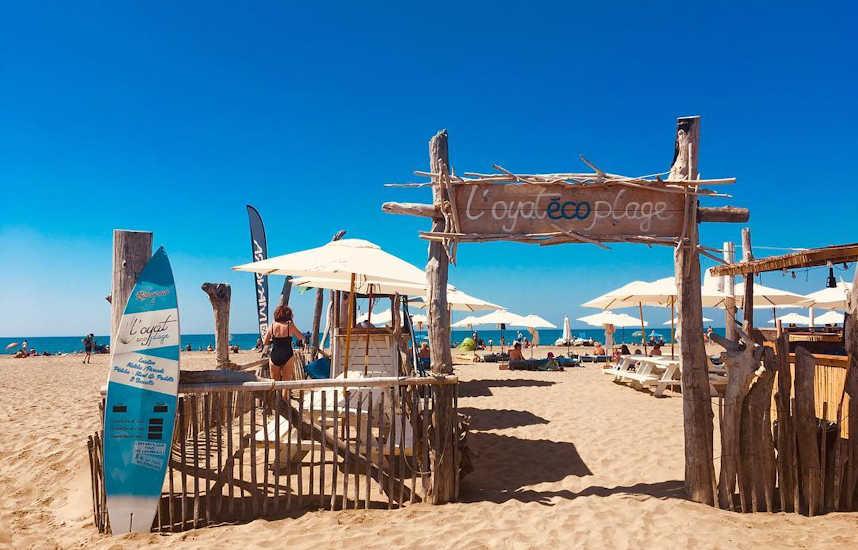 Espiguette beach near Montpellier, France, is easily the best beach in the Languedoc. The beach is situated to the east of Le Grau de Roi, a coastal town on the edge of the Camargue wetlands. There are a couple of pop-up beach bars along the 18 km stretch of Espiguette beach, but for me the best one is L'Oyat beach bar, which is located close to a large car park at the Lighthouse end of the beach. This stretch of the beach has a wide expanse of white sand, with big sand dunes at the back of the beach. You also get some big rollers coming in off the Med (which is really unusual because normally the sea is pretty calm in the summer).
L'Oyat eco beach bar is definitely not upmarket. It is your standard driftwood-built beach shack with tables made from old pallets and industrial electric cable reels. It is primarily a bar which also serves food. If anybody turns up dressed in chino shorts with a belt and deck shoes - see comments below - then they will probably be pelted with flip-flops and beer mats. But I like it. It doesn't pretend to be anything it is not. You can simply sit here in the shade and nurse a beer and chat to the lady at the bar. Sometimes the simple things in life give the most pleasure.
It is technically possible to reach Espiguette beach by public transport from Montpellier. You can take a local train from Montpellier to Le Grau de Roi or alternatively, the 106 bus does stop off in Le Grau de Roi after visiting Aigues-Mortes (see Montpellier Transport Herault). From the centre of Le Grau de Roi, you can take a local bus (C32) which runs past the Town Hall and the Aquarium. From here you can access the western end of Espiguette beach.
It is much simpler to access the best parts of L'Espiguette Plage by car. From Montpellier city centre, either head North towards Lunel and then follow the signs to Aigues-Mortes and Le Grau de Roi, or alternatively follow the D66 out of Montpellier towards Montpellier airport and Arena. After the Arena, continue on the road towards Palavas and Carnon, before taking the D62 towards La Grande Motte. Continue past La Grande Motte and then follow the signs for Le Grau de Roi. You don't want to head into Le Grau de Roi itself, but instead you should follow the by-pass road that runs along the Etang (salt water lagoon) at the back of Le Grau de Roi. Continue on this road for as far as you can go (past the Amusement park, Campsites and Camargue horse stables). You will then see a sign to "l'Espiguette". At the end of this road you will arrive at a large car park at the back of the beach.
#8 Best beach bars South France: Anao Plage beach bar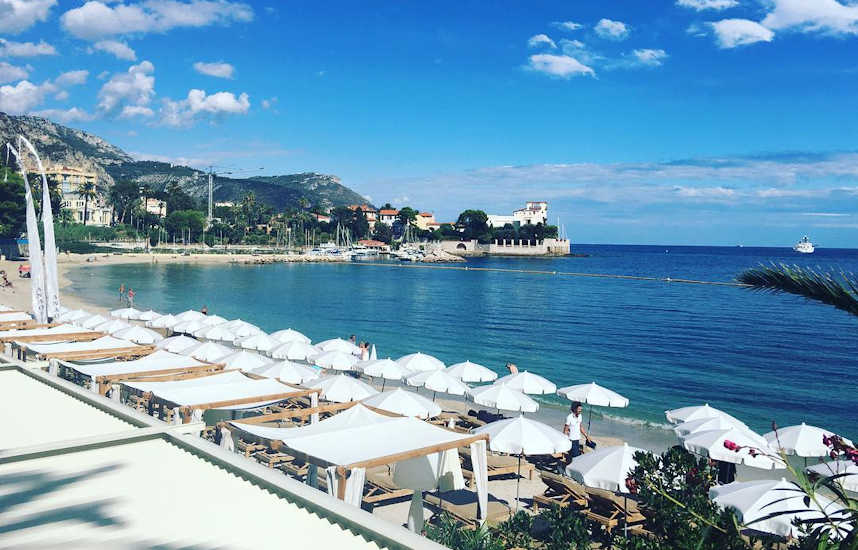 Anao Plage beach bar is located in the picturesque seaside town of Beaulieu-sur-Mer located in between Nice and Monte Carlo, near the up-market resort of St-Jean-Cap-Ferrat. Despite its location, it is quite moderately priced. A beer is €5.00, which is double the price of a beer in the bar in my local village, but that is the bar in Nezignan l'Eveque!! You can easily have a good meal here with a bottle of wine, couple of drinks beforehand and hire sunbeds for the afternoon (whilst you sleep it off) - and you will still have change from €100 for 2 people.
The bar-restaurant is located right on the beach (Plage des Fourmis) and has lovely views out over the bay. It is located just below the Royal Hotel. We were taken here by friends who live nearby in Beausoleil. The only issue we had was finding a parking spot. We ended up parking near the local college.
The food at Anao Plage is superb, probably the best I have eaten this close to the beach in France. The wine list is very good and not over-the-top in terms of price. €20 for a bottle of Picpoul-de-Pinet is fairly standard in a restaurant. The service is very relaxed and friendly and you can have a laugh and joke with the waiters and waitresses. They don't have a pole up their arse like some places around here. It is also quite casual at Anao Plage - yes there are the obligatory English guys dressed with belted chino shorts and deck shoes (we call it the March of the Chinos - they migrate en-masse in the summer) - but most people are fairly chilled out. Nice service, good food, friendly atmosphere, good music, decent price. You can't really go wrong.
You can find Anao Plage beach bar at:
Address: Avenue Fernand Dunan, 06310 Beaulieu-sur-Mer, France.
Telephone: 04 93 54 07 89
#9 Le Mayssa Beach restaurant Villefranche-sur-Mer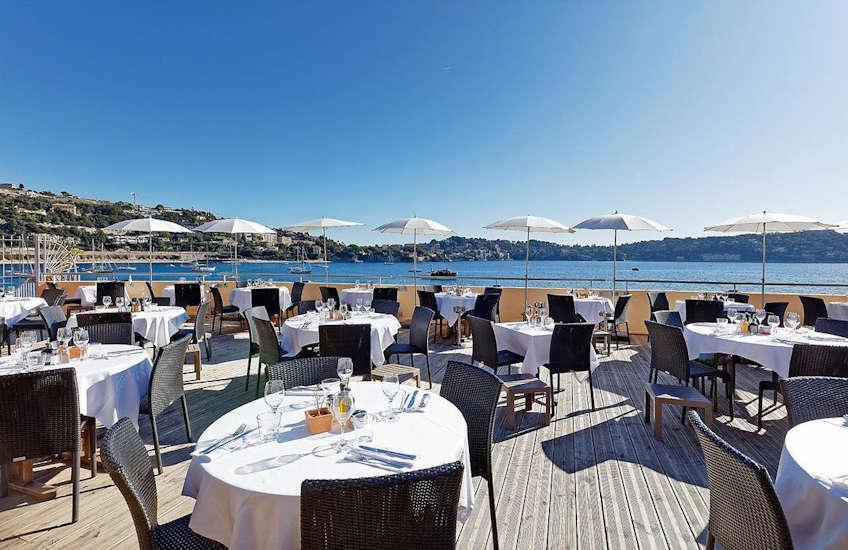 Villefranche-sur-mer, is a beautiful old fishing village and small bay located just a few kilometers outside of Nice. The old town and the bay of Villefranche-sur-mer have been used as the setting for many famous films, including Hitchcock's To Catch a Thief, the James Bond movie Never Say Never Again and Dirty Rotten Scoundrels with Steve Martin. The deep bay off Villefranche was exploited by the French and American navies for many years and is now a popular mooring point for cruise liners.
La Mayassa beach restaurant has a superb seaside location in Villefranche-sur-Mer and it is noted for its seafood cooked in French Mediterranean style. The restaurant is located in between Plage des Marinières, which is the main Villefranche beach and Plage de la Darse beach. The restaurant comes with fine views over the sweeping bay of Villefranche, you are not going to find a better location for lunch or an evening meal. The seared tuna and the carpaccio of scallops are delicious.
You will find La Mayssa restaurant at:
Address: Place Wilson, 06230 Villefranche-sur-Mer, France
Phone: 04 93 01 75 08
#10 La Villa Madie restaurant in Cassis, France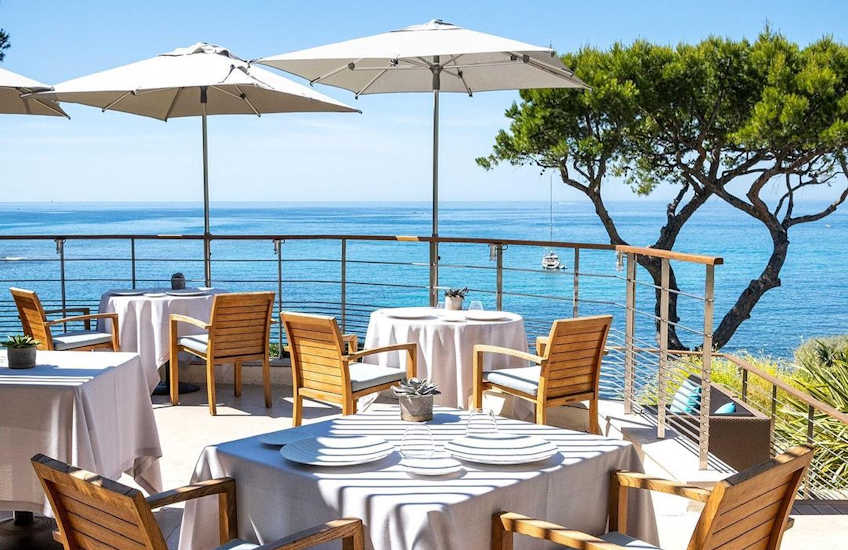 OK, so scrap what I said about not expecting to find fine dining in a beach restaurant. From the long bay windows of the restaurant, you can enjoy the sea view all year round. In the summer months, the terrace is the perfect place to eat, with the sea just below and the dramatic cliffs of Cap Canaille as your backdrop. This restaurant in Cassis maybe expensive, but the dramatic setting and great food make it worth it. Situated at base of Cap Canaille in Cassis, La Villa Madie restaurant is run by the dynamic couple, Marielle & Dimitri Droisneau.
They took over the restaurant in 2013 and it did not take long for them to make their mark. During 2014, La Villa Madie achieved 2 Michelin stars, joining an exclusive group of just 6 restaurants with 2 Michelin stars and above in the South of France. In 2019, the Michelin judges described La Villa Madie as follows:
La Villa Madie has gone on to retain its 2 Michelin stars and to establish itself as the best restaurant in Cassis, France. Along with the Mirazur restaurant in Menton, run by Mauro Colagreco; La Villa Madie is helping to set the scene for creative young French chefs to recapture the dominant place of French cuisine in the world.
The cooking at La Villa Madie restaurant in Cassis is high-end French and Mediterranean cuisine. The menus range from a 4 course menu at €75 and an 8 course signature menu at €215. The signature menu includes an Appetizer, 6 dishes, a cheese plate and 2 desserts.
The La Villa Madie restaurant Cassis is open from Wednesday to Saturday, for lunch and dinner. Please note that there is a formal dress code at the restaurant, for men this means no shorts or sandals. Bookings for lunch are taken for between 12.00 to 13.15. Evening reservations are taken from 19.00 to 21.15.
You will find La Villa Madie at Avenue de Revestel-anse de Corton, 13260 Cassis, France. For reservations call +33 04 96 18 00 00 or consult the website La Villa Madie
Where to next . . . ?
I hope that this article has provided you with some good ideas about the best places to eat near the beach in South France during 2023. We live in the South of France all year around and we absolutely love being here. We are always out and about visiting new villa rental properties and researching tourism articles about the South of France. We have a great collection of articles with more ideas about things to do and places to go in the South of France, including:
Go Languedoc provides holiday accommodation and tourism information about the South of France - covering Cote d'Azur, Provence and the Languedoc. If you would like some more detailed information or if you have any questions about finding accommodation for your visit, then just drop us a quick message and we will come straight back to you. Contact Iain by Email. I wish you a wonderful stay in the South of France.