Vinipolis restaurant & wine cellar
The Vinipolis restaurant and wine centre is a welcome addition to the Languedoc wine industry. The enterprising wine cooperative of Florensac opened the Vinipolis complex in 2008. Set in a shiny glass building, Vinipolis provides informative tours and wine tastings, together with an excellent brasserie next door. Florensac is located close to Agde and Marseillan, near to the Languedoc coast.
Vinipolis wine centre in Florensac, Languedoc
The Florensac winery established Vinipolis to cater for the burgeoning wine tourism that has enveloped nearby Provence. The aim is to provide the same combination of high standard wine tasting facilities and education resources that you can find in similar centres around St-Remy, Chateauneuf-du-Pape and Aix-en-Provence. This is a new departure for the Languedoc wine industry and much appreciated. The other key departure is the concentration on the grape components of the wine as the defining characteristic of the wine, as opposed to the mythical "terroir" (or soil and climate effects). The Vinipolis wine centre offers state of the art wine tasting facilities with interactive computer terminals that explain the characteristics of the different grape varieties produced in the surrounding vineyards. The helpful staff also suggest flavours to look out for in the resulting wines. The vineyards around Florensac predominantly grow Muscat, Syrah, Grenache Noir and other lesser know varieties. The wine tasting centre is open Monday (9.00am-12.30; 2pm - 6pm); Tuesday to Saturday (9am to 6pm); and Sunday (11am to 3.30pm).
Vinipolis restaurant, Florensac, Languedoc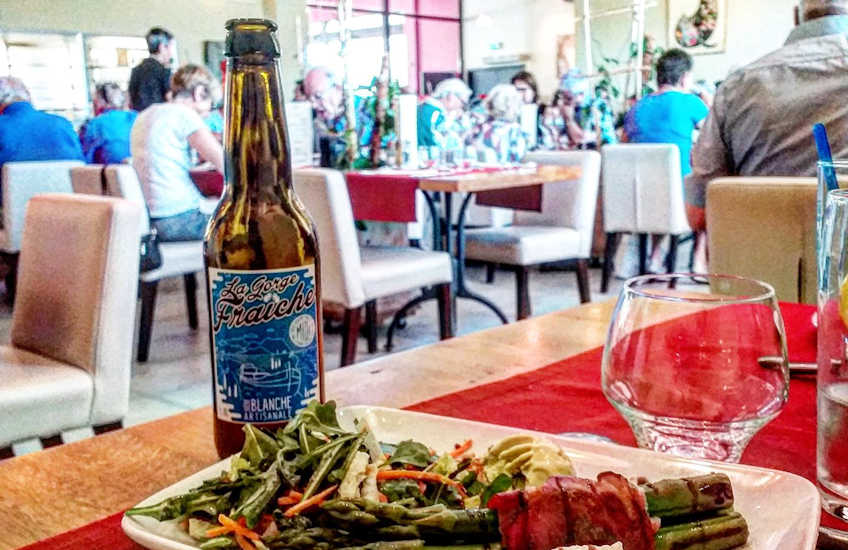 An added bonus of the Vinipolis wine centre is the adjoining Bistro. Not only are you able to drink all the available wines with your meal, the prices themselves are extremely reasonable (€6-€20). The food at the Vinipolis restaurant is excellent and it is just a shame that it only opens for dinner on a Sunday evening. The rest of the week the restaurant is open for lunch only (from Tuesday to Sunday, closed Monday). You are advised to ring ahead and make a reservation as Vinipolis restaurant is extremely popular with tourists and locals alike.
Opening hours : Tuesday to Sunday 11:00 to 17:00 and the Friday and Saturday nights.
Address : 5, avenue des Vendanges 34510 Florensac
Telephone : 04 67 77 00 20