Last updated on .
Hits: 2283
Picpoul-de-Pinet, French white wine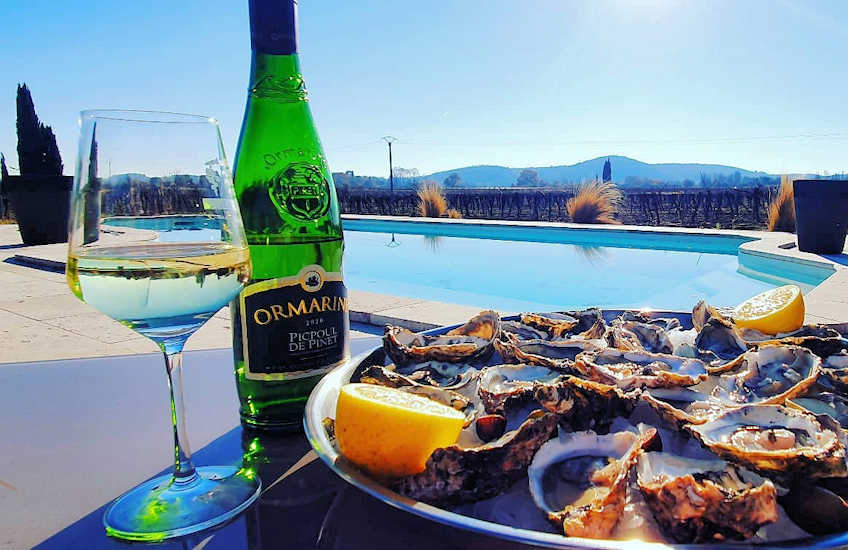 If you're going to drink French white wine in Languedoc, then it has to be a Picpoul-de-Pinet. The production of the world famous Picpoul de Pinet white wine is centered around a few small villages close to the Bassin de Thau, that produces much of France's high class oysters and mussels. Quite simply, Picpoul de Pinet is an outstanding French white wine at a refreshing price.
Picpoul de Pinet French white wines
The Picpoul de Pinet wine appellation is situated on a limestone plateau. The vineyards produce an outstandingly subtle French white wine. In the age when powerful Chardonays are on the wane, then Languedoc's Picpoul de Pinet French white wines must surely come to prominence. These French white wines are made from a single Picpoul grape variety and is a light acidic wine, with citrus fruit aromas. It is the perfect accompaniment to fresh Languedoc seafood.
Most Picpoul-de-Pinet French white wines are of a high standard, but my personal choice would include:
Domaine St Martin de la Garrique
Domaine Felines Jourdan
Hugues Beaulieu
Picpoul de Pinet, French white wine
You can not miss the distinctive Picpoul de Pinet high-necked green bottles on the wine shelves. If you are in the Languedoc however, take a pleasant drive over to the sleepy village of Pinet and buy direct from the Co-Operative. The staff are always super helpful and you will see all the farmers filling up their plastic tubs in petrol pump style dispensers (lucky buggers!!).