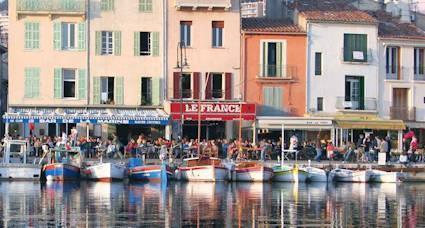 If you are wondering what is Cassis, the answer is that it is actually one of four things. Cassis is a beautiful seaside town in the South of France, famous for its crystal clear turquoise waters and rocky inlets. Cassis is alsothe French name for the blackcurrant bush and the blackcurrant fruits. Cassis is also a sweet liqueur (normally called Creme de Cassis) made from blackcurrants in the Burgundy region of France. The town of Dijon is famed for producing the best Creme de Cassis (alongside Dijon mustard). Finally, Cassis is also a white or rose wine produced in and around the town of Cassis. We cannot help you too much with the blackcurrants or the Creme de Cassis, but we do think that we are experts on Cassis the town (see Cassis France) and the wines from Cassis (see Cassis wines).
Where to next . . . ?
Contact Iain by Email or by phone +33 6 95 00 28 44 if you have any particular questions you would like to ask about visiting the South of France. If you liked the article then please share it with others using the Twitter, Facebook and G+ buttons below. I wish you a wonderful stay in the South of France.