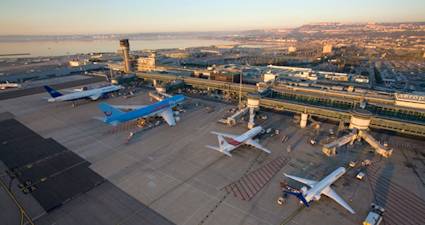 With Ryanair and Easyjet still offering great deals on cheap flights to Languedoc airports, now is the time to plan your next holiday in Languedoc Roussillon. There are 6 low cost airports in Languedoc Roussillon which provide cheap flights to Languedoc from the UK, Ireland and continental Europe. Most of these airports in Languedoc have been developed by either Ryanair or Easyjet, to take advantage of the low landing fees to provide cheap flights to the South of France from Northern Europe. Even though most ex-Pats I bump into in the Languedoc take great fun in knocking Ryanair and Easyjet, what they cannot escape is the unfortunate truth that these budget airlines providing cheap flights to Languedoc airports, then the region would not have been opened up to a larger tourism market.
When we began Go Languedoc 9 years ago, I would say that around 50% of our customers took the long drive down from Ireland and the UK. Now it is less than 20%. We did have some Norwegian guests last year who drove down from Oslo, but they vowed never to do it again!
Low cost airports Languedoc Roussillon
There are now 6 low cost airports, Languedoc-Roussillon that operate cheap flights to Europe and North Africa. Most of these Languedoc airports are former airfields that have been developed to handle larger passenger flights. All of these Languedoc airports have taken great strides in recent years to develop greater passenger facilities. Most have undertaken or in the case of Perpignan and Carcassonne are in the process of undertaking major refurbishments.
Airports Languedoc Roussillon: Beziers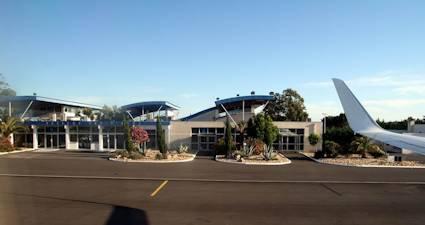 The Béziers Cap d'Agde airport in the Languedoc is a small airport that has expanded rapidly since 2010. The airport now receives over 250,000 passengers per year. Cheap flights to Beziers airport France can be found from 9 international destinations:
Paris Beauvais,
Bristol UK,
London UK,
Manchester, UK,
Edinburgh, UK,
Dusseldorf Weeze, Germany
Bremen, Germany
Stockholm Skavsta, Sweden
Oslo Rygge. Nowray
All of these flights are operated by Ryanair. Beziers airport is located just a short taxi ride from Beziers city centre and it is also has a regular bus service to local towns such as Agde, Cap d'Agde, Vias and Marseillan. There is a small selection of car hire operators at Beziers airport
Languedoc airports: Carcassonne airport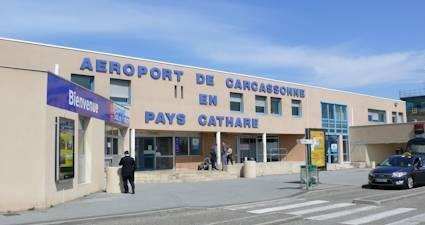 I think that Carcassonne airport must be a hidden secret, because we often get customers asking us where the nearest airport to Carcassonne is. Either that or the PR Manager at Carcassonne airport needs to be fired. Carcassonne is a small regional airport that like Beziers airport, has grown rapidly in recent years thanks to Ryanair. Cheap flights to Carcassonne airport can be found from the following destinations:
Alicante, Spain
Bournemouth, UK
Eindhoven, Holland
Porto, Portugal
Glasgow-Prestwick, UK
Cork, Ireland
Liverpool, UK
London, UK
Brussels, Belgium
Dublin, Ireland
East Midlands, UK
Airports in Languedoc Roussillon: Montpellier airport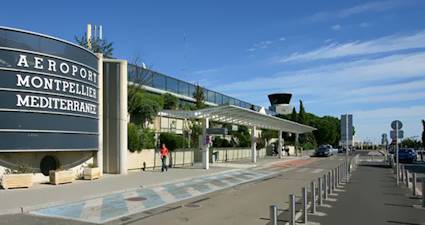 Montpellier airport is the largest and most developed of the Languedoc airports. Due to the demand from business travellers, Montpellier airport is a regional hub for Air France, as well as Ryanair and Easyjet. In addition, Montpellier airport also operates flights to the main cities in Europe, including London Stansted, Frankfurt, Amsterdam, Lisbon and Copenhagen. Montpellier also operates a schedule of flights to North Africa (Morocco and Algeria). Cheap flights to Montpellier airport can be found from the following destinations:
Algiera, Algers & Oran;
Brest, France; Casablanca, Morocco, Charleroi, Belgium; Copenhagen, Denmark,
Corsica - Ajaccio & Propriano,
Croatia - Pula & Dubrovnik
France: Brest, Lyon, Nantes, Paris & Strasbourg
Germany: Basel-Mulhouse-Freiburg; Dusseldorf, Frankfurt & Munich
Holland: Amsterdam & Rotterdam
Italy: Rome
Madeira
Malta
Morocco: Casablanca & Fez
Portugal - Lisbon & Porto
UK: London Stansted, Leeds
Airports in Languedoc Roussillon: Perpignan airport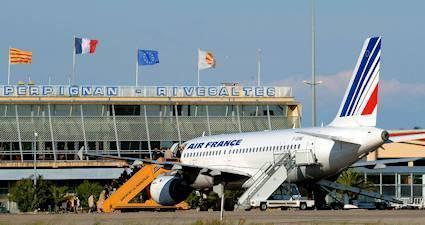 Perpignan airport is the Southern most airport in mainland France. The airport at Perpignan has recently undergone a much need refurbishment and it has expanded its schedule of flights. Cheap flights to Perpignan airport can be found from the following destinations:
Ajaccio, Corsica
Ibiza, Spain
Madrid, Spain
Paris
London, UK
Brussels, Belgium
Southampton, UK
Nantes, France
Dublin, Ireland
Birmingham, UK
Airports Languedoc Roussillon: Nimes airport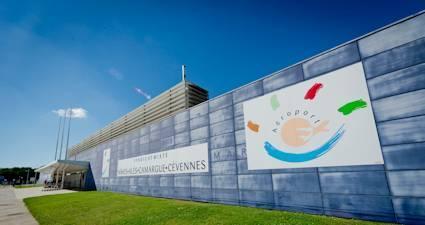 This former naval airbase has been developed into Nîmes Airport in recent years. Nimes airport or Nîmes–Alès–Camargue–Cévennes Airport or Garons Airport or Nîmes Garons Airport (I prefer just Nimes airport!!), is located 9 km south-southeast of the city of Nîmes in the village of Saint-Gilles near Garons. The airport operates flights in to the Provence region, Avignon, Arles, the Camargue, the Cévennes and the wider Gard department. It has some commercial flight services, operated by Ryanair and it also serves as a naval air base. Cheap flights to Nimes airport can be found from the following destinations:
Liverpool, UK
London Luton
Brussels, Belgium
Fez, Morocco
Airports Languedoc Roussillon: Avignon airport
Avignon airport, just on the northern border of Languedoc Roussillon is the airport providing cheap flights to Provence. Aivignon airport is located in the village of Montfavet, 8 kilometres southeast of Avignon. The facilities are a little sparse, but then benefit is that you can get on and off your flight pretty quickly. Cheap flights to Avignon airport can be found from the following destinations:
London City airport
Southampton, UK
Birmingham, UK
Liege, Belgium
Ryanair cheap flights to Languedoc from UK & Ireland
Ryanair operate the following flights to Lanhuedoc from UK and Ireland :
London Stansted to Marseille, Perpignan, Carcassonne, & Montpellier
London Gatwick to Marseille
London Luton to Beziers & Nimes
Liverpool to Nimes
Manchester to Marseille
Birmingham to Perpignan
East Midlands to Carcassonne and Girona (N.Spain)
Bournemouth to Carcassonne
Edinburgh to Carcassonne & Marseille
Glasgow to Marseille
Bristol to Beziers, Montpellier & Perpignan
Dublin to Marseille
Easyjet cheap flights to Languedoc from UK & Ireland
Easyjet operate the following flights to Lanhuedoc from UK and Ireland :
London Gatwick to Toulouse, Montpellier & Marseille
London Luton to Montpellier and Girona (N.Spain)
Bristol to Toulouse, and Marseille.