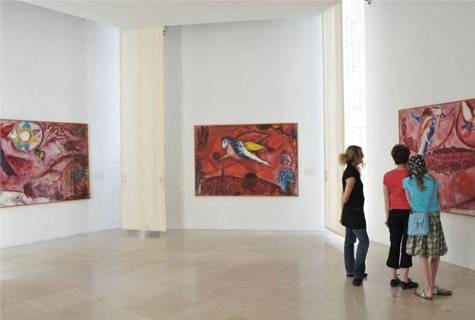 The Marc Chagall Museum in Nice France (or the "Musée National Message Biblique Marc Chagall" to give it it's full title) was set up under the terms of the artists will. Marc Chagall had lived in the Nice era for a large part of his later life and he bequeathed to the city 17 separate works which make up his 'Biblical Message'.
Marc Chagall museum Nice France
The art collection at the Marc Chagall museum is the biggest public collection of art works by Marc Chagall in the World. The museum is organised around the set of paintings produced on the Old Testament themes. The main attraction is the twelve large-size paintings illustrating the first two books of the Old Testament (Genesis and Exodus). Other rooms in the museum house compositions based on other Old Testament books.
Marc Chagall in Nice France
Marc Chagall was a Russian-French artist who died in 1985. He spent the majority of his life in France (either in Paris or on the French Riviera). He was born in Belarus, to a Jewish family. He first arrived in Paris in 1910 and he enrolled at the Académie de La Palette, a noted avant-garde school of art. He was famous for pioneering modernist art in paintings, ceramics, illustrations and glasswork. He was famous for his flamboyant use of colour. He first visited the Cote d'Azur in 1925, but he had to make a quick escape to New York following the Nazi invasion of 1941. He returned to the Cote dÁzur at the end of World War 2 and set up residence just outside of Nice in St Paul de Vence (close to his friends and fellow painters, Picasso and Matisse). He died at his home at the age of 97 in 1985.
Marc Chagall famous paintings
Marc Chagall is often celebrated for his earlier work whilst he stayed in Paris. Painting such as The Promenade, Paris Life through a Window and Self-Portait with Seven Fingers, marked out his distinctive abstratct style and use of colour. But later works, whist he was living near Nice are also just as celebrated. "American Windows", an amazing blue stained glass piece which he created in 1977; the giant mosaic "The Four seasons" and the painting "Les Amants au ciel Rouge", with its fantastic red backdrop are equally as important to understanding Chagall the artist.
Marc Chagall Museum Nice - opening hours
Musee Marc Chagall Nice France, Avenue Docteur Ménard, Nice, France.
Opening hours: 10:00-18:00 (May to October); 10:00 -17:00 (November to April); closed Tuesdays.
Ticket prices are moderate (adult admission costs €8 EUR, while children's entry costs €6 EUR.
Website: www.musee-chagall.fr