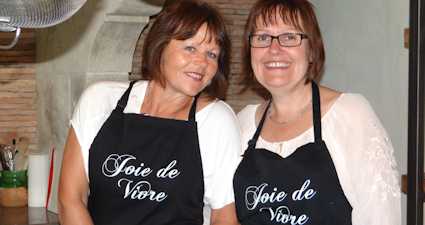 If you are looking to explore Provence, France, then this guided Provence food & wine tour in 2018 is the perfect way to experience the gourmet delights of Provence. Led by Amanda Taylor-Ace & chef Peter Meikle, this small group tour of Provence (5-10 people), takes in a range of Provencal villages, markets, restaurants and sites. This cooking tour of Provence lasts 13 days and takes place from Saturday, 26th May to Thursday, 7th June 2018. This guided tour to Provence will be based around an 18th century Manor house, nestled in a typical Provencal hillside village, enjoying all day sun within a walled garden covered with vines, outdoor terraces and swimming pool. From here you will be treated to a range of regional sightseeing highlights and evening entertainment. You will be able to spend 13 fabulous days in the company of fellow lovers of fine wine, food, laughter and life.
The inspiration for these guided food tours to Provence France comes from Amanda Taylor-Ace's own love affair with Provence, France. This well-travelled New Zealander fell in love with France 16 years ago and now she aims to share this love and knowledge of Provence, its food, its herbs, its wine, its restaurants and its amazing markets.
Experience Provence Tour 2018
The 2018 Experience Provence tour takes place in late May to Early June 2018, when the weather is lovely and warm, but not too hot. The final tour itinary can be adapted to personal tastes (that is the beauty of these small group tours to Provence), but the provisional line up is as follows:
Day 1, Avignon to St Maximin.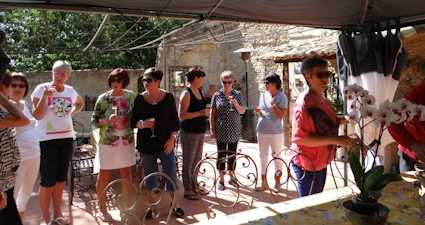 We take you directly to Villeneuve les Avignon to experience the fabulous antique market and to enjoy a pre-lunch taster of shucked oysters and prawns with Pic Poule de Pinet . We will lunch by the River Rhone before driving to St Maximin and your place of residence for the next 13 days at the maisons. You will settle into your rooms, freshen up, and unpack. 19.00 We will all meet for Apero of Amanda's famous ''Beaujolais Soup' and savoury cakes made by Franscoise. 20.30 An authentic French dinner cooked by Franscoise and accordion music by husband Maurice.
Day 2, St Maximin, Provence
A basic French Lesson with Maurice. 9.30 am Meet Gaby the Deputy Mayor of Saint Maximin, for a wonderful walk through the country side from the village to Uzes. Other option is to visit the local flea market and look for treasures amongst the trash. Walkers will be picked up and brought back to the flea market. Lunch at the Maison. Relax by pool. 19.00 Apero (same time every evening) 20.00 Dinner by one of our chefs or local village restaurant.
Day 3, Les Baux de Provence
Experience the delights of Les Baux de Provence and Carrieres de Lumieres. Own lunch today – baguette or a banquet from several cafes and restaurants. Return to Maisons – 19.00 apero & dinner by one of our chefs & music.
Day 4, Surprise Provence tour day
The Excursion today to be decided by popular vote from a choice of Nimes, Arles, Orange, Saintes Maries de La Mer, Chateauneuf-du-Pape, L'Isle Sur la Sorgue & Fontaine-de-Vaucluse, Roussillon & Gordes, Vaison La Romaine. Everyone gets an input. Own lunch on excursion days, which leaves you free to explore and meet at the prearranged place and time to return to the Maison. 19.00 Apero followed by dinner by one of our chefs & music.
Day 5, Uzes Provence
After breakfast we leave for Uzes, only 4 km from St Maximin. Uzes is the Premier Duche of France with a reigning Duke and Duchess. Wednesday is the Uzes Producers Market and not to be missed. Street map and information provided. We will all meet for lunch in the square, overlooking the fountain at "Terroirs", in Place Aux Herbes. More exploring the ancient cobbled streets and alleys of Uzes before returning to the Maison. Dinner and music at the Maison or at local restaurant.
Day 6, Pont du Gard Roman aqueduct bridge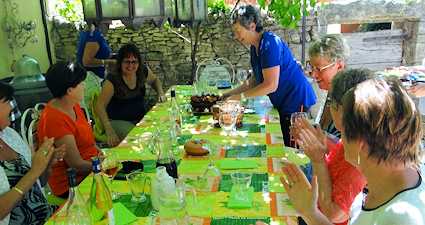 Fun day kayaking down the Gardon River and a gourmet picnic on the river bank, chilling our wine in the river while we swim, taking in the awesome spectacle of the Pont Du Gard. (Kayaking optional – for those not wishing to kayak, you will be transported to the Pont du Gard Museum and a short walk down to the river from there to meet for the picnic on the river bank). Dinner tonight at a local restaurant.
Day 7, Saint Quentin La Poterie, Provence, France
A trip out to a famous Provence pottery village. St Quentin has over 18 artelliers, where you can watch potters work. Lunch today to be decided from our many options. Pizza and party night in the Jardin D'ete with "Compass Ole", our fabulous Gypsy musicians – put your dancing shoes on!
Day 8, Uzes France - Provence market tour
After breakfast we leave for the Uzes Saturday Market. Uzes boasts the best market for miles around and it is. Great photo opportunities and present buying. Titilate your senses with all the pleasures you will experience. Today we lunch at a surprise location "Chez Philip" in Uzes. We will have a wine tasting, matched with our food. A light dinner and music back at the Maison.
Day 9, Guided tour to Provence village
Dinner and music at the Maison.
Day 10, Cooking lesson or tour to Provence market
Dinner at Maison or local restaurant.
Day 11, Local excursion to Provence France
Dinner at the Maison or local restaurant.
Day 12, St Remy de Provence
Experience the all day market in St Remy, the capital of Provence. You are free to enjoy the market, the many streets of wonderful boutiques and historical buildings. Your own lunch today. Tonight is Paella night at the Maison cooked by our fabulous Michel (or is it Michelle?).
Day 13, Thursday 7th June Au Revoir avec bisous.
10.00am Avignon train station. The end of a fabulous stay
Provence food tour cost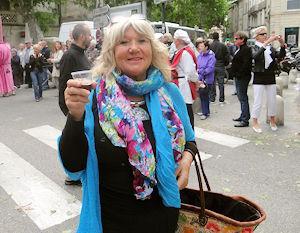 The cost of these gourmet small group tours to Provence France is quoted in Euros and exludes travel costs to Avignon, France:
• Single room .................... 4,250 Euros
• Shared room ................... 3,900 Euros
• Self-contained Studio* ........ 4,500 Euros
* Subject to availability
For more information and to reserve a place on this wonderful tour to Provence, please contact Amanda Taylor-Ace at:
mobile +33609175860 / New Zealand end of Nov – end of Feb +64 226541761
email This email address is being protected from spambots. You need JavaScript enabled to view it.
Maison de Maitresse, 6 Place de la Croix, Saint Maximin, 30700, nr Uzes, France