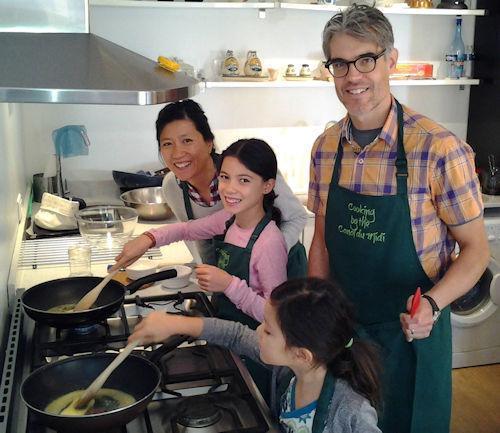 If you are on holiday in the South of France and you want to undertake an activity for all the family, then there is an excellent French cookery school on the banks of the Canal du Midi near Carcassonne, which offers one day classic French cookery lessons. The cookery school is run by Heather Hayes and her husband David Crago and is located in the former stables of the splendid Domaine de Millepetit, just 50 meters from the banks of the Canal du Midi. In their purpose built kitchen, Heather teaches people of all ages in the art of making classic French dishes. The lessons are delivered in English and the numbers are restricted to ensure that Heather can devote sufficient time to everybody present.
Heather Hayes - French cooking school
Heather Hayes is a qualified Chef with a passion for the classic French dishes that never go out of fashion. Heather first learned to cook in Brittany and then on the Cote d'Azur and from this has developed an appreciation of the best seasonal French ingredients and cooking techniques. During the winter, Heather and her partner Dave are based in the French Alps, where they provide private dining to Ski parties.
Heather will show you how planning and preparation can help you take the stress out of cooking and demonstrate some simple techniques which you can use to wow your dinner party guests.
French cooking classes
The cookery classes kick-off at 10.00am sharp and usually finish around 3.30 pm. The cookery class also features a sit down lunch on the banks of the Canal du Midi, where partners, Grandparents, etc, can join you for a lovely 3 course meal prepared by the 'chefs' with local wines. Reception is at 9:45am, where you will receive a short tour of the working farm at Domaine de Millepetit. You are advised to wear cool but comfortable clothes, with shoes or trainers preferred to sandals and flip flops.
Lunch is usually served between 1:30pm and 2:00pm. Please remember to bring sunblock and a hat. After lunch there is time to wander around the Domaine and plenty of photo opportunities.
The cost for the one day French cookery class is €110 per person. For companions joining for lunch, the cost is €40 per person. A deposit is taken to secure your place on the course and the remainder can be paid in cash on the day. The cookery classes encompass all levels of cookery skill and experience and their previous students have ranged from age 6 to 86!. Further details can be obtained from the Cooking by the Canal du Midi website.
Classic French cooking classes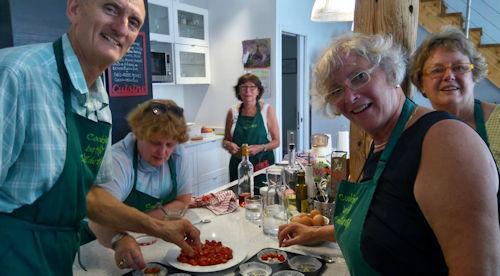 To whet your appetite, here are some of the amazing dishes that you could be cooking up on the day of your class. If you have any particular requests or dietary requirements, then let Heather know in advance.
Starters
Artichokes, asparagus & fava beans picked from the Domaine, sugar cured salmon served with classic hollandaise
Twice-baked pink garlic soufflés from the chalky hills of Lautrec
Cherry tomato tart tatin, goat's cheese sorbet, savoury caramel
Moules a la crème, sauce flavoured with Noilly Prat from nearby Marseillan
Legumes farci, summer vegetables filled with nutty Marseillette rice
Main courses
Magret duck breast with a zesty classic sauce Bigarade
Pan fried market fish, velouté de Pastis & wild fennel picked from the Canal banks
Quail au vin, a summer version of a traditional favourite
Guinea fowl stuffed with a "farci" of summer vegetables, sweet pepper puree
Confit duck leg served with a modern & light take on traditional Cassoulet
Deserts
Bitter chocolate fondants are served with a crème fraiche sorbet
Honey madeleines, lemon verbena pot du crème, summer fruit compote
Paris-Brest (choux), Crème pâtissière, Chocolate Sorbet
Heart warming prune and Armagnac soufflé
What people have said about Cooking by the Canal du Midi
This was the most fun day with two totally wonderful hosts who welcomed us into their home and made us feel totally at ease. I was cooking with 3 friends.
We were doing the classic French with a modern twist day. Heather and David have a lovely teaching style, informative, calm, thorough but never patronising. I would consider myself a reasonable self taught cook but I realised that I had been making mistakes and missing little tricks.
Helen Plestis, UK, September 2016
Had the best experience ever. We were fortunate to be staying at their Gite and participating in the cooking class was the absolute icing on the cake. Heather and David were exceptional hosts and to anyone in the area whether on canal or land, I would say the cooking class is a must do experience. We have just got back to NZ, but we will keep the memories of this and many other southern France adventures forever. Thanks guys for making us feel so special.
Craig Garner, New Zealand, June 2016
Cooking by the Canal du Midi
You will find Heather and David's French cookery school at 29 Domaine de Millepetit, Trebes, 1800 Aude, France. You can reach Heather and David by phone at: +33 (0) 6 51 63 29 04 or by email at: This email address is being protected from spambots. You need JavaScript enabled to view it. .
Further details can be found on their website www.canaldumidicooking.com/ or Facebook page Cooking by the Canal du Midi.
Directions to reach Domaine de Millepetit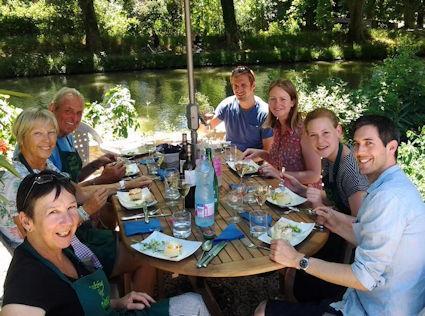 If you are travelling by car:
From the direction of Carcassonne - follow the D610 through the village of Trèbes towards Marseillette. Drive about 3.5 km from the Trèbes canal bridge and turn right at the end of a small olive grove lined by pine trees. You will see a small white sign saying "Millepetit". If you see a sign for "Millegrand" you have gone too far! Follow the tree lined avenue towards the canal, go past the back of the Chateau on your right and we are at the last house on the left with green shutters. Please park opposite the house.
If you are arriving by boat of cycling, you will find the Cookery school at the second bridge after the Trèbes locks and the second bridge from the direction of Marseillette. Cross the canal and follow the road past the big barn and then turn left then right. We are the house with the large glass doors and green shutters.
If you plan to moor your boat, please let Heather and David know beforehand.
The GPS coordinates for Domaine de Millepetit are: 43.194940 2.482186.