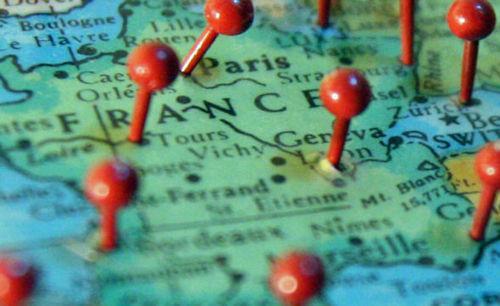 South France is the perfect place to rent a long term rental property in France. The very mild winters, excellent transport connections and free and easy style of living make South France the obvious choice. During the winter months, most days have clear blue skies, warm sun and an average daily temperature of around 15°C/60°F. The beaches are generally deserted and you can often walk for miles withour seeing another sole. In the markets you can often find time to talk to the stallholders and locals and whilst the summer tourist restaurants often shutdown, the remaining restaurants are where you will find all the local French inhabitants eating. The South of France has 10 low cost airports, making it easy to fly back to UK, Ireland and the rest of continental Europe.
But is is the easy pace of life that I enjoy most about living in South France all year around. There is always a local festival or specialist food market taking place during the year and away from the summer throng of the tourists, you can really discover what makes South France such a special place to be. Compared to other regions of France, Brittany and Normandy are far to cold during the winter, the Dordogne is too wet and central France is too cold.
Where to rent long term in South France?
The South of France covers a wide land mass, so how do you narrow down your choice? This is not an exhaustive list, but from my knowledge and travels around Languedoc, Provence and the South of France, I would recommend the following places as good options for long term rentals in the South of France:
1. Long term rentals France near Pezenas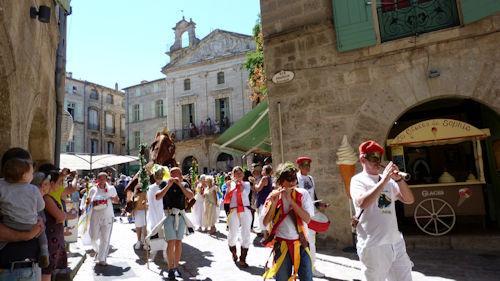 Pezenas is a lovely little town with lots of character. It was once the capital of Languedoc for a brief period, but after this period time stood still and as a result the town is well preserved, with plenty of windy streets and alleyways. The town is well connected with4 airports nearby (Beziers, Montpellier, Carcassonne and Perpignan), a TGV train station about 15 mins away and the A9 and A75 autoroutes are on your doorstep.
The Saturday market in Pezenas is fantastic, taking over the whole of the town. Here you can buy all manner of local foods, flowers, clothes and nic nacs. Pezenas is also in the heart of the Languedoc wine region and the good vineyards of St Chinian, Faugeres and Picpoul de Pinet are not far away. There is always a festival of some sorts going on in Pezenas - be it a theatre festival, antiques fair, film festival, wine festival or medieval fete. Pezenas is also a bit of a sports town, with a local football team, rugby club, tennis club, an athletics stadium and numerous cycling clubs. There is also a local outdoor swimming pool, that is great to go to in the heat of summer. Pezenas is also close to the beaches of the mediterranean and you have Beziers and Montpellier nearby if you want to experience big city life once in a while.
Pezenas has plenty of schools, a local hospital, plenty of restaurants (including the excellent L'Entre Pots), two large supermarkets and more pharmacies than you can shake a stick at. The local villages around Pezenas are beautiful - often surrounded by vineyards and hills. So in conclusion, if you are looking for an area to come to for a long term rental, then Pezenas is a great option to consider.
If you would like to look at a few long term rental options for Pezenas, the following holiday rental houses are also available for long term rentals in the Pezenas area. Please check the availability calendars as we can not guarantee that the houses will always be vacant for the entire period of your long term let.
This long term winter let France is recently renovated and situated in the Historic Centre of Pezenas. The accommodation is perfectly situated in the old town, close to shops, restaurants and Saturday market. Ideal for a couple or couple with child or 2 couples in 2 bedrooms. Renting for the first time this summer.
>> more info on this Pezenas long term winter let France.
This house for long term let, France, is situated in the village of Servian near to Pezenas and Beziers. The property is a beautifully restored old Wine growers house with 5 bedrooms and 206m2 of living space. This fabulous long term let, France also comes with a walled courtyard garden and two terraces. Servian, situated in the Languedoc-Roussillon region, is just 25 minutes from the beaches on the South France coast.
>> more information on this spacious long term let, France
This house for long term rentals in France sleeps 8 people and is a village house with swimming pool and walled garden The long term rentals in France sleeps 8 and has four bedrooms and 2 bathrooms on three floors. Situated in the village of Aumes just outside Pezenas and is ideally located if house hunting or having an extended holiday.
>> more info Long term rentals in France.
2. Long term rentals in France near Nimes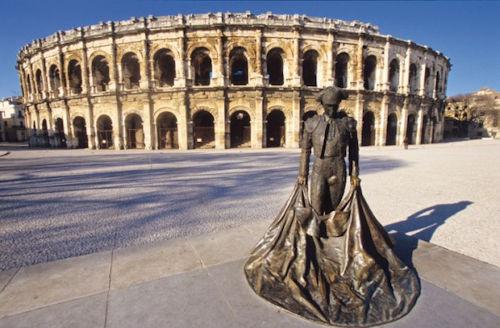 Nimes is one of my favourite cities in the South of France. The outskirts of Nimes always remind me of some American mid-west town. Full of bowling alleys and fast food restaurants. But once you get into the centre it is a different matter entirely. It really is a beautiful ancient South France town. Nimes is an old Roman town, blessed with some wonderful monuments such as the Roman Amphitheatre, the Maison Carree (the old Forum) and the Temple of Diana. During the middle ages up unto the late 19th Century, Nimes also forged a wealthy vocation as a textile centre, including its famous blue cotton cloth "de Nimes" (thus later "denim") that was imported to America by Levi Strauss for use as clothing for working men. Also worth mentioning is the wonderful modern art museum - Carre d'Art - which was designed by Sir Norman Foster and sits opposite the Maison Carree.
Nimes really has everything you could need for a long term stay in the South of France. Some excellent shops, culture, good TGV connections, the A9 autoroute runs right past the edge of the town. There are also some very pretty towns located within 20kms or so of Nimes that could be good options for a South France long term rental - such as Sommieres, Uzes, Anduze, Arles and Beaucaire.
Just a word of warning, if you are coming to the South of France during the winter months, the area North of Nimes into the Rhone Valley can get extremely windy (and I mean, extremely windy). The Mistral that blows in the winter literally drives the local inhabitants mad and often the pretty little villages resemble ghost towns in the winter. Around Nimes itself and in between Nimes and Montpellier it is not so bad - the area is protected by the Cevennes hills. But it is just something to be wary of.
Here are some good options to consider for long term rentals close to Nimes:
This long term rental in France is close to the beautiful town of Uzes, in South of France. It is an 18th century stone houses in a typical Provencal hillside village facing all-day sun. It is covered in vines, has a huge walled garden, a swimming pool and a large terrace. This long term rental in France is in the village of St Maximin, which is just a few minutes from the wonderful town of Uzes and near the Pont du Gard and Nimes.
>>Uzes long term rental in France more details
There are 5 luxury long term rentals at Domaine de Monteils. In a Mediterranean park of 5 hectares, Domaine de Monteils looks like a little Provençal hamlet and provides and oasis of calm and relaxation. These carefully restored long term rentals provide luxury accommodation for couples without children. Guests are encouraged to use the spas, the large swimming pool and to enjoy the surrounding nature. All of these long term rentals in France have been equipped to the highest standards with queen sized beds, wifi, satellite HD TVs and high spec kitchens and bathrooms.
>>Domaine de Monteils long term rentals in France more details
This beautiful house for long term rentals in Saint-Maximin, Provence, is the perfect place to enjoy a relaxing stay in the South of France during the winter months. With powder blue skies and mild daytime temperatures, this really is the best time to explore all that Provence has to offer. The ancient village of Saint-Maximin is located on the western edge of Provence, close to the historic town of Uzes. The whole area is famed for fantastic local produce including truffles, excellent wines, provençal herbs, wonderful goats cheese and plenty of seasonal vegetables. You will discover many local markets and good restaurants on your travels.
>> more info Saint-Maximin Provence long term rental France
3. Carcassonne long term rentals France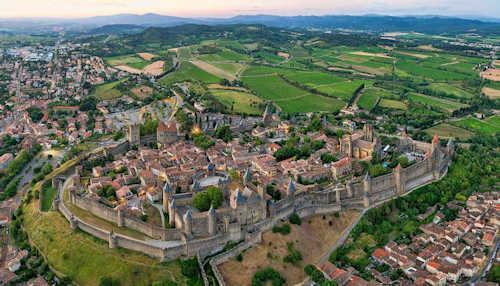 Carcassonne is a good spot to be based near for a long term rental in the South of France. Not only do you have one of France's most prominent tourist sites on your doorstep, but you are also blessed with picturesque scenery, the Minervois wine region (one of the best in the South of France) and the Canal du Midi - the quintessential picture of the slow South of France way of life. Also the large city of Toulouse, with its international airport is just 45 minutes down the road. Carcassonne itself has its own airport - serviced mainly by low-cost flights from the UK and Scandinavia. It can get a bit windy in the winter months - check out the number of windmills - but it is not as bad as some areas.
It is the huge scale of Carcassonne's citadel that first takes your breath away. It is absolutely huge, it has 31 towers, an amphitheatre, hotel and a full medieval town inside its fortified walls. You enter the citadel through the main Port Narbonnaise (the entrance nearest the car park) and cross over the now grassy moat. As you follow the road ahead up past all the souvenir shops just shut your eyes. It really doesn't do Carcassonne any favours to allow the shops to sell plastic suits of armour and baseball caps with jousting rods protruding out of them - but hey-ho. At the end of the road you will come to the Chateau Comtal, where Count Trencavel made his last stand against Simon de Montforts forces in 1209.
We have quite a number of long terms rentals in and around Carcassonne and it has proved to be a popular place to rent in the last couple of years. Here is a selection of the long term let properties:
This Carcassonne long term let, France, is a beautiful rustic farmhouse in the heart of the Montagne Noire and Cathar country in-between Carcassonne and Mazamet. Relax completely in an extravagantly but sensitively restored farmhouse, set in 2 acres of your own private gardens and woodland. 3 double bedrooms sleeps 6-8..
>> more info Carcassonne long term let France.
This French farmhouse for monthly rental is a converted farmhouse close to Carcassonne and Toulouse in South France. It is situated in a very peaceful location, but is close to the Canal du Midi, local restaurants and shops and a short drive to the cities of Toulouse and Carcassonne. There is a boulangerie 3kms away and a farm shop within 1km. This French farmhouse for monthly rental comes with lovely views over the Lauragais countryside. Closeby is the famous town of Castelnaudary, which has a full range of shops, supermarkets and restaurants. The French farmhouse for monthly rental has 6 bathrooms, 5 bedrooms, 2 reception rooms as well as a large kitchen/diner.
>> French farmhouse for monthly rent in France near Carcassonne
Maison de l'Eglise is a wonderful property for long term rent in St-Ferriol, France. This property for long term letting in Aude was once part of the presbetry to for the adjacent romanesque village church and is situated on a path in a quiet part of a village. The house can sleep 4-7 people and has been thoroughly renovated to a very high standard whilst retaining the character and softeness of the buildings rustic origins. Each of the bedrooms and their high quality bathrooms are on separate floors at separate ends of the house. A spacious, light living room on the first floor is comfortably furnished with television and stereo and comfortable chairs. There is central heating and WiFi internet installed. This really is a super long term rental property in Aude, France.
>> Maison l'Eglise, France long term rent
This pet-friendly house for long term rent in France is located in the quaint village of Mailhac, in between Narbonne and Carcassonne. The house is available for rentals all year around and provides comfortable accommodation for a couple or small family. The house is located in a quiet street in the heart of the old centre of the village and comes with private parking, a lovely courtyard garden, 2 good sized bedrooms and a spacious open plan living room. The house has a good internet connection, TV, washing machine and a wood burning stove for the winter months. Pets will be accepted through prior agreement.
>> 2 bed house for long term rent France
4. Haut Languedoc Regional Park long term rentals France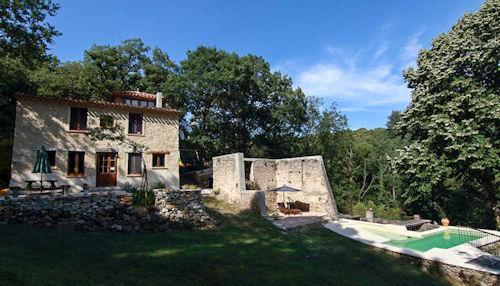 If you are looking for peace and tranquility then the Languedoc Regional Park about 45mins from the mediterranean coast is a good choice. The scenary is glorious and the relaxed way-of-life really helps you unwind and enjoy your stay. This is excellent walking and cycling country and is also home to some of the best vineyards inthe South of France - such as Faugeres and St Chinian.We get a lot of requests for long term rentals in and around Olargues, Gabian (near Roujan, on the edge of the Park) and Olonzac to the South. If you are looking to find a long term rental where you can experience the real South of France way of life - with its focus on good food and wine and the simple pleasures in life, then Haut Languedoc is the place for you.
Here is our selection of long term rentals France in the Haut Languedoc region:
La Remise is a stunning stone cottage available for long term rentals in France. The cottage provides comfortable accommodation for a couple and is ideal for house hunters or just for a long vacation. Situated amongst the vineyards in the famous Saint Chinian wine region, La Remise is located just on the outskirts of the wine producing village of Cébezan. The village dates back to 859 AD and was originally founded by Benedictine Monks. Cébezan has a population of around 500 people..
>> more info La Remise long term rentals in France.
This beautifully renovated long term property rental in South France is an amazing place to be based for a long stay in France. Le Sanglier is a 2 bedroom property located in a former farmhouse overlooking a small valley on the edge of the Black Mountains in the Languedoc region of South France. This property offers the perfect opportunity to chill-out, relax and enjoy the surrounding countryside. This South facing long term rental property overlooks a terrace with stunning views over the mountains. The property is newly renovated and comes with a fitted kitchen (including washing machine), gas hob, microwave, fridge/freezer, satellite TV, wifi (paid extra) and log burner.
Click here to see more Le Sanglier long term property rental France
This South France long term rentals property is located in the picturesque village of Péret in the Languedoc region. The property is modern inside and contains a spacious lounge, well-equipped kitchen and a large en-suite double bedroom. The property also comes with a large garden (40m2) which includes a nice patio table and parasols. The property is south-facing and enjoys warm sunshine throughout the year. The property is located in a quiet area on the edge of the village, but it is still within walking distance to the centre of the village. Péret is a small, traditional wine-making village, situated between the mountains and the sea, close to Clermont l'Hérault and Pézenas and less than 10 minutes away from the main highway, the A75. This makes it very easy to reach the beaches and to explore the Languedoc region.
Peret, France, long term rental sleeps 2-4
5. Montpellier long term rentals France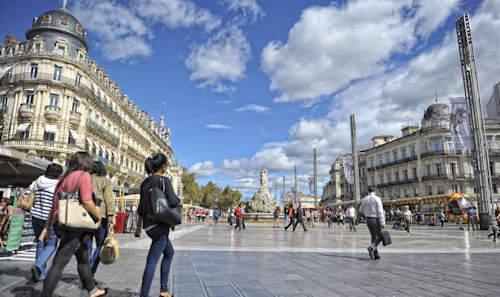 Montpellier is a buzzing,vibrant, youthful, bright, and cultured City. Montpellier's shops are excellent and so are the restaurants. There is also the internationally acclaimed Musee Fabre, Montpellier's Modern Art Museum. Montpellier also has a wonderful Zoo, a Planetarium, an excellent Auarium, a large botanical garden, a fantastic modern tram system and beaches a short bus ride away. Montpellier has its own airport with direct connections to a number of European capital cities. What more could you want from a city? If you are looking for a long term rental in Languedoc and the South of France, then being close to Montpellier is a worthy consideration. You can get the best of both worlds - sleepy village life and cosmopolitan living.
If you are looking for a long term rentals close to Montpellier, here is a selection of properties that might be worth considering:
These luxury long lets in France are located between Nimes and Montpellier, near the small medieval town of Sommieres. These long term lets are situated at Le Domaine de Monteils, a former monastery. The surrounding area is famous for its wine and is bordered to the south by the wetlands of the Camargue and the sandy beaches of Languedoc and in the north by the spectacular Cevennes national park. All of these long lets in France have been equipped to the highest standards with queen sized beds, wifi, satellite HD TVs and high spec kitchens and bathrooms.
>>Montpellier long lets in France more details
This French property to rent long term is a stone-built house located in the popular village of Aniane, within commuting distance of Montpellier. This property is available to rent all year around, for both winter and summer long term rentals. This village house provides comfortable accommodation in 3 double bedrooms and comes with a nice courtyard garden. The house contains plenty of modern comforts including gas-fired central heating, double-glazed windows on the front of the house and broadband Internet connection.
>> French long term rental all year around in Aniane France more details
This 1 bedroom Montpellier apartment for rent is ideally located close to the University and hospital facilities in the Aiguelongue area of the city. The apartment comes with a good size balcony and has recently been modernised inside. The apartment is located in a small residence block and comes with private parking. The leafy suburb of Aiguelongue is just 2kms from the centre of Montpellier, with regular public transport connections nearby (Tram and Bus). The apartment is a good long term rental option for people working or studying at Montpellier university or the hospital complex.
>> Montpellier apartment for rent more details
This Montpellier house for monthly rentals in France is a 19th Century village house near the centre of the village of Sussargues, one of the most sought-after residential villages close to Montpellier. The house comes with 5 bedrooms, 2 bathrooms, a private pool and off-road parking. The house is within walking distance to a baker/grocer, wine cooperative, restaurant/bar, florist, garage and a supermarket. The interior of the house has been tastefully renovated and the property can sleep 8-10 people in comfort.
>> Montpellier house for monthly rentals France more details
Where to next . . . ?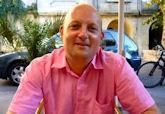 I hope that this article has provided you with some good ideas about the best places to rent long term in South FranceFrance. If you would now like to search for rental properties currently available in South France, please follow the links below:
If you would like some more detailed information about renting long term in France, then just drop us a quick message and we will come straight back to you. I wish you a wonderful stay in the South of France.
Contact Iain by Email or by phone +33 6 95 00 28 44