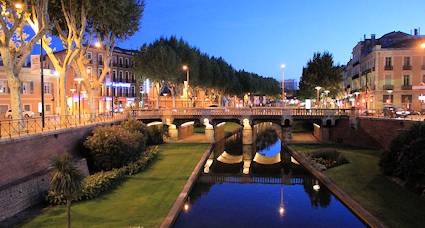 Perpignan is situated in between the coast and the Pyrenees, close to the Spanish border. The city is the capital of Roussillon and it has a real Spanish feel to it. The old narrow streets towards the Palais des Rois de Majorque are a real pleasure to walk around. Perpignan also has a real connection with art, with famous artists such as Picasso, Dufy, Maillol and Cocteau all having studios in the City at one time or other. The surrounding countryside is very pretty. Wherever you go you will see vineyards set against the backdrop of the Pyrenees. There are some great local towns and villages such as Thuir, Ceret, Collioure, Prades and Estagel. The area is well served by the transport network. The TGV stops in Perpignan and a new connection is being built all the way to Barcelona. Perpignan has its own airport and Girona airport is less than 1 hour away. The A9 autoroute also passes close to Perpignan. So if you are looking for long term rental properties in France, then Perpignan is a great spot to choose.
Perpignan long term rental properties in France
If you are on the search for long term rental properties in France, then Perpignan is a great location to consider. We have highlighted below one of our properties for long term rental to give you an idea of the monthly prices and facilities. We also have a number of other holiday rental properties in and around Perpignan that also consider long lets during the winter months. If you would like to see more options, either visit our main page for Long term rental properties in France or drop us a line through the contact page. We will be more than happy to select some properties to match your requirements.
Situated in Argeles-sur-mer, close to Perpignan, you will find this long term rental property in France. The house has recently been renovated to a high standard and sleeps up to 6 people. The property has a garden/court yard and swimming pool and is situated close to the Mediterranean beaches. Argeles-sur-mer has 7km of beach, a harbour and a host of restaurants and shops.
>> more info Argeles sur Mer long term rental property, France.
This 5 bedroom long term property rental in France with a pool is situated in the popular town of Le Boulou, close to the Spanish border in South France. This house is full of character and original features and is located close to the centre of town. Le Boulou is a bustling market town that is a perfect location for long term property rentals in France. It is close to the coast, Perpignan is 20km away, the ski slopes are just 50 mins away and Spain is a short drive over the Pyrenees. This long term property rental in France is equipped with UK TV, central heating, bed linen/towels, kitchen utensils and is fully furnished.
>> more info Le Boulou long term property rental France with pool.