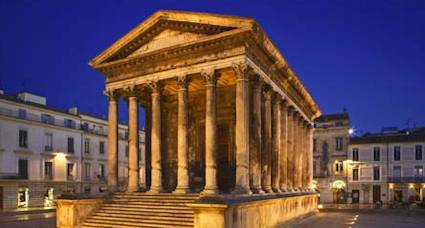 Nimes is one of my favourite cities in the South of France. The outskirts of Nimes always remind me of some American mid-west town. Full of bowling alleys and fast food restaurants. But once you get into the centre it is a different matter entirely. It really is a beautiful ancient South France town. Nimes is an old Roman town, blessed with some wonderful monuments such as the Roman Amphitheatre, the Maison Carree (the old Forum) and the Temple of Diana. During the middle ages up unto the late 19th Century, Nimes also forged a wealthy vocation as a textile centre, including its famous blue cotton cloth "de Nimes" (thus later 'denim') that was imported to America by Levi Strauss for use as clothing for working men. Also worth mentioning is the wonderful modern art museum - Carre d'Art - which was designed by Sir Norman Foster and sits opposite the Maison Carree.
Nimes long term lets, South of France
Nimes really has everything you could need for a long term stay in the South of France. Some excellent shops, culture, good TGV connections, the A9 autoroute runs right past the edge of the town. There are also some very pretty towns located within 20kms or so of Nimes that could be good options for a South France long term rental - such as Sommieres, Uzes, Anduze, Arles and Beaucaire.
Just a word of warning, if you are coming to the South of France during the winter months, the area North of Nimes into the Rhone Valley can get extremely windy (and I mean, extremely windy). The Mistral that blows in the winter literally drives the local inhabitants mad and often the pretty little villages resemble ghost towns in the winter. Around Nimes itself and in between Nimes and Montpellier it is not so bad - the area is protected by the Cevennes hills. But it is just something to be wary of.
Nimes is a great location for a long term rental in France. Here is a selection of some of our property to rent in France long term near Nimes:
This is the perfect villa with pool in the South of France for a long term lets. This South France rental is located on the edge of Provence in the quaint old town of Sommieres, close to both Nimes and Montpelier. Villa Sommieres in the South France comprises 4 double bed rooms, two of which have ensuite bathrooms. This South France holidays rental has a large private swimming pool, garden and terrace. This villa in Sommieres, South of France, sleeps up to 8 people with additional sofa beds in the lounge. The villa with pool is located on a hill above Sommieres and provides incredible views of the local South France countryside.
>>Nimes long term lets more details
This property for rent in France long term is close to the beautiful town of Uzes, in South of France. It is an 18th century stone houses in a typical Provencal hillside village facing all-day sun. It is covered in vines, has a huge walled garden, a swimming pool and a large terrace. This long term rental in France is in the village of St Maximin, which is just a few minutes from the wonderful town of Uzes and near the Pont du Gard and Nimes.
>>Uzes property to rent in France long term more details
There are 5 luxury long term lets at Domaine de Monteils. In a Mediterranean park of 5 hectares, Domaine de Monteils looks like a little Provençal hamlet and provides and oasis of calm and relaxation. These carefully restored long term rentals provide luxury accommodation for couples without children. Guests are encouraged to use the spas, the large swimming pool and to enjoy the surrounding nature. All of these long term lets in France have been equipped to the highest standards with queen sized beds, wifi, satellite HD TVs and high spec kitchens and bathrooms.
>>Domaine de Monteils long term lets in France more details
If you are looking for a large property to rent in France, then this tranquil 18th century stone mill could be the perfect location. Situated in the Languedoc-Roussillon area of Southern France, close to Nimes, Ales and Anduze, the West Mill provides a little piece of paradise. The outside of this large long term rental contains a private swimming pool, hot tub, river front, and waterfall on 10 acres of secluded land. The Cevennes mountains provide the backdrop to the West Mill - an excellent and popular hiking area.
>>West Mill large property to rent in France more details