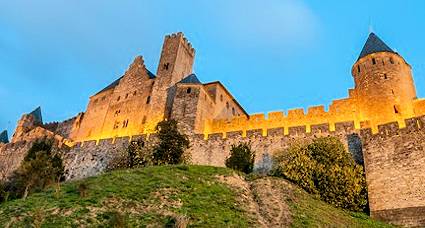 Carcassonne is a good spot to be based near for a long term rental in the South of France. Not only do you have one of France's most prominent tourist sites on your doorstep, but you are also blessed with picturesque scenary, the Minervois wine region (one of the best in the South of france) and the Canal du Midi - the quintessential picture of the slow South of France way of life. Also the large city of Toulouse, with its international airport is just 45 minutes down the road. Carcassonne itself has its own airport - serviced mainly by low-cost flights from the UK and Scandanavia. It can get a bit windy in the winter months - check out the number of windmills - but it is not as bad as some areas.
It is the huge scale of Carcassonne's citadel that first takes your breath away. It is absolutely huge, it has 31 towers, an amphitheatre, hotel and a full medieval town inside its fortified walls. You enter the citadel through the main Port Narbonnaise (the entrance nearest the car park) and cross over the now grassy moat. As you follow the road ahead up past all the souvenier shops just shut your eyes. It really doesn't do Carcassonne any favours to allow the shops to sell plastic suits of armour and baseball caps with jousting rods protuding out of them - but hey-ho. At the end of the road you will come to the Chateau Comtal, where Count Trencavel made his last stand against Simon de Montforts forces in 1209.
Long term rentals near Carcassonne
We have quite a number of houses to rent in France long term in and around Carcassonne and it has proved to be a popular place to rent in the last couple of years. Here is a selection of the Carcassonne houses to rent in France long term:
This French farmhouse for monthly rental is a converted farmhouse close to Carcassonne and Toulouse in South France. It is situated in a very peaceful location, but is close to the Canal du Midi, local restaurants and shops and a short drive to the cities of Toulouse and Carcassonne. There is a boulangerie 3kms away and a farm shop within 1km. This French farmhouse for monthly rental comes with lovely views over the Lauragais countryside. Closeby is the famous town of Castelnaudary, which has a full range of shops, supermarkets and restaurants. The French farmhouse for monthly rental has 6 bathrooms, 5 bedrooms, 2 reception rooms as well as a large kitchen/diner.
>> French farmhouse for monthly rent in France near Carcassonne
Maison de l'Eglise is a wonderful property for long term rent in St-Ferriol, France. This property for long term letting in Aude was once part of the presbetry to for the adjacent romanesque village church and is situated on a path in a quiet part of a village. The house can sleep 4-7 people and has been thoroughly renovated to a very high standard whilst retaining the character and softeness of the buildings rustic origins. Each of the bedrooms and their high quality bathrooms are on separate floors at separate ends of the house. A spacious, light living room on the first floor is comfortably furnished with television and stereo and comfortable chairs. There is central heating and WiFi internet installed. This really is a super long term rental property in Aude, France.
>> Maison l'Eglise, France long term rent
This pet-friendly house for long term rent in France is located in the quaint village of Mailhac, in between Narbonne and Carcassonne. The house is available for rentals all year around and provides comfortable accommodation for a couple or small family. The house is located in a quiet street in the heart of the old centre of the village and comes with private parking, a lovely courtyard garden, 2 good sized bedrooms and a spacious open plan living room. The house has a good internet connection, TV, washing machine and a wood burning stove for the winter months. Pets will be accepted through prior agreement.
>> 2 bed house for long term rent France
This beautiful rustic farmhouse to rent near Carcassonne, France, is available for long term rentals between October to May. The farmhouse is set in the heart of the Montagne Noire and Cathar country in-between Carcassonne and Mazamet. You can relax and unwind in this sensitively restored farmhouse, set in 2 acres of your own private gardens and woodland. The farmhouse comes with 3 double bedrooms and sleeps 6-8 people.
>> Carcassonne farmhouse to rent long term in France
This Carcassonne cottage to rent in France long term is a beautiful newly refurbished 2 bedroom Cottage opposite the Canal Du Midi. The main railway station is 5 minutes walk, as is the City Centre of Carcassonne. The canal bank is opposite the house so you can sit there if you wish, grab a baguette a bottle of wine and watch the little ducks go by. The bedrooms are luxurious with 600 cotton sheets and fluffy white towels are provided. One double bedroom and one single bedroom.There is a lovely living room with an extra beautiful comfy day bed also used as a sofa which leads onto a terrace. There is TV and wifi available.
>> Carcassonne cottage to rent in France long term (sleeps 4)
Domaine de Badens is a beautiful house to rent in France set amongst 5 hectares on the edge of the village of Cenne Monestiés in the South of France. The property is nestled in a forest of mature oak and pine trees, with the Lampy river flowing nearby. This long term rentals property in France is very pet friendly - their are 4 resident cats and the owners are happy to welcome well-behaved dogs. Surrounding the property there is an abundance of wildlife including deer, wild boar, badgers, foxes, red squirrels, three species of owl, green woodpeckers and many birds of prey. The house is generally child friendly, although with many large rocks, steps and the river nearby, parents of young children should be vigilant when outside.
>> Domaine de Badens house to rent in France
This house to rent in France long term is a large independent gite with gardens, ideal for those looking for outdoor activities and adventure for both adults and children. Apart from a wide range of local sports, the house comes with a large games room, including a full size pool table and an option to hire mountain bikes to explore the local mountain trails. The house is situated in a quiet village, surrounded by mountains, vineyards and fields of sunflowers. The area is full of historical and cultural interest being at the heart of the Cathar region with its magnificent castles. White water rafting, canyoning, kayaking, cycling, caving, horse riding, wild swimming, walking, mountain biking and skiing are just some of the popular activities available locally. There is a swimming lake just 15 minutes' drive away from the house with a sandy beach, small bar and restaurant. There are also opportunities for wild swimming in high mountain lakes and rivers. The nearest shops and restaurants are just 5 minutes away..
>> more info Quillan house to rent in France long term.
Where to next . . . ?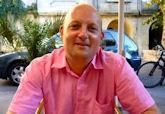 I hope that this article has provided you with some good ideas about the types of properties available for long term rentals near Carcassonne, France. If you would now like to search for rental properties currently available in South France, please follow the links below:
If you would like some more detailed information about renting long term in France, then just drop us a quick message and we will come straight back to you. I wish you a wonderful stay in the South of France.
Contact Iain by Email or by phone +33 6 95 00 28 44